"Mary, who writes the delicious blog, Mary Mary Culinary was our August Daring Cooks' host. Mary chose to show us how delicious South Indian cuisine is! She challenged us to make Appam and another South Indian/Sri Lankan dish to go with the warm flat bread."
Monday was one of those days, I should just not have gotten out of bed.  That fact dawned on me when after just getting out of the shower and walking in to my bedroom.  One of the brackets holding my curtains up decided that then and there was the precise time it was going to fall off the wall.  Bringing of course my curtains down exposing my towel clad body to the neighbours.  Thank God my bedroom is at the side of the house and not facing a busy main road.
After fleeing to the bathroom to put clothes on, I then embarked on a good 30 minute search to find a hand drill.  You see, these things always happen when Mac is out of town on business.  Already running late for the office, not having found drill, I grab said bracket and go to Bunnings on my way in.  Bunnings was easy, found what I needed (or thought I did) to firmly secure the bracket back up to the plaster wall.
Get to the office and today I am the only one in, not a problem.  Open up, go to turn off our alarm.  Dum de dum, faceplate has fallen off the alarm control pad and I successfully set off the alarm.  I can't turn the damn thing off  for what seems like an eternity, probably only 30 seconds but may as well have been an hour.  At least the grease monkeys at the auto shop directly opposite in our complex had a nice giggle at my expense.  Apparently I am quite funny when embarrassed and flustered.
Thankfully the rest of the day is just normal run of the mill drama.  I decided to leave early to try and re-fix the bracket to the wall as a night without curtains does not thrill me.  This is when I also decide, as I will be home early, that it would be the perfect opportunity to make the appam and curry for my Daring Cooks' Challenge, for which the reveal date was the day before.
Back home with power drill from the office, I set about my task of being handy woman.  Let's just say that for something as supposedly easy as screwing a screw in the wall, it took me forever.  Balancing on top of two chairs to get close enough to be able to reach where the bracket needed to go was fun enough.  Trying to drill holes for special weight baring butterfly things, then trying screw a screw in with the drill in reverse is just plain hysterical.  Yep, took me a solid 10 minutes, change of tactics, change of screws, screws dropped on floor and retrieved (way too many times), to then work out the drill was in reverse and that was why I was getting nowhere quickly.  Flick of a switch, dumping the special butterfly things and resorting back to a normal screw, had the bracket up within 30 seconds.  Not one of my finest handy woman moments.
With privacy now back I decided to make a start on the appam and curry.
Appam is a South Indian yeasted bread made from rice.  Not having tried them before I was looking forward to this challenge.  You need to soak your raw rice in cold water for 3 hours before making the appam, and so while the rice soaked I got a bit more work done.
It's now after 6pm and rice is ready to be used.  I make a start on the curry and get that on the stove.  I decide to make Mary's suggestion of Sri Lankan Beef Curry.  Aromas of spice fill the kitchen, it was starting to smell great.
I start back on the appam recipe and grind my pre-soaked rice.  I love the chalky texture that soaked rice has when you bite in to it.  The rice grinds up to a coarse grit powder (flour).  I add my yeast and coconut water ready to let it rest for a bit.  What……. 8 – 12 hours of fermentation!  That is when I realised today was definitely the day to have stayed in bed.  I also learnt a valuable lesson, read the bloody recipe properly Sara! 
With the aromas of curry wafting through the house, Josh and I ended up just grazing for dinner.  Fate had played her card, curry was going to have to happen the following evening.  Well at least the curry was made and ready to go, and they do say curries taste better on the second day (sounds good so just let me have that one).
The rice flour mixture actually got to sit a bit longer than 12 hours.  I decide to make the batter before work and put it in the fridge.  When I removed the plastic wrap from the rice flour mixture it had a very pungent sour smell.  Mary had assured me in her notes this is normal.  I add the coconut cream and salt and mix.  I can't help but have a taste.  Okay, it tastes quite sour too even with the coconut cream.  I was feeling very unsure now about how the appam were going to turn out like.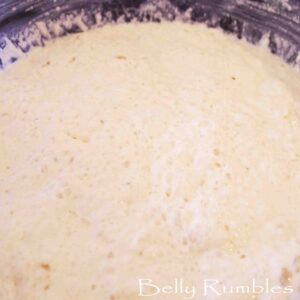 Fermented ground rice, yeast, sugar & salt
The appam were tricky little suckers.  You pour the mixture in to a non stick slightly oiled pan as if you are making pancakes.  If they haven't cooked enough they just fall apart when you try to lift them out.  I didn't achieve the frilly edges that Mary did, nor the thicker centres. 
They are an interesting taste.  Josh felt they didn't taste of much at all.  Sort of a faint slightly sour coconut rice taste.  I loved the process that went in to making them, but not sure I will make that particular recipe again.  I think I will have a play around with the process, add a bit more coconut flavour.  I also wonder if they were tweaked to be sweeter, if they would make a nice dessert?
The Sir Lankan beef curry wasn't anything exceptional.  I was trying to work out why it tasted to me on the bland side.  Specially after the incredible aroma of the cooking the spices to add to it.  I think it just comes down to the fact I like my curries with a bit of oomph.  As a mild beef curry it was lovely.  A nice one actually for kids or people who don't like heat or spice.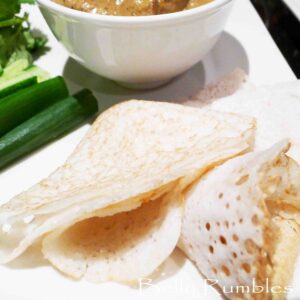 If you would like to have a go at cooking appam, or the beef curry as well as some other great looking curries they are available here.
Do tell dear Belly Rumbles reader, have you every started a recipe, not reading it properly and then realised you could not finish it due to resting times, lack of ingredients or some other factor?
Sara xxx