Brewtown, Potts Point or Brewtown, Maroubra just doesn't have the same ring as Brewtown, Newtown.  It really had to find it's home in that suburb for rhyming reasons alone.
I am not the first to write about Brewtown.  Social media is abuzz regarding their cronuts and great coffee, and bloggers have been blogging.  I thought I might as well join the Brewtown bandwagon.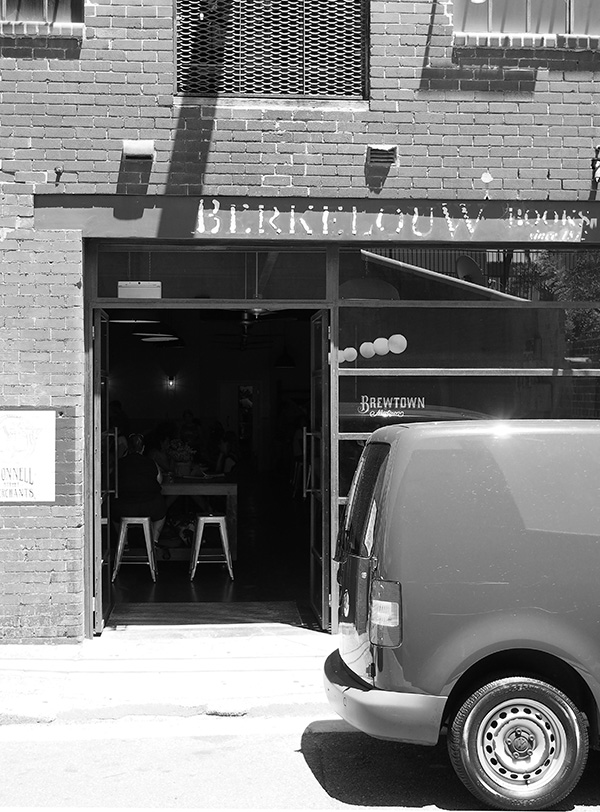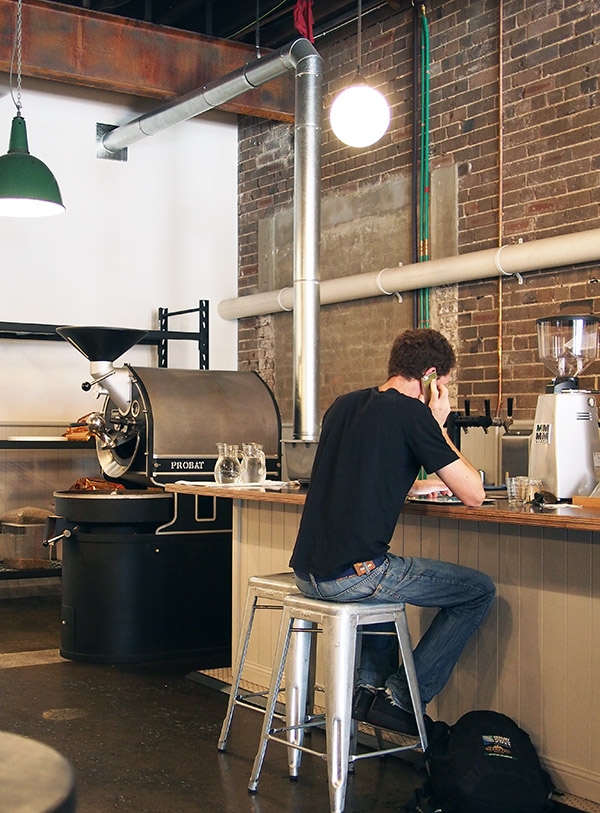 The gang from Gnome, in Surry Hills, opened up Brewtown late last year, in the premises that use to house Berkelouw Bookstore.  I haven't been to Gnome, but again, lots of positives float around regarding them and their coffee.  Above Brewtown is the home of O'Connel Street Merchants.  Make sure you pop up and pay them a visit when visiting.
Brewtown has a light industrial feel to it, wood, metal, brick and white concrete walls with exposed beams.  The day I visit Sydney's temperature is creeping up to a scorching 40 degrees Celsius.  All is cool and calm in Brewtown, the high ceilings and industrial chic all assist keeping it cool inside, a nice escape from the heat.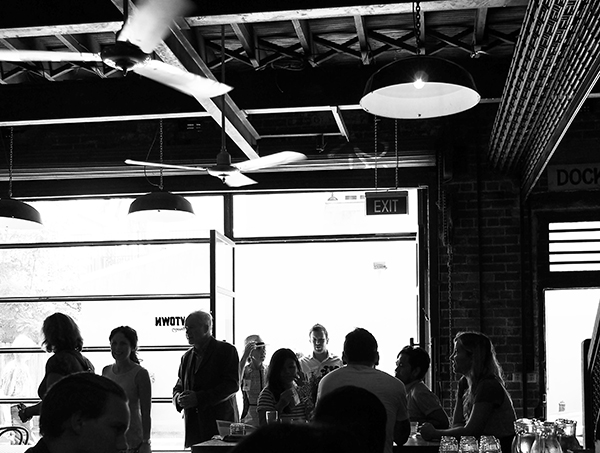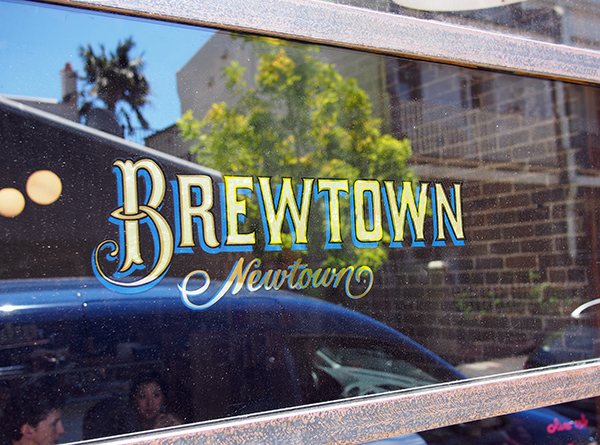 As soon as I sit down water is offered, it is complimentary, choice of sparkling or flat and it is cold.  The water is well received on this hotter than hot days, and continuously topped up during my visit.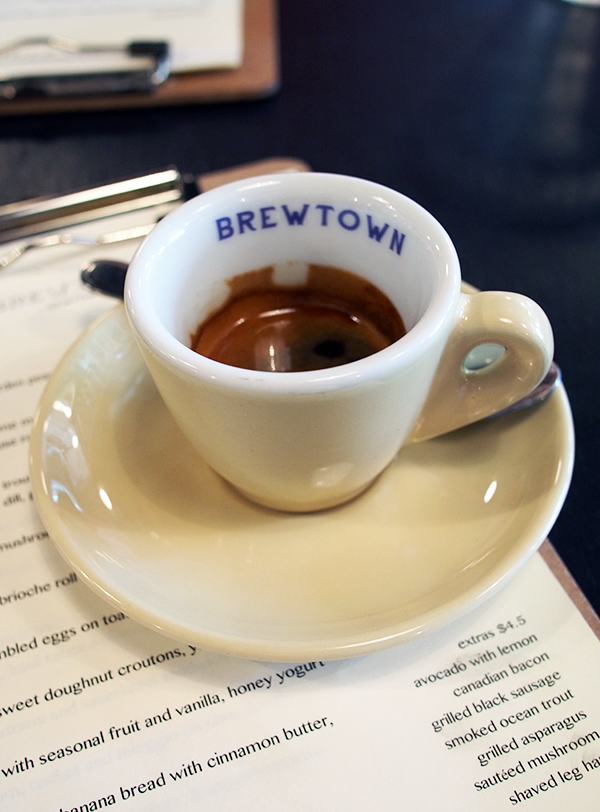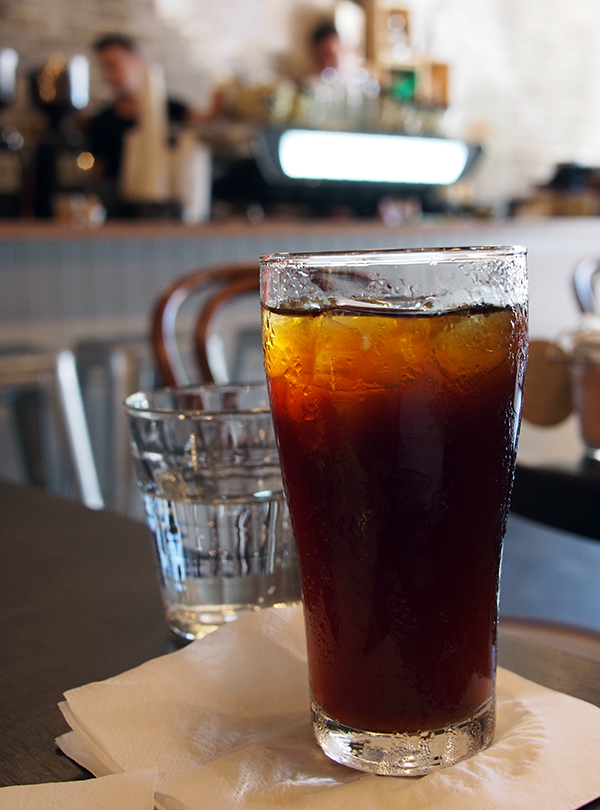 I start with an espresso ($3).  What I have heard about the coffee hasn't been a lie, the coffee is good.  So good, that I end up having two espressos and a glass of cold brewed coffee ($6).  They have cold brewed coffee on draft, which I haven't come across before, it's a pretty cool concept.  Surprisingly after all that caffeine I'm not impersonating George from George in the Jungle and his 'java java java' scene.
It's a medium sized breakfast/brunch menu.  All looking rather tasty, I actually have trouble deciding what to have.  I originally set my mind on the beetroot cured ocean trout ($16.50), but then change my mind in the 11th hour and go for the baked polenta with mushrooms ($15).  This is due to seeing a couple of perfectly poached eggs on the table next to us.
There is a decent sized piece of baked polenta, which is topped with mushrooms and shaved parmesan cheese.  To the side are two perfectly poached eggs siting on top of grilled asparagus.
My dining companion, and Brewtown regular, decides on the corned beef hash with garden peas, poached egg and parmesan crumbs ($15).
I had already organized a couple of cinnamon cronuts to be put aside for me to take home to the boys, just in case there was a mad rush on them and they ran out.  The cronuts are very popular and I have read many a disappointed tweet stating that somebody had missed out.  We decided to split one to finish our meal and opt for the jam filled cronut.  It is light and flakey like a croissant on the inside, and not too oily from frying.  I don't go gaga for cronuts, I have now tried quite a few around Sydney, including Zumbo's, and I think Brewtown's are probably the better of what I have tried so far.
If you go specifically to try a cronut, may I recommend you get there early, with more chance of securing one on a weekday.  They have a couple of varieties to choose from, chocolate with Boston cream, cinnamon or jam when I was there.
Is it worth heading to Newtown to visit Brewtown?  I will be heading back, I still have my eye on the cured ocean trout. I have heard there can be a 20-minute wait to get a table.  I just waltzed in on a Thursday morning, around 10.30, no wait needed, quite a few places to sit. I observed it gets busier towards lunch and of course weekends are their busiest time.
Sara xxx
Brewtown
6-8 O'Connel St, Newtown
+61 2 9519 2920
website