If Irish potato bread and piragi had a love child it would be these dumplings.  My grandmother use to make dumplings quite often, my grandfather loved them.  They were always filled with fruit, usually plums or strawberries.  I can't recall her ever making savoury dumplings.
She certainly never fried them.  They were always served boiled and my grandfather would usually sprinkle his with poppy seeds and icing sugar.  Sometimes a knob of butter would also makes its way onto his plate, melting over the fresh, out of the pot, dumplings.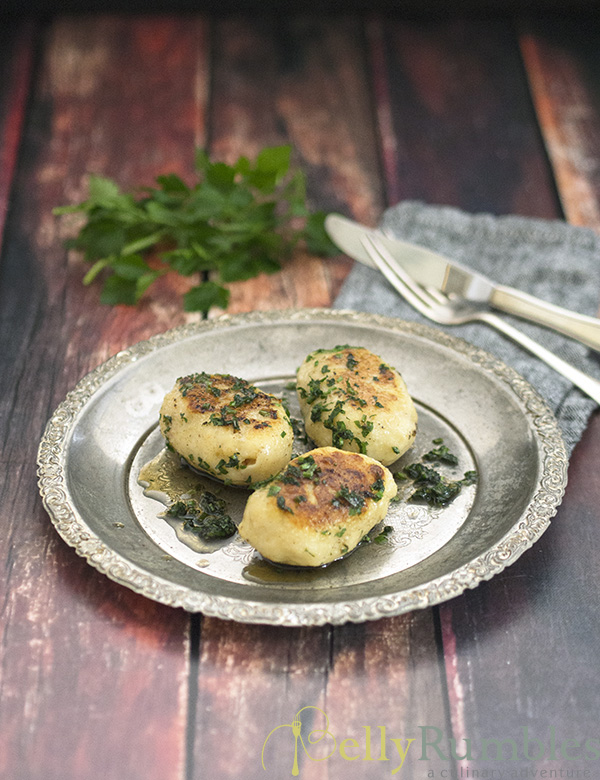 I spotted this recipe in a Latvian cookbook I have.  Drawn to it instantly due to their resemblance to piragi.  Well, if piragi dough was made from potatoes, and they were boiled and not baked.  Okay, they are nothing like piragi except for the filling, shape and the fact you are working with dough.  The original recipe doesn't give them a final fry, they are served as a boiled dumpling.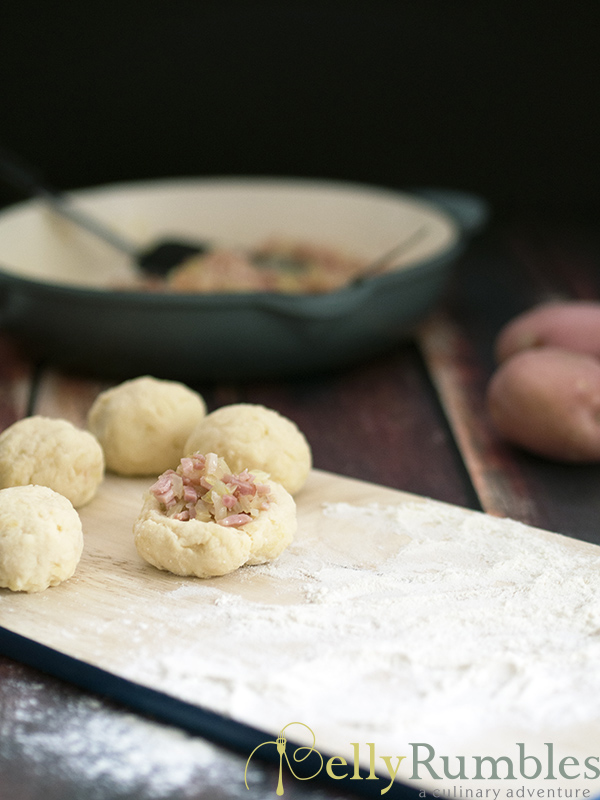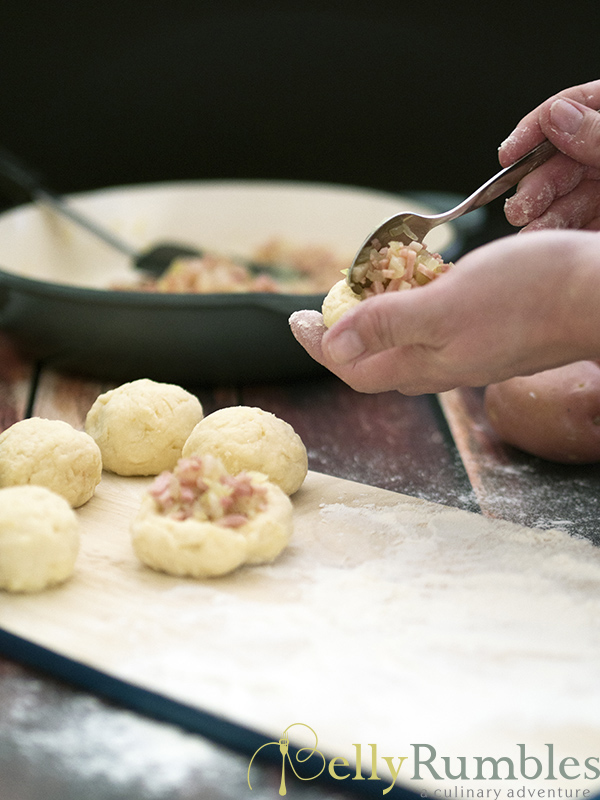 With Josh and Mac's love of potato bread I decided to give the dumplings a final fry in some butter.  The fresh herbs were added as a last thought to give the dumplings a lift.  And surely the addition of herbs would make them healthier?
'give the dumplings a final fry in some butter'
The dumplings are very filling, I suggest you serve them with a salad.  You only need two or three dumplings per person.  Even the boys had trouble contemplating eating more than three, and they are both hearty eaters.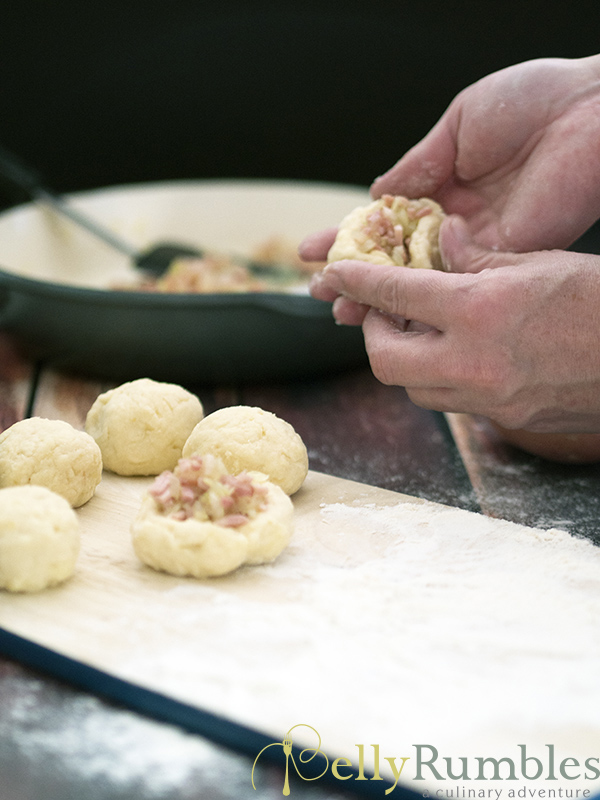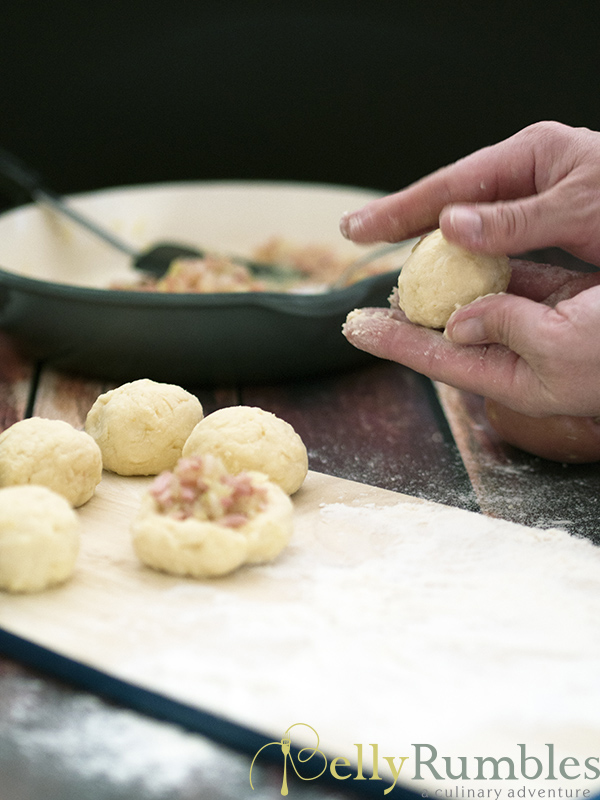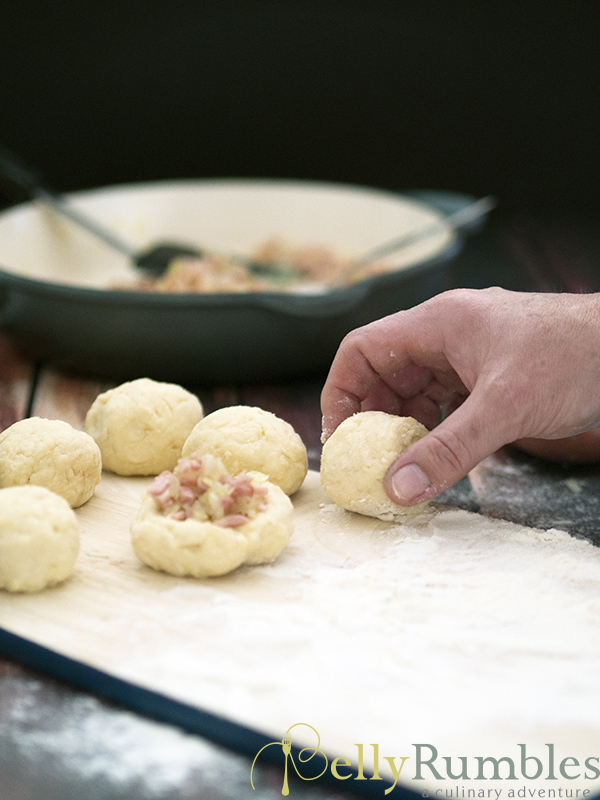 An important note, like all Latvian recipes there is no skimping on fat.  Don't use short cut bacon in this recipe.  The wrath of a 1000 Latvian grandmothers will descend upon you.
This is a simple recipe and fat is all about flavour.  In this case the rendering of it with the onions.  I don't generally even bother with salt and pepper.  Taste your mixture and decide if it is needed.  I find if you are using good quality, naturally smoked bacon, neither salt nor pepper is needed.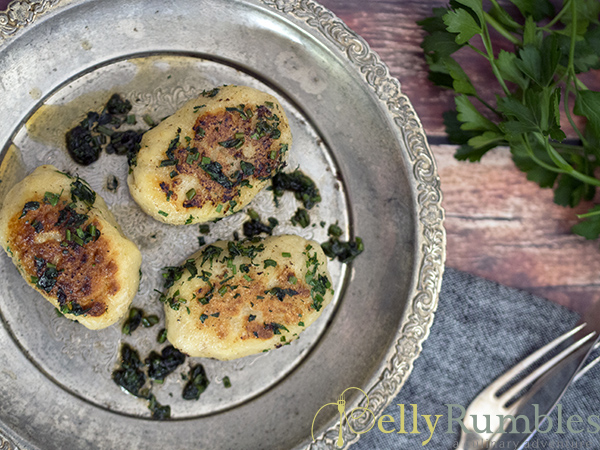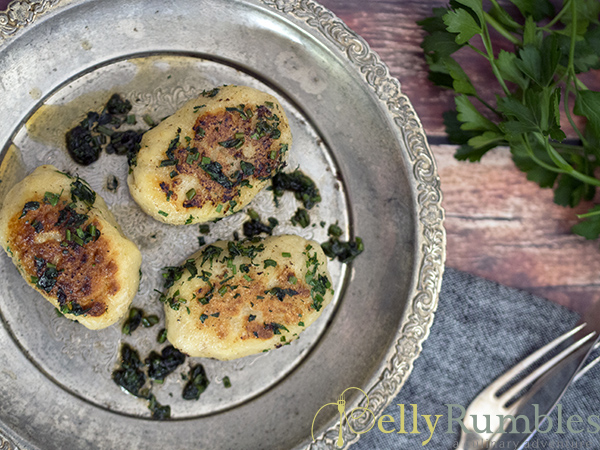 Ceptas Kartupelu Pelmeni (Pan Fried Potato Dumplings)
If Irish potato bread and Latvian piragi had a love child this would be it.
Print
Ingredients
175

grams

smoked bacon rashers

finely chopped

1

onion

large, finely chopped

1

tablespoon

olive oil

500

grams

potato

boiled and mashed

500

grams

potato

grated, raw (squeezed of excess liquid)

1

egg

2

tablespoons

sour cream

1 ½

cups

plain flour

salt

50

grams

butter

parsley or any of your favourite herbs
Instructions
In a heavy based pan, cook onions in olive oil for 3 minutes. Add bacon and cook on a low heat until all the bacon fat has rendered and onion soft. Remove from heat and set aside to cool.

In a large bowl place mashed potato, grated potato, egg, sour cream, flour and salt. Mix with hands until it forms a dough.

Roll a ping-pong ball sized piece of dough in to a ball. Make a well in the middle of the ball and place 1 – 2 teaspoons of bacon mixture. Press the dumpling closed around the bacon mixture, and make the balls into torpedo shapes.

Put a large pot of salted water on to boil. When boiling, reduce to a rapid simmer and add a few dumplings. Once dumplings come to the surface cook for a further 5 – 10 minutes depending on your dumplings size. When the dumplings are cooked remove from the water with a slotted spoon.

In a large non-stick fry pan melt butter. Place dumplings in the pan and cook over a medium low head until they are browned. Add a handful of chopped parsley or your favourite herb.

To serve dumplings, drizzle remaining butter from the pan and herbs over the dumplings. I suggest serving with a green salad.
Nutrition Facts
Ceptas Kartupelu Pelmeni (Pan Fried Potato Dumplings)
Amount Per Serving
Calories 121
Calories from Fat 72
% Daily Value*
Total Fat 8g 12%
Cholesterol 24mg 8%
Sodium 106mg 4%
Potassium 293mg 8%
Total Carbohydrates 8g 3%
Protein 3g 6%
* Percent Daily Values are based on a 2000 calorie diet.
You will end up with quite and I suggest freezing what you feel you won't get through after the boil stage.  Obviously let them cool down first.  I have my extra in the freezer waiting to be used shortly in a hearty winter soup.
As said before these babies are hearty fare.  I suggest serving them with salad if you are having them as a main meal.   Make them a little smaller for the perfect finger food.
Sara xxx