Don't you love my rice paper rolls?  I personally think my brainwork behind them was ingenious.  As you have probably figured out from the photo, sadly the rice paper rolls didn't agree and I present to you a salad.
Lilydale sent me a gift hamper with some fresh produce, goodies for Salts Meats Cheese, and of course some lovely fat Lilydale chicken breast fillets.  My problem was that the hamper screamed quinoa salad at me, and I didn't want to make a salad.  I wanted to stretch my imagination and come up with something a little left of centre.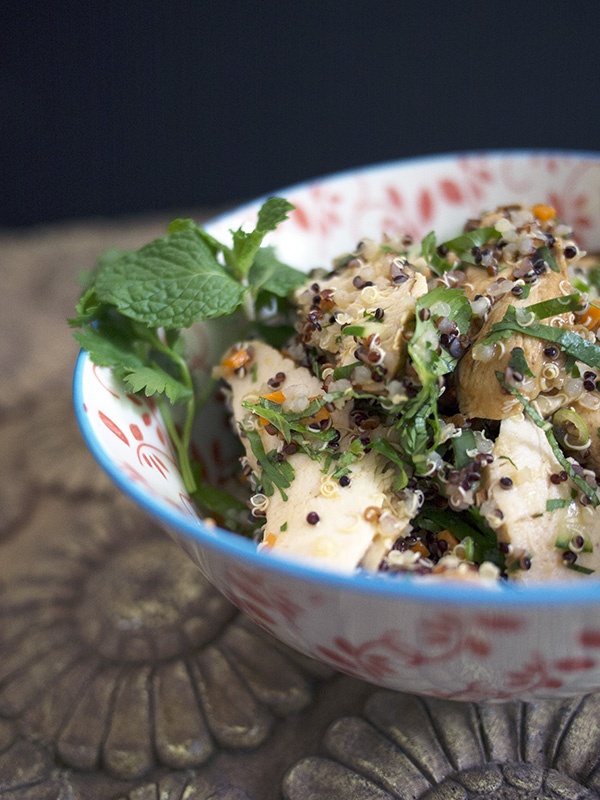 I had the brilliant idea of using the organic mixed quinoa in fresh rice paper rolls.  The filling was also to include, chicken fillet (poached with some dark soy, shao hsing, ginger and garlic), coriander, mint, carrot, cucumber and spring onion.  All served with an Asian inspired orange dipping sauce for the rolls.
In my mind it worked, and in theory it should have as well.  What I didn't take into account was an emotional me after picking Sally up from yet another biopsy (her last operation before she starts chemotherapy).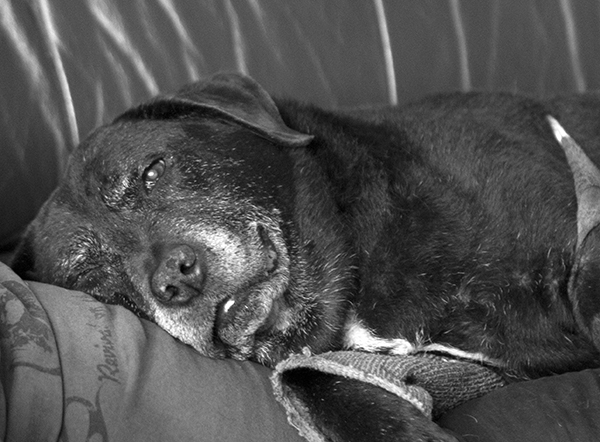 For new readers to Belly Rumbles you can find out a little more about my darling Lab/Mastiff Sally here, here and here
The rolls would have worked if the quinoa was allowed to dry completely after cooking, getting rid of every shred of moisture.  I did leave the quinoa to drain and cool, but sadly the moisture content was still too high.
When we have fresh rice paper rolls it is normally a case of everyone wraps their own.  I plonk all the ingredients in the centre of the table and everyone just digs in.  As these were to be photographed for the blog, I was wrapping the lot.  This hasn't proved an issue in the past and generally works well.
As I was busily wrapping away, I started to notice quinoa making a break from its incarceration inside the rice paper.  The moisture had weakened its captor, the quinoa was fleeing to freedom.  An attempt to pick one up and investigate was quashed, the quinoa had made the bottom of the roll into a glutinous mess that stuck to the plate.  There was no saving them.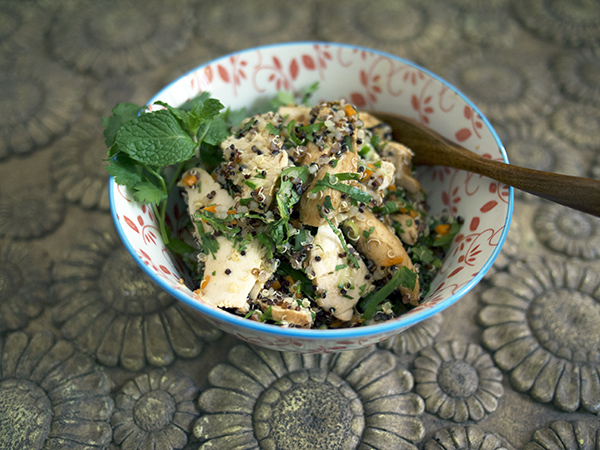 It was all too much to take.  I cursed and swore at the rice paper rolls, the quinoa, the mess on my bench and I think even poor old Lilydale got a serve (unjustifiably).
I looked across the kitchen at Sally groggily looking up at me from her spot on the Persian rug.  I was over the rolls and all I wanted to do was go and snuggle my dog.  That is how this salad was born and I ended up making something I was determined not to.
The quinoa was thrown in to a large bowl, emphasis on the 'thrown'.  My neatly julienned carrots and cucumber diced, green onions sliced, herbs chopped and all thrown in on top of the quinoa.  My very tasty and moist poached chicken breasts were sliced and added.  The orange dipping sauce, which had already been made, became the salad dressing.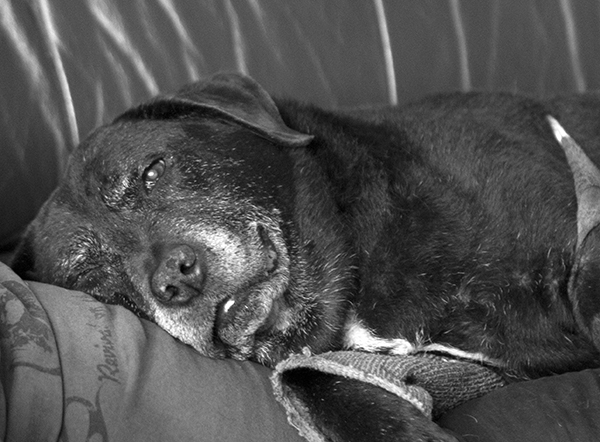 Chicken & Quinoa Salad
Print
Ingredients
350

grams

chicken breast

30

grams

ginger

sliced

2

cloves

garlic

skin removed and bruised

½

cup

shao hising cooking wine

¼

cup

dark soy sauce

1

whole dried chili

1

cup

mixed quinoa

2

carrots

small diced

2

Lebanese cucumbers

de-seeded and diced (leave skin on)

2

spring onions

green onions, finely sliced

1

cup

mint leaves

finely chopped

1

cup

coriander

cilantro, finely chopped
Instructions
In a large pot add 4 cups of cold water, chicken breast, ginger, garlic, shao hising, soy sauce and dried chili. Bring to a slow boil and simmer gently for 10 minutes. Remove from heat and leave chicken to cool in poaching liquid.

In a medium pot bring another 4 cups of water to the boil. Add the mixed quinoa and cook until tender. This will take around 25 minutes. Please check cooking instructions on the packet as this may vary between brands and types of quinoa. Once cooked, drain, rinse with cold water and leave in the strainer until ready to use.

Once chicken has cooled enough to handle, remove from poaching liquid and slice into 2mm slices.

In a large bowl place quinoa, carrot, cucumbers, spring onion, mint, coriander and chicken. Pour over orange dressing (see recipe below) and mix well and serve.
Nutrition Facts
Chicken & Quinoa Salad
Amount Per Serving
Calories 508
Calories from Fat 72
% Daily Value*
Total Fat 8g 12%
Cholesterol 56mg 19%
Sodium 1069mg 45%
Potassium 3694mg 106%
Total Carbohydrates 72g 24%
Protein 41g 82%
* Percent Daily Values are based on a 2000 calorie diet.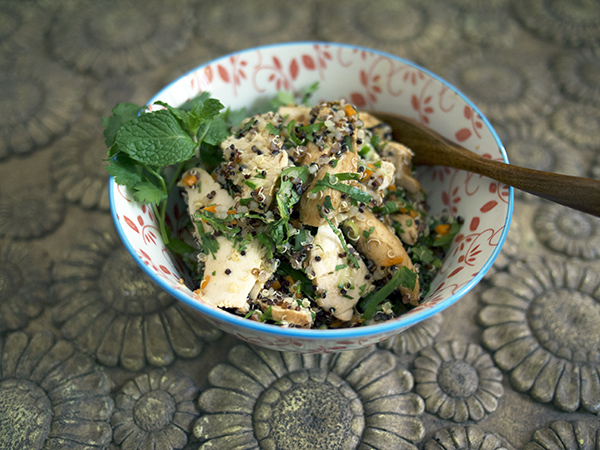 Orange Dressing
Print
Ingredients
2

tablespoons

palm sugar

3

tablespoons

red wine vinegar

1

teaspoon

chicken stock powder

1

cup

orange juice

freshly squeezed

2

star anise

1

clove

garlic

crushed

1

small red chili

finely chopped
Instructions
In a small pot dissolve palm sugar in the red wine vinegar over a low heat. Bring to a simmer and simmer one minute. Then add chicken stock powder, orange juice, star anise, garlic and chili.

Simmer for 5 minutes, remove from heat and leave to cool. Once cool strain and add to chicken and quinoa salad.
Nutrition Facts
Orange Dressing
Amount Per Serving
Calories 236
Calories from Fat 9
% Daily Value*
Total Fat 1g 2%
Sodium 537mg 22%
Potassium 640mg 18%
Total Carbohydrates 53g 18%
Protein 3g 6%
* Percent Daily Values are based on a 2000 calorie diet.
Thank goodness it worked and tasted a treat too.  This is the perfect take to work/school salad.  Filling, healthy and low in fat.  Perfect for a healthy after work dinner as well.
With some quick photographs taken and dinner already prepared for the boys, I spent the rest of the afternoon giving my girl the TLC she deserved.
Sara xxx
Belly Rumbles would like to thank Lilydale for the wonderful hamper, which was partly used for this recipe.