Quiet is my new middle name.  I have been so flat out on other projects that Belly Rumbles has suffered a great deal of late.  To be honest I got the shock of my life when I saw how many posts appeared in June.  Two, two!!!!  Just two……….  I hope you all still love me, and I am happy to let you know that I am back.  I have sharpened my life juggling skills, had a time management guru in to coach me, and my dear reader, I am back.
Chur burger re-opened late last month at 48 Albion Street, Surry Hills (past home to Assiette and Albion St Kitchen), after a fire at its old digs in March.  For those unaware, Chur Burger is one of Warren Turnbull's establishments.  Born due to Warrens' love for burgers.
I luuuuurve Warren's love for burgers, this love has created some very tasty burgers indeed!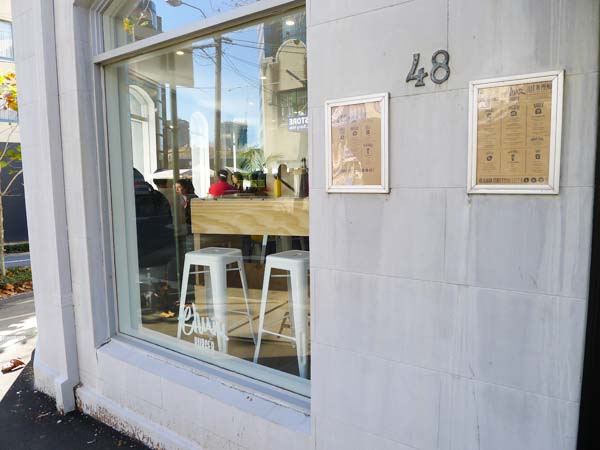 We ventured there for a weekday lunch, and the place was packed.  I mean sardines in a tin style packed.   You have the option of eating in or taking away.  We nearly took the take away option, but my dining partner fluttered her eyelashes, put on a dazzling smile, and before you know it we are sharing a table with four guys having a business lunch.
All burgers are $10, with a variety six on the menu.  We opt for the beef and the pulled pork burgers, passing on the marinated grilled chicken, spiced chickpea fritter, grilled lamb and crumbed fish fillet burgers.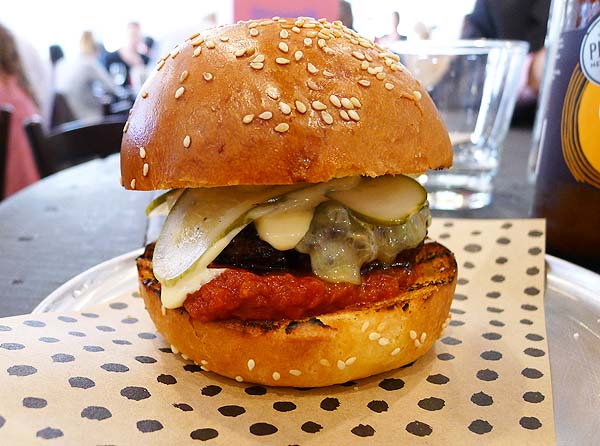 grilled beef burger with cheese, tomato jam, mustard mayo and pickle $10
This is the best burger I have had in a long while.  A burger that I will go back for.  The beef patty is cooked medium.  It is juicy and has a lovely smoky char flavour served on a soft bun.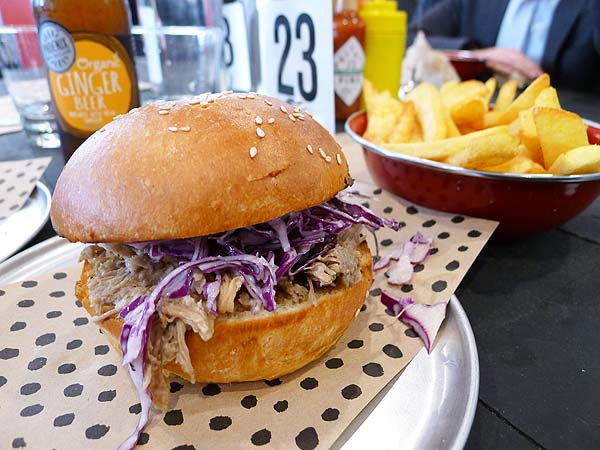 pulled pork burger with Chur bbq sauce, red slaw and fennel mayo $10
It's good, the pork tender and flavoursome.  The slaw crunchy and not sloppy.  But for us the beef is the clear winner of the two.
We order a side of chips with chilli salt to accompany our burgers.  All sides are $5.  There are the potato fries we ordered or sweet potato fries with garlic and lime.  Not into chips?  There is coleslaw or iceberg lettuce with buttermilk dressing and dill as an alternative.
What I didn't realise in the mayhem of ordering is that there are two menus.  A dining-in menu and a takeaway menu.  We ordered from the takeaway menu not realising, which doesn't offer the variety of the dining-in menu.
If you are dining-in there is a range of snacks, $10 each.  There are a couple of items that have me wanting to head back to try.  Crispy quail eggs with tarragon mayo, BBQ chicken wings with blue cheese dressing and the shellfish fritters with spiced remoulade.
There are also larger meals available for those wanting something more substantial than a burger, $20 each.  Grilled flat iron steak, jerk chicken,  blackened market fish and crumbed pork cutlets.  If you still have room, there is dessert too.  Smashed pavlova, Chur style banana split and macadamia pie.
Will I be back?  Oh yes I will, that beef burger is calling me!
Sara xxx
Chur Burger
48 Albion St, Surry Hills
Tel:  +61 2 9212 3602
www.churburger.com.au