This was an awesome challenge that I was really looking forward to.  The whole tribe really enjoys enchiladas and I had never made my own sauce before.  Ended up with more than needed so the remains have been frozen for another day, let's see how it does when defrosted.  Did have visions of making my own tortillas but again time was not my friend.
I decided to not use grilled chicken in my enchilada stacks but the chicken that I used to make my stock for the green chilli sauce.
I really didn't like the idea of just using grilled chicken or to be honest the poached chicken from my stock by itself, I wanted something with flavour to compliment the chilli sauce, tortillas and cheese.
For my chicken mixture I didn't follow a recipe but went by my taste buds. I shredded the poached chicken from my stock making, added a tin of diced tomatoes, finely diced onion, garlic, chicken stock, salt, paprika, cumin, cinnamon, fresh coriander to taste.  This was simmered until it was a thick consistency that would sit in the tortilla stack without running out.


I didn't want a chicken that was overpowering in flavour that would compete with the green chilli sauce, but I did want flavour.
The recipe called for tomatillos, I searched and could not find them in Sydney.  Fellow daring cook Audax Artifex did post a few places where tinned tomatillos could be found in Sydney, but sadly I saw this after my search and didn't have the time to get there.
Therefore I used Audax's recommendation of using green tomatoes, I just happened to have the last of my tomato haul on the vine for this season.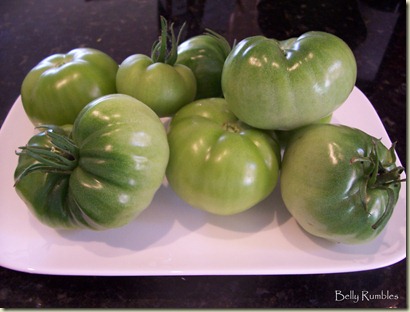 Green Chile Sauce
Print
Ingredients
500

grams

green tomatoes

1

tablespoon

tamarind puree

3

cups

chicken stock

1

clove

garlic crushed

1

teaspoon

dried oregano

2

cloves

garlic

halved

1/2

teaspoon

salt

1/4

teaspoon

pepper

2

jalapeno chillies
Instructions
Grill jalapenos under you grill until skin has blackened. Take out and either cover on plate with plastic wrap or put in to a plastic bag. When they can be handled remove the seeds and scrape the flesh from the skins.

Put a medium saucepan of water on to boil. Cut a small cross at the bottom of each green tomato and boil until softened, 5 to 10 minutes, drain. Once cold enough to handle remove skins and then puree in a blender or food processor along with the jalapenos.

Return the tomato mixture to the saucepan along with the chicken broth, tamarind, oregano, garlic, salt and pepper.

Bring to a boil over medium-high heat and then reduce the heat and simmer until the sauce has reduced to a nice consistency to be used.
Nutrition Facts
Green Chile Sauce
Amount Per Serving
Calories 21
% Daily Value*
Cholesterol 1mg 0%
Sodium 113mg 5%
Potassium 96mg 3%
Total Carbohydrates 3g 1%
Protein 1g 2%
* Percent Daily Values are based on a 2000 calorie diet.
Sara's note: The original recipe provided added cornstarch to thicken the sauce, by reduction I achieved a nice result.  They also added hot sauce, this was not needed with the use of the jalapenos as it was plenty hot enough!
To create the stacks I used a store bought small tortilla.  The tortillas were layered (3 in each stack – 4 in the one in photos which was Juniors) with the chicken mixture then topped with grated Colby cheese and baked in the oven until the cheese had melted and browned slightly.

The green chilli sauce was served on the side as it was pretty damn hot.  I prepared a fresh salsa of tomatoes, red onion, coriander and lime juice to give the dish a fresh lift.  Sour cream was also on offer to add to the dish as desired.

Sara's funny moment of the day: Those who read my blog regularly know that I have a 17 year old (turns 18 in June) young man at home whom I fondly call Junior.  Well I was taunted with a "Mum jalapenos aren't hot".  "Really" I say, then scraped a bit of the mashed grilled chilli from my chopping board and stuck it in his mouth.  "Nope not hot, not hot at all" he taunted (note I had just tried it for heat and my tongue was on fire).  "Okay my darling one" I say, "suck on this" and handed him the chilli skin.  Junior downed 1.5L of milk in one single gulp, yep, my work was done, I am so mean ;p


As you can see from the above, we all really enjoyed dinner 🙂
So guys, do you like your enchiladas stacked or rolled???
Sara xxx