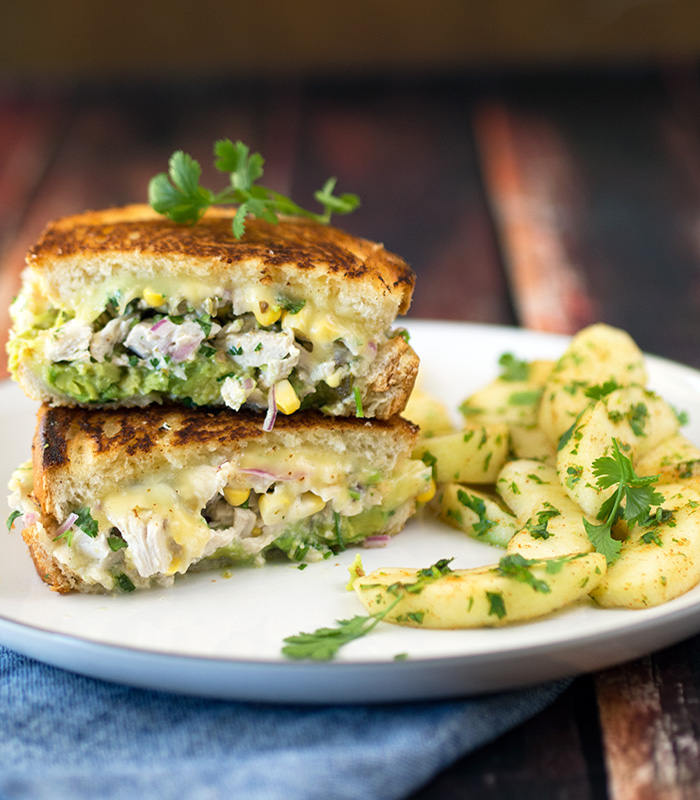 I'm not sure what I want to talk about first. The mouthwatering fried chicken sandwich (which isn't that bad for you), or the spicy apple wedges that go along with it. As I devised the sandwich to accompany the apple wedges, not the other way round, the wedges are going to get first mention.
I spotted a recipe for healthy apple fries when I was in the USA last, I loved the idea and is the inspiration for these. The decision was made to go for more substantial wedges than thinly sliced 'fries'. Only as I thought I would end up with something resembling an apple salad on the plate, and I wanted to do a little healthy spin on a potato deep fried item.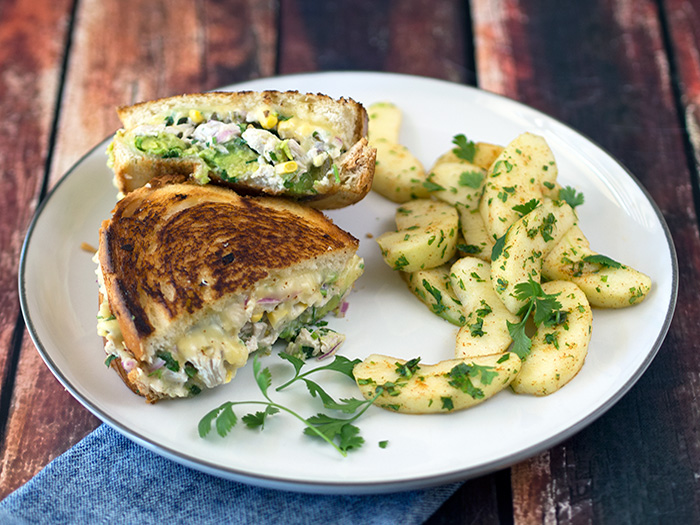 I could quite happily eat a bowl of these apple wedges as a stand alone snack. There is no added fat, just the fresh herbs and spices. A splash of lime juice keeps your wedges from browning and gives them an extra tang. The only considered nasty would be a sprinkling of salt. Don't omit it. It isn't much and does make a difference to the final dish. It is a quick and simple dish to whip up.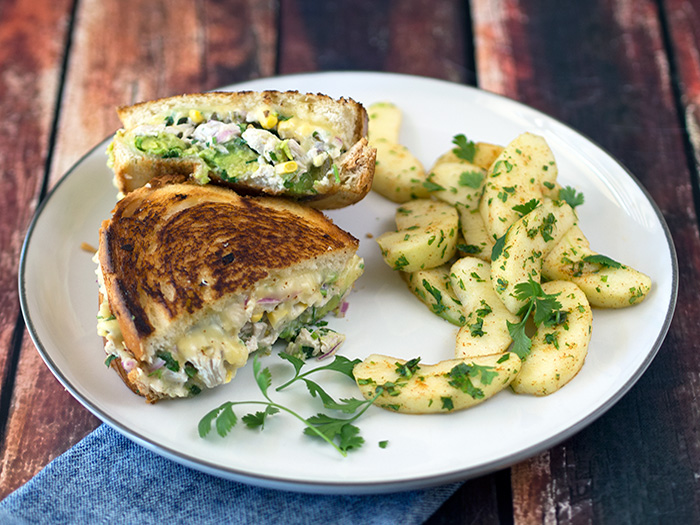 Healthy Spicy Apple Wedges
Print
Ingredients
1

granny smith apple

½

lime

juice

1

tablespoon

coriander

cilantro, finely chopped

½

teaspoon

cayenne pepper (hot)

salt

just a sprinkle
Instructions
Peel and core your apple and cut into wedges. Place in a bowl with all the other ingredients and toss well. Serve immediately.
Nutrition Facts
Healthy Spicy Apple Wedges
Amount Per Serving
Calories 2284
Calories from Fat 1881
% Daily Value*
Total Fat 209g 322%
Cholesterol 1661mg 554%
Sodium 233mg 10%
Potassium 473mg 14%
Total Carbohydrates 85g 28%
Protein 24g 48%
* Percent Daily Values are based on a 2000 calorie diet.
I did say the apples were simple didn't I!
Now on to the not so healthy, but not too bad it could be worse, fried chicken tex mex sandwich. I love a good fried sandwich. When you see me making a fried sandwich you know it's my way of 'cooking' when I don't really feel like actually cooking. Being lazy when I still want something that tastes like a bit of effort has gone into it.  That is how my chicken waldorf sandwich came about.
By adding a few herbs and spices, plus some textural elements to a sandwich filling, you end up with something tasty and interesting. Of course if you are pan frying a sandwich you need to add cheese. That's just a given.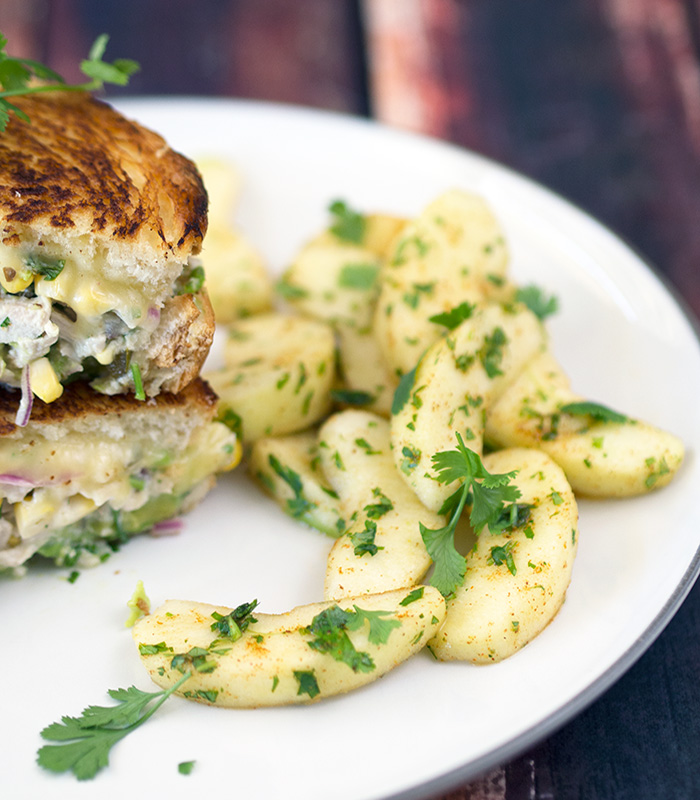 Actually this sandwich isn't too bad for you. You could make it even healthier by not buttering the bread and frying. You could avoid the butter by toasting it in a non stick sandwich press.
I do use low fat dairy in this recipe, as that is what I generally have in the fridge. I do butter the outside of the sandwich with real butter, but no extra butter is added to the pan. By using a good non stick pan, you can go easy on the butter that you do use. I also use poached chicken breast.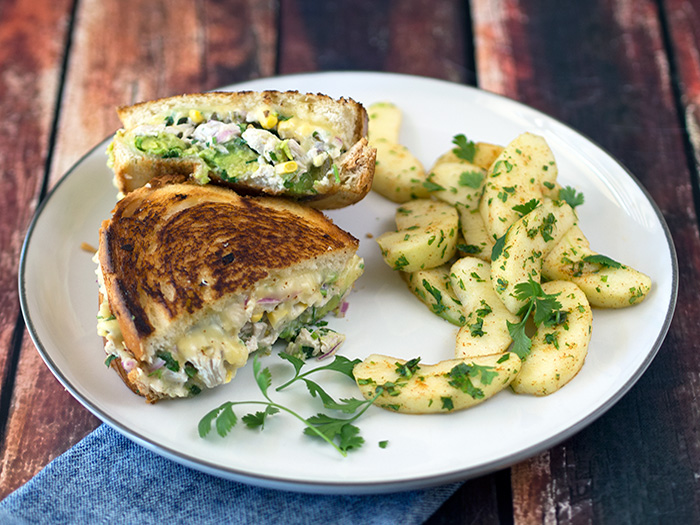 Fried Chicken Tex Mex Sandwich
Print
Ingredients
2

slices

thick white bread

use multigrain or other bread of choice

butter

low far margarine if preferred

¾

cup

poached chicken breast

1

tablespoon

pickled jalapenos

finely chopped

2

tablespoon

corn kernels

¼

cup

coriander

cilantro, finely chopped

1

tablespoon

red onion

finely diced

3

tablespoon

low fat sour cream

salt and pepper to taste

½

avocado

mashed

2

slices

low fat tasty cheese
Instructions
On a sheet of baking paper butter your bread. Turn one slice butter side down.

In a medium size mixing bowl add chicken, jalapenos, corn, coriander, onion, sour cream and mix well. Then add salt and pepper to taste.

Spread mashed avocado over the two butter side down pieces of bread.

Then evenly pile the chicken mixture on top of the avocado spread bread slices. On top of this place a slice of cheese. Place the other buttered piece of bread on top, butter side facing up.

Heat a non stick pan (large enough to take both sandwiches) to a medium low heat. Place both sandwiches in the pan and cook until golden on each side. If you cook on too high a heat your bread will cook before your filling. The lower and slower the better.

If you find your cheese hasn't melted to the consistency you like and the filling could be warmer by the time the bread has cooked. Place sandwiches in a medium low oven for a few minutes to finish cooking.

Serve with healthy spicy apple wedges.
Nutrition Facts
Fried Chicken Tex Mex Sandwich
Amount Per Serving
Calories 893
Calories from Fat 396
% Daily Value*
Total Fat 44g 68%
Cholesterol 143mg 48%
Sodium 1183mg 49%
Potassium 3774mg 108%
Total Carbohydrates 74g 25%
Protein 59g 118%
* Percent Daily Values are based on a 2000 calorie diet.
As you can see this sandwich isn't too bad for you. It could be healthier by using a sandwich press as I mentioned earlier. Of course you could make it a lot more evil by using full fat dairy products, really going wild with the butter when frying and using BBQ chicken instead of poached.
What ever you decide to do, make sure you don't skip on the apple wedges. They really are tasty!
Sara xxx