I have never witnessed somebody having an orgasm, sitting at a restaurant dining table before.  Okay, sure, in the movies.  Meg Ryan famously did sitting at a table in Katz Deli in the movie 'When Harry Met Sally'.  It left fellow diners all wanting what she was having.
Did my fellow diners want what my dining companion Ms Lily was having?  There I was seated in Graze, listening to loud moans of ecstasy as Ms Lily had a fish moment.  When I tried to get two words in between moans,  I was told to shut up, and savour the fish.  A word started to form itself on my lips and I was quickly faced with a hand and a fork.  I shut up until the orgasm had ceased in case I lost an eye.  I'll get back to the fish a bit later.
Graze is my type of restaurant.  I am a grazer.  That is why I love tapas, yum cha and degustation menus so much.  Trying lots of different dishes in one meal makes me happy.  My taste buds get all excited and have a party.
The menu at Graze is designed to share.  It is suggested you order two to three savoury dishes a person to share.  The dish size is really designed for two people to share.  If your dining party is larger then I suggest you order multiples of each dish to suit your numbers.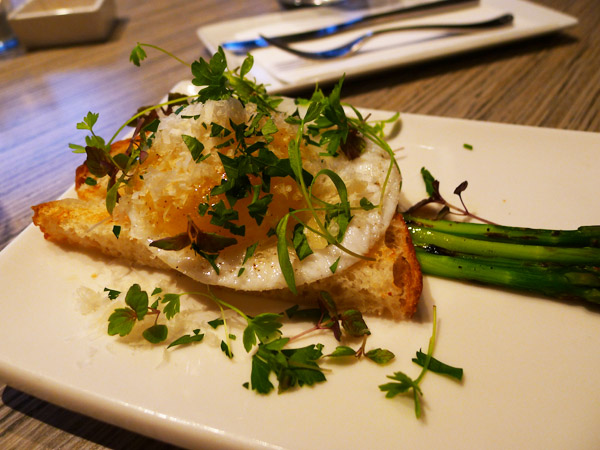 Truffled duck egg on toast, parmesan and grilled asparagus ($12).  A gorgeously runny duck egg sits upon grilled asparagus spears and crunchy bread.  Once the yolk is pierced the parmesan and truffle oil meld together to bind all the plated ingredients perfectly.  We considered ordering a second serving.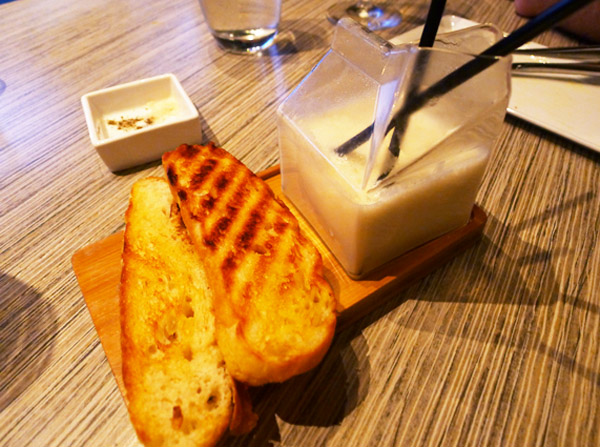 Cauliflower milkshake is a constant on the menu.  Graze's signature or famous dish?  However you would like to refer to this dish, it is a lot of fun.  The soup is served in a Perspex milk carton with straws, and alongside are two pieces of jamon and cheese toasty ($14).  Just be warned, the soup is hot when you slurp it up the straw.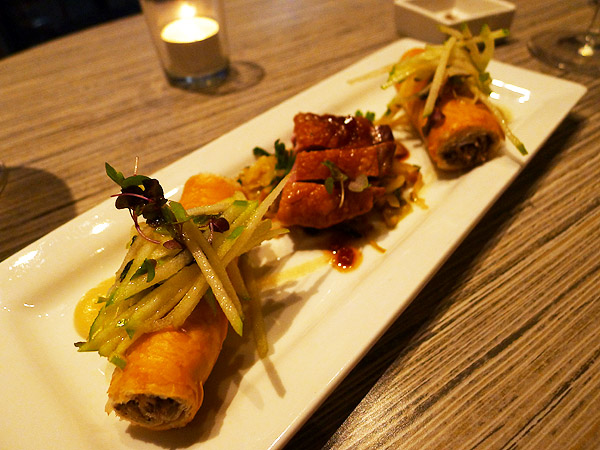 Roast duck breast and crispy confit leg, date puree, mushroom a la greque and salad mache ($24). Heaven on a plate. I particularly like the lift the apple salad gives.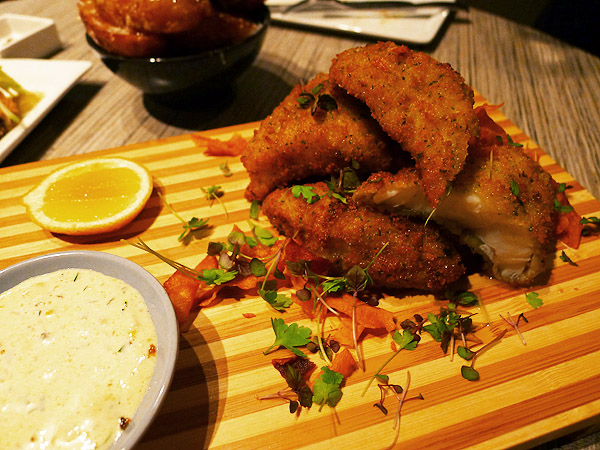 Back to that orgasmic fish dish.  Sadly I neglected to take complete note of all the components of this dish, or the name, must of been Ms Lily's moaning.   The moaning was seriously off putting and not something I had ever encountered before.  The fish had a herb crumb coating.  Was cooked to perfection.  When I cut my piece of fish juices exploded out and actually squirted over my top.  Orgasm, squirting, so stopping now.
Let me just say without moaning ecstasy, it was moist and tasty and I just wanted to keep eating more.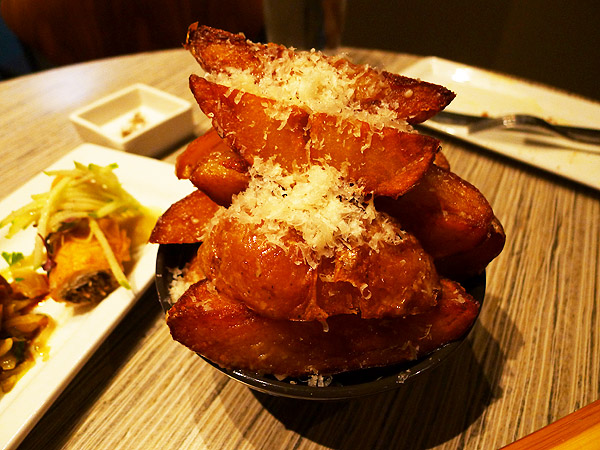 Our fifth choice of dishes was crispy truffled potatoes and parmesan.  Great potatoes, lovely truffle flavour, crispy outsides, soft insides, but a bit heavy for us.  Just a personal choice.  Potatoes were great but we would have been happier ordering the torched ocean trout or even the confit pork belly as our fifth choice.
Both being more savoury than sweet people we decided to forgo dessert and have a serve of cheese to finish our meal.
Graze is somewhere I would be more than happy to return.  Concept is fantastic and luckily the food does the concept justice.
Do tell dear Belly Rumbles reader, do you like to graze or do you prefer a dish all to yourself?
Sara xxx
Graze
182 Harris Street, Pyrmont
Tel:  + 61 (2) 9518 5025
www.grazepyrmont.com.au