Maranda of Jolts & Jollies was our January 2012 Daring Cooks hostess with the mostess! Maranda challenged us to make traditional Mexican Tamales as our first challenge of the year!
Firstly I need to apologise to Maranda, I made a massive mess of this challenge.  Hopefully my epic fail  wont set my standard for the rest of the Daring Kitchen, Daring Cooks' Challenges this year.
When I first read the challenge I was really excited.  I love Mexican food and I have been playing around with it a bit of late.  The other bonus was that I had most of the ingredients, no specialty shopping needed.  This was an added bonus as we had just returned back from holidays.
I actually have never come across a tamale in Sydney.  I am sure you must be able to find them somewhere?  (quick net search says Bodega & Flying Fajita Sisters?)  They don't grace your typical Mexican restaurant here.
What exactly is a tamale?  Everyone has heard of the expression 'hot tamale'.  I had heard of them, seen them on cooking travel shows, but never eaten one.  Tamales are a traditional Latin American dish, made with a masa dough.  They can be filled with meats, cheese, fruits, vegetables anything basically.  Wrapped in corn husks, they are then steamed or boiled.
I mentioned earlier that I made a bit of a mess of this challenge.  Where did I go wrong?  I had blue masa mix (blue corn tortilla mix) in the cupboard and decided to use that.  May have not been a clever idea as the recipe used masa harina which is a yellow corn tortilla mix.
Then the recipe called for  lard or vegetable shortening.  I must admit when I read lard I shuddered slightly.  Not due to the actual ingredient, but was the memory of my last attempt of using lard.  That was a Daring Bakers' Challenge, beef and oyster pudding, sadly that also ended up an epic fail.  I decided to use Crisco which is a vegetable shortening.  May not have been my right choice.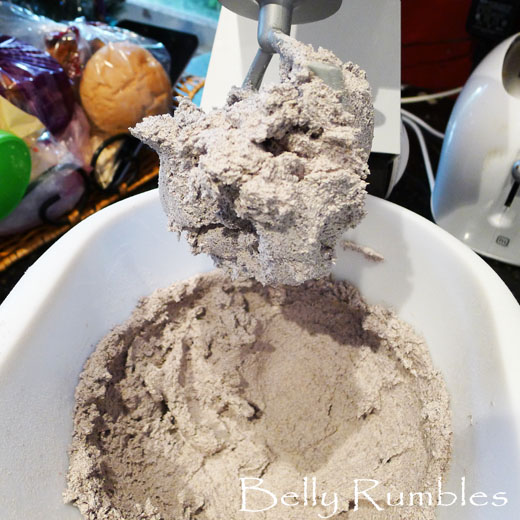 When I prepared the dough I didn't have to add the suggested water as it was very soft, almost like a paste.  I went ahead anyway.  In retrospect I should of scrapped it and started again using less shortening, making it by feel.
The chicken filling on the other hand was a win.  I made my stock from scratch and then used the chicken from that for the filling.  The green chile sauce is fantastic, extremely tasty.  I actually made double the amount due to using a big can of tomatillos.  The excess sauce was used on tacos and other meals.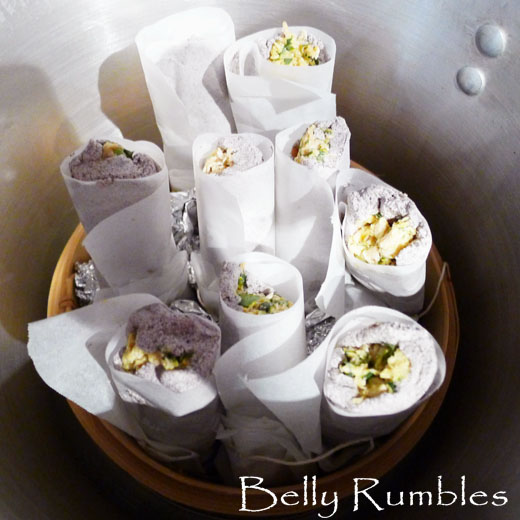 My tamales wrapped & ready to be steamed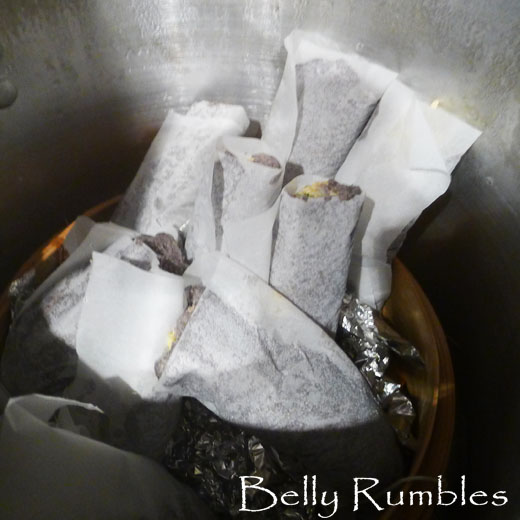 My limp looking tamales after being in the steamer for 30 minutes
I didn't source dried corn husks to wrap my tamales in.  Instead I used baking paper.  I do think that the use of corn husks would have aided in keeping the tamales firm, another mistake on my behalf.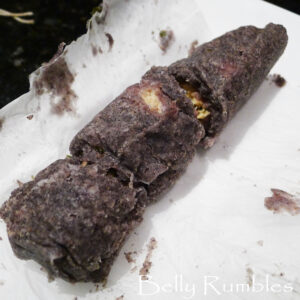 Tamale  unwrapped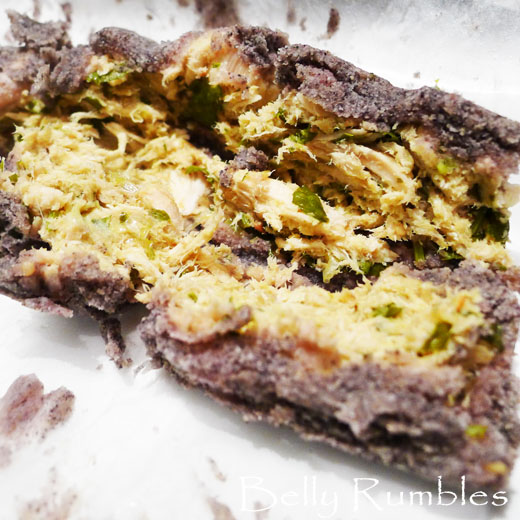 The tamale split open to reveal the gorgeous chicken filling
 Sadly it was the dough that let me down.  Once tamales were steamed the dough became very short and was slightly grainy to taste.  I am not going to repeat the comments the boys made about the look of them.  They didn't like them at all.
Sally and I were slightly more adventurous.  I didn't find them too bad.  Yes the dough wasn't the best, but I was happy to pick out my filling with a little of the crumbly short dough.  Sally thought they were awesome and would of eaten them all if allowed.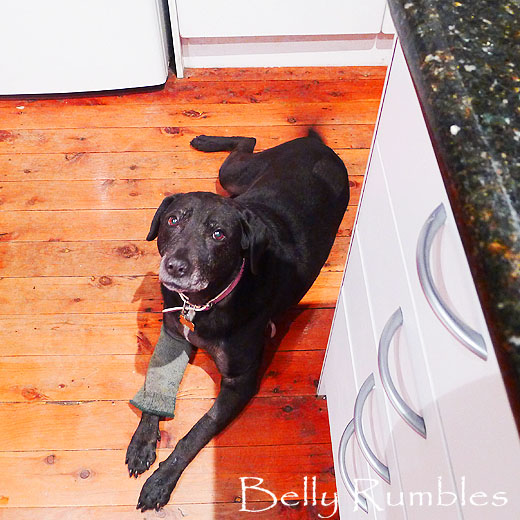 My darling Sally waiting patiently (as she does) for some more tamales. (You can still see some of her war wounds from operation in December, sock covers her skin graft that still needs TLC)
For Maranda's recipe and some decent pictures, please check out this link.  If you are not interested in making the tamales, I still recommend you try the chicken filling for tacos, wraps or even sandwiches.
Due to the boys not liking them from their taste test in the kitchen, they didn't actually make it to the dinner table.  No fancy plated pictures, sorry.
Will I give them a go again, not sure.  I would like to try them made by somebody who knows what they are doing.  After that I will work out if I want to retry.  When looking at Maranda's pictures they do look awesome.  The filling and the green  chile sauce have both made it to my tried, tested and will make again file.
Have you ever had an epic fail in the kitchen where your family have turned their noses up at it, but you didn't think it was that bad?
Sara xxx