I am not a dessert person.  Hand me a glass or red, soft gushing ripe triple brie, mild creamy blue and a sharp cheddar after dinner and you will win me over every time.  Therefore, I admit when I first heard of the Halloween Dessert Degustation taking place at Studio Neon, I wasn't quick to jump at attending.
Attend I did!  Of course I was going to when the three 'chefs' on the evening are friends of mine.  It was much excitement that Josh and I rocked up to Studio Neon to enjoy the spoils of two days hard work by fellow food bloggers, Billy (A Table for Two), Phuoc (Phuoc 'n Delicious) and Karen (Citrus & Candy).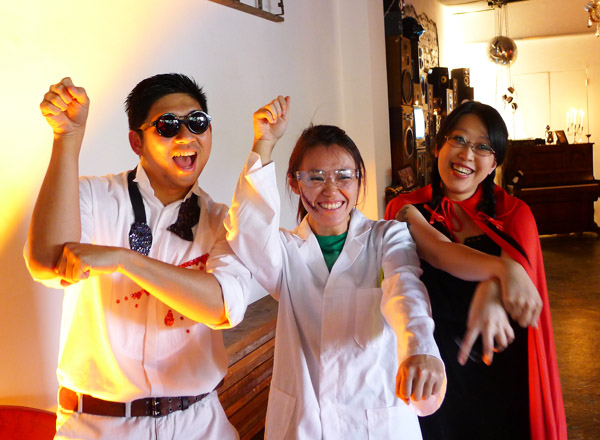 There were two seatings of 30 guests on the evening, Josh and I attended the first session.  I expected to find the guys all flustered and running around like headless chooks.  Not the case.  They were so cool, calm and collected it was ridiculous, talk about organised.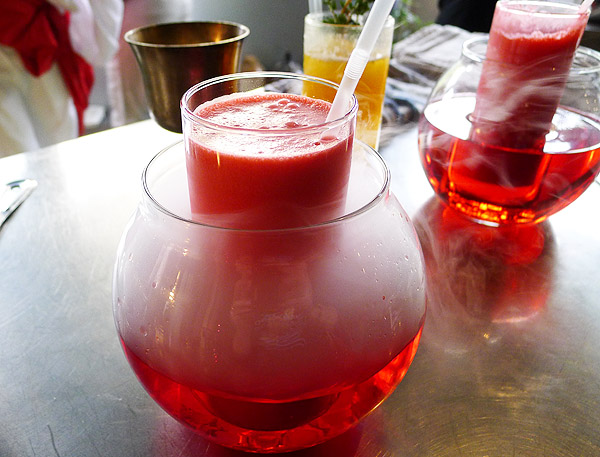 Guests started the evening enjoying complimentary beer from Arvo and spooky cocktails, $13 each.  The cocktails went by names such as, Transfusion, Human Sacrifice, Elixir of Life and scarecrow Mojito.  I decide to have the Transfusion, a potion of gin, lime & lemon juice, lavender sugar syrup, egg white and cream.  I love the presentation of a tall glass holding the cocktail, in a larger balloon style glass filled with red liquid and dry ice.  Looked fantastic with the misty swirls surrounding your cocktail as you drank.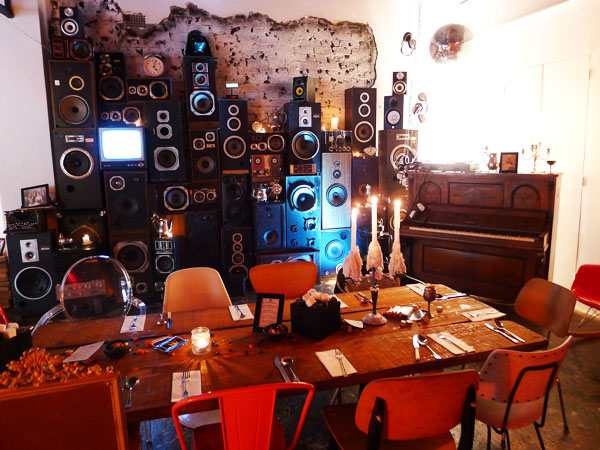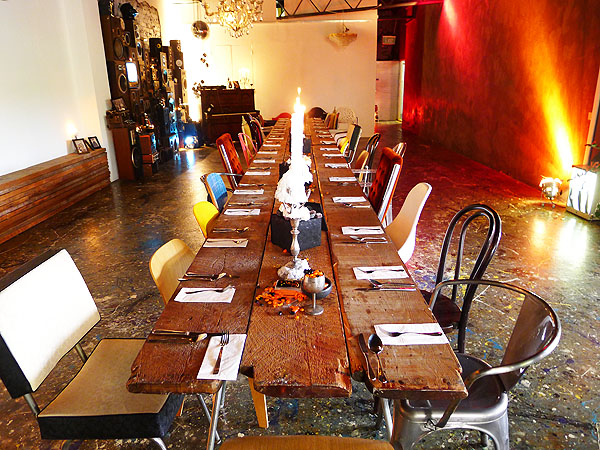 As this was a reverse dessert degustation, desserts were served first, with savoury mains to finish off.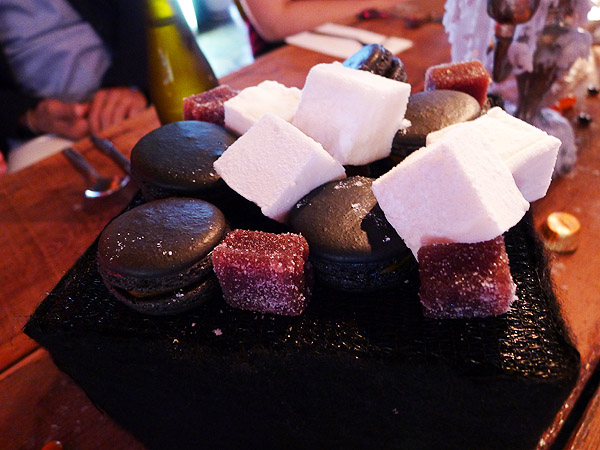 Billy wrangled the guest and got us seated.  Once seating Billy advises that the first course was already served.  A selection of petit fours already gracing the table.  Strawberry & balsamic pate de fruit by Phuoc, pineapple marshmallows by Karen and Billy's black sesame & charcoal macaron with pumpkin and blue cheese filling.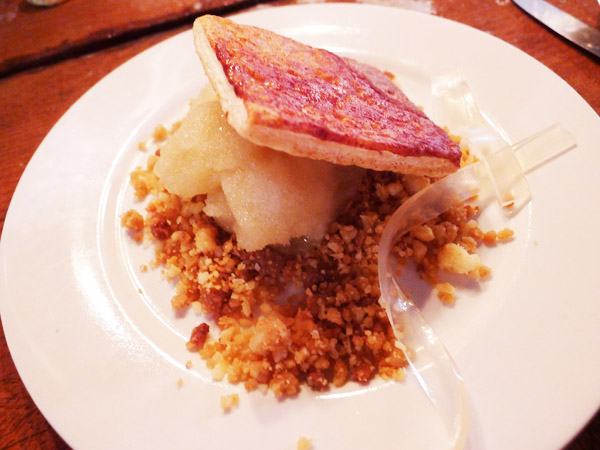 The first of the 'main' desserts is Phuoc's Deconstructed Apple Crumble.  Very refreshing apple and green tea sorbet sitting on a bed of macadamia crumble, snake like slivers of apple jelly and topped with a square of mille feuille.  The crumble had the surprise element of pop rocks throughout.  They always make me feel like a kid again when they start to pop in my mouth.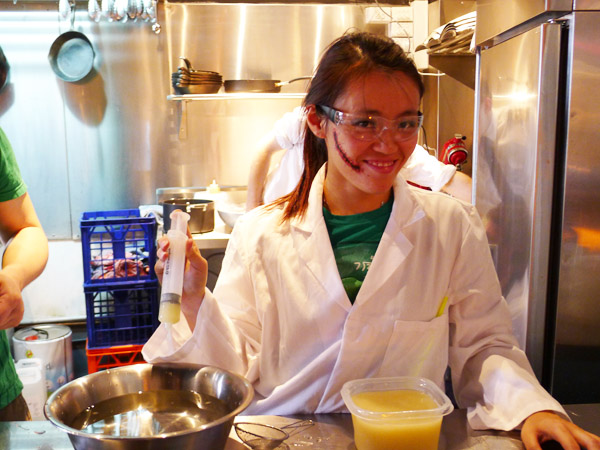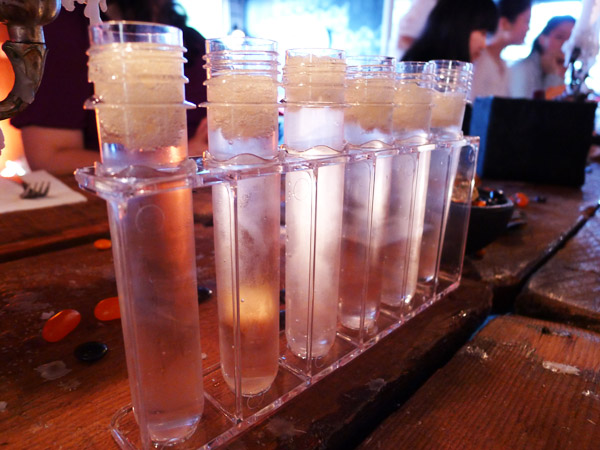 Phuoc served alongside the Deconstructed Apple Crumble a cocktail of apple juice pearls topped with moscato.  Presentation was fantastic and fitted her mad scientist attire as they were served in test tubes.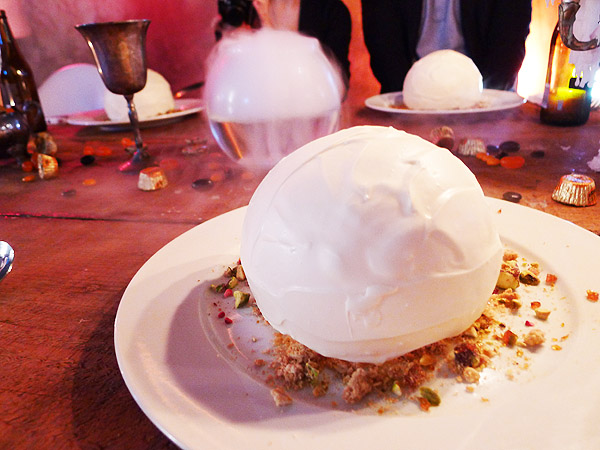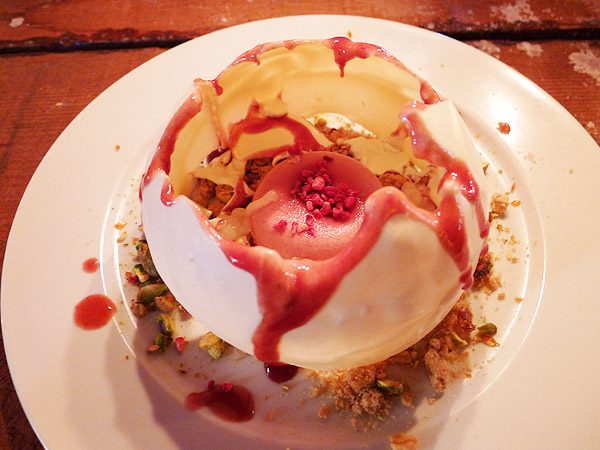 Billy's dessert was next up, 'Snow White'.  We are presented with a plate that has a massive white chocolate dome on it.  Obviously hiding something.  All is revealed when Billy and Phuoc come around and pour hot raspberry coulis on the domes.  The domes melt away in the middle to reveal raspberry mousse topped with freeze dried raspberry, sitting on oat crumbs, pistachio praline and lychee & rosewater gel.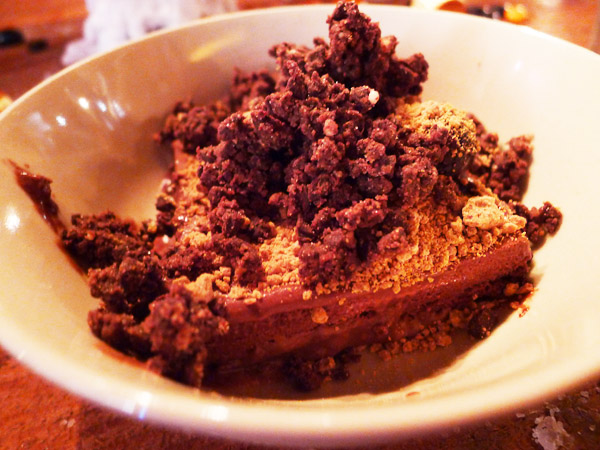 The final dessert course is Karen's, 'A Frolic in the Dirt'.  A generous serving of chocolate parfait topped with cherries infused with pepper and chocolate soil.  I was so certain I could taste a faint hint of mint.  It was a deep adult style of mint flavour and wasn't sure if I was imagining it.  All was revealed to me later that there had been the addition of Fisherman's Friend tablets to achieve the mint taste.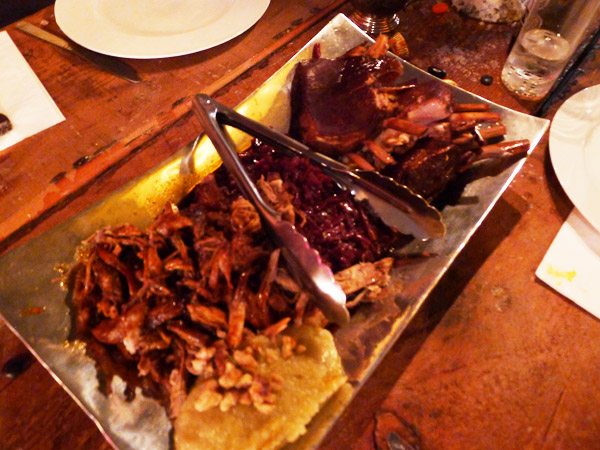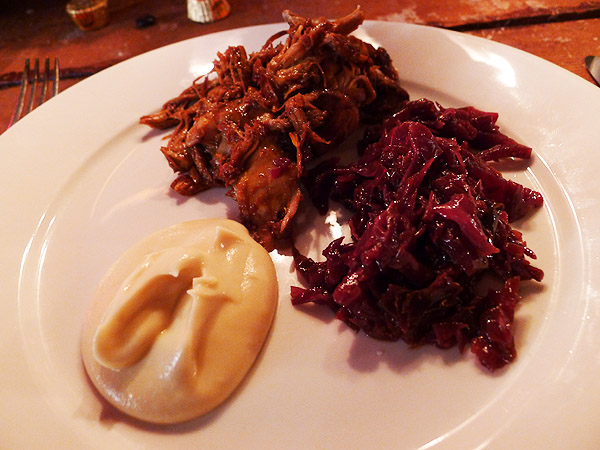 With all the dessert courses out of the way it was time for the savoury dishes.  We were all in a sugar coma and yearning for something savoury on our taste buds.  Platters were served adorned with Asian style lamb ribs (chilli & soy), Mexican smoked pulled pork and balsamic braised red cabbage.  Accompanied by cauliflower & walnut puree and apple sauce.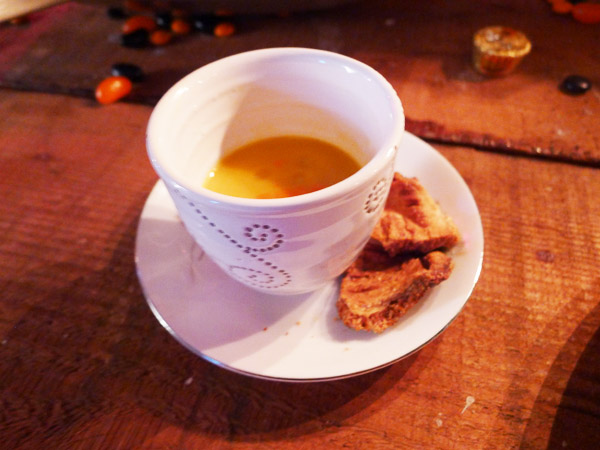 Just in case you weren't full enough, a final dish was served.  Remember we had petit fours to start?  Well of course we are going to finish with an amuse bouche, pumpkin soup with red pepper oil and pork cracking on the side.
The dinner ran so smoothly, you would think that these guys had been doing this for years.
We left as the next round of guests arrived for the magic to happen all again.  Josh and I bounced all the way back home in the car due to our sugar overdose.
Do tell dear Belly Rumbles' reader, are you the sweet or savoury type?
Sara xxx
For reviews of the second session please checkout Grab Your Fork, A Table for Two and Simon Food Favourites.