These arachnids are more cute than creepy, but they are still perfect for Halloween.  Even somebody with severe arachnophobia would have fun with these.  Just look at what gorgeous big eyes they have.  Did you know that generally spiders have eight eyes as well as eight legs?  As these are mini tarts there just isn't enough room for eight eyes, so two big ones will have to do.
You may remember my mini Chocolate Pumpkin Whoopie Pie recipe from a few weeks ago.  I fell in love with the pumpkin filling.  If you are able to catch me in the kitchen running my finger around the mixing bowl, to eat the remaining smudges of a cooking endeavour, you know it must taste good.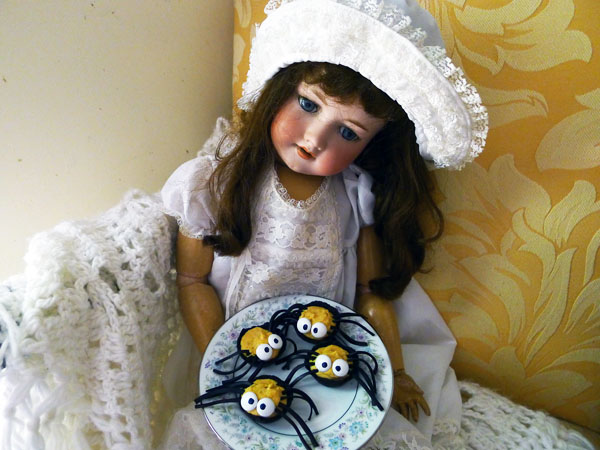 I knew I wanted to use the pumpkin whoopie pie filling another way.  The filling instantly reminded me of a cross between pumpkin pie and cheesecake.  I thought it would go brilliantly with a cheesecake style biscuit crumb base.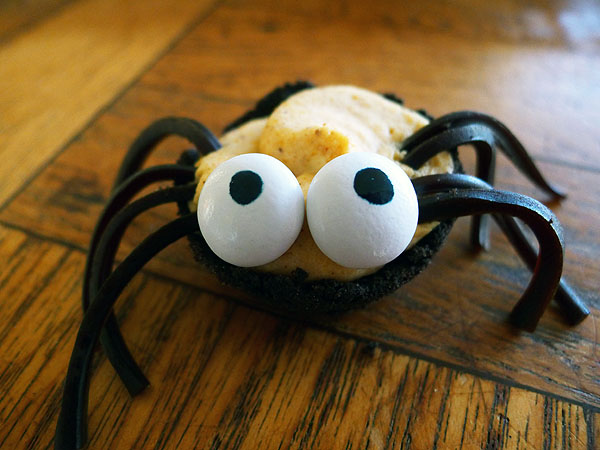 After discovering the taste sensation of chocolate and pumpkin, I wanted to use this flavour combination another way.  What better than to use original Oreo biscuits for a crumb tart shell.  If you haven't experimented with Oreos as a biscuit crumb base, I strongly suggest that you do.  They work a treat, creating a dark chocolate buttery tart shell.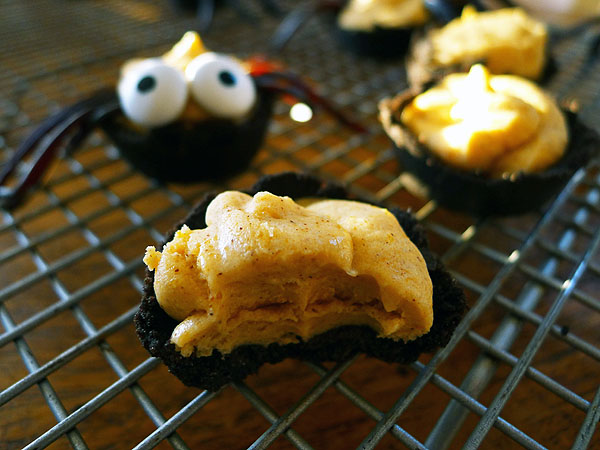 Making the mini tarts into spiders is a fun idea for Halloween, for kids and big kids alike.  If you want a more sophisticated tart, skip decorating them as spiders.  They are the perfect mouthful for a sweet canapé or as part of a dessert table.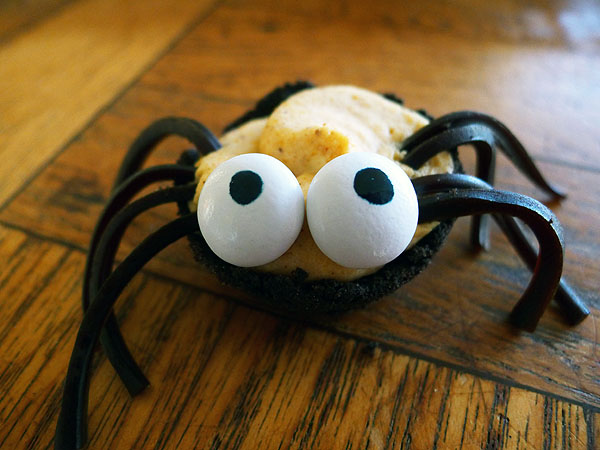 Creepy Chocolate & Pumpkin Spiders
Print
Ingredients
300

grams

Classic Oreo Biscuits

2 packets

50

grams

Butter

125

grams

cream cheese

at room temperature

115

grams

unsalted butter

at room temperature

1/2

cup

icing sugar

120

grams

butternut pumpkin

cut in to 3cm wide slices

1/2

teaspoon

cinnamon

1/2

teaspoon

nutmeg

72

white M&Ms

Liquorice strap

Edible ink marker

black
Instructions
Line the bases of mini muffin tin with cut-out-to-fit rounds of baking paper.

Blitz Oreos in a blender until they form a fine crumb. Place Oreo crumbs in a medium size bowl. Melt butter and add to Oreo crumbs, mix well.

Place half a tablespoon of Oreo crumb mix into each mini muffin tin. Press mix firmly into the tins to form mini tart shells. Place in fridge to chill.

In a medium sized saucepan place your pumpkin and cover with water. Simmer until pumpkin is soft and cooked through. Strain immediately and leave to cool slightly. Press pumpkin through a fine sieve to make a puree, set aside.

While pumpkin puree is cooling, cut fine strips of liquorice to be used for spider legs. Draw eyes on your white M&Ms. Set these aside.

Place cream cheese, butter and icing sugar in mixer bowl (or large bowl if using a hand held mixer). Beat on a medium speed until well combined and smooth, around 3 minutes. Add pumpkin puree, cinnamon and nutmeg and continue beating until combined. Scrape down bowl when necessary.

Take mini muffin tins out of the fridge once they have chilled and are solid. Turn them upside down. Make sure they are close to the bench when doing this. Press the base of the tin and give them a shake and the shells will fall out.

Remove the rounds of baking paper and place on a tray back in the fridge until you are ready to fill.

Place pumpkin filling in a piping bag and pipe filling in to tart cases. Insert four pieces of cut liquorice into each side of the tart to form eight legs. Place two M&Ms at the front of the tart to form the eyes.

Place spiders in fridge until it is time to serve.
Nutrition Facts
Creepy Chocolate & Pumpkin Spiders
Amount Per Serving
Calories 102
Calories from Fat 63
% Daily Value*
Total Fat 7g 11%
Cholesterol 13mg 4%
Sodium 61mg 3%
Potassium 34mg 1%
Total Carbohydrates 9g 3%
* Percent Daily Values are based on a 2000 calorie diet.
These spiders are perfect for Halloween or a spooky children's birthday party.
Do tell dear Belly Rumbles' reader, do you enjoy making fun edible goodies?
Sara xxx