What true Aussie doesn't love a barbie. I know when my neighbours are having one, it makes me want to run up to the shops, grab supplies and start grilling. BBQs and summer go hand in hand in Aus. It may not quite be summer yet, but Sydney's weather is absolutely glorious at this time of the year. Perfect time to throw a prawn on the barbie. For my US readers, we don't call them shrimps, ever. Well, unless they are a small prawn. Then we would probably say, 'take that shrimpy prawn back to the kitchen, this is Australia, and I wants me a big prawn!'.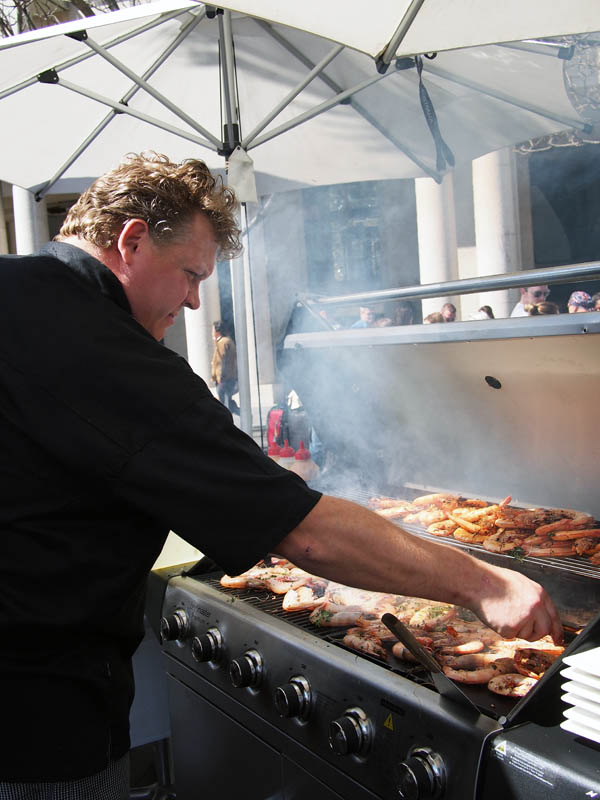 head chef rhys ward throwing a few prawns on the barbie
BBQs are great and really there are only a couple of things that can make them even better. Firstly hold it on the glorious foreshore of Sydney Harbour;  where the Sydney Harbour Bridge and Opera House are there beside you. Secondly, have one of Sydney's talented Chefs cook your BBQ for you.
Each Saturday during October, Good Food Month in Sydney, BBQ bliss can be yours at The Sydney Cove Oyster Bar. It's no secret my love of SCOB and long history of eating there, but at $55/person for the best BBQ in town, in the best location in town, it's too good to pass up.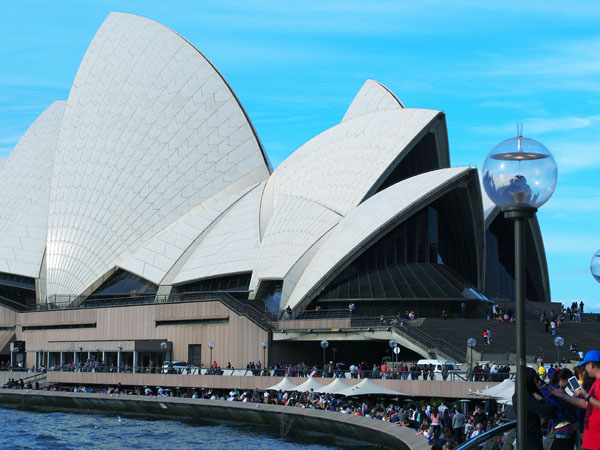 I was kindly invited for a taste of what is being served up over October. Sydney turned on all her charms for the day with perfect weather and lots of action out on the harbour. Plus there was the action of SCOB Head Chef Rhys Ward manning the BBQ.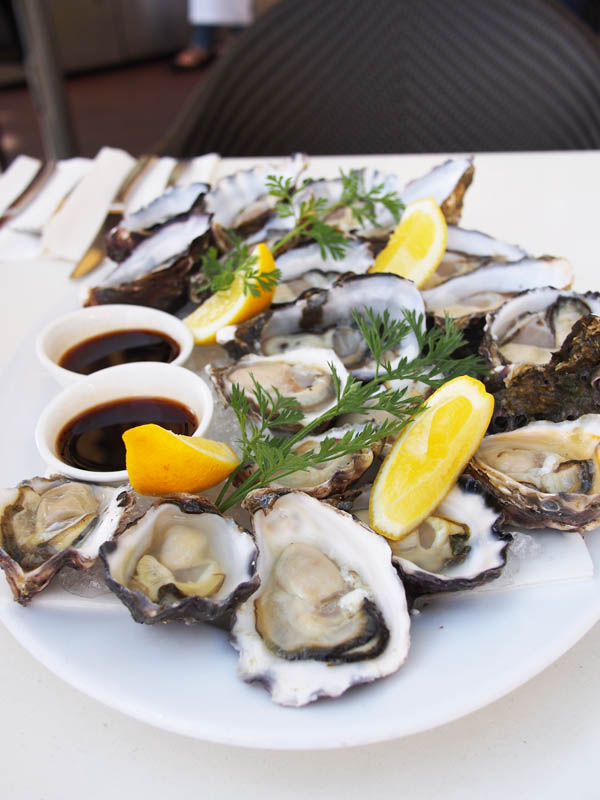 freshly shucked sydney rock & pacific oysters
When your restaurant is called Sydney Cove Oyster Bar, you had better make sure your oysters are good, really good. Thankfully, SCOB's oysters always live up to the name. Freshly shucked to order and simply quite delicious in their natural state.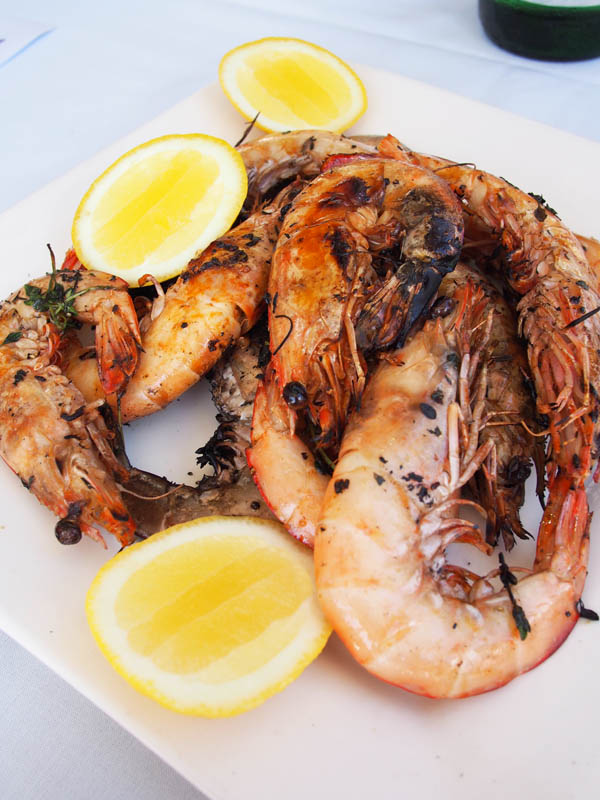 salt & pepper barbecued king prawns
Yes you are going to have to get your fingers dirty as they are served in their shells. May I say, my fingers have never tasted so finger licking good! They are served with a selection of sauces, the chipotle my favourite.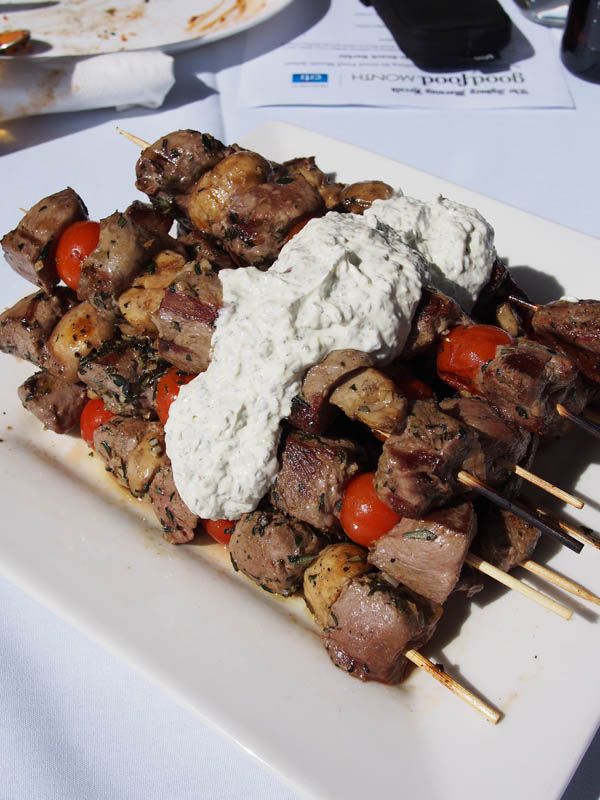 tender char-grilled lamb skewers
The lamb skewers also have cherry tomatoes and mushrooms on them. Lamb and BBQ just seem to go way to well together. My regular readers know I don't eat lamb, but let me reassure the lamb eaters out there, Mac ate my share and was a very happy and content man.
I love this dish, it is pure Rhys on a plate. May I say he is pretty proud of this dish, and he should be. Tender occy and pineapple with a herbs that give a Vietnamese twist. I loved this dish so much I asked Rhys for the recipe, stay tuned as I hope to be sharing it with you soon.
Ice cream cone, need I say more?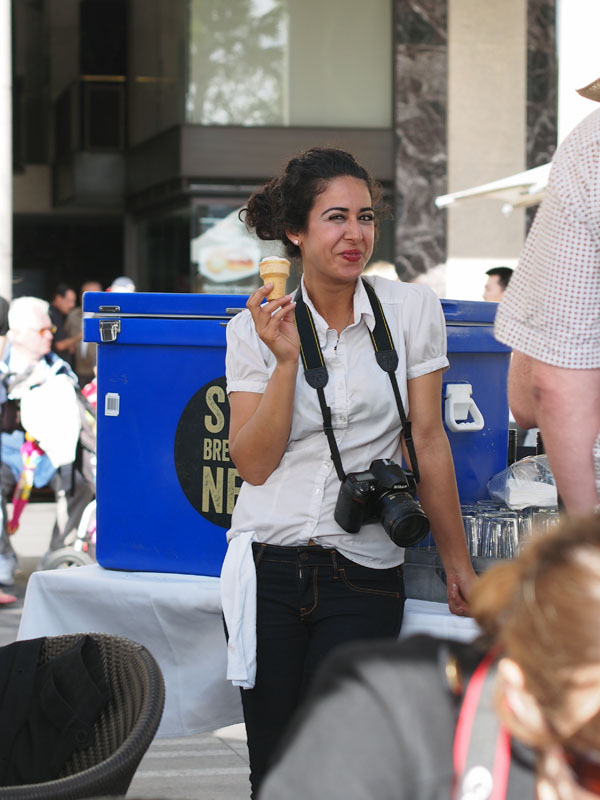 During the BBQ drinks will be served from ice-chilled eskies, just to keep you in the mood. Beers by Sydney Brewery, World Square. Glamarama Summer Ale $9, Surry Hills Pils $9 (this one has Mac's seal of approval) and Sydney Cider $8. SCOB has an extensive wine list, but on top of this there are wines by Simon Gilbert on offer at a special price (glass or bottle) just for the BBQ. May I say the wines have my seal of approval.
Sara xxx
The Sydney Cove Oyster Bar
Lot 1 Circular Quay E, Sydney
Harbour side Beach Barbie: $55/person
Bookings recommended, +61 2 9247 2937
BBQ is on 5th, 12th, 19th & 26th October, between 12-3pm
http://sydneycoveoysterbar.com