It was with a lot of excitement that I noticed that Harry's had arrived at Tempe.  They have taken over the old Deno's Diner site.  The whole time Deno's was there, which to be honest seems a lifetime, I never ventured in.  It was the most uninviting place, looked like a death trap for food poisoning, and I just kept driving.  May have missed something good, but there were never any cars out the front, so people weren't flocking to it.  How they stayed in business for so long I am not sure.
It was late on a Saturday night and Mac, Josh and I were driving home from a gig in Pyrmont and we had the munchies.  Perfect opportunity to try out Harry's on our side of Sydney.
I am not a regular visitor to Harry's but when I do I have no complaints, it is a nice alternative to late night/early morning dining.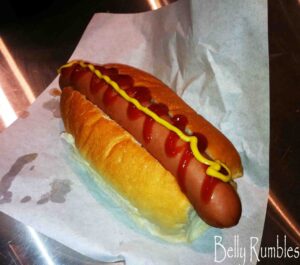 Hot Dog $4.20
I had a plain hot dog with mustard and sauce.  Simple and it really hit the spot.  I like their hot dogs, the franks have a good flavour to them.
Hot Dog de Wheels $5.90, Tiger $5.70
Josh had the Hot Dog de Wheels, which has mushy peas, garlic onions, chilli con carne, cheese and chilli sauce.  I think Josh devoured it in three mouthfuls, he really enjoyed it.
Tiger
Mac had a pie, and he went for the Tiger.  It is a beef pie that is topped with a thick layer of mashed potato, on top of that mushie peas and then a ladle of gravy.  All a bit much for me, but Mac says they are great.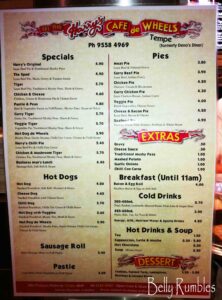 This area can be pressed for late night food offerings, and to be honest it beats McDonalds hands down.  If you have the munchies and are driving past I say drop in and grab a bite.
Sadly it attracts the "rev heads" of the area, or from afar, with their hotted up cars and big attitudes, that seem to have nowhere to hang.  I suppose the parking lot is a nice place for them to show off their cars and themselves.   Why I don't know, I suppose it is better than the McDonalds parking lot.  You should of seen them freak out when I was taking picture of the building. No, I explained, I am not taking pictures of you, I am taking pictures of the building, I am a food blogger.
Sara xxx