I think Helm Bar is in a bit of a sneaky location, away from the other bars and restaurants on Cockle Bay Wharf.  It really is king of its location next to the Sydney Aquarium.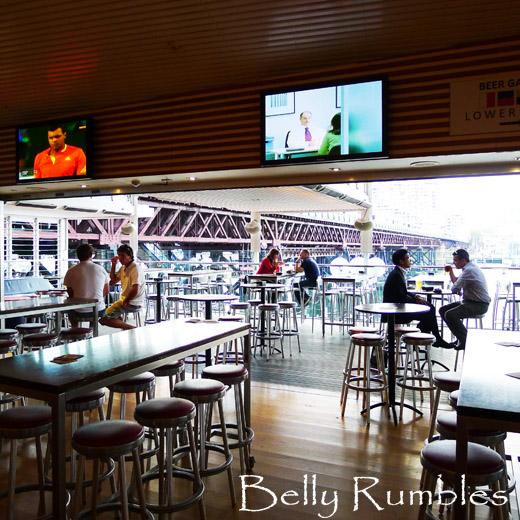 When you walk in you instantly notice the feeling of vast open open space.  In warmer weather the front of the bistro/bar is fully open, with the glass balcony creating an unobstructed view of the bay.  Clean lines and light wood make the environment very inviting.  Don't be put off for our colder wintery days, you will be warm and dry and still get the same view.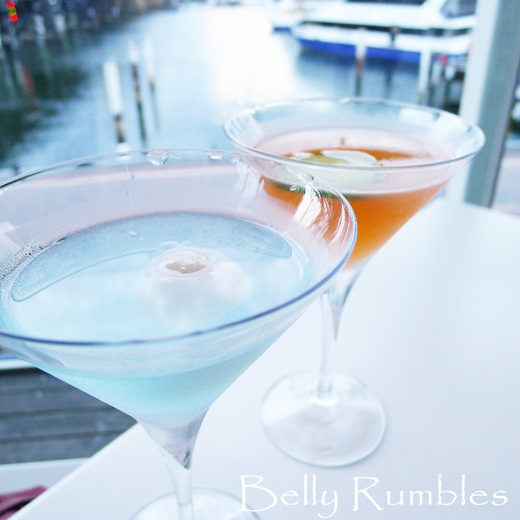 I am Job $16 & Ginny Hendricks $18
Helm pride themselves on their cocktails.  There is an appealing list of traditional and Helm Bar created concoctions.  I am actually driving this night, but do take the 'one for the road' attitude and order the staffs' pick 'Ginny Hendricks'. Hendricks gin and Aperol, muddled with cucumber, lime juice and sugar syrup, strained and topped with ruby red grapefruit juice.
Josh orders an 'I am Job' which consists of citrus vodka, Blue Alize, parasio and a squeeze of lime, also served in a martini glass.  I must admit, even though mine was the staffs' pick, Josh's choice is my favourite.
The bistro offers a nice selection, light meals, sharing plates, salads and heartier mains.   Josh and I start off with the trio of dips, spicy capsicum, hummus and eggplant served with chargrilled baguette and olives.  The dips were tasty enough, we loved the olives, but a little more bread would of helped to polish off the dips.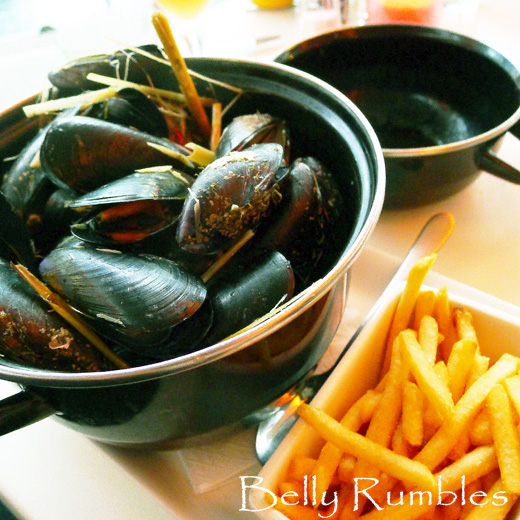 Mussels, Thai style $21.50 or $22.95 all you can eat on Thursdays
I know what I am here for, it's their Australian black mussels.  It does happen to be a Thursday night, where the special is all you can eat for $22.95, but I can't see myself stuffing my face.  Both Josh and I are entertained by a couple of girls sitting directly behind us, we watch them polish off 5 pots each!  Sadly I am a little disappointed, the mussel shells haven't had a quick scrub and the beards are all still intact.  Beards not being removed is a major pet peeve of mine.  I chose the Thai style mussels and while there were generous shards of lemongrass present, there was a lack of the advertised ingredients, ginger, chilli, coriander and coconut milk, it was very watery.  Saying that, the mussels were cooked perfectly, just a shame the other elements let the dish down.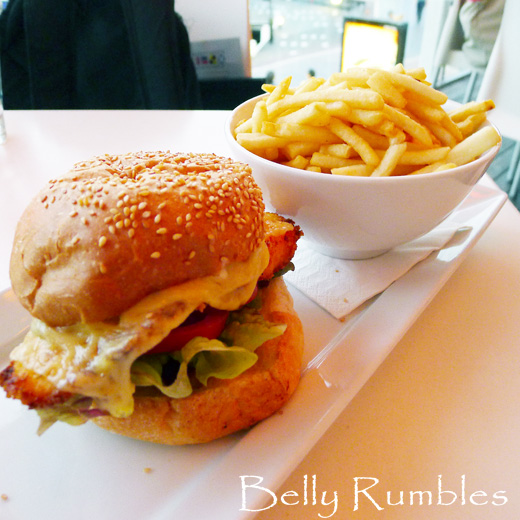 Chicken schnitzel burger $12 fries $6
Josh decided to have the chicken schnitzel burger.  It looked really good, I nabbed a taste and it lived up to expectations.  Nice juicy crumbed chicken breast fillet, bacon, tomato, cheese, lettuce, mayonnaise and peri peri sauce.  Josh also orders a side of fries.  The fries (chips) at Helm are great, no complaints there.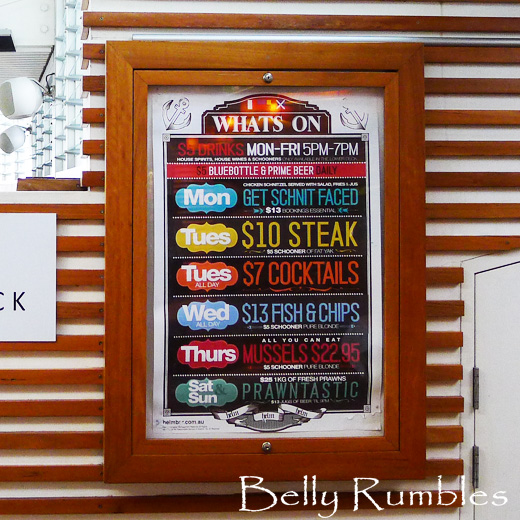 Helm has great nightly specials right through the week and are definitely worth checking out.
Sara xxx