I was wondering how long it would take the Heston for Coles range to appear for Easter festivities.  After a couple of very successful years of Australians going bananas for puddings and mince tarts, we can now purchase Heston's buns for Easter.
If you have been reading Belly Rumbles for a while, you will know how irate I get when I see hot cross buns and Easter eggs appearing on the major two supermarkets' shelves days after Christmas.  I refuse to purchase them.  I am a stickler for hot cross buns on Good Friday and chocolate Easter eggs only the week of Easter.  It use to be only from Easter Sunday, but I have mellowed in my old age.  Otherwise I feel their significance on their respective days is completely lost.  Please note that I have no issues with those that chow down on hot cross buns and Easter eggs leading up to Easter.  If it makes you happy, go for it, life is too short.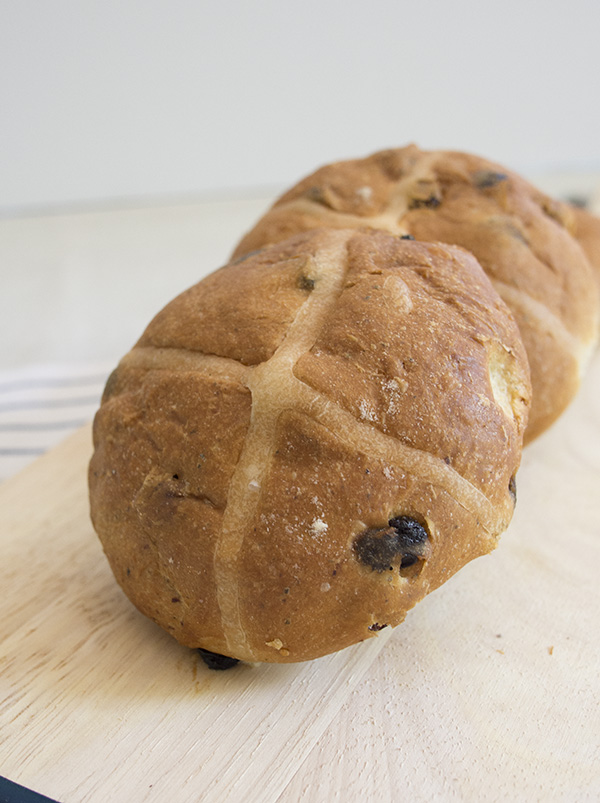 Ironically I found myself thrown off my high horse and buying hot cross buns yesterday.  It's been so long since I have road tested a product, that these babies were just the perfect candidates.
Packet Information
Bun Ingredients:  wheat flour, sultanas (25%), water, unsalted butter, sugar, yeast, crystalised ginger, pasturised whole egg, gluten, iodised salt, milk powder, lemon myrtle, lemon oil, orange oil, malted wheat, thiamin, folic acid.
Crossing mix Ingredients:  wheat flour, wheat starch, canola oil, iodised salt, vegetable gum (412).
Allergen advice:  contains gluten (wheat), egg and milk.
May be present:  peanuts, other tree nuts and sesame and soy.
General:  Nutritional information per 100 grams (the buns weigh approximately 100g), 1,250kJ/299Cal, protein 7.7g, total fat 10.4g, saturated fat 8.4g, carbohydrates 42.9g, sugar 21.5g, sodium 255mg.
Price:   $8.00/four buns
Knowing Coles' past reputation of importing 'freshly baked' bread from Ireland to sell to unsuspecting Aussies, I was pleasantly surprised to find out that these buns are a product of Australia.  The package states 'filled with plump sultanas, spicy ginger and aromatic lemon myrtle, this delicate and refined brioche-dough hot cross bun has to be the ultimate treat'.
The first thing you notice when opening the box, is the smell.  It is overpowering and not quite of just lemon myrtle.  Now that I have read the ingredients list it makes sense, it is the citrus oils used in the buns.
On touching one, I am really surprised, that for a brioche style bun, they feel like hockey pucks, very dense, very solid and feel very stale.  The thought of eating one straight from the box is ruled out, they need to be warmed up.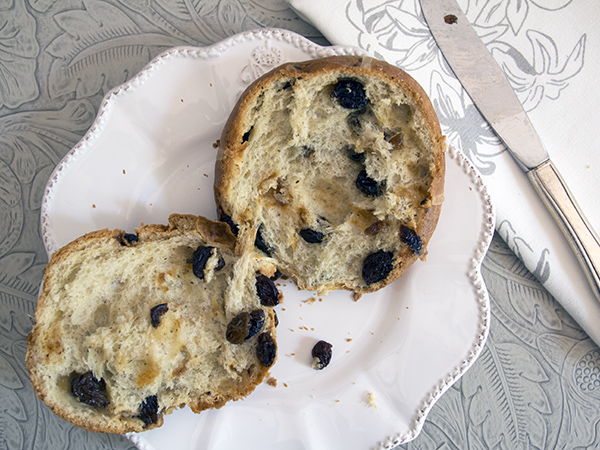 In the buns defense, they were baked on the 12th March and I purchased them on the 13th of March and ate them on their best before date of the 14th March.  Fresh out of the oven they, I am sure, wouldn't have a hockey puck feel to them.  Well here's hoping anyway.  But warning to you all, if you do buy them, after a couple of days, don't throw them at anyone, they may cause serious injury.
I warmed the buns up in the oven, 160 deg C, for 10 minutes.  The warming made all the difference to the product.  A slight crust on the outside formed and when cut open they have been refreshed to new life.
With all the smells on opening the box, you can't really taste the lemon myrtle when you eat them.  The smell is there, but not the taste.  The sultanas are plump and juicy, but we can't find any of the stated ginger.  They lack in spices.
They are actually pretty buttery in taste on their own without smearing them with butter.  Not saying don't, they are fine with extra butter too.  What I do like about these buns, is that you can peel the crosses off them.  My inner child will never die.
Do I recommend them?  I won't be buying them for Good Friday as I do like a traditional hot cross bun.  One that is light and fluffy with lots and lots of spice, which can be decadently smeared with good quality butter.
As the old saying goes, unless you try them for yourself, you will never know.  If you do try them please let me know what you think.  Really would love to hear from somebody that eats them on the day of baking, not on the best before date, which we did.
Sara xxx