Having read a plethora of reviews by bloggers and mainstream food critics, I had definite expectations about Jamie's Italian.  If you aren't aware Jamie's Italian is Jamie Oliver's Sydney restaurant.  The mission is to provide Sydneysiders fantastic rustic dishes using Italian recipes that have been tried, tested and loved.
You can't make a booking for Jamie's Italian unless you are a group of six, even then you need to do this well in advance (found that out earlier this year when planning a birthday get together).  I am not fond of the not being able to book situation, at all.  So I decided that a visit for a late Saturday lunch may be the best time to go.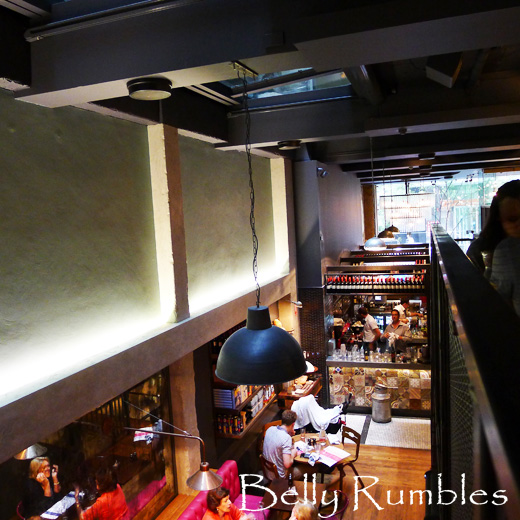 I knew that I would be given a buzzer and told there would be a wait for a table.  We were advised there would be 45 minute wait for a table for two.  Unlike as stated on their website, we didn't find that  'queuing for Jamie's is quite a treat'  and served antipasti whilst waiting.  Instead we were told there was a 300M range on the buzzer and basically told to come back, we weren't even offered a seat at the vacant bar to wait.  So we went to the pub for a beer and cider to kill time.  Our wait ended up being 35 minutes.  Once seated I was quite surprised that they were still telling diners there was a 45 minute wait, there were plenty of vacant tables?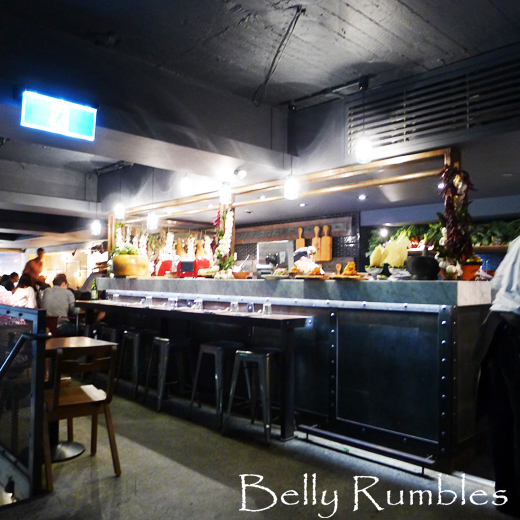 I knew chances were high that I would have to ask for the complimentary bread offered to all diners.  It is a complimentary item on the menu, but unless you know about it, read that it is complimentary, don't expect to be offered.  Yes I had to ask and our bread was promptly brought to our table.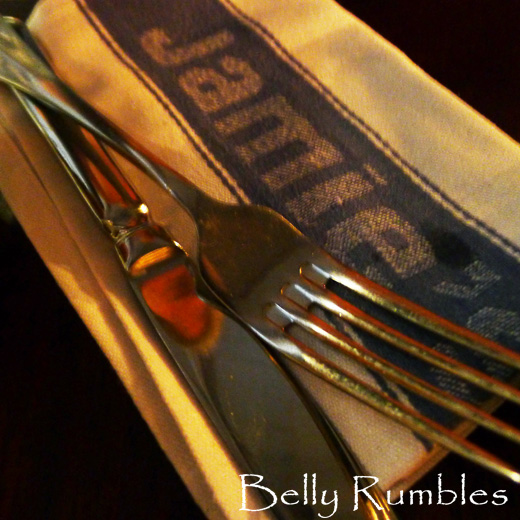 Clever use of branded half tea towels as serviettes
Skipping ahead, what I didn't know was that when the bill arrived at the end of our meal there would be an automatic merchant charge on it.  As we were paying cash I questioned why it was on the bill.  I wasn't going to pay it.  It was an amusing performance as we watched two waitresses try to work out how much change we were owed once they took the merchant fee off the bill.  The first few minutes they tried to do this as a combined effort in their heads.  After this they decided to pull out a piece of paper to do the math.  I eventually got my change.  I suggest if you are dining there to watch out for this very crafty automatic addition to the bill if you are paying by cash.  Due to the skill they showed in mathematics, I assume not many people pick up on this automatic addition.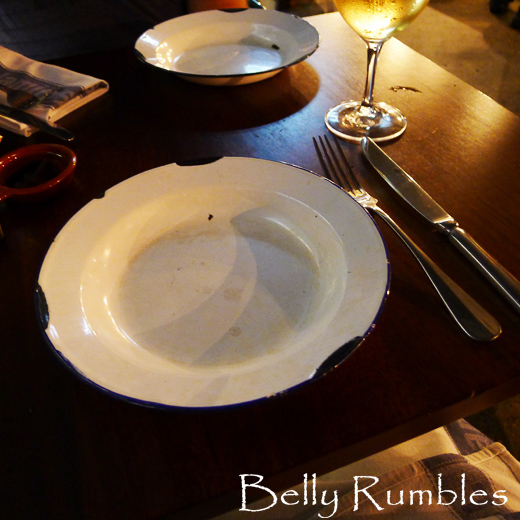 Chipped tin camping bowls to eat you shared dishes from
That was how the meal started and finished, let me fill you in on the in-betweens.    The look of the restaurant is dark and industrial.  Think wood, metal, trash cans, concrete floors, graffiti walls and mirrors that look like they need a good clean.  I actually like the look and feel of the restaurant, but a bit more lighting please, reading the menu was quite difficult.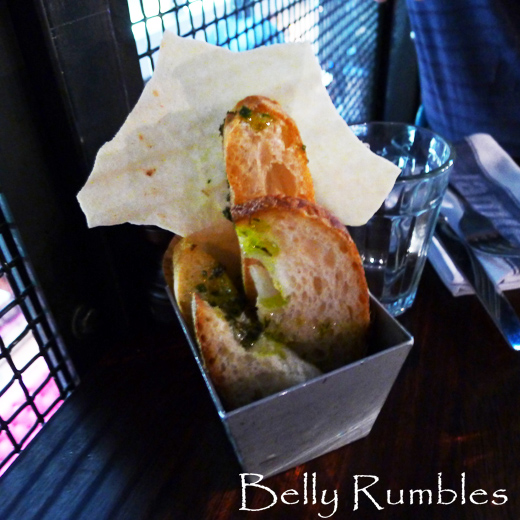 Complimentary bread, which you need to ask for
Mac went for a walk to the loo before we ordered.  On his return he flatly told me that if I was contemplating ordering pasta that I should go for a walk and look at the sloppy messes in the bowls at our fellow diners' tables.  Mac has travelled to Italy on numerous occasions.  Actually when Josh was four we lived there for a while.  Let's just say we are particular about our pasta.  Living in Bologna will do that to you.  I looked at Mac and said not to be so harsh, what did he expect?  His answer, Jamie Oliver's name is on the restaurant door followed by the word Italian, I expect decent Italian food.
We ordered a selection of three dishes from the nibbles and antipasti menus to start.
Mini sweet chilli peppers stuffed whipped ricotta, mint and lemon.  The only element of this dish I enjoyed was the slight heat of the chillies.  The ricotta filling is a sloppy flavourless liquid mess.  I like the concept of the dish, presentation is pretty, but flavour wise it does not deliver and is a mushy mess when eaten.
Thinly sliced fried squid served with 'really' garlicky mayo.  Yes the mayo was really garlicky, I liked it, I liked it a lot, Mac not so much.  The squid, as it was so thinly sliced, ended being on the tough side.
This dish grabbed my attention from the beginning, crispy fried four cheese ravioli with 'angry' arrabiatta sauce.  The ravioli seemed a little hollow, but the menu did say there was a filling in there, somewhere.  Why the arrabiatta sauce is 'angry' I am really not sure, just tasted like a tomato sauce.  Forgetting there should be filling in the ravioli and the sauce should be angry, it was an enjoyable nibble.
Wagga Wagga beef with fontina cheese, salami, soft lettuce, tomato salsa, dill pickles, chilli and fried onions, served on a brioche bun.  Mac makes me laugh sometimes, the stand alone burger came out on a wooden board, to which he replied it would of been nice to have had a plate.  Mac had spied the burger on his earlier walk, but it was on a plate with chips, so he was disappointed.  The meat patty itself was tough to cut through, but when eaten is was quite tender, I pinched a bit.  As it was a tall burger it basically fell apart when you began eating it, not a fan of the mile high burger.  Not the best burger in town.
It was a tossup for me between risotto or the dish I ended up ordering, veal saltimbocca.  Wafer thin veal with sage and prosciutto, flash grilled with a spicy tomato, basil and chilli salsa.  The veal tasted of char grill, it was the most prominent flavour in the dish, overpowering the delicate sage and prosciutto.  Those elements were there, I could see the sage and prosciutto, but not taste them.  My dish tasted like char grilled steak with tomatoes.  I couldn't find any basil in the salsa, but it was dark.
I ordered a the best humble green salad to go with my main.  Lettuce, with mint and lemon buttermilk dressing and grated parmesan.  Lots of parmesan, that was definitely not lacking from the salad (a tad too much to be honest) and the dressing had a nice tartness to it.
Jamie's Italian has now been ticked off my list of 'want to try' Sydney restaurants.  I have read people say that the food is good value, to be honest I think you get what you pay for.  $19.50 for a burger (Rockpool's Wagyu burger is $24), $22.50 for a couple of wafer thin slices of veal topped with a few tomatoes, nope I don't think it is great value.
Have you been to Jamie's Italian?  What did you think?  Are you planning on visiting? 
Don't forget that the Yellow Tail wine giveaway, for three lucky readers, is open until Friday midnight.  Enter as many times as you like HERE
Sara xxx