I have the flu.  I feel terrible.  I want to curl up into a ball and sleep for 24 hours.  Sadly that isn't going to happen.  I am way too busy right now.
I was going to share my kareage recipe with you, but I am feeling sookie and instead sharing this soup recipe.  This soup is a pure comfort soup, a soup that gives you a hug from the inside.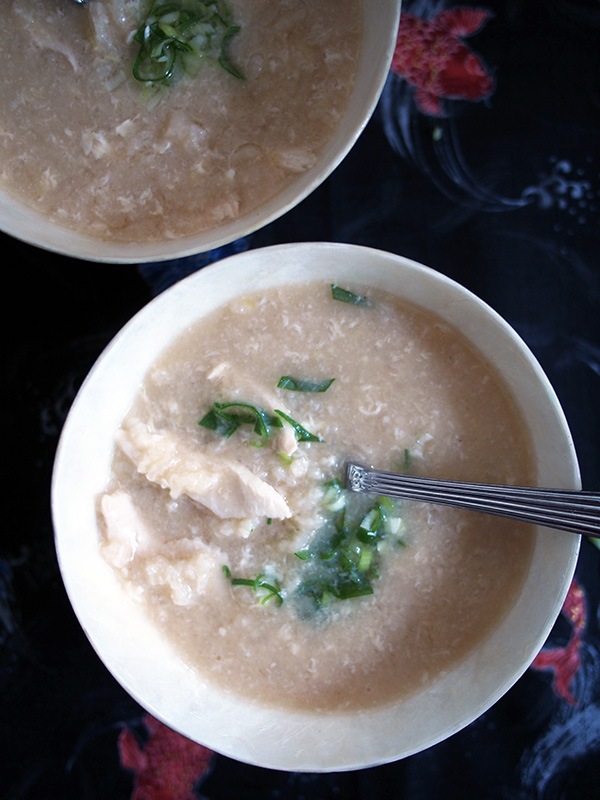 Josh calls it gruel.  I am sure that Oliver would be quite happy if a bowl was served up to him and I'm sure those famous words would be uttered "please sir, may I have some more?"
He may be right in calling it gruel, but if gruel it is, then it is mighty tasty and satisfying.  It reminds me of Chinese congee.
Japanese short grain rice is slowly cooked in dashi.  Cooked until it starts to break down.  This soup is simple as well as the flavours used.  There is some ginger to give it a tiny little lift; the chicken is more for nutritional value than anything else as breast meat is used.  Finished off with some freshly chopped green onion, which adds some green freshness.
If you have the flu, or are getting over a sore tummy, this is the soup for you.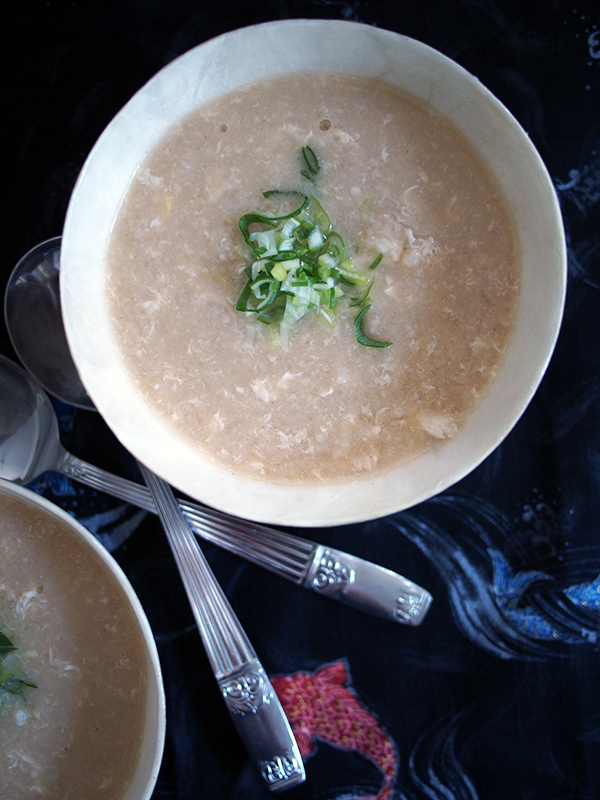 Japanese Rice Soup
Print
Ingredients
160

grams

Japanese short grain rice

2

liters

*dashi

1 ½

tablespoons

soy sauce

2

teaspoons

mirin

2

teaspoons

sake

300

grams

chicken breast

finely sliced

2

eggs

lightly beaten

1

tablespoon

grated ginger

2

green onions

finely chopped
Instructions
Place your rice in a sieve and rinse well, until the water runs clear.

In a large heavy based saucepan (with lid), place dashi and rice and bring to a slow boil. Cover with lid and cook for 50 minutes, stirring occasionally to ensure the rice is not sticking to the base of your pot.

Remove lid from your pot and soy sauce, mirin, sake and chicken. Continue to cook until the chicken has cooked through.

Stir in beaten egg and ginger. Once egg has cooked, serve in bowls and sprinkle with green onion.
Nutrition Facts
Japanese Rice Soup
Amount Per Serving
Calories 233
Calories from Fat 36
% Daily Value*
Total Fat 4g 6%
Cholesterol 86mg 29%
Sodium 1152mg 48%
Potassium 523mg 15%
Total Carbohydrates 23g 8%
Protein 20g 40%
* Percent Daily Values are based on a 2000 calorie diet.
*Dashi is a fish stock made from katsuobushi (bonito flakes), konbu (dried kelp) and water.  I do make my own, but I also keep a supply of dashi granules in my pantry.  You just add water to the granules to make up your dashi.
I did mention a kareage recipe earlier.  That will be on Belly Rumbles very shortly, so keep an eye out. If you are after another comforting soup then you may also like my Jewish Chicken Soup recipe.
Sara xxx