Jimmy Liks has been around for quite a while now. Frist time I ate there was about ten years ago. I became a firm fan of their twice cooked spicy pork hock. Actually I raved to anyone that would listen about how good it was.
I ventured back a couple of other times after the first visit, but I haven't been back for a while, definitely not since I started Belly Rumbles. It was always on the list, but with so many offerings in Sydney, I just never made the trip.
I eventually made a booking, and then worried if it would be as good as I remembered. Having raved about this pork hock for ages, would it stand the test of time? Would my now more experienced taste buds still think it was great?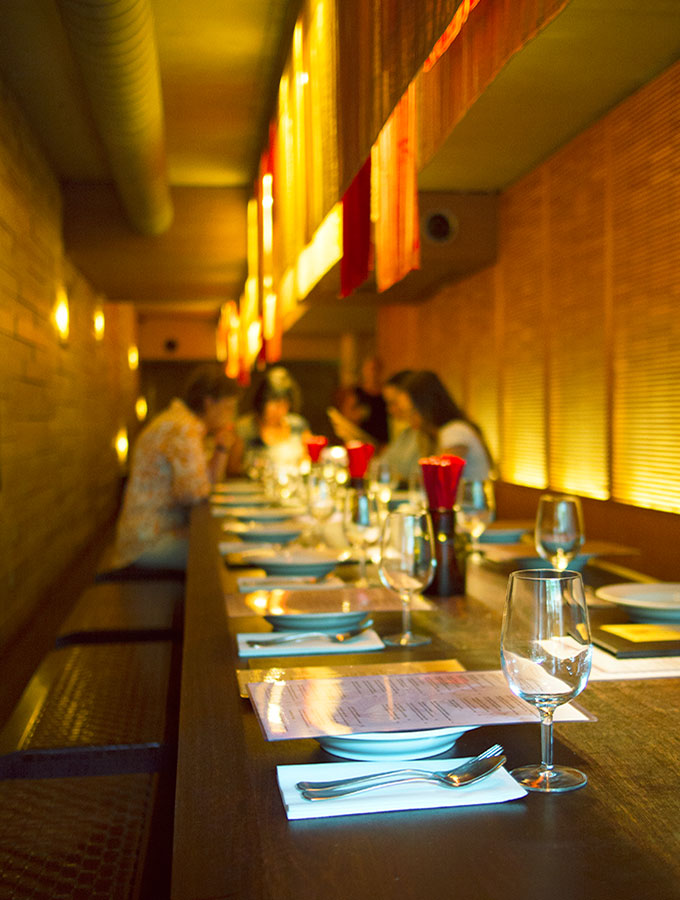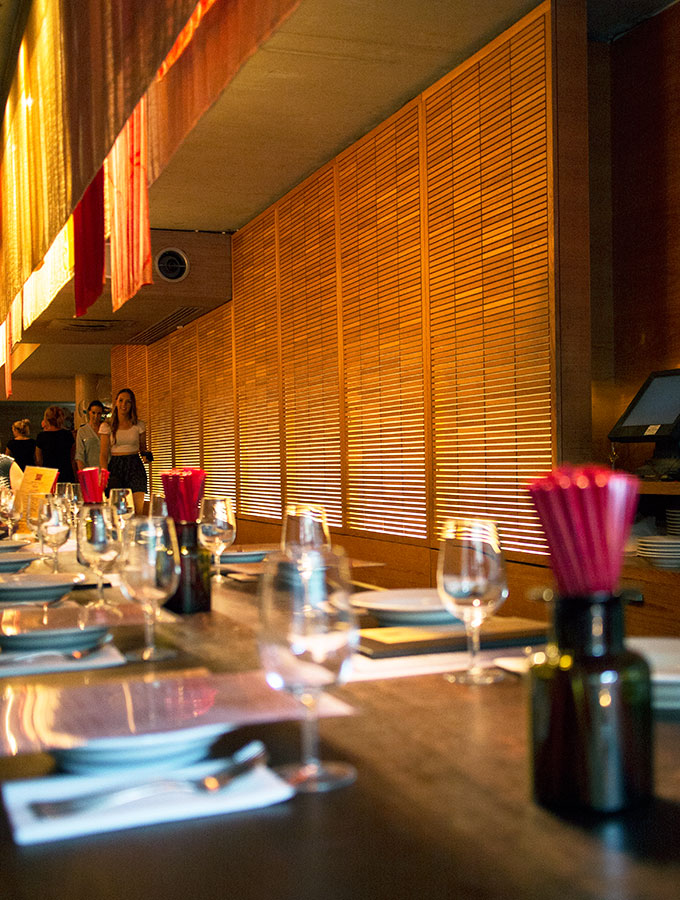 The Jimmy Liks is a long cool slither of a restaurant and bar, actually two slithers. The cocktail bar one side and the restaurant the other. The bar offers tall tables and bar seating at the front with cosy lounges down the back.
The restaurant comprises of three long jarrah communal tables with bench seating. There are a couple of tables out the front too. It's a dark space and it becomes extremely noisy as the night goes on. This is one thing that hasn't changed over the years, and conversation can be difficult at times.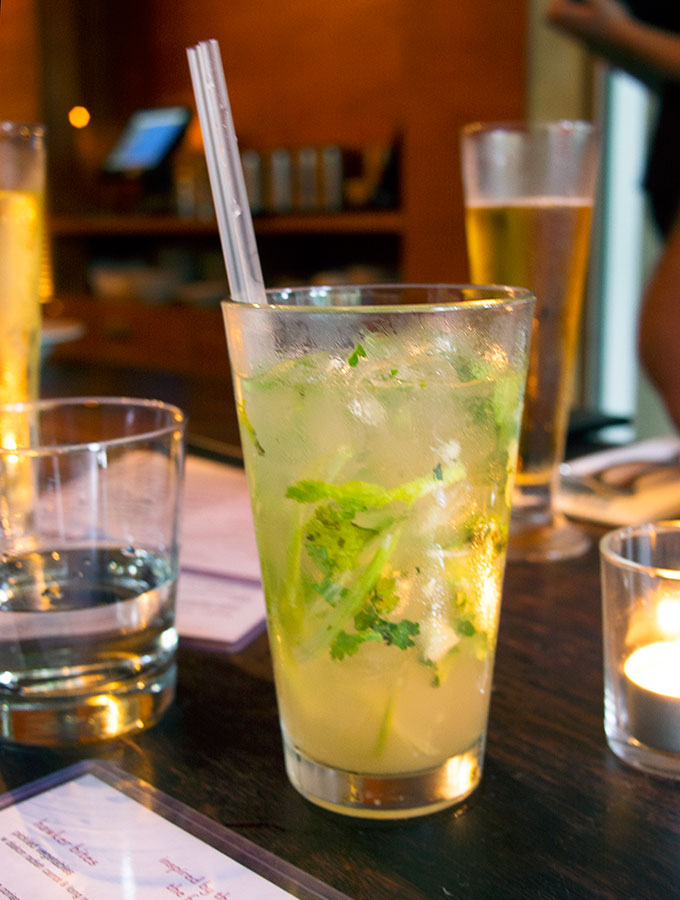 My suggestion is to request seating at the front of the restaurant near the large window or at one of the three tables outside. The outside tables are my recommendation if you want to hold a conversation and not be all communal with others.
The staff are lovely, the dress code is pretty blonde backpacker dressed in teeny weeny black shorts and matching tee. They are accommodating when we ask for an extra piece of some dishes. There are three of us and some dishes only come with two pieces. It's not a problem at all for us to pay per piece.
I am thrilled to see that the Jimmy's selection set menu is still available. It is what I had 10 years ago when dining there for the first time with a group. The menu has changed a little, but the price hasn't changed in 10 years, if anything I think it has gone down by $5. For $50 a head you get a selection of their more notable dishes, including the pork hock.
We didn't go for the set menu, instead we tried a variety of dishes from the hawker bites and street plate offerings.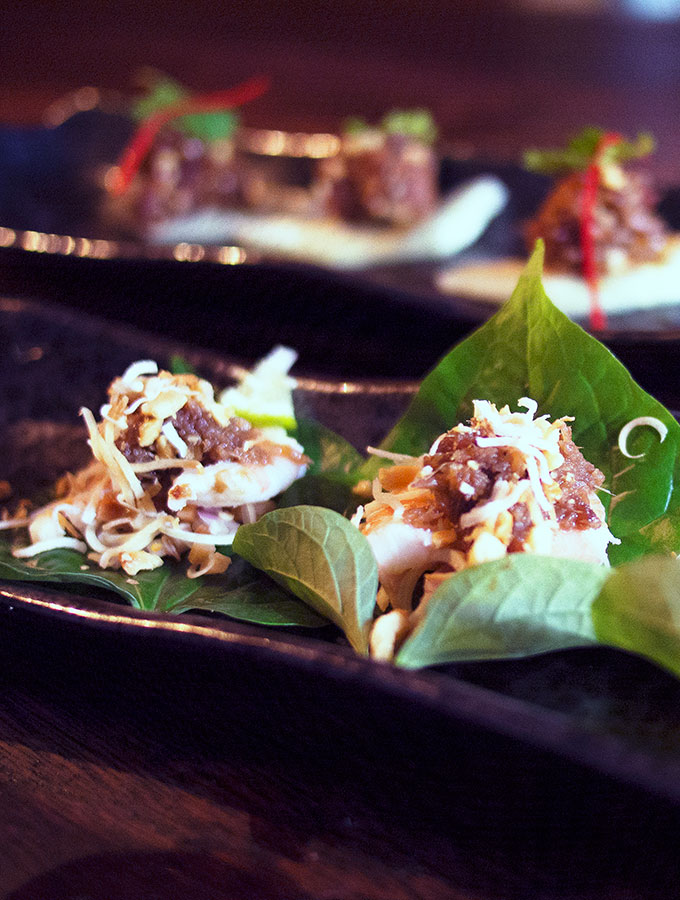 King prawn betel leaf, with roasted coconut ginger peanut lime and green scud ($5 each). The first time I ever tried betel leaf was at Jimmy Liks all those years ago. I had to order the king prawn one again. It didn't let me down, a burst of flavour and texture in the mouth.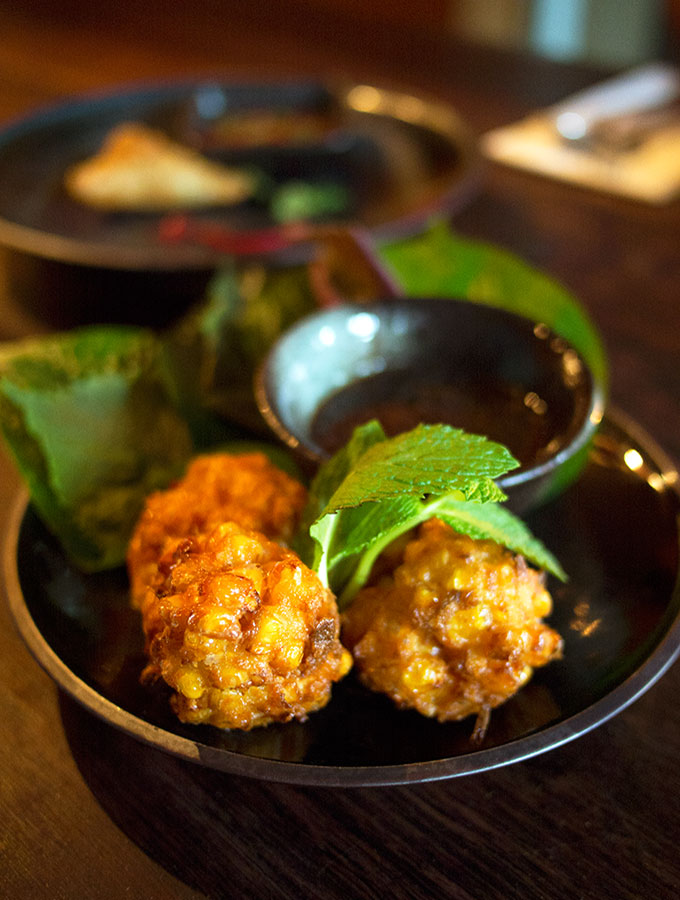 Crispy sweet corn fritters, with shiso leaf and soy ginger dipping sauce ($8.50/2 pcs).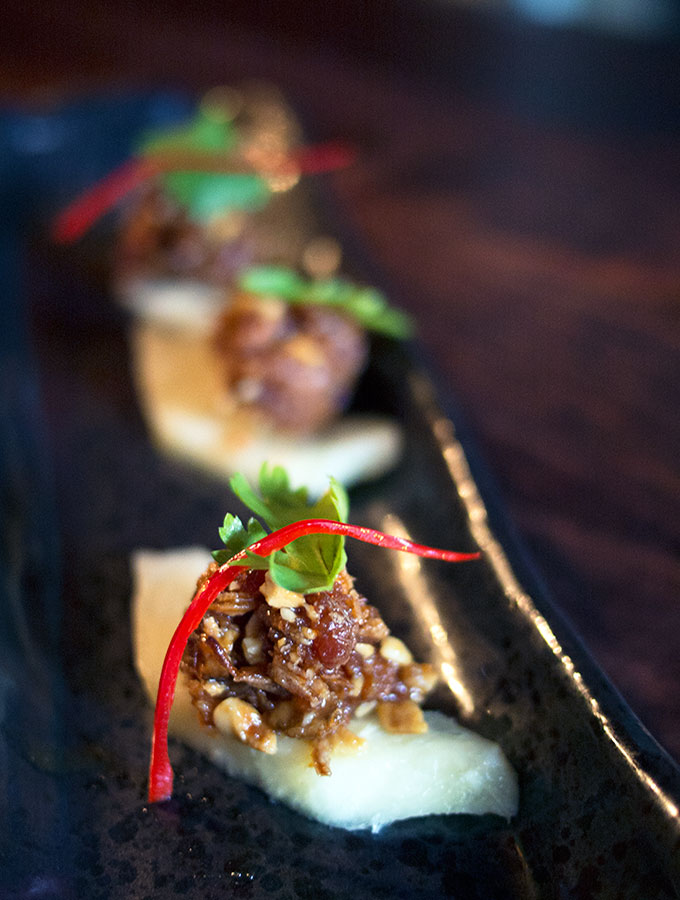 Ma hor galloping horses, with 3 minces palm sugar, peanut on pineapple ($6/2 pcs). The mince is caramelised by the palm sugar, a lovely contrast of sweet and savoury.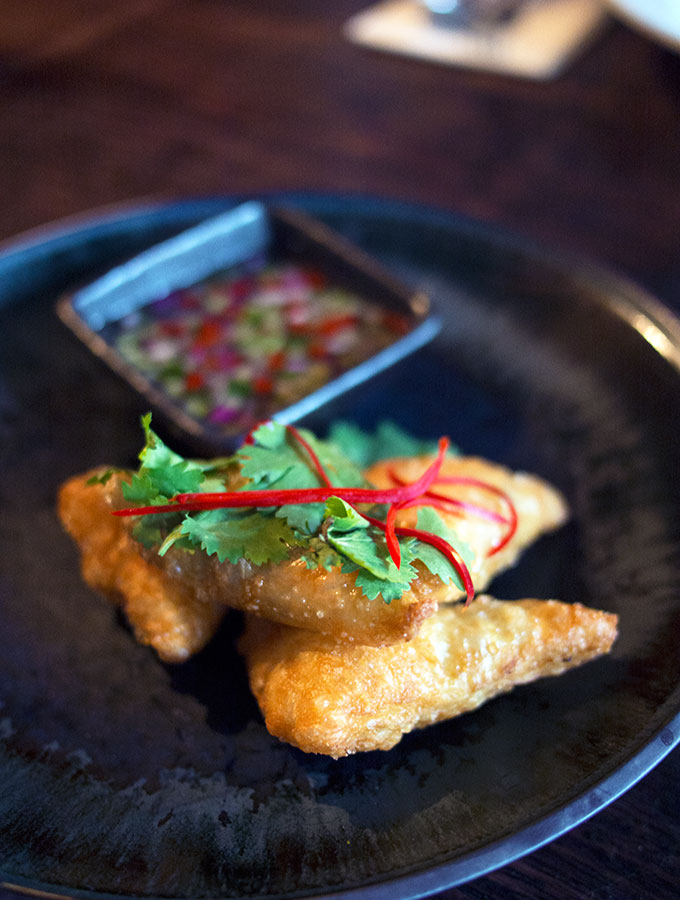 Spiced chicken curry puffs, with pong gari spice potato & ar-jard ($12/4 pcs). The curry puffs are mildly spiced, but they have the double layer dough action happening. The bubbly crispy outer dough and more serious inner dough.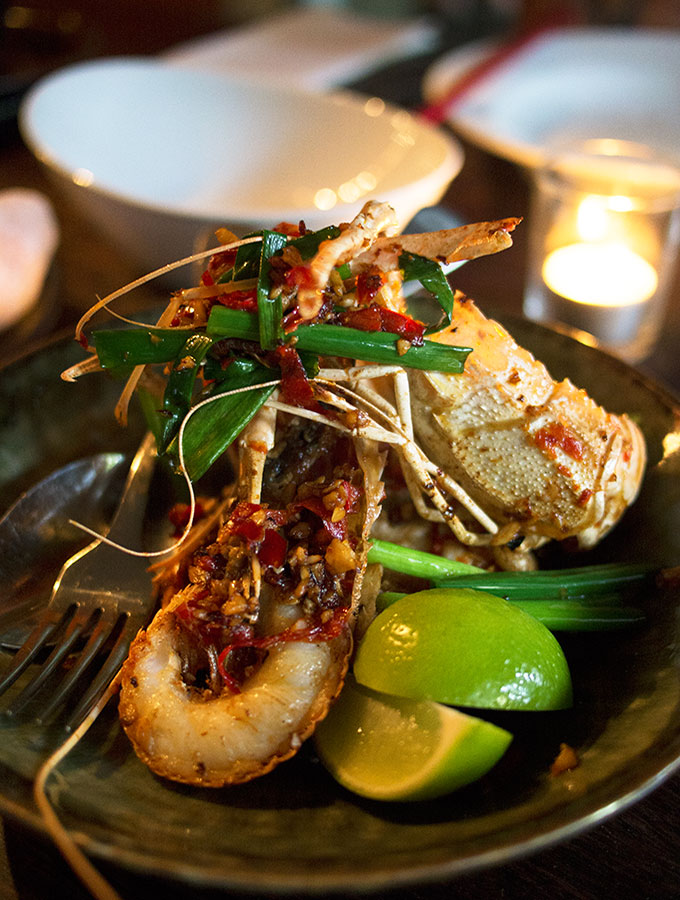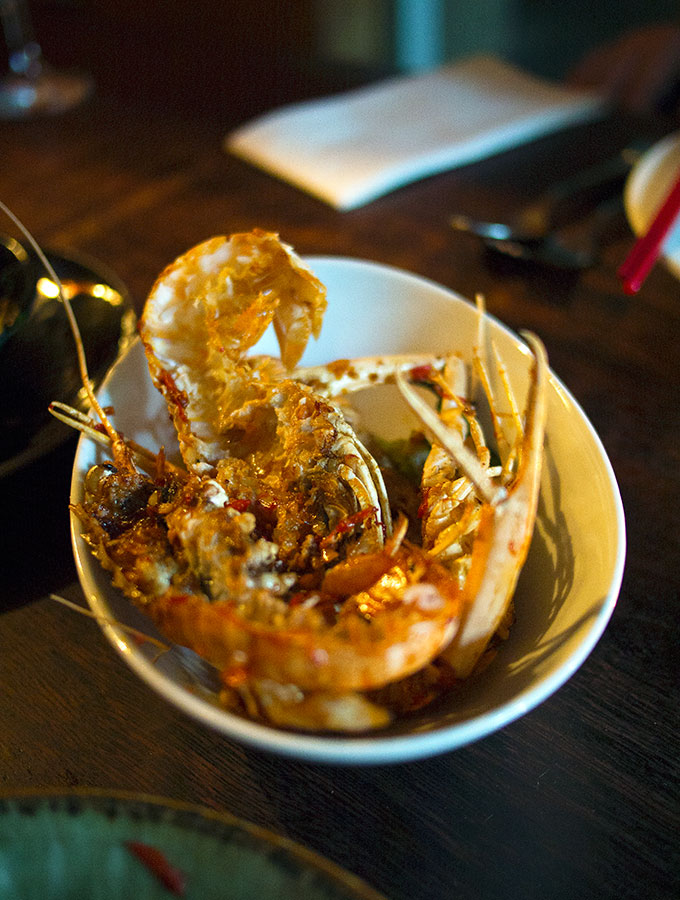 Wok tossed scampi, with green shallot chilli garlic & lime wedge ($24). This dish was a little bit of a disappointment, two scampi halved with accompaniments as described. I thought it was a bit of a stretch to be charging that much for two normal sized scampi. Then again it may have been the lime, we all know how expensive they can be in Sydney.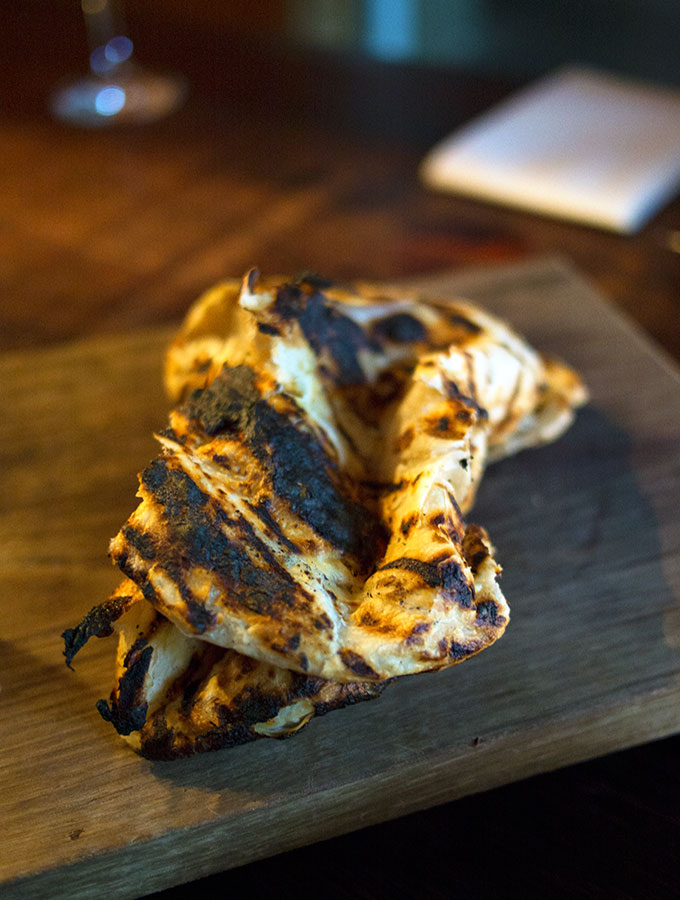 Char grilled roti bread ($5).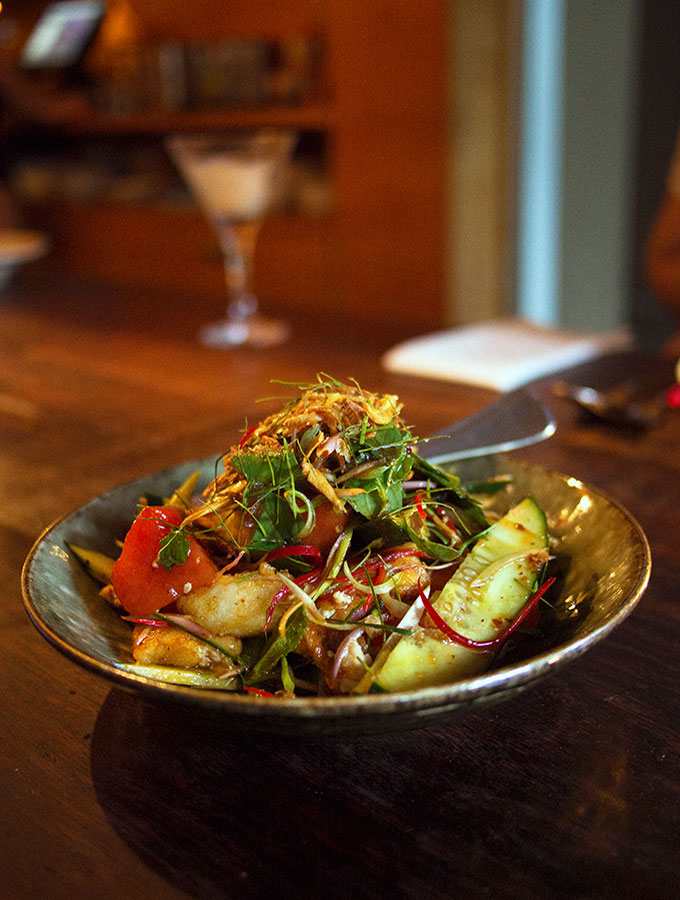 Crispy silken tofu and watermelon salad, with cucumber ginger & spicy eschalot dressing ($19).  We loved this dish, the flavours and textures go se well together, a lovely fusion.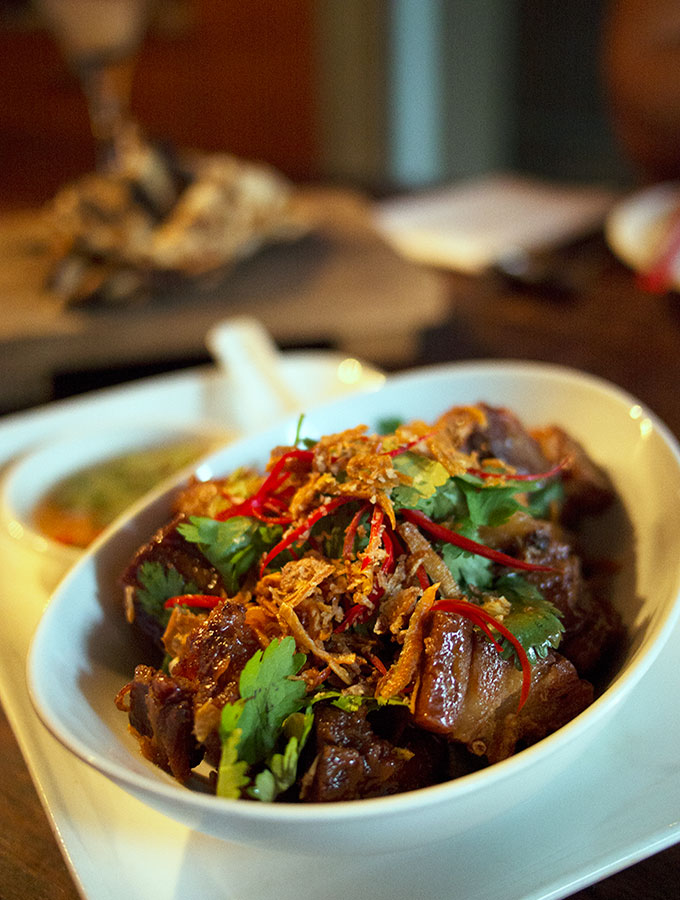 Twice cooked sticky pork hock, with tamarind blood plum sauce, hahm plah prik ($20/29). Now for the much raved about twice cooked sticky pork hock. Meh…. Don't get me wrong it was nice, but not as wonderful as I remember. It was a little lacking in the sticky, and the flavour. I shall let my first Jimmy Lik's pork hock experience live on in my memory.
Sara xxx
Jimmy Liks
186-188 Victoria St, Potts Point, Sydney
Tel +61 8354 1400
Website

Don't miss one delicious recipe, restaurant review or travel adventure. Sign up to our weekly newsletter below to keep updated. There is also bonus content just for subscribers.