Just Pure Bistro, or just Jpb for those in the know, is Swissôtel Sydney's signature restaurant.  Executive Chef Tseng has created something a little special in the heart of Sydney.  A restaurant that is both sustainable and reasonably priced.  Well, I think that's special for a 'hotel' restaurant.
Tseng has a 'straight from the farm to hotel' attitude with his menu.  Ingredients are organic, locally grown and sourced in NSW as much as possible.  Pork from Byron Bay, extra virgin olive oil for the Megalong Valley and organic honey straight from their roof top.
Honey from the roof top?  Yes, Swissôtel Sydney has their own bee hives, which they lovingly call 'The Buzz Factory'.  There are four hives which are home to 200,000 bees.  The bees spend Spring and Summer feeding on the nectar and pollen in Sydney's Hyde Park.  To ensure the bees don't go without, bee-friendly plants such as lavender, rosemary and basil are positioned close the hives at other times of the year.  The honey produced is used in daily in the food and beverage menu, breakfast, honey inspired desserts and cocktails.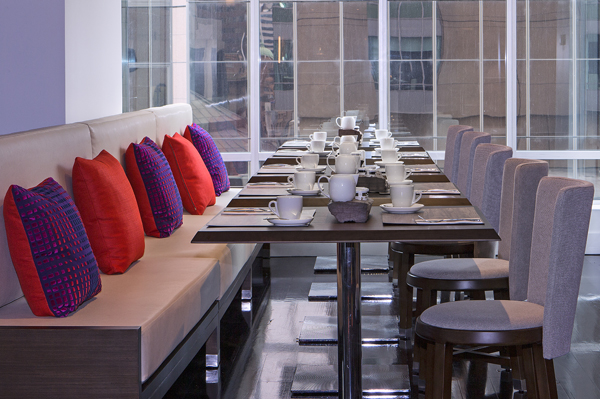 Perched high above busy Market and Pitt Streets, Jpb is a light and spacious restaurant with large glass windows looking down on the action.  The menu is very reasonably priced, $15 for entrees, $25 for mains, $7 for sides and $13 for desserts.
Entree offers include Dutton park duck le confit, heirloom tomato salad, Meredith goat cheese croquettes, prawn cocktail, Tajima Wagyu and Thai beef salad.  We decide on oysters and scampi.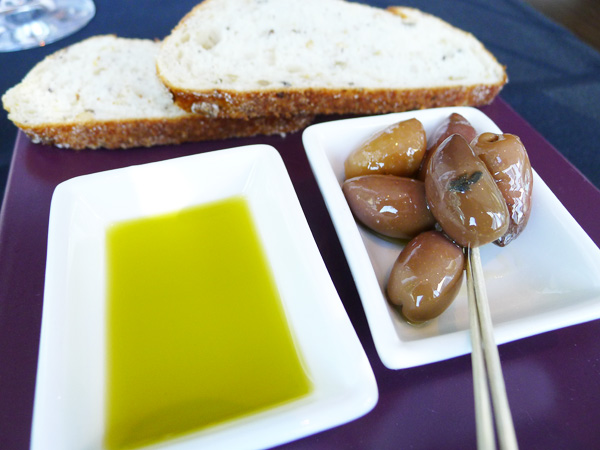 While waiting for our entrees to arrive, complimentary house baked spelt bread is served with Megalong Gold olive oil, olives and Australian sea salt.
Half a dozen plump creamy oysters that hit the spot.  You have a choice of natural, red wine dressing or cucumber Tabasco jelly.  We opt to try one of each.
Also ordered is the grilled scampi with Pernod sauce, served with a fennel & orange salad and salsa verde.  The salad was a little fennel heavy, but the scampi were perfectly cooked.
There is a tough decision on what to choose for mains.  The grilled swordfish with organic soba noodles, smoky eggplant and stuffed zucchini flowers grabs the attention, but ends up not being ordered.  Instead pork belly and scotch fillet are the preferred choices.
I can't go past pork belly and decide of the Berkshire pork belly with pencil leeks, carrot puree, fennel bulbs and star anise.  The skin has successfully been turned into crispy crackling while the pork itself is tender and juicy.
I order a serve of shoe string fries with garlic aioli to accompany my pork.  The fries are crunchy and fluffy and I can't help but greedily continue to dip in to the aioli.
Also ordered is the Grange scotch fillet with asparagus, beetroots, potato chips and béarnaise sauce.  The fillet is ordered medium rare, but unfortunately by the time it hits the table it is very medium.  Have a wonderful charred smoky flavour.  The steak and chips are representative of good European bistro food which, my dining companion states, is as good as anything they have had in Paris.  I dip a fry or two (maybe three or four) into the béarnaise which I find totally addictive.
Decisions, decisions, dessert or cheese plate?  Why not both.  There are a great range of desserts on offer, but the mille-feuille and cheese plate are chosen in order to sample the hotel's honey.
Mille-feuille -with apple tartin, vanilla custard and vanilla bean ice cream.  The mille-feuille is not as 'layered' as I expect.  Honey marries well with the apples which still had quite a bit of crunch.
A selection of NSW organic cheeses, house baked lavosh, Swissôtel Sydney's organic honey comb and quince paste.  A selection of three cheeses, blue, cheddar and brie.  The house made lavosh is excellent, so good in fact I am inspired to try and make it at home, but it is the honey comb that is the star of the cheese plate for me.
Do tell dear Belly Rumble's reader, are you an advocate for local and sustainable?
Don't forget the Glad competition closes tomorrow, make sure you enter!
Sara xxx
Belly Rumbles dined as a guest of Jpb.
Just Pure Bistro – Jpb
Swissôtel Sydney
Level 8, 68 Market St, Sydney
Tel:  +61 2 9238 8888
website