Ravenous after a post work movie at Bondi Junction Ms Lily and I decided Chinese was in order.  Kam Fook is located level 6 of Westfield Bondi Junction, just one escalator trip down from the cinemas.  Pretty obvious choice, don't you think?
The restaurant was quite vacant when we arrived, it was late for dinner, so a non packed restaurant was to be expected.  Kam Fook is roomy, light and airy with its high ceilings and wall of windows.  Spacious with plenty of room between the heavy wooden handmade Chinese tables and chairs.  Dark wood, a few hand carved wooden screens and white linen set the scene.
So many dishes grabbed our attention on the menu, but as there was only the two of us, the decisions were hard.  Who am I kidding I am the biggest procrastinator when it comes to ordering, some would say painfully so.
The decision is made to order three mains to share, and we figure that will be stretching what our stomachs can accommodate.
An all time favourite of deep fried salt and chilli squid with the addition of whitebait is ordered, by me, just had to.  Crispy batter encases tender squid.  Whitebait is the perfect size (not too small), crispy but the little fish have not been overcooked as they can be in some cases.  A generous amount of finely diced garlic, sliced red chilli and spring onions add some "kaPow" to the dish.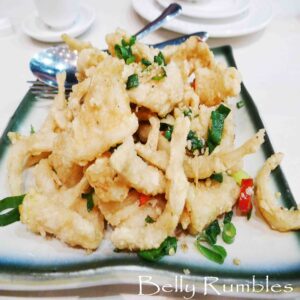 Deep fried squid & whitebait with salt & chilli $28.00
I was really happy when Ms Lily made the decision of ordering the charcoal pork neck.  I had my eye on that dish too.  This dish was on the separate BBQ meats menu.  Thinly sliced, tender juicy pork neck served on a bed of lettuce.  It had a very addictive sweet honey smokey taste.  Some food I have to class as just plain finger licking, and this pork was.  As full as we were toward the end of the meal, you just couldn't help picking up another slice and munching on it.
The third dish decided on was a noodle dish, E-fu noodles.  Handmade egg noodles with shitake mushrooms and spring onions.  The noodles had a fantastic texture to them, chewy, but not too chewy.  They were a pleasant surprise, again another dish you wanted to keep eating.
Our bellies were busting from eating way too much!  We managed to polish off most of what was ordered.  There wasn't enough left over for a doggy bag.
Kam Fook also do yum cha at lunch times.  I am quite tempted to pay a return visit and see what interesting items they may offer.
Do tell, dear Belly Rumbles reader, do you ever order too much just because a menu looks so good?  Or do you have more restraint than I do?
Sara xxx