Korean Pop Up with one of the best views in Sydney anyone? Well, at least until the 4th September while the New Romance exhibition is on at the MCA.
The MCA Café and Sculpture Terrace is a little bit of a Sydney hidden gem. If you have visited the MCA and decided to seek out a coffee, a bite to eat, or have headed to the Sculpture Terrace, then you are in the know.
For those that have discovered the café, you are privy to the sprawling uninterrupted views of Sydney Harbour. Unless, of course, there is an enormous cruise liner docked to interrupt those uninterrupted views.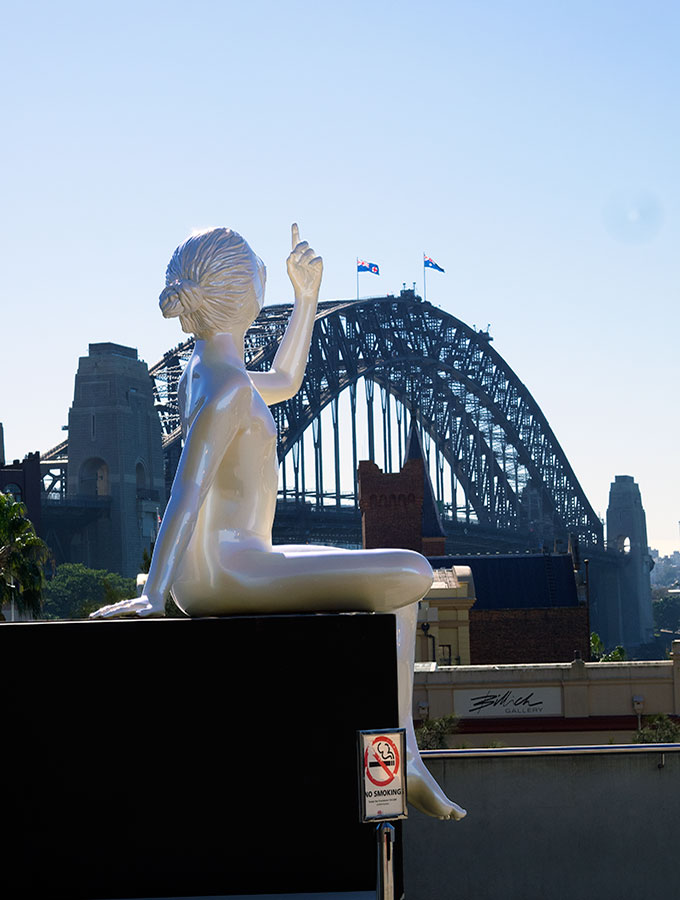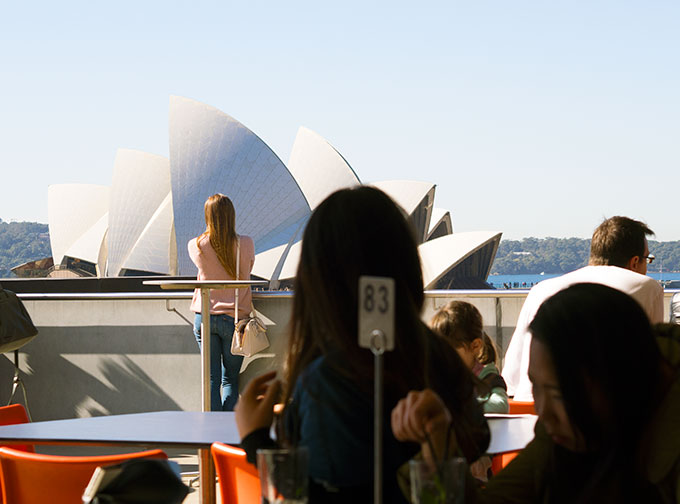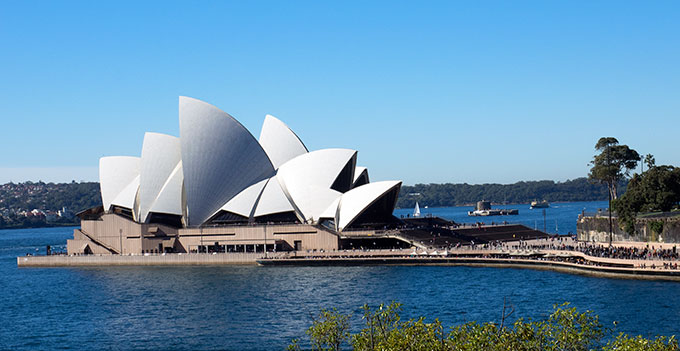 For the next couple of months the MCA Café is having a little Korean Pop Up in conjunction with the New Romance exhibition (finishes 4th September). Chef David Ralph and Tae Kyu of famed Restaurant Kim have teamed up with Fresh Catering Executive Chef Keith Higginson to create the pop up menu.
We are pretty blessed in Sydney with some amazing Korean restaurants, Kim Restaurant being one of them. So it was quite exciting to find out about this little Korean Pop Up considering the team behind it.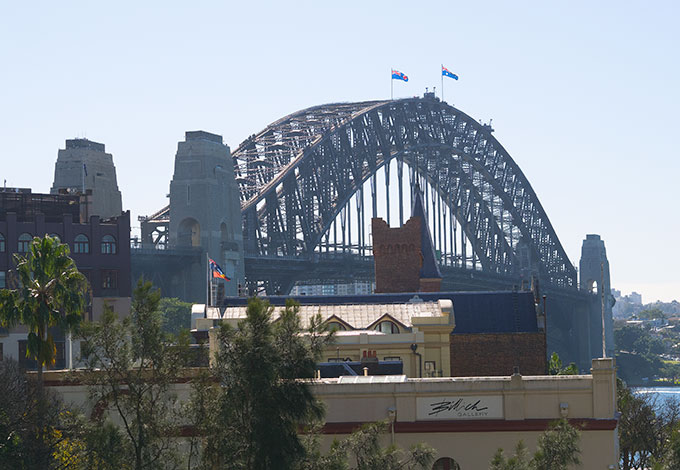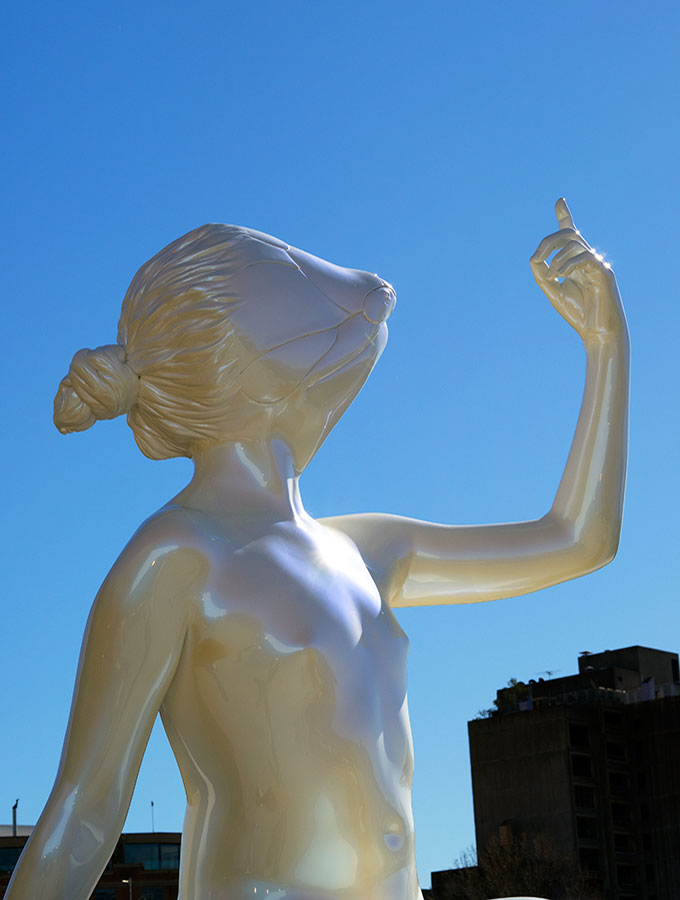 Josh and I headed there for lunch on a glorious sunny Sydney winter's day. We couldn't have asked for a more perfect day to enjoy the outdoor dining area on the Sculpture Terrace.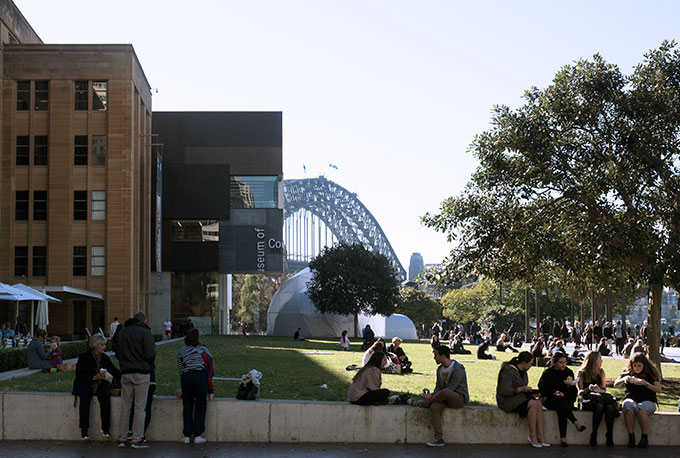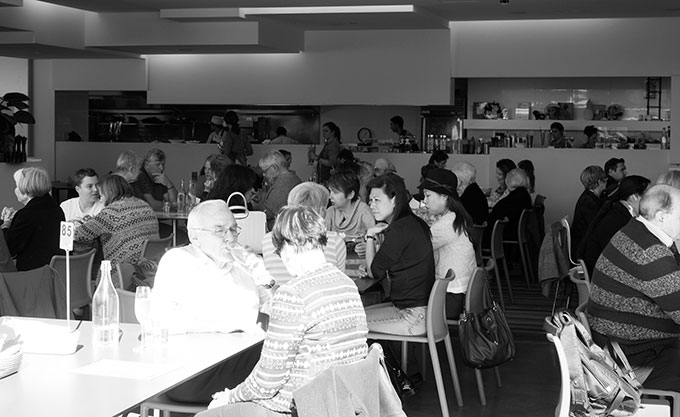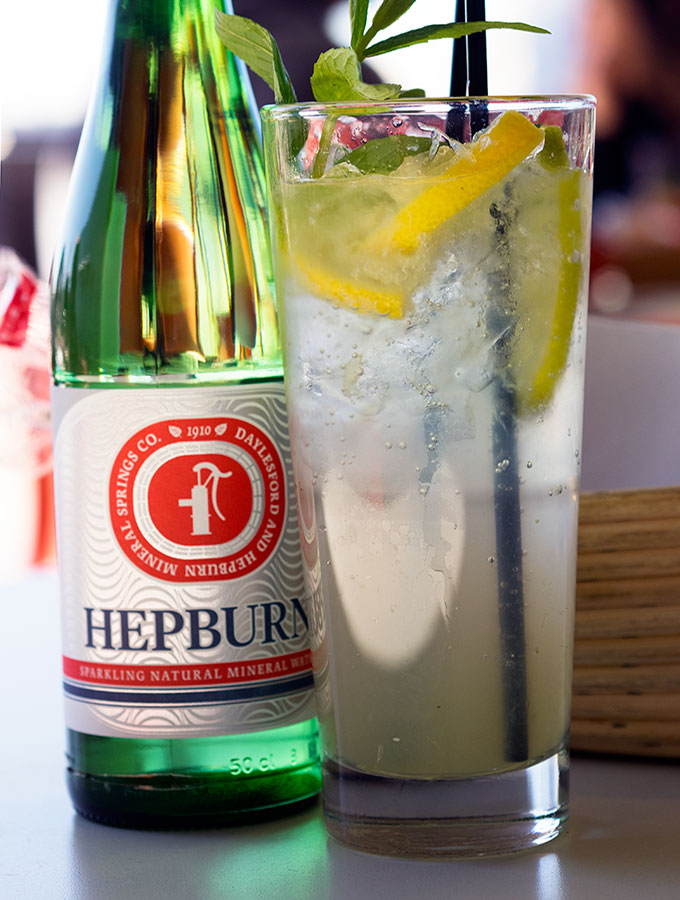 The MCA Café is fully licensed but Josh opted for the house made Old Fashioned Lemonade ($7) and I sparkling mineral water ($6).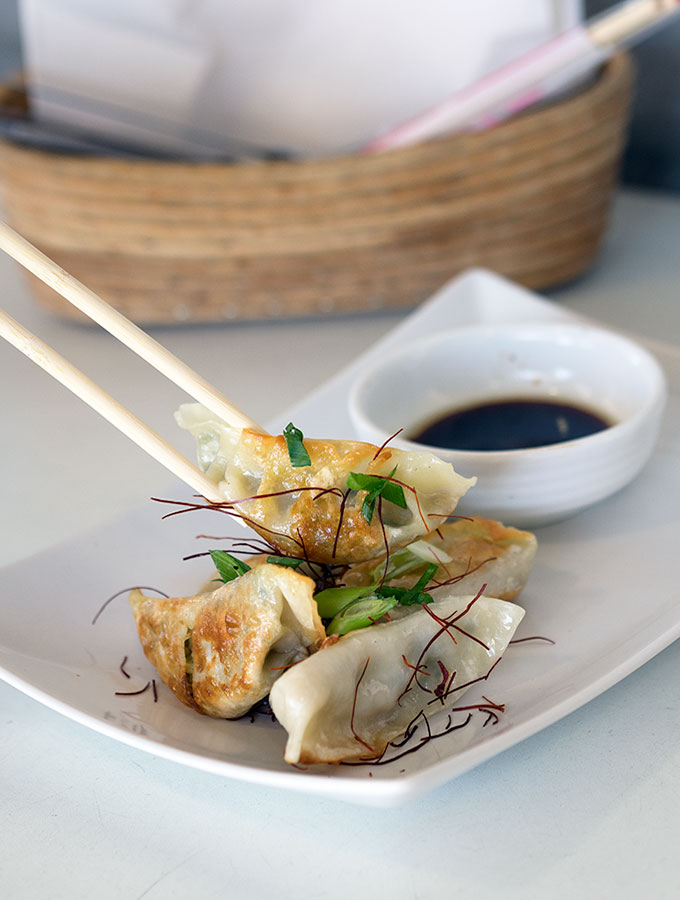 To start with we ordered some Mandu ($16), which are king prawn, ginger and shallot dumplings. The dumplings are pan fried and served with a well balanced dipping sauce, which has a slight vinegar tingle.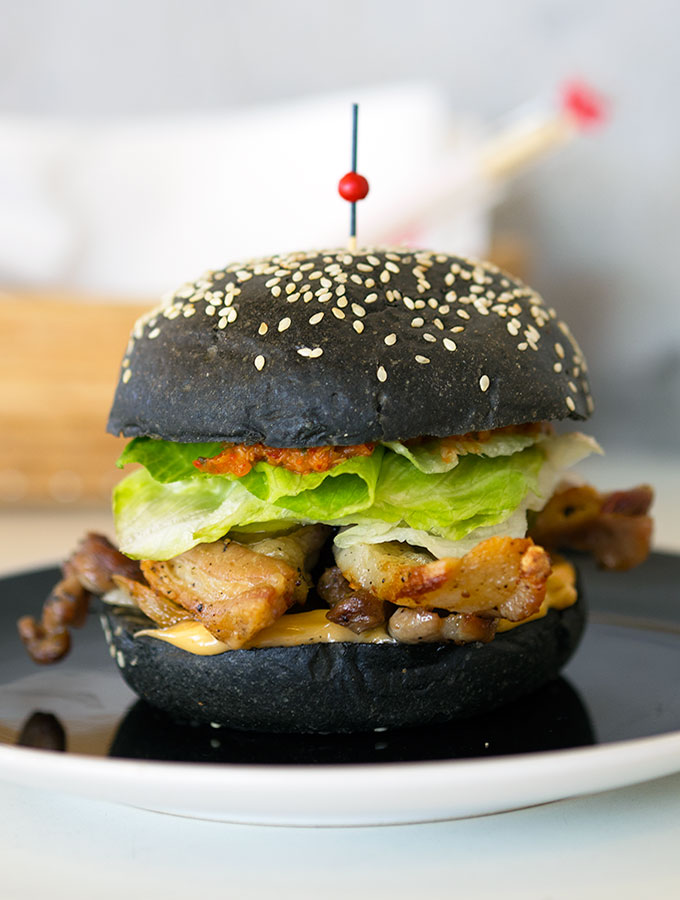 Knowing that the Bossam Bang ($18) has a charcoal bun, I can't help but order it. Food needs to be fun as well as delicious. The bun is soft with a hint of sweetness, which you come to expect with Asian style bread. It's filled with pork belly, ssamjang, kimchi mayo and pickles. The pickles add a lovely zing, and the burger isn't messy to eat.
Sydney has become over run with sloppy, drippy burgers the size of your head. Not that I am saying that is bad, but for once it is refreshing to come across a burger that doesn't require a strategic plan to eat. Nor leaves you retreating to the loos (bathroom) to wash up after you are done.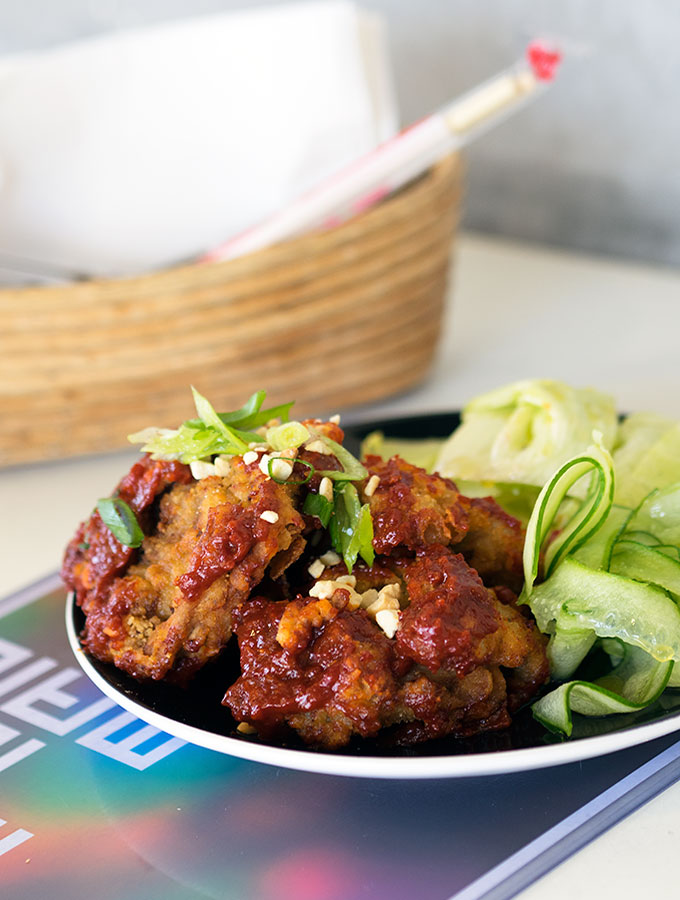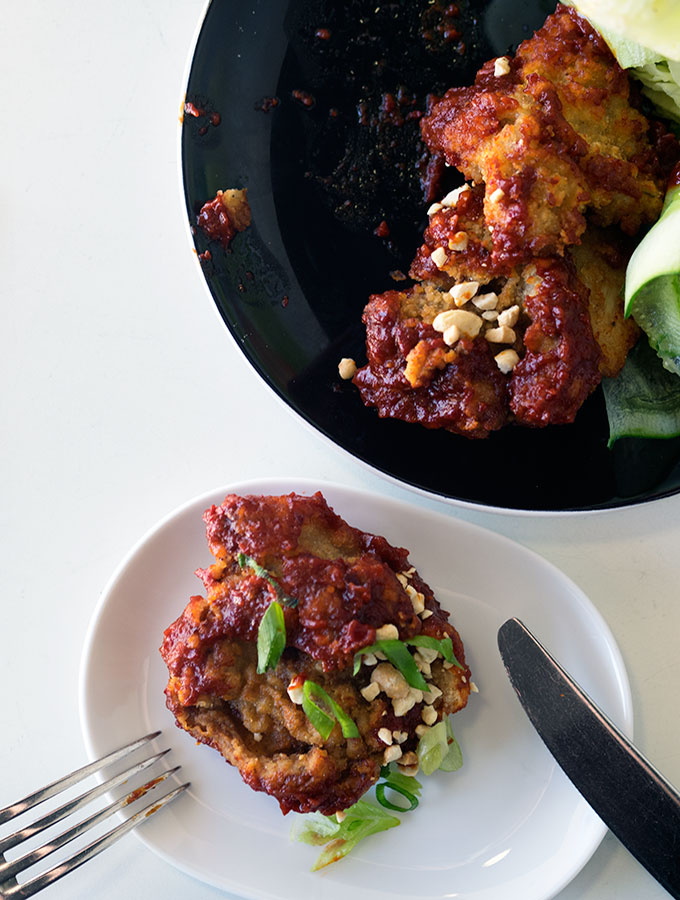 Of course we had to try Restaurant Kim's famous TKFC Korean Fried Chicken ($26). What would a Korean Pop Up be without KFC on the menu? The crunchy deep fried boneless chicken thigh fillets are tender and juicy. Josh makes the observation that the batter is almost like puffed crackling. It is shatteringly good I must admit. The chilli BBQ sauce had a lovely heat kick to it, without being too intense. It's an enjoyable heat that doesn't make your teeth ache (yes I have had KFC that has left my teeth aching). The TKFC is served with nuts and refreshing ribbons of cucumber and lettuce.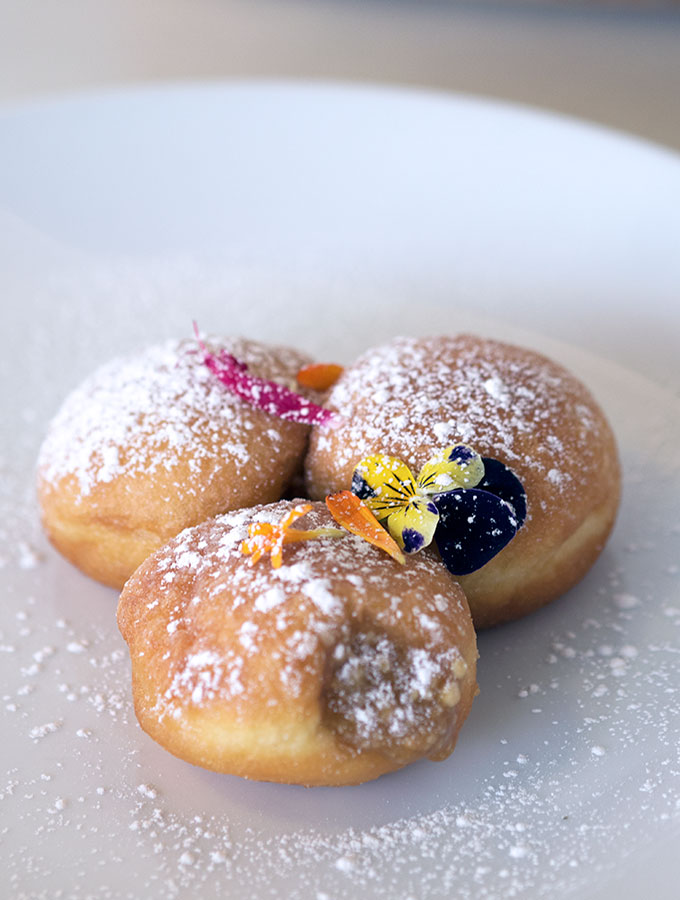 Some Korean Doughnuts filled with Crushed Peanuts ($8) to finish our meal was in order. They are warm fluffy mouthfuls served with pretty edible flowers. Their innards are filled with honey sweet crushed peanuts, which remind me of Korean peanut sweets. Not to heavy and a nice way to finish the meal with a coffee.
If you are heading to the New Romance exhibition at the MCA, do leave yourself time to complete the experience with a little Korean Pop Up love. Art not your thing? It's still an opportunity to enjoy some of Restaurant Kim's food with one of the best views in Sydney.
Sara xxx
Must try dish:  TKFC Korean Fried Chicken
Who should dine here:  Anyone wanting to enjoy some Korean food with a view
Who shouldn't dine here:  It's a casual affair, not suited to those wanting a formal experience
What else you should know:  Pay at the counter, grab a number and take a seat.  Peak times it can be very busy.
Price:  $6 – $30
BYO:  No
Bookings:  No
Opening hours: Daily 10am – 4pm, Thursday until 9pm/Korean Pop Up until 4th September 2016
Contact details: 140 George Street, The Rocks, Sydney, Australia Tel: +61 2 9250 8443 website
Belly Rumbles dined as a guest of Fresh Catering & MCA Café
Become a subscriber and don't miss a single delicious recipe, restaurant review or travel adventure.