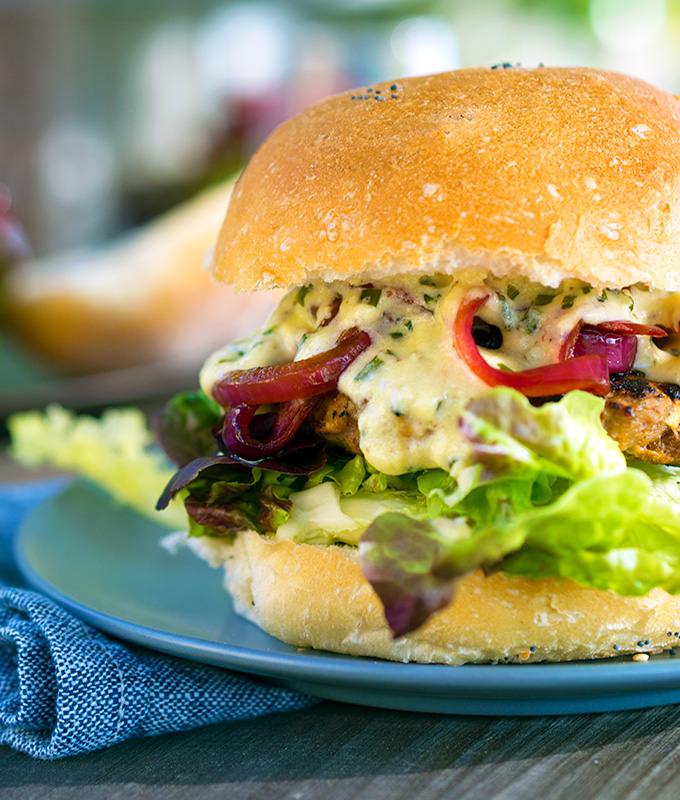 I love receiving hampers for Christmas, and of course I'm referring to ones that have a food theme. I'm like a kid in a candy shop as I start to pull out all the packets, boxes and bottles. Each one of them examined enthusiastically and then placed back in the container from which they came.
Why do I love getting food themed hampers at Christmas? Well, I do like receiving them anytime of the year, but at this time of the year they become my savior post Christmas. That stretch of time between Christmas and New Year where I want to wind down and just be a lazy lump enjoying time with my family and friends during glorious summer days.
When the days are long and sunny, and much time is spent at the beach or in the pool, who really want's to worry about what you are going to cook? Life if full of BBQs, salads and easy summer dishes. That's when the hamper shines as my savior.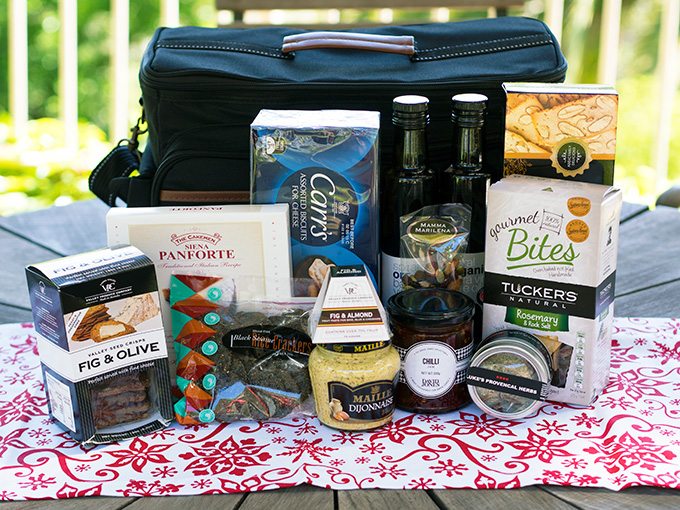 With a bunch of gourmet condiments at my fingertips, I can spruce up the simplest of ingredients. Gourmet crackers and fig pastes complete that thrown together cheese board. Then there are the sweet treats like biscuits or chocolate to nibble on.
I have partnered with David Jones to offer two lucky Belly Rumbles readers a hamper each to enjoy for Christmas. I was also thrilled to have the very cool David Jones BBQ Entertainer Hamper sent to me to road test.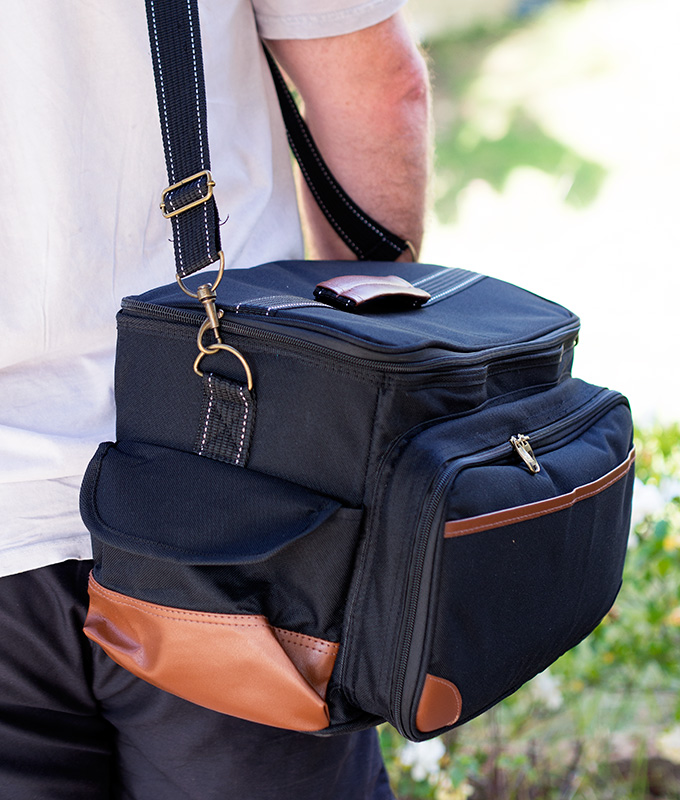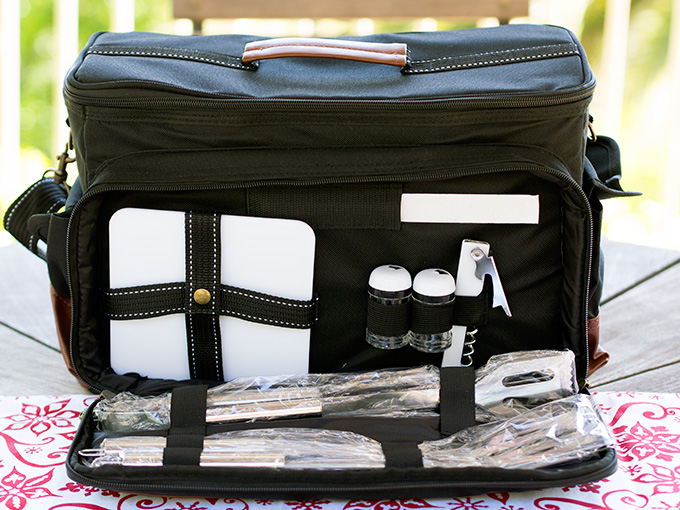 The BBQ Entertainer Hamper is just perfect for our lifestyle. Firstly Mac was happy that he received a full set of new BBQ tools and a new chiller bag. The bag is what contained all of the food goodies. I don't have the heart to tell him that I am claiming the bag for future picnics and BBQs at friends places.
There was quite a collection of products in the hamper including fantastic base products like David Jones chili jam, balsamic vinegar, extra virgin olive oil, Maille dijonnaise, Luke Mangan provincial herbs. Plus a range or crackers and biscuits from Tuckers, Carr's, Spiral and Trentham Tucker. There was also Sienna Panforte from The Cakemen and some Mamma Marilena fruit and nut mix.
I thought about what I may do with this hamper post Christmas whilst in lazy sloth mode. I thought about what staples I generally have in the house and how I could use them with the hamper goodies.
This is how I came up with the lazy piglet burgers. These are the burgers you make when you have been at the beach all day and all you want to do is relax and enjoy some easy cooking.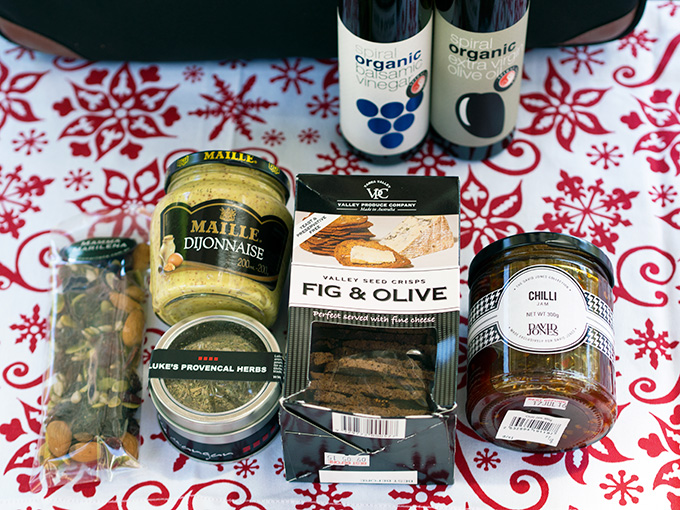 I used the Spiral organic balsamic vinegar to marinate some red onions before tossing them on the BBQ to cook. Not only does it give the onions a stunning colour, they caramelize beautifully and have a lovely subtle tang.
Pork and chicken mince are staples in my freezer and I decided that pork burgers would be the way to go. It may also have had something to do with the fact that lazy chicken burgers just don't have the same ring.
Some of the Fig & Olive crisps were blitzed to crumbs in my food processor to add to the pork mince. Along with these I used the Luke Mangan provincial herbs, David Jones Chili Jam. But what I loved most in the burgers was the chopped up Mamma Marilena fruit and nuts, chunks of almonds, pepitas, sunflower seeds, raisins and a cranberry or two.   The result was a delicious textural triumph.
As well as the onion and lettuce on the burgers I made a simple cheese sauce. In addition to this we dolloped on extra chili jam. This result easy make at home burgers, which would happily compete in Sydney's current burger wars.

Lazy Piglet Burgers
Ingredients
1 large red onion, peeled and cut into rings
¼ cup balsamic vinegar
2 tablespoons olive oil
500g pork mince
50g dried fruit and nuts, chopped
50g fig and olive crisps, crushed to crumbs (alternatively use rye bread crumbs)
2 teaspoons of provincial herbs
2 teaspoons of chili jam
1 granny smith apple, peeled and grated
salt and pepper
1 ½ cups grated cheese, mixture of mozzarella and tasty
½ cup sour cream
¼ cup white wine
1 tablespoon dijonnaise (can be substituted with 1 teaspoon of Dijon mustard)
¼ cup chives, finely chopped
lettuce
6 bread rolls
Instructions
In a medium blow place red onion, vinegar and oil. Toss well and leave to marinate while you prepare the other ingredients.
In a large bowl place pork mince, fruit & nut, crumbs, herbs, chili jam, grated apple and a pinch of salt and pepper. Mix all ingredients well with you hands making sure they are all thoroughly combined. This should take a few minutes.
Divide pork mixture into six even portions and roll into balls. Then flatten to desired patty thickness. I suggest around 1.5 – 2cm thick. Place on non stick paper and cover with plastic wrap, place in the fridge until ready to use.
In a medium heavy based saucepan place cheese, sour cream, wine and dijonnaise. Over a low heat stir continuously until cheese has melted and all the ingredients have combined to make a sauce. Remove from heat.

Now it's time to BBQ!

Place onions on the flat plate part of your BBQ on a medium heat and cook until soft and caramelised.
Place pork burger patties the grill section of the BBQ and cook until cooked through. I suggest a medium heat, but everyone's BBQs are different. The idea is to try and flip them only once during the cooking process.
Place the saucepan containing the cheese sauce somewhere on the BBQ where the heat is low. This is to keep your sauce warm, not hot, just warm to stop it solidifying. Add chives to the sauce a couple of minutes before you are ready to assemble the burgers.
To assemble the burgers cut the bread rolls in half. Place lettuce on first, then the pork patty, top with onion, drizzle with cheese sauce and dollop on some chili sauce and top with the top part of the bun.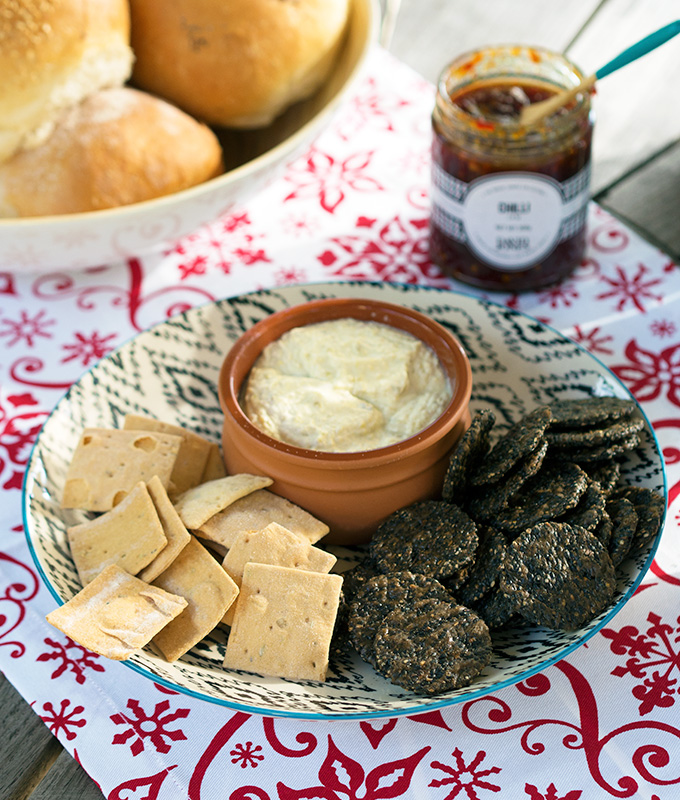 While the burgers and onions were cooking we started off with some crackers and dip.  The dip we purchased but the crackers were from the hamper.  Pre BBQ nibbles have never been easier.
The boys loved the burgers. Josh and I had cheese sauce dripping everywhere because we went a little wild with the quantity we put on. Mac was a little more restrained and didn't have the same problem, but wished he had added more of the chili sauce.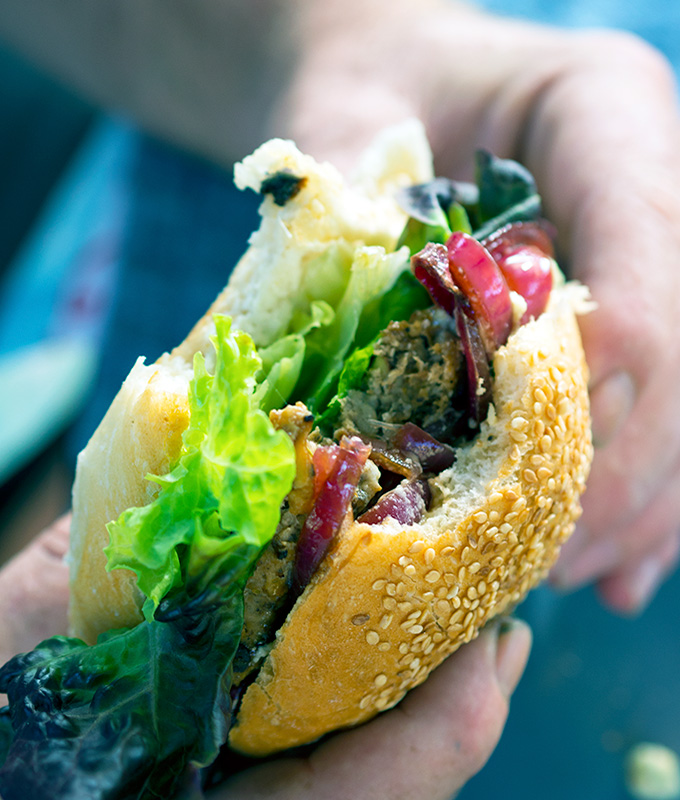 Want to make these lazy piglet burgers even lazier? Don't worry about making a cheese sauce, but trust me it is worth it. Instead put a couple of slices of cheese on top of the patties once you have flipped them. The cheese will melt as the underside of the patties cooks, giving you melted cheese in your burger.
Win 1 of 2 David Jones Hampers
Would you like to win one of two fantastic David Jones hampers? First winner will win the David Jones Australian Harvest Hamper and the runner up will win the David Jones Sweet Treats Hamper
Entering couldn't be easier. Just leave a comment below letting me know what you would make from one of the hampers if you won one. Get creative and feel free to enter as many times as you like.
Sara xxx
Please note that this is a sponsored post.
Giveaway terms and conditions:  Giveaway is open to Australian residents only.  You can leave as many comments as you wish.  The most original and creative comment will be chosen.  Winner will be contacted by the email you use when leaving your comment.  Winner will need to respond to me within 5 days or another winner will be chosen.  Winner will be announced on FB once they have been confirmed.  Giveaway entries close midnight Sunday 14th December 2014.