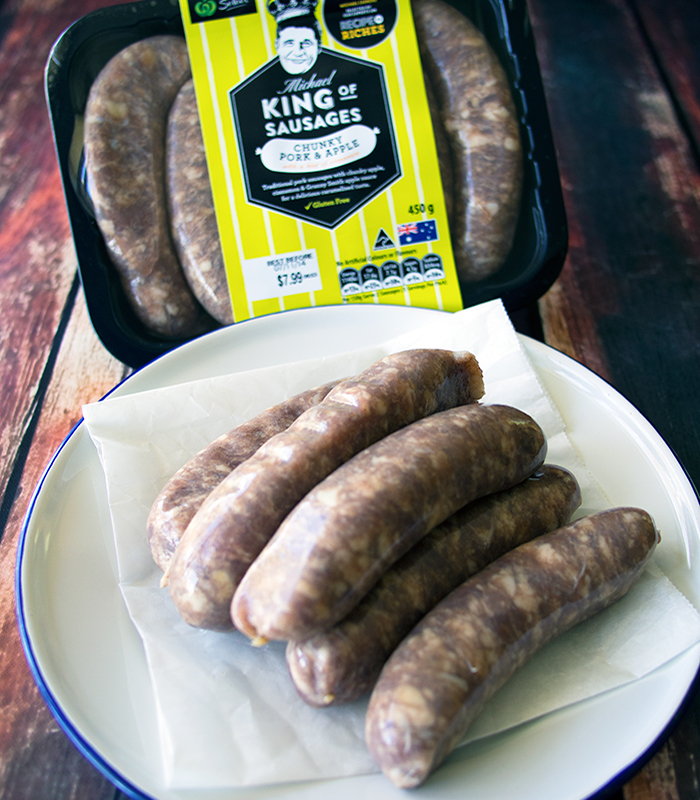 Bloody sausages. Actually I used the "F" word last night when referring to the winning recipe. Why couldn't the butter win?
I'm a sausage snob and don't generally purchase from supermarkets (there are exceptions to the rule). Generally I purchase them from butchers that are known for their sausages.
Besides the lack of enthusiasm over the winning recipe last night, my experience at Woolworths Sylvania wasn't the most welcoming this morning.
I stood at the sausage section of the meat cooler for a good five minutes. The Recipe to Riches sign was there. There were sausages, but I couldn't spot the neon packaging I saw on the show last night. Seriously they should have stayed with the stylish blue of a butcher's apron, but that would have looked a little too similar to The British Sausage brand I think.
I looked and I look, nope, nothing. I had a closer look at the packets, was there a design change? A glitch with the packaging maybe? I went for a wander around Woolworths to see if they were in another area, but still couldn't find them.
It was then I knew I had to ask somebody. So I pleasantly approached a guy manhandling paper towel and asked if they had the Recipe to Riches sausages in store? To which I received a sour look and a "what?".
So I slowly repeated myself, to which I received a gruff "They're over there". With a good solid finger point thrown in to confirm where 'over there' was. I explained that I had been 'over there', looked, and couldn't see them. "Have you sold out"?
The response was a grumpy, unfriendly "They just came in this morning, they are under the sign". To which I got dismissed as he went back to wrangling paper towel.
Off I went back to stand in front of the sausage section again, feeling like a moron as I was obviously blind as a bat and couldn't see them.
Then a lovely female staff member appeared at the sausage section with boxes. I found out that they had indeed sold out very quickly that morning. Luckily for me she had just found two more boxes hidden under some others. With a lovely smile she handed me two packs.
Woolworths' staff rant over, now to recap the fun and games of last night.
If you didn't watch, last night was all about the hunt for another knock out recipe for the great Aussie barbie. BBQ related food sales are worth 1.5 billion a year in Aussie supermarkets.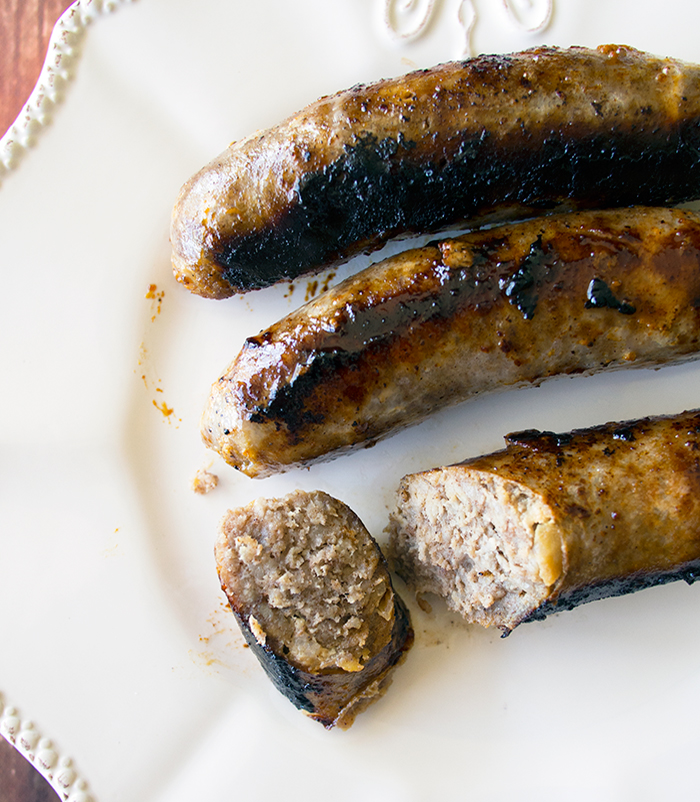 Michael's Snags
First up we meet Michael, a concreter/pipe layer from sunny Queensland. His recipe is pork, apple and cinnamon sausages. We find out that sausage making is in his DNA. This is all thanks to his Italian grandparents and making sausages with them from a young age. The inspiration for these sausages came from a pork dinner one night.
Do we really need another sausage in the market place? Coles and Woolworths already have their own 'gourmet' range on the market. You will also find brands like The British Sausage.
Michael's first impression of the batch up kitchen is that it is larger than compared to home. Well Michael that would be a no brainer, it's a commercial kitchen kiddo.
His task is to make 400 sausages and it seems like he is breezing through without a hassle. Well, that is until he decides to add a secret ingredient to the mix, a finger.
Luckily he doesn't quite succeed, but the poor thing didn't cope well with the sight of blood and nearly passes out. But it's okay folks, Darren steps in to save the batch up day and continues with the sausage making process.
I get excited when I find out traditional sausage casings (pigs intestines) will be used. Big brownie point there Michael, or should I be calling them Mrs Mills cookie points?
Maybe the sausages will turn out like the Golden Greek Pizza Dough last year. I wasn't thrilled about that winning, but my opinion, as regular readers will know, completely changed after trying it.
As we know Michael wins this episode.
Natalie's Balls
Then we meet Natalie from Victoria, a business manager at an Architect firm. Her recipe offering is beef ball san chow bow. Natalie is a dog lover, and has two gorgeous shelties called Booga and Baxter. Being a dog lover she holds doggie dinner parties. I instantly love her! She would own more dogs but her husband reckons more dogs would equal crazy dog lady, he is probably right.
The san chow bow is basically an Asian inspired beef rissole with a coconut sauce. I have a problem with the name of her balls. San choy Bow, which is obviously the inspiration here, is a Chinese dish. It would never be served with a coconut sauce, nor would ingredients like galangal be used. Why not just call them Thai style meatballs if using those ingredients? Probably because they are already on the market! The Foodsmiths' Thai Style Pork Meatballs, $8 at Coles.
Natalie has 500 balls to make and spends a lot of time focusing on her sauce. She wants it to be "sophisticated like her". With all that quality time spent nurturing the sauce, we find her team trying to roll one meatball every five seconds to meet the deadline.
Sadly Natalie doesn't make it through as it is deemed her product doesn't have an "across Australia appeal". Not sure what Aussie doesn't like throwing a rissole on the BBQ (me if you talk to my husband), or loves a good meatball? In any case they appealed to me more than the snags.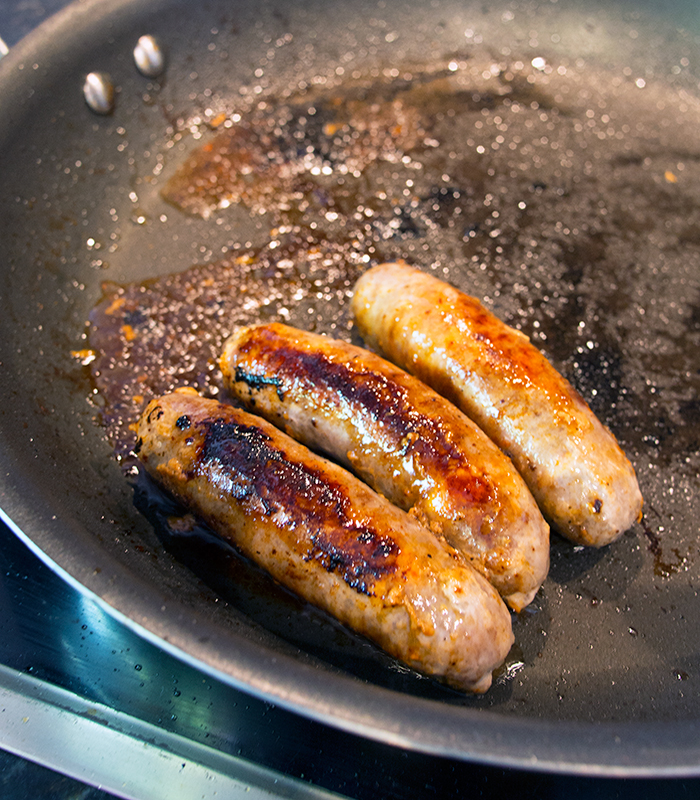 Adam's Butter
Lastly we meet, flavoured butter guru Adam, an engineer from Victoria. I am thrilled to see something, at last, that isn't already readily available in supermarkets. The only contender, and I had a good look today in both Coles and Woolworths, is Tue Blue Garlic Butter Spread, $2.95/150grams.
I wanted the butter to win and still wish it had. Adam had two flavours for batch up, sundried tomato and the other with horseradish.
With 100 logs of butter to make, which then had to be cut into 1000 discs, he got cracking.
Adam makes it in to the final two, but sadly doesn't make it on to Woolworths shelves. May I add by the skin of his teeth according to judges last night.
It's a shame that Adam doesn't succeed in getting through to the grand final. It's a product that isn't on the shelves. Not on the shelves of a 700 million dollar sector, surely there is a massive opening here?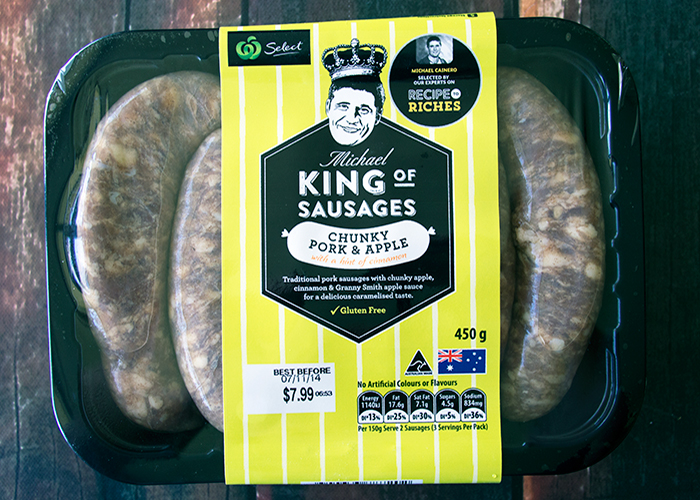 What are Michael King of Sausages, Chunky Pork & Apple Sausages like?
Packet Information (please see pack for full description)
Ingredients:  Australian pork (80%), apple [granny smith apple puree 14% & dried apple 3%] (17%), salt, spices, natural casing & preservative (223)
Allergen advice:  sulphites.
General:  There are 6 sausages in a packet. One serving (2 sausages 150g)  is 1140kJ/272Cal.  One piece has 25% of your recommended daily intake (RDI) of total fat, 30% RDI saturated fat, 1% RDI carbohydrates, 5% RDI sugar and 36% RDI sodium. The product is made in Australia. They are gluten free.
Price:   $7.99 = approx. $1.33/sausage
The first thing I notice about these sausages, they smell. It isn't a pleasant sausage smell that you get from good quality gourmet sausages. This is something entirely different all together. As soon as the Woolworths employee opened the cardboard box to hand me two packets I am nearly knocked out by the smell that is released. I double bag the sausages before I put them in the car. After a 10 minute drive home, the boot smells horrid. Needless to say double bagged and in their original packaging they stink out my fridge as well. The smell is like a meaty fart, sorry, best way I can describe it.
They are nowhere as large as what we saw on the show last night, they resemble a large chipolata sausage. Nothing like a big British or Aussie snag which I was expecting.
The rancid smell disappears on cooking, thank goodness! As they cook the pleasant smell of cinnamon is released and takes over the kitchen.
I use a non stick pan to cook three up on a low heat. Cooking them slowly to make sure they cook all the way through. The smell of them in their raw state makes me hesitant to eat them, therefore I want to make sure they are well and truly cooked.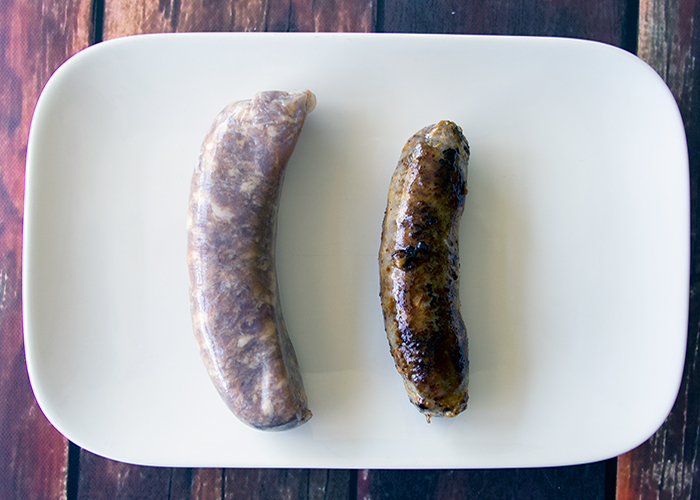 On cooking they release a lot of fat and liquid. They do caramelize in an appealing manner. As you can see from the above photo, they shrink a bit on cooking.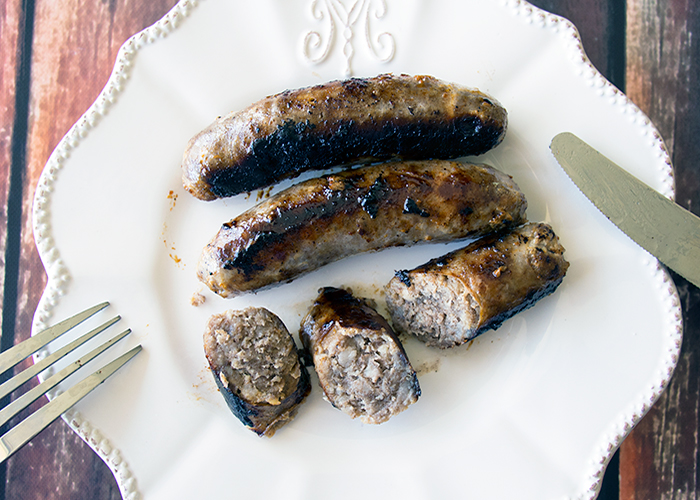 But what did they taste like? I had two mouthfuls of one sausage. It must be my lucky day as beside pork in those two mouthfuls I get some tasty gristle and a piece of bone (or cartilage).
They are rather pedestrian in taste, nothing special at all.   The pork is finely ground and the apple is rather non existent. You don't see those lovely large chunks of apple that appeared in the snags shown last night. The dried apple also doesn't reconstitute, it's still plain old dried apple in the sausage.
Sadly for Michael these sausages look nothing like the large apple filled beauties we saw on the show. You would need four of the Woolworths ones to fill one of those bread rolls the footy players were scoffing into during the taste off.
Would I buy them again? No, they taste like other supermarket 'gourmet' sausages.
Congratulations Michael on winning last nights' BBQ episode. With the grand prize being $100,000 and a partnership with Woolworths, I wish you all the best in the final.
So guys, what did you think of last nights three recipes? Who do you think should have won? And please let me know what you think of Michael's snags if you get around to trying them.
Sara xxx
Important Note: This is an independent weekly review of the winning Recipe to Riches product. All products are purchased at Belly Rumbles' expense for review. Belly Rumbles is in no way involved with Woolworths, Channel 10, Freemantle Media Australia or any of the contestants.