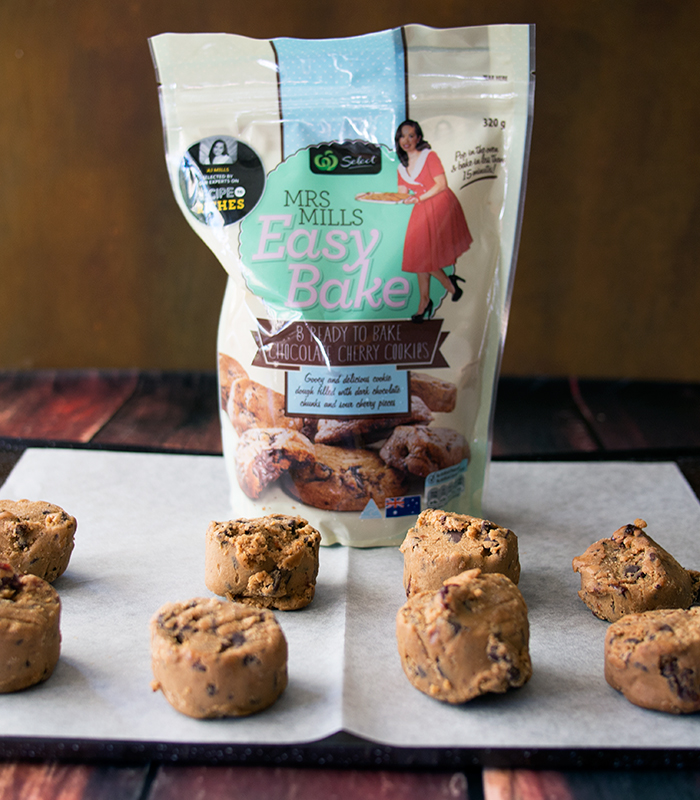 Oh Recipe to Riches why have you changed the format and decided not to share people trying to win one of those coveted golden tickets? Seeing some peoples' absolutely whacky recipes was part of last years fun. Seriously who could forget Daniel's Prawn Ice Cream in the Dessert challenge last year!
Why the format change?  To give viewers more of a back story of the contestants. It's okay, I don't need any more back story than what we got last year. More funky concoctions like prawn ice cream that I do want to see!
This time viewers see the lucky three thrown straight into Hells' Kitchen, I mean Batch Up. Does the kitchen look larger and a bit more flash this year? Or is it just me?
To kick off Season two it was the baking round. I was a little flabbergasted to learn that baked goods are a 216 million dollar industry in Australia. Think of that figure against the Aussie population with is only 23.3 million. Then later they throw in the fact that on average Australians purchase $70 worth of biscuits a year. Somehow I was feeling fatter than usual by the end of last night's episode.
With those figures in mind, for those that didn't watch and just catch up here, let me introduce you to the three in the batch up battle.
Katie, the stay at home reptile wrangler's recipe was gourmet brownies. She uses the best quality ingredients that she can get her hands on. We all do when baking at home, but as soon as she said that I knew if she won the brownies would be nothing like her home made creations.
I don't think Woolworths were going to spring for praline, which is made in copper pots in France, for mass production. I was right, with the brownies working out at $5 a pop, they were way too expensive for the retail market. I know I wouldn't be buying one (except for review purposes).
Katie's most memorable kitchen moment was when Kitchen Commander Eddie stopped her pouring hot butter into her eggs. Oh Eddie why, the scrambled egg drama would have made for fantastic television!
Suffice to say, Katie didn't make it through to round two. Just when we all thought Recipe to Riches was a crying free zone. Katie brings on the water works as she tells us she is proud of what she has achieved.  Tears of joy.  Maybe she will audition for Masterchef next?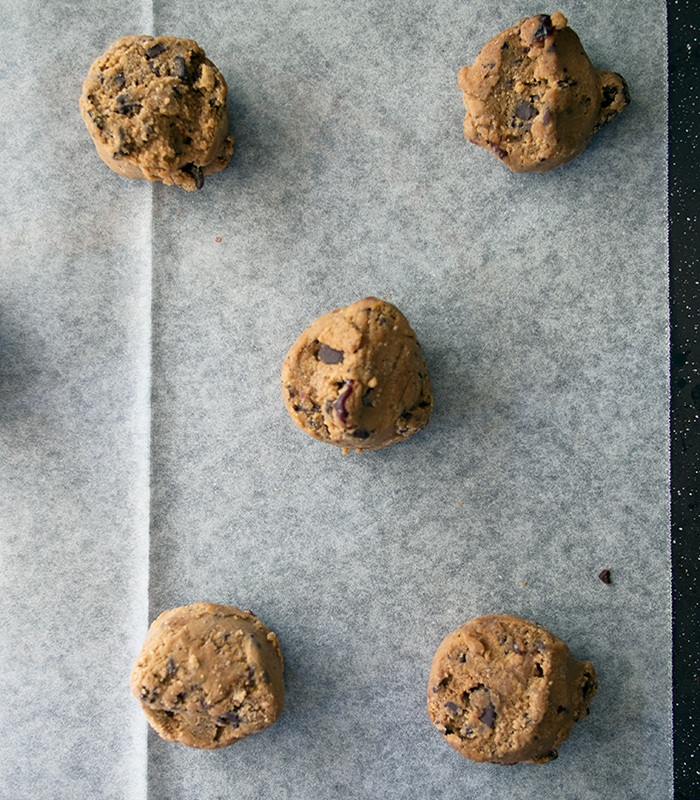 Jo, a math and science teacher brought her Gallipoli muffins to the table. Based on a beloved recipe her grandmother's Gallipoli loaf recipe. We learn due to a couple of her grandmother's cousins serving as light horsemen, Anzac is close to her heart.  Though I think it is close to all Aussies hearts, it is to mine.
Carolyn advises us all that the supermarket trend at present is all about provenance. For example Hunter Valley chips, or salt from a particular region.  Therefore she feels that Gallipoli muffins would fall into this category. Not sure how, as provenance means ownership, custody or location of a historical object. Not sure what is so historical about a muffin that would have never been made in Turkey.  But that's okay, Carolyn is the expert. Seems they can't use the word Gallipoli or Anzac for legal reasons in any case, so we are safe from any 'provenance' misconceptions.
Beside some oven issues and wanting to mix all her ingredients by hand, in something like 17 individual bowls. That is 15kg of dried ingredients in domestic bowls folks! Jo survives that little drama and makes it through batch up pretty smoothly. Winning her place to fight it out with the eventual episode winner AJ Mills.
AJ, mum and plumbing admin from NSW's winning recipe is frozen cookie dough. The decision is made to brand the chocolate cherry frozen cookie dough, Mrs Mills, and AJ is given a 50s make over for the brand look and feel.  Mind you part of the makeover happens at the local shopping centre, sure they could of done that somewhere else?
Russel assures AJ, when they are looking at how to market the product, that nobody does what she does. That's actually incorrect Russel, would you like me to help you out with research for next year's season?
Yes, like many recipes last year, the winning 'unique' recipe is already available in the market place. If you shop at Costco you probably have come across bulk frozen cookie dough pucks, I think it is made by Otis Spunkmeyer? The pucks go straight from the freezer to your oven tray, and you freshly bake them at home. They are actually really tasty, and probably really bad for you. But I like them, you pull out a couple at a time and cook them as you want them.
You can also find delicious gourmet frozen cookie dough made by the Frozen Dough Co. To read a little more about their fantastic product head to their Facebook Page or to the Broadsheet article.
Already available in all supermarkets is Aunty Kath's Cookie Dough in the fridge section. A roll of dough, which comes in M&M or choc chip varieties.  You slice off rounds to bake in the oven. I will admit to using this in the past.  It retails at Woolworths for $5.54/450g (which works out $1.23/100g vs $1.87/100g for Mrs Mills)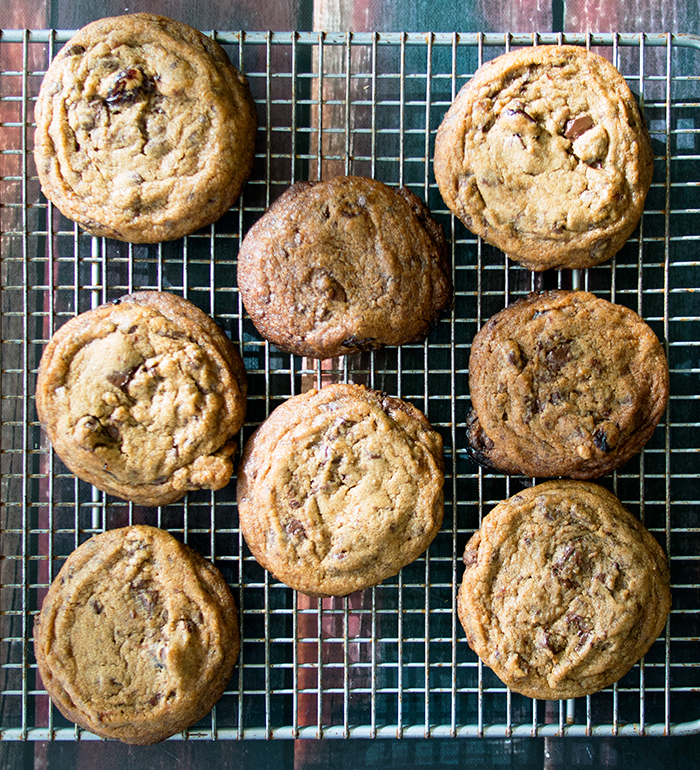 What are Mrs Mills Easy Bake Cookies like?
Packet Information (please see pack for full description)
Ingredients: wheat flour, sugar, dark chocolate (min 21%), butter, dried sour cherries (min 5%), egg, natural vanilla flavour, salt, raising agent (500).
Allergen advice: gluten, egg, milk, soybean.
May be present: peanuts, tree nuts.
General: There are 8 pieces in a packet. One cookie (approx. 40g) is 776kJ/186Cal. One piece has 13% of your recommended daily intake (RDI) of total fat, 26% RDI saturated fat, 8% RDI carbohydrates, 16% RDI sugar and 3% RDI sodium. The product is made in Australia.
Price: $5.99 = approx. 75c a cookie
They are really easy to make. You take as many cookie pucks out of the bag in your freezer as you want, and bake them at 190 deg C for 11-14 minutes. Then it is a case of letting them cool for 2 more minutes on the baking tray.
I baked mine for 12 minutes, which resulted in a chewy biscuit with a crunchy surround. The house smelt great when they were cooking and cooling. Next time I will bake them at 180 deg C for a little longer to get a slightly firmer texture.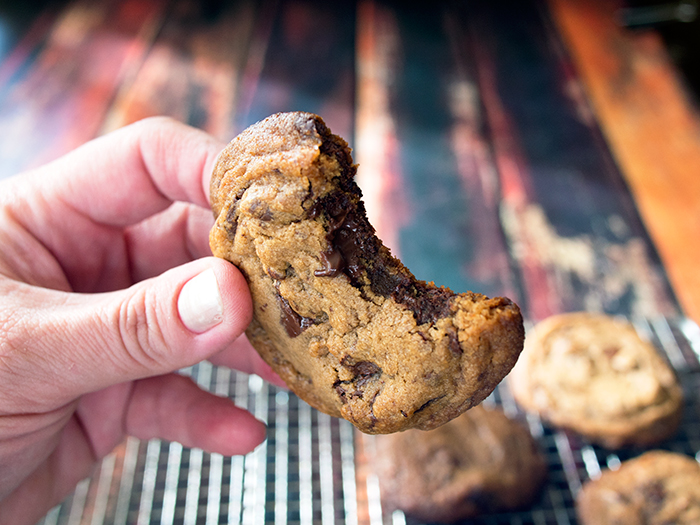 But what did they taste like? A little bit too delicious! They are packed with chocolate chunks, which when eaten just cooled from the oven, are still gooey. The sour cherry pieces give a wonderful tang. The butter taste comes through as well, giving a well rounded decadent taste.
I can see myself having a big problem with these. They are just way too addictive. I purchased four packets today. One to try, one to have further down the track and two for the end of series taste test shin ding I will be holding. I think I am going to have to go back and buy more to stash in the deep freezer!
Would I buy them again? If I don't listen to my hips, Hell Yes!!
Congratulations AJ on winning last nights' baking episode. With the grand prize being $100,000 and a partnership with Woolworths, I wish you all the best in the final.
So guys, what did you think of last nights three recipes? Who do you think should of won? And please let me know what you think of Mrs Mills Easy Bake Cookies if you get around to trying them.
Sara xxx
Important Note: This is an independent weekly review of the winning Recipe to Riches product. All products are purchased at Belly Rumbles' expense for review. Belly Rumbles is in no way involved with Woolworths, Channel 10, Freemantle Media Australia or any of the contestants.