These zucchini mushroom croquettes are healthy bundles of joy. Oven baked, packed full of vegetables and nutty basmati rice. I've even snuck in a little low fat cheese to add a serve of dairy into the recipe.
This recipe is the result of a challenge from Tilda, to create a healthy rice dish. Tilda sent me a few packets of their two minute Steamed Basmati Rice, which comes in ready to heat pouches. As Basmati rice is a very healthy grain, gluten free, low in fat, low in sodium and contains no cholesterol, creating a healthy dish wasn't going to be a challenge.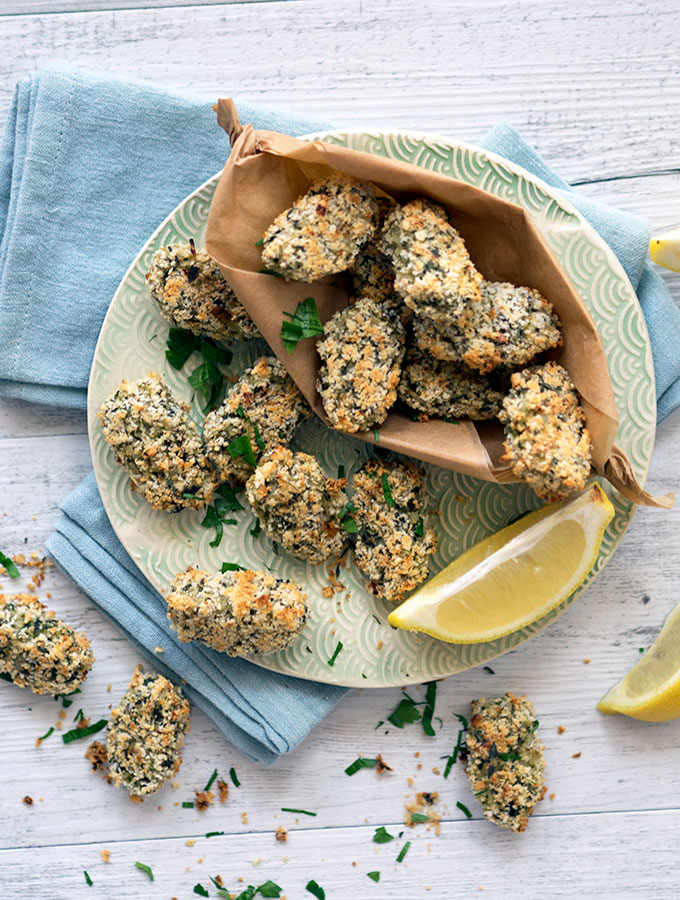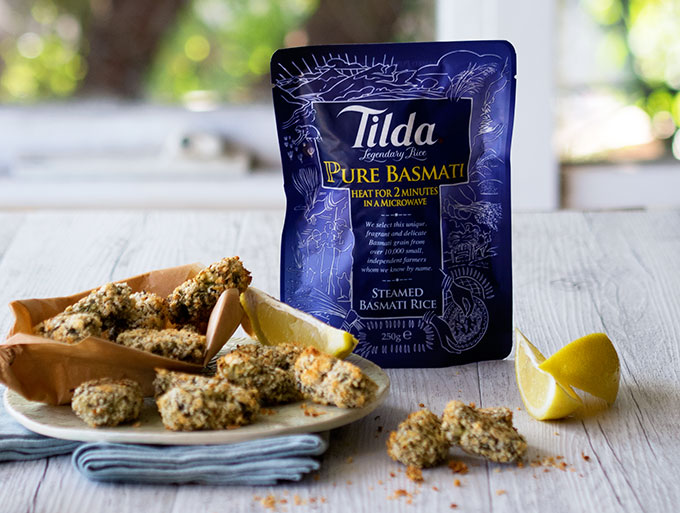 The challenge was me. Unknown to Tilda, I don't buy/use pre-cooked items like rice. I'm a make it from scratch kind of gal, I just don't do pre-cooked. I have never understood why people do, as cooking a staple like rice is second nature to me. This is the perfect example of why I love working with brands, I get to work with a product I would never have thought of using.
I also discovered something about Mac and Josh I didn't know. They can't cook rice!
After receiving some packets of two minute Tilda Steamed Basmati Rice to play with, I stood at my kitchen bench looking down at this product that I would have never in a million years placed in my trolley. There it was, on my kitchen bench, smiling up at me in all its gorgeous blue packaging and challenging me to cook with it.
As my mind wandered and ideas of how to use the rice flowed in and out of my brain, Mac walked into the kitchen and asked what I had in my hands.
"It's pre-cooked Basmati rice from Tilda"
"Cool"
"Errr, I'm not so sure if it is cool or not yet, you know I don't buy this stuff"
"I wish we had this last time you went away"
I give Mac a confused look "what do you mean?"
"Josh and I had to Google how to cook rice"
To which I just shook my head.
It seems the two grown males in my family can't cook rice to save their lives. The last time I went away they attempted to cook some rice to go with a curry and ended up with a pot of mush. This then resulted with them "Googling" how to cook rice (we are still in debate over why they didn't just read the instructions on the packet, but that is another story all together). On second attempt they promptly stuffed it up again and gave up on the whole rice cooking scenario.  Curry and salad anyone?
I'm heading away again next week for a fortnight. Guess what……….. I have invested in a few packets of Tilda's ready to heat Basmati rice to get them through.
You see, after putting my preconceived ideas aside and trying the rice, it's actually quite good. On top of that it's quick, just two minutes in the microwave and one less pot to wash up.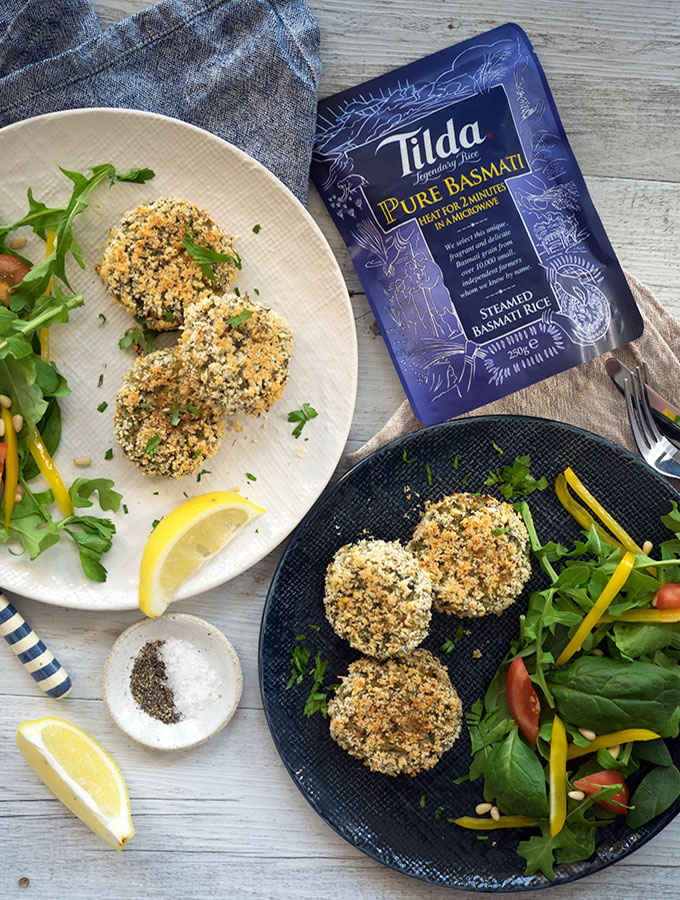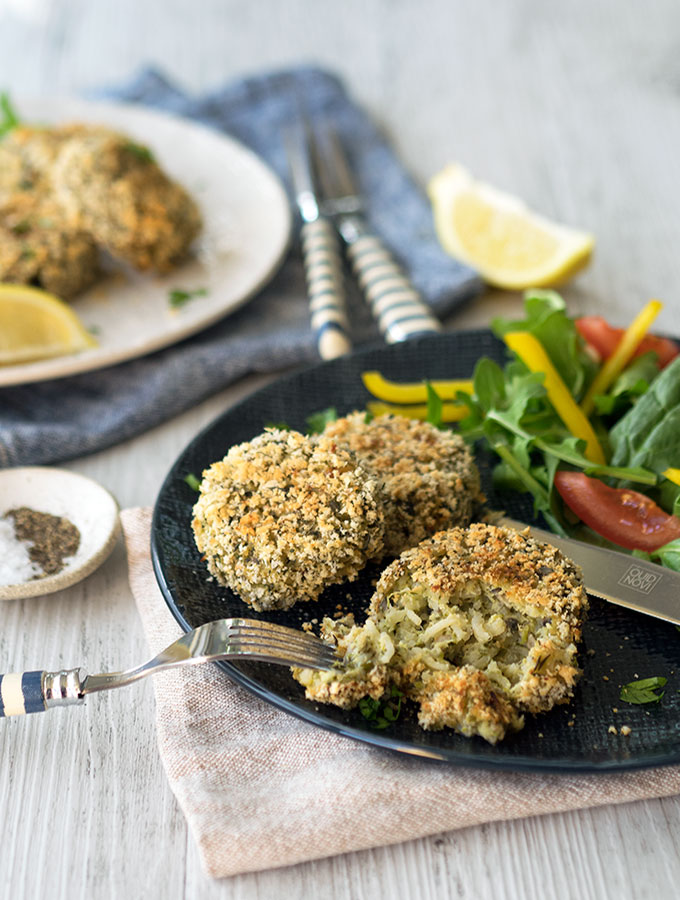 Oven Baked Zucchini Mushroom Croquettes
And that brings me back to the oven baked zucchini mushroom croquettes. I wanted something that was nutritious. Something packed with vegetables. Something that both adults and kids would enjoy.  And of course, in my usual style, something a little out of the box when it comes to rice.
By using low fat cheese and low fat evaporated milk in this recipe you keep the fat content down, but are still including dairy. I've used mushrooms and zucchini, as they are my favourite vegetables. Zucchinis are low in calories and high in Vitamin C. Mushrooms are basically a wonder food and I have already mentioned the benefits of Basmati rice.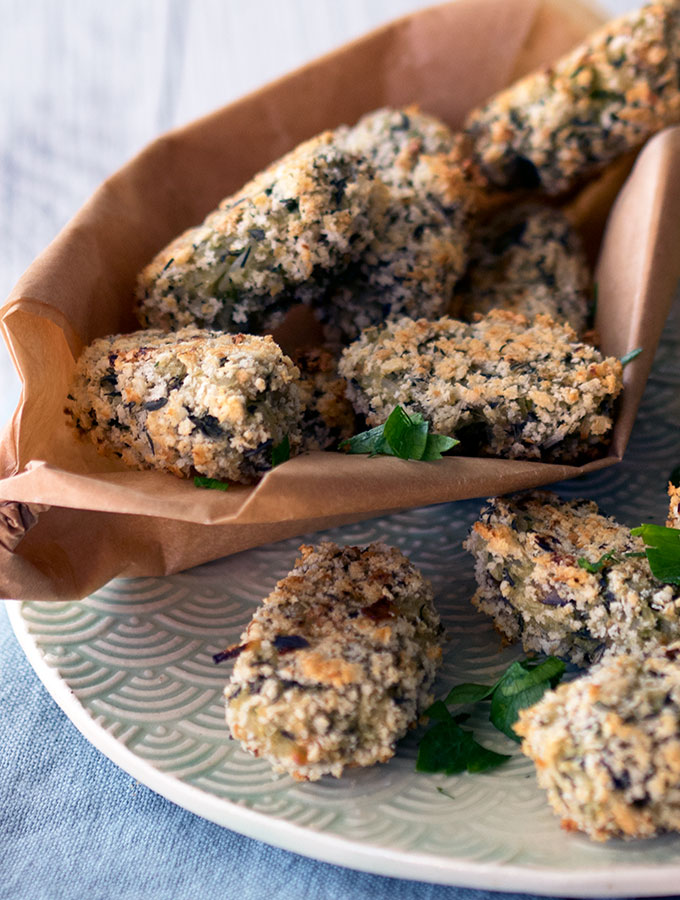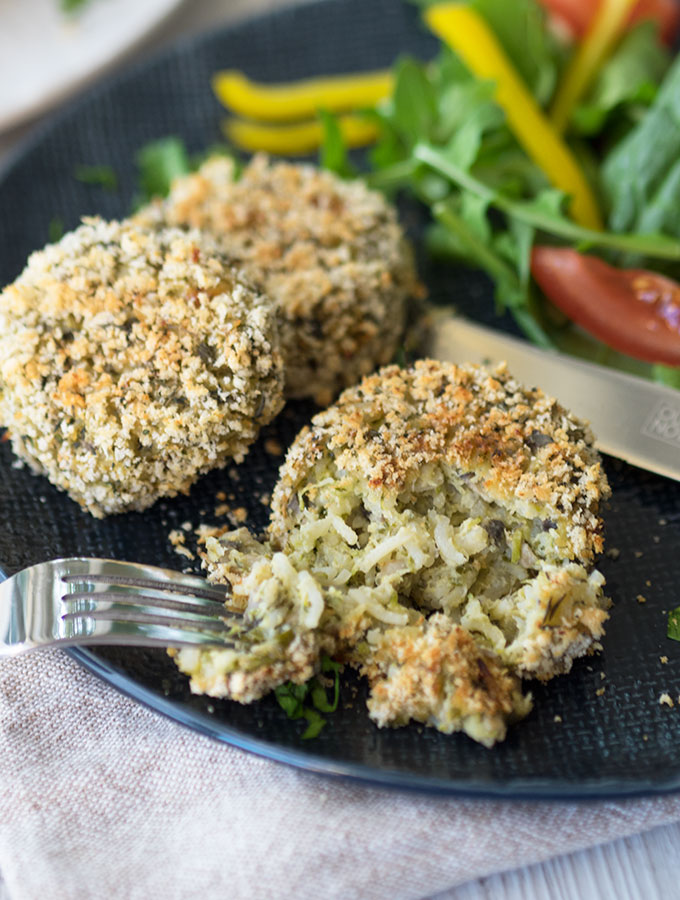 I made both small snack sized zucchini mushroom croquettes and larger ones suitable for a main meal. They are both fantastic in their own right, but I am a little in love with the mini ones as a snack. The recipe would make probably a hundred of the mini ones. I say make them up and freeze them to have on hand. Just put them in the oven to cook straight from the freezer when needed.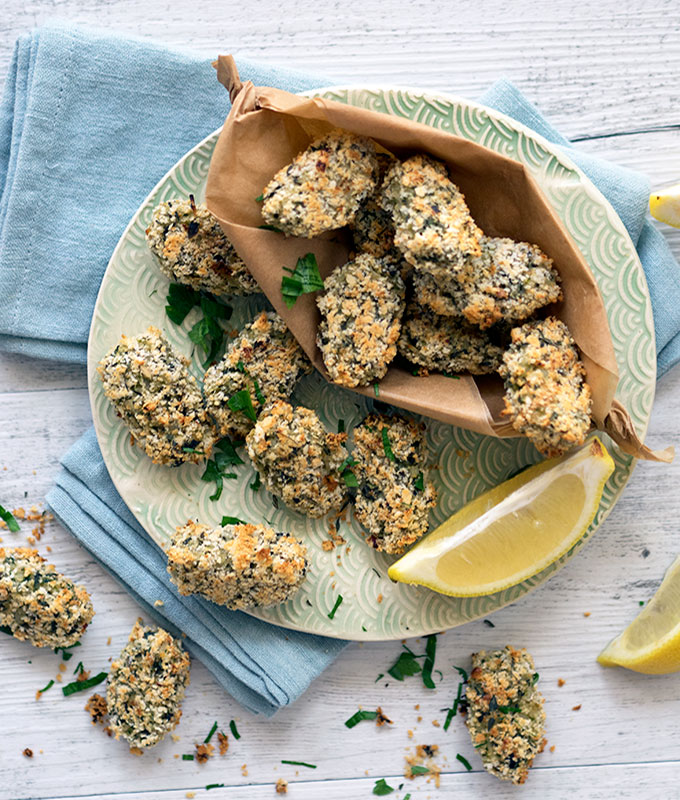 Oven Baked Zucchini Mushroom Croquettes
These oven baked zucchini mushroom croquettes make a healthy dinner or snack. Packed with zucchini, mushrooms and Basmati rice, low in fat and high in nutrition.
Print
Ingredients
250

grams

Tilda Pure Basmati Steamed Rice

3

zucchinis

1

brown onion

finely diced

1

tablespoon

olive oil

or oil of your choice

250

grams

button mushrooms

finely diced

60

grams

(¾ cup) low fat cheese, grated

125

ml

(½ cup) low fat evaporated milk

1

egg

lightly beaten

2

tablespoons

finely chopped fresh parsley

salt and pepper

200

grams

(3 ½ cups) fresh breadcrumbs (gluten free or normal)

1

bunch fresh thyme

finely chopped (discard woody stems)
Instructions
Pre heat oven 190°C (375°F) and line two baking trays with baking paper.

Remove Tilda Pure Basmati Rice from the packet and crumble the rice in to a large bowl, getting rid of any clumps and lumps of rice.

In a heavy based pan heat olive oil and add onions, and sauté over a medium heat until they are soft and translucent. Add mushrooms and continue to cook until mushrooms are cooked and not releasing any more liquid.

Remove pan from heat and allow onion/mushroom mixture to cool while you prepare zucchinis.

Finely grate zucchinis and squeeze out extra liquid. Add zucchinis to bowl with the rice.

In a small pot place cheese and evaporated milk. Stir over low heat until cheese has melted and remove from heat.

Add mushrooms and parsley and to rice mixture, mix well. Add cheese sauce, mix well, taste and season with salt and pepper. Then add in beaten egg and mix until combined.

In another large bowl mix fresh breadcrumbs and thyme.

For large croquettes: Take roughly a ¼ cup of mixture and form into a ball (the mixture is quite wet). Then place in the breadcrumb and coat well. Place coated ball on to lined over tray. Continue with the rest of the mixture

For small croquettes: Take a tablespoon of mixture form in to a desired shape and coat with breadcrumbs. Place on a lined oven tray. Continue with rest of the mixture.

Bake in the oven for 35-40 minutes or until golden and crunchy.

I have made the zucchini mushroom croquettes vegetarian, but by adding some low fat bacon I think these guys would be elevated to another level.  If you add a couple of slice of finely chopped short cut bacon (fat removed), this would add another dimension to them and still be quite healthy.
Some fun Basmati facts
To this day Basmati is harvested by hand to ensure none of the precious grains are lost.
Basmati is similar to Champagne, it can only be grown in one area, the Himalayan Foothills.
Basmati is known as the "Prince of Rice" and means "The Fragrant One" due to its fragrant aroma.
Nearly half the World's population eat rice as part of their staple diet.
Tilda Rice products are available at Coles and Woolworths supermarkets nationally. RRP for two minute Tilda Steamed Basmati Rice pouch is $3.35.
Sara xxx
Belly Rumbles would like to acknowledge its partnership Tilda for this post. This recipe was created, developed and photographed by Sara McCleary.
Become a subscriber and don't miss a single delicious recipe, restaurant review or travel adventure.