I really do try to fit in regular date nights.  It is something most couples try to do.  In this case, these date nights are actually between a couple of good friends, without their partners.  A night of irrelevant but tasty gossip, laughs and generally just enjoying good company, a glass or two of wine, and fingers crossed good food too.
Amanda and I try to get together for a 'date night' when we can.  With the decision being made to explore restaurants closer to home, away from the city.  Hidden gems around the 'burbs' of the St George area, Sutherland Shire and the likes.
Peacock Trattoria is situated in what feels like the middle of nowhere.  You seem to drive forever down Kyle Parade, past residential houses and then more residential houses.  At one point I had to reassure myself that I was indeed on Kyle Parade by referring to the GPS.  Then out of nowhere pops up a short row of local shops, including Peacock Trattoria.
An important fact to note if you are going to eat at Peacock Trattoria, CASH ONLY.  Make sure to get money out before you turn up, there are no ATMs close by.  The closest one is back up on King Georges Road.  I also suggest you make a booking.  For a restaurant in the middle of nowhere they get quite busy.  I can imagine on the weekends they are packed.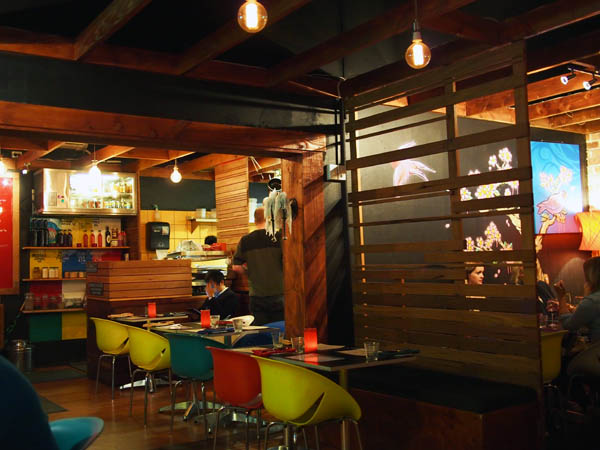 The restaurant is cosy with a unique fit-out.  I feel like I am in an old west saloon (due to all the wood), which has been outfitted with quirky furniture from the 50s, and the walls graced with some great art that just pops.
Staff are also relaxed and very friendly.  I get there before Amanda and let the guy serving us know that she is running late due to traffic.  His quips 'don't panic it is only dinner'.  Later on, when she is still stuck in traffic, he says in his Irish drawl 'tell her not to stress, it isn't like the restaurant is on wheels'.
Finally my dinner date arrives, much needed glasses of wine are ordered and we inspect the menu.  The food is what I would regard as modern Italian.  There are the classic Italian categories like antipasto, pastas and pizza, as well as entrees and mains.  I like the modern twists on quite a few of the dishes on the menu.  They also offer the option of trusting the chef.  Five courses, $60/person or $100/person with matching wines.  This is the option that we go for.
This is where my note taking lets both you and I down.  No note on what this soup was, and there have been so many meals consumed since this one.   What I can tell you is that it was soup.  It was hot and orange/red in colour.  A generous portion presented in red cups and saucers.  Plus it was quite delicious.
Two snapper and prawn arichini served with a lemon yoghurt sauce and salsa verde. Very enjoyable, and I could of licked my plate clean.  The sauce, even though simple flavour combinations, won me over and added a lovely tang to the fish arichini.
We both loved this dish.  All the flavours and textures worked so well together.  Crispy duck, pear, watercress, hazelnuts, and witlof salad with vino cotto dressing.  In retrospect a simple salad, but packed with flavour.
A generous portion of slow roasted Golden Plains pig served with celeriac puree, pancetta, purple grapes, walnuts, kale and agro dolce sauce.  Agro dolce is a traditional Italian sauce, sweet/sour combination.  It worked well with the sweetness of the grapes, bitterness of the kale and the smooth creamy puree, cutting the richness of the pork beautifully.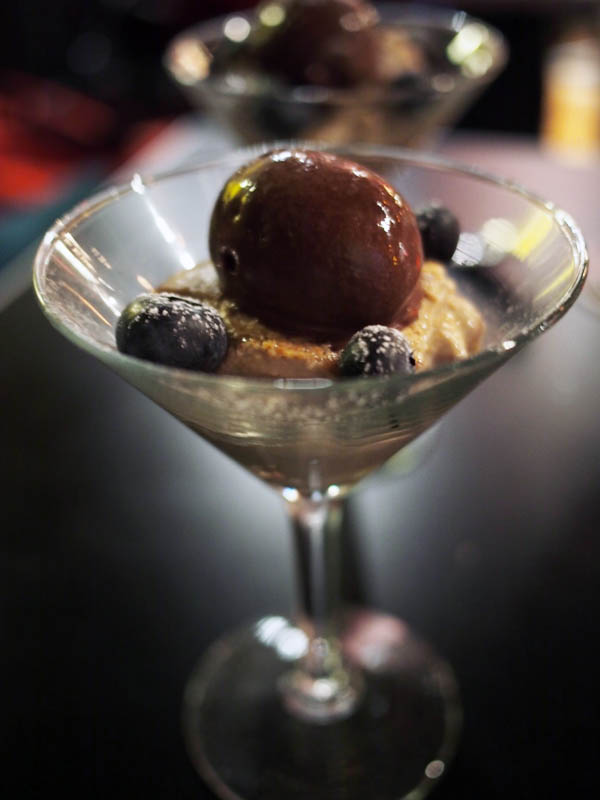 banana custard & chocolate sorbet
We are both absolutely full to the brim by the we get to dessert.  I don't feel like dessert at all.  Is the last course, it is coming, so I really just have to eat it, don't I?  And eat it I do, every spoonful.  It is a baked banana and nutmeg custard, topped with ball of dark chocolate sorbet and a scattering of blueberries.
Peacock Trattoria is truly a hidden gem at Kyle Bay.  Well worth making the effort to trek across town to visit.  Luckily it isn't too far from me and will be happily returning.
Do tell dear Belly Rumbles' reader.  What is your favourite out of the way suburban hidden gem?
Sara xxx
Peacock Trattoria
Shop 3, 25-31 Kyle Pde, Kyle Bay
Tel:  +61 2 9546 6900
www.peacocktrattoria.com