'Let's grab a cab', a unison cry from our group of five, simple words and a simple action.  Not as easy as we initially thought, Adelaide doesn't seem to be the cab numbers there are in Sydney.  With hands flapping, the odd taxi we saw, were either not going to stop, heading the wrong direction or had passengers already.
To make matters worse, there were five of us, two cabs were needed.  Eventually the whole of party was in one cab or the other speeding in the direction of Pearl's Diner.
Pearl's Diner is a small fixed restaurant of Burger Theory (food truck) and Le Waffle (wholesale waffle business), and is attached to their commercial kitchen.  How did they come up with the name Pearl's Diner?  Pearl is the pet name of the Burger Theory truck.
Pearl's is located in Felixstow, which seems to be in the heart of Adelaide suburbia.  We were wondering if we had the right address as we are heading down a house lined street that could of been right at home in Sydney's Baulkham Hills or even Padstow.  Just when we thought we were completely off course a group shops set on a corner appear.  Our anxiety was put to rest when we saw her, yes, there she was, Pearl's Diner. We made it, the other taxi did, as well as the sixth member of our dining party.
Pearl's do not take bookings and from what we know gets very busy.  We are there just after 6pm on a Friday night and secure a table without any fuss.  During our stay there is a steady flow of punters coming and going, the place is continuously full.
The menu at Pearl's is based on the Burger Theory truck menu, which only offers two burgers, fries and drinks.  The menu at the diner is a little more elaborate, but still on the small side.  When you offer a handful of great dishes, do you need a large menu anyway?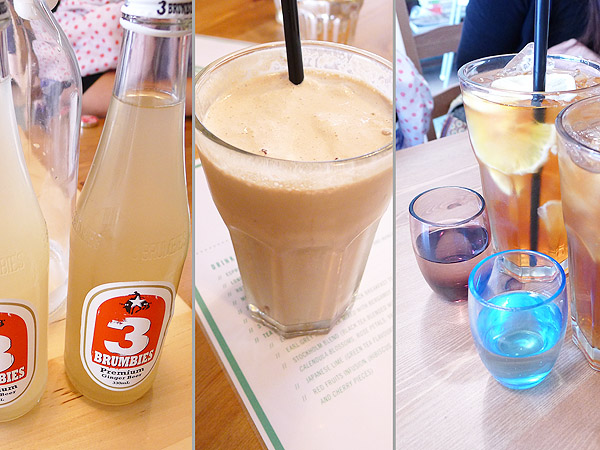 3 Brumbies ginger beer $3.50, milkshake $6, black iced tea with lemon $3.50
Beverages at Pearl's run from a range of coffees, hot chocolate, milkshakes, juice, soft drink, ginger beer to a nice selection of teas.  The milkshakes are more like thickshakes, I had a sip of both the coffee and chocolate and they were pretty satisfying.  I went for a ginger beer, nice and refreshing.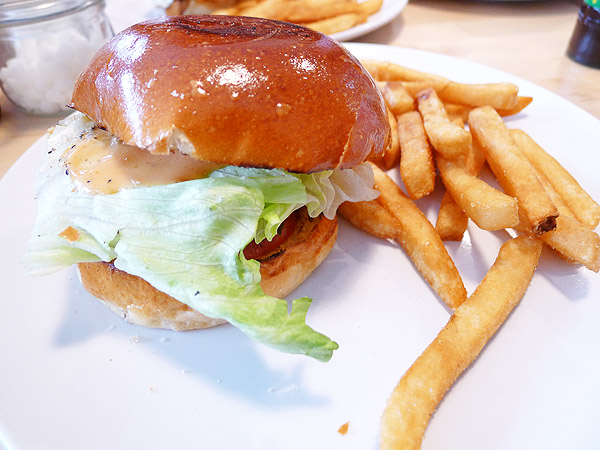 Burger #1, lettuce, tomato, American cheese & truck sauce $13
They take pride in their patties.  100% Coorong Angus beef and they mince it themselves daily.  The burger is served in a Breadtop bun.  The beef  is tasty, cooked medium and the bun lovely and light.  Truck sauce is a mayonnaise based sauce, with a nice hit of heat, maybe Tabasco?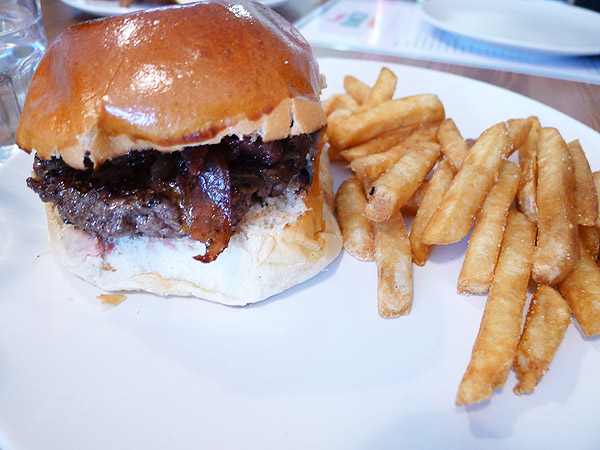 Burger #2, onion confit, pancetta & blue cheese sauce $15
There are a lot of blue cheese haters out there.  I personally like a mild blue, therefore I often steer clear of blue on a menu.  Don't be afraid, great combination of sweet confit onions and pancetta which melds beautifully with the mild blue.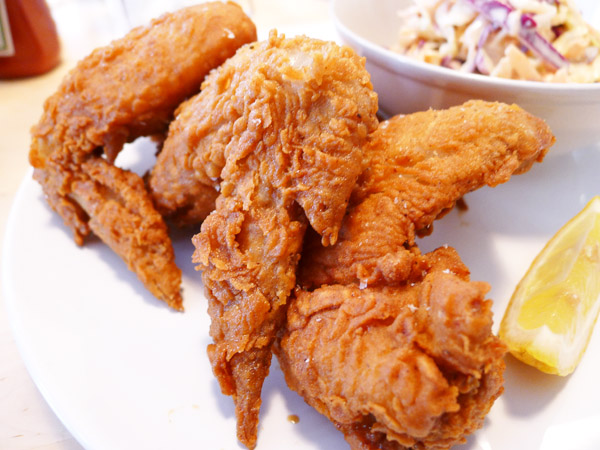 Buttermilk fried chicken wings & coleslaw $15
Shatteringly crunchy, juicy and moist.   I think I am in love.  We ordered two portions so we had a wing each.  I could have happily polished off a plate, or two, all to myself.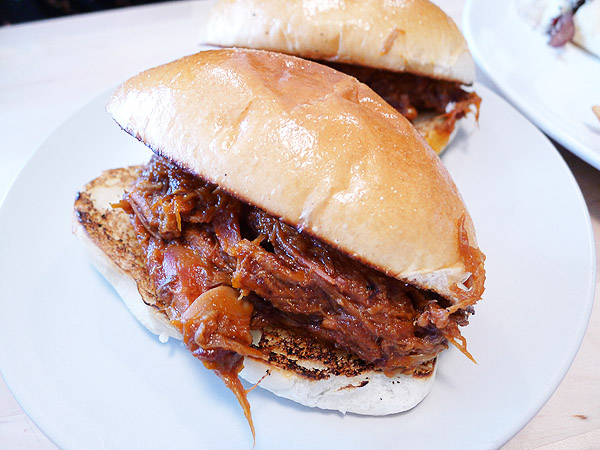 Pork bun (14 hour smoked Berkshire pork) $7 each
A sweet, soft glazed bun houses tender smokey pulled pork.  These babies are way too easy to eat.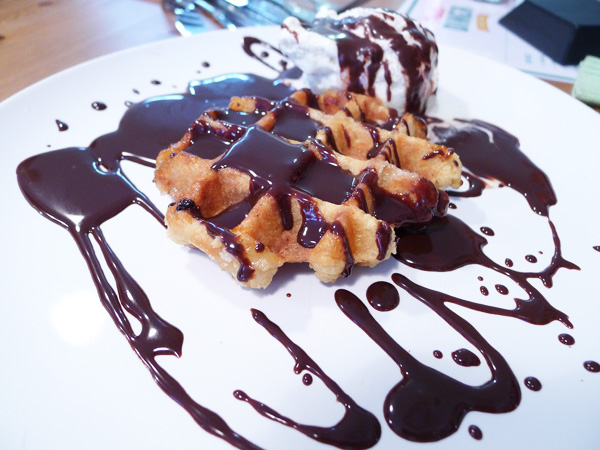 Belgian waffle chocolate sauce & vanilla ice cream $9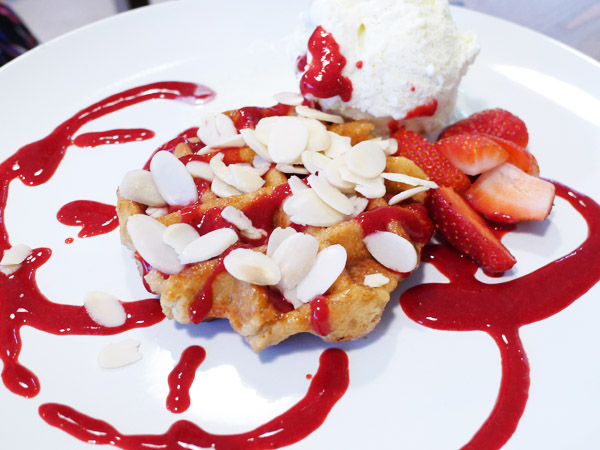 Belgian waffle, fresh strawberries, raspberry coulis, vanilla ice cream & almonds $12 (special)
Have you ever seen six grown women pout and have puppy dog eyes of disappointment all at the same time?  If you say yes you have, you are totally lying.  That was our table when we saw them pull the waffles out of the deep freeze to be warmed up on one of the many waffle making machines they have in prime position in the restaurant.   The waffles were fine, just nothing exceptional.  They actually reminded me of the ones I purchase from my local supermarket.
The Verdict:  We had a great meal.  The chicken rocked my world and I would happily head back from more.  Burgers tasty and a great size to get your mouth around.  Waffles were fine, but nothing to write home about.
Do tell dear Belly Rumbles reader, do you like to head off the beaten track when eating out while travelling?
Sara xxx
Pearl's Diner
38A Briar Rd, Felixstow (at the top of Payneham Road)
Adelaide
Tel:  +61 8 8165 2448
www.pearlsdiner.com.au