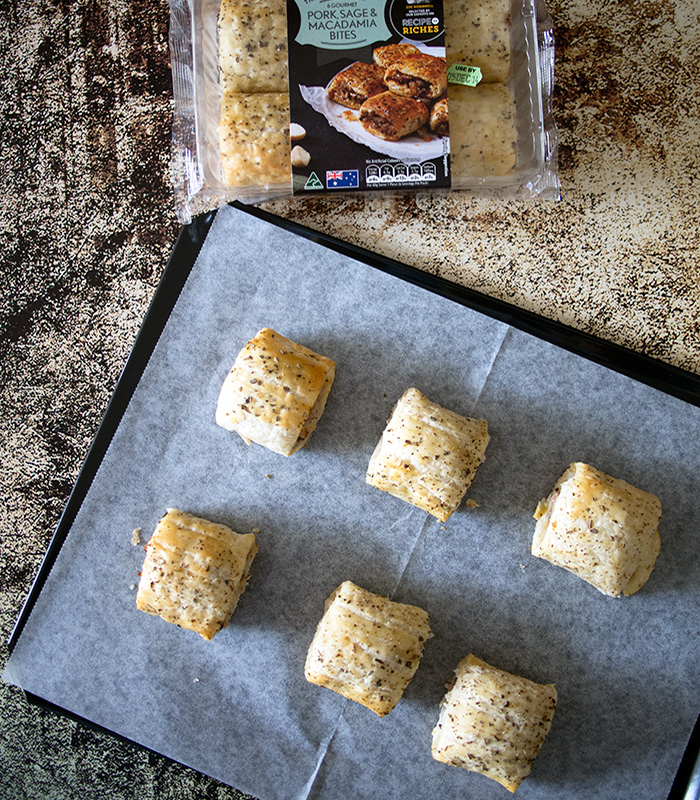 Seems innovation went out the window this week yet again. Why they even bother using the word I have no idea. We had three very common products this week and one of them didn't even fit this week's category.
They were on the look out for a knock out recipe in the bite size category, a 216 million dollar market. Sorry, but chutney does not fall into the category of bite size. It is something you dip your winning bite size recipe into.
So who were our contenders this week? Let's start with the 'didn't quite fit the category' chutney.
Maria is a Queenslander (moved there 2 years ago from Sydney) and brings to the table eggplant chutney. She started to make chutney due to the influx of mangoes they had. A girlfriend suggested she make eggplant chutney, so she did. I wonder what they do with the mangoes now?
It is suggested she use the bratt pan, and makes a deal with Darren that she will on the condition she gets to use Eddie's muscles. The camera cuts to her at one stage and she shows us her 'super sized wooden spoon' and tells us all it is like stirring a witch's cauldron. Yup, witches brew, sort of sums up how I feel about eggplant chutney. My fingers and toes are crossed at this stage that her recipe doesn't make it through. Sorry Maria, it is totally for selfish reasons.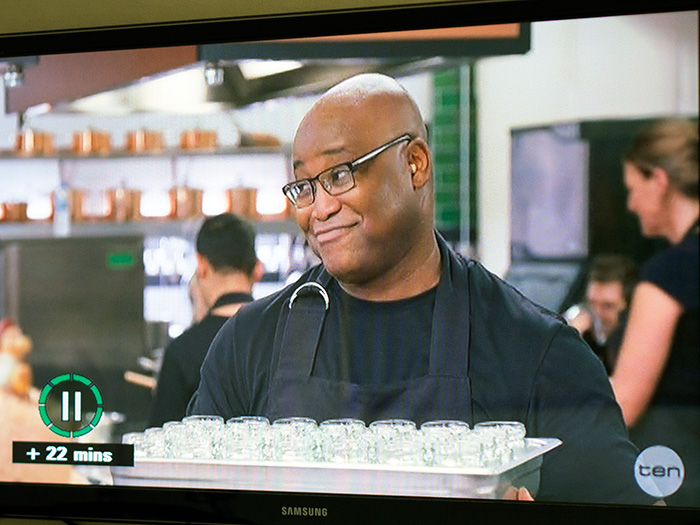 When it comes time for Maria to sterilize 150 chutney jars she plays her Eddie muscle card. It seems that a kitchen hand is already stirring away at the bratt pan, who is probably secretly happy she can avoid the shoulder press machine at the gym that night. Therefore Eddie's manpower is harnessed to move the 150 jars to the oven.
Maria exclaims to the camera "where would a girl be without Eddie's muscles? (Insert girlish giggle)" I don't know, maybe a non eyelash fluttering independent woman?
It's all good though, Eddie is getting more airtime this season. I like Eddie so I'm not complaining. Maybe we will get a spin off series, "Eddie's kitchen muscle". Seems the producers had a similar thought as they cut to a shot of Eddie with the caption 'Mr Batchup 2014'.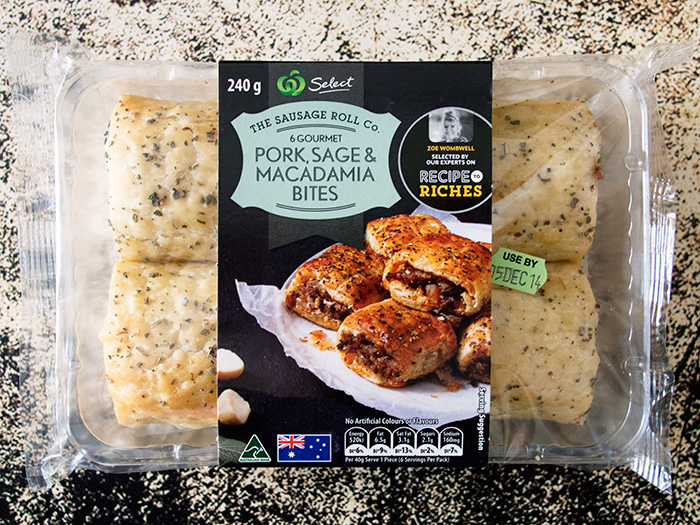 But Maria's little crush on Eddie doesn't stop there. As he grabs three trays of jars to lug over to the stove, the lucky man gets his biceps felt up and squeezed. She girlishly proclaims 'Can you hear my heart beating?'. Well I would hope so, otherwise you're in the wrong show.
Our second contestant is Tina, with her chicken, vegetable and quinoa nuggets. Yes, nuggets, how original. But these are magical vegetable hiding nuggets, created for her non vegetable eating daughter.
I'm not a fan of this product from the start. I personally have always had an issue with hiding vegetables in food from kids. Sure, get as many vegetables into the food as you can, but make sure kids are eating vegetables that look like vegetables. I say this as a parent, who managed to get my child to eat vegetables that weren't hidden. I had no need to deceive and trick my child and instead educated him from the time he started on solids. Serving up chicken nuggets, which are associated as a not so healthy fast food, as a healthy meal is going to cause problems pretty quickly. End of Sara's rant.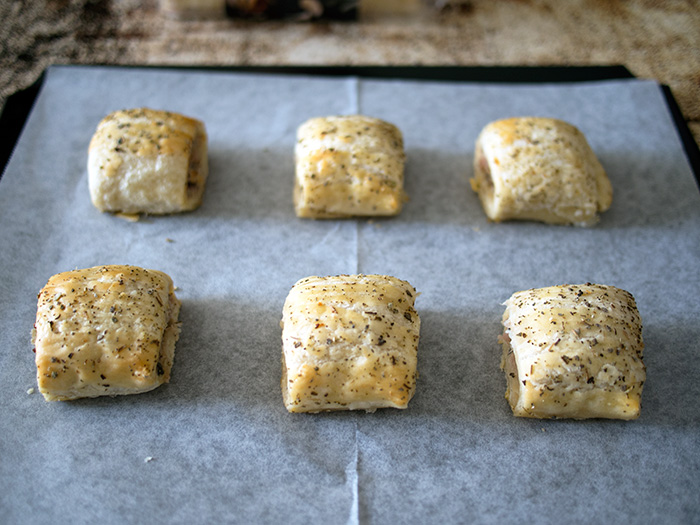 On entering the kitchen she tells us all how pretty the commercial kitchen is and that she couldn't swing a cat in hers. Firstly the kitchen is not pretty, that is not a pretty kitchen. Secondly why do you need to swing a cat, secret ingredient?
Tina addresses her kitchen hands like she is holding an AGM. 1st order of business, 2nd order of business, 3rd order of business. I was waiting for her to have the minutes from the previous meeting first and seconded.
There are a few issues in the kitchen. Tina is not impressed at all when Darren tells her that she can't bake the nuggets and they are going to have to be deep fried to get them on the market shelves. Her response, a stern "I don't think so". Really…. don't you Tina?
Narrator then explains to the audience that they will take too long to bake and flash frying is quicker and more efficient. Also it isn't as unhealthy as you would expect. As soon as the nugget hits the oil it starts to steam creating a barrier. As oil and water don't mix this results in a crisp coating. She is adamant that she doesn't want them deep fried and fights to have them baked.
I personally feel if the peeps in the kitchen offer you advice, you take it, especially if you want to stay in the game. We cut to Eddie who confirms that Tina's product is going to have to be deep fried for commercial quantities.
It is then, at that particular moment that I realize that Darren is actually narrating the show. For the past 6 weeks I thought it was some English guy. Oh hang on, Darren's English.
Seems that Eddie not only has sexy muscles, he has the gift of persuasion too. He is the one that eventually convinces Tina to fry the nuggets. Fryers get switched on and professional advice taken on board. Tina then shares with us that she had several ways she wanted to cook the nuggets but frying wasn't one of them. I am fascinated as to know the several other ways she thought she could cook them in the batch up kitchen?
After a shaky start of non cooked nuggets, Tina nails the deep frying and is happy with the product. She cracks a 'bad boy' open and lets us all know they are delicious.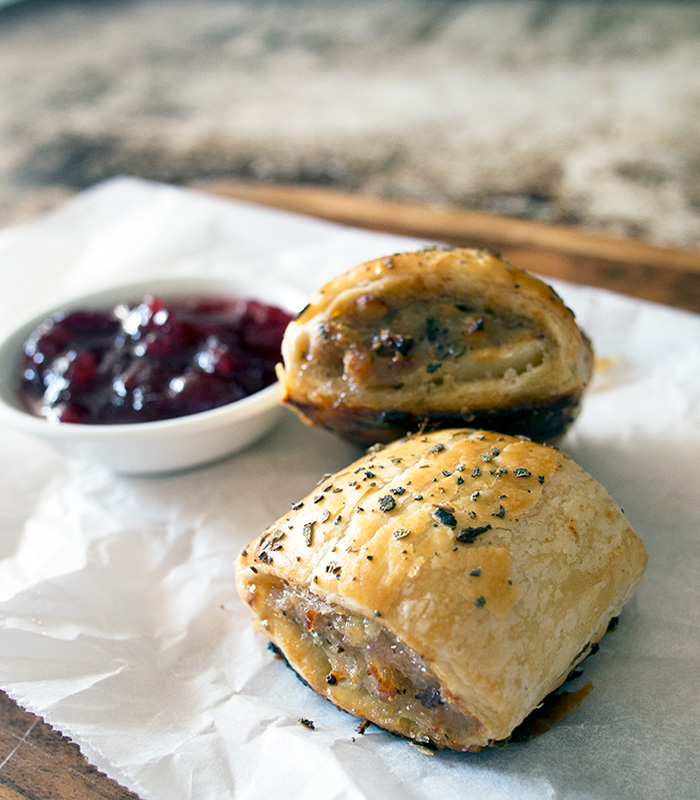 Then we have the winner of last night's episode, Zoe and her sausage rolls inspired by a stuffing recipe. She laughs that the sausage rolls are the ones that get the party invites not her.
Yes, there is nothing innovative about sausage rolls, the supermarkets are stocked with them. Both in the freezer section and deli section.
Zoe has the most processes to deal with in the kitchen compared to her rivals. She is even making her puff pastry from scratch. After a little hick up with the commercial roller, she is going great guns.
That is until the pepper drama. There is a miscommunication 17 teaspoons of pepper are added to the filling mixture instead of seven. Even with this drama she stays as cool as a cucumber.
She chats to Darren about the issue and Eddie gives the mix a taste test. Drama is pushed out the door by the addition of extra honey. Recipe tip folks, honey will balance out an over peppering of your recipe. Of course this may not work if there isn't any honey in the original recipe. I can't see it working for steak Diane for example.
Crisis is averted and we cut to the kitchen hand responsible for the heavy handed peppering. She looks like she is having an internal sigh of relief. Or is she thinking to her herself, 'I sure as hell can't wait to for this season to finish so I can work with professionals again'.
Zoe's puff pastry has put her behind, but she is one cool cookie and not panicking. With half an hour to go the sausage rolls are finally making it to the oven. She has a feeling in her gut that these are going to taste great. Out of the three recipes I really want Zoe to win. I'm don't mind a good sausage roll.
Batch up is over and we wave bye bye to Maria and her eggplant chutney. Tina and Zoe make it through to the final round. And as we know the ultimate winner is Zoe.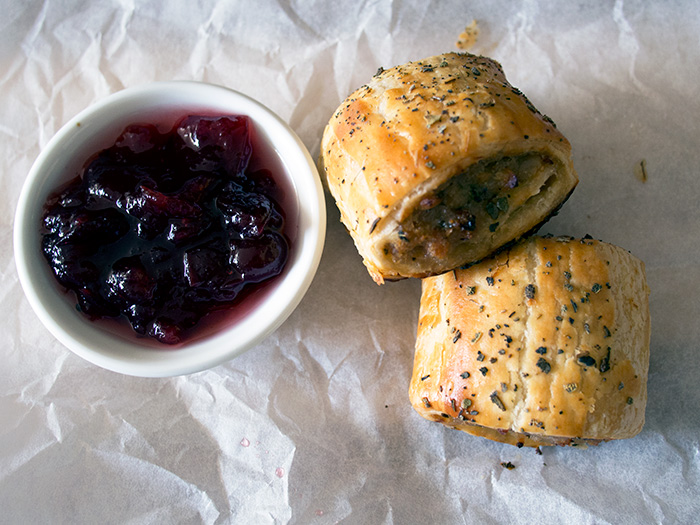 So what are The Sausage Roll Co's Pork, Sage and Macadamia Bites like?
Packet Information (please see pack for full description)
Ingredients: sausage filling 47% (pork mince 19%, onion, bacon 7.5%, pork 7%, water, potato starch, salt, sugar (sucrose, dextrose) maize), mineral salts (451, 450, 452), antioxidant (316), preservative (250), food acid (331), smoke flavour (contains soy)), honey, 3%, breadcrumbs (see packet for details), macadamia nut 2%, canola oil, sage, salt, pepper, butter pastry 47% (wheat flour, butter 17%, milk, water, salt), egg, dried sage.
Allergen advice: gluten, egg, milk, soybeans and tree nuts.
May be present: peanuts, other tree nuts, sesame seeds.
General:  There are 6 sausage rolls in a 240g packet.  One serving (one sausage roll 40g) is 520kJ/124Cal.  Has 8% of your recommended daily intake (RDI) of protein, 9% RDI total fat, 13% RDI saturated fat, 4% RDI carbohydrates, 2% RDI sugar and 7% RDI sodium.
The product is made in Australia.
Price:   $6.49, roughly $1.08 each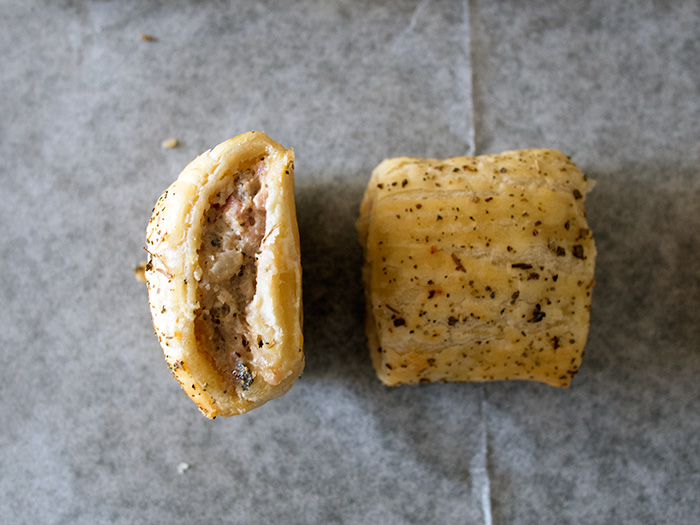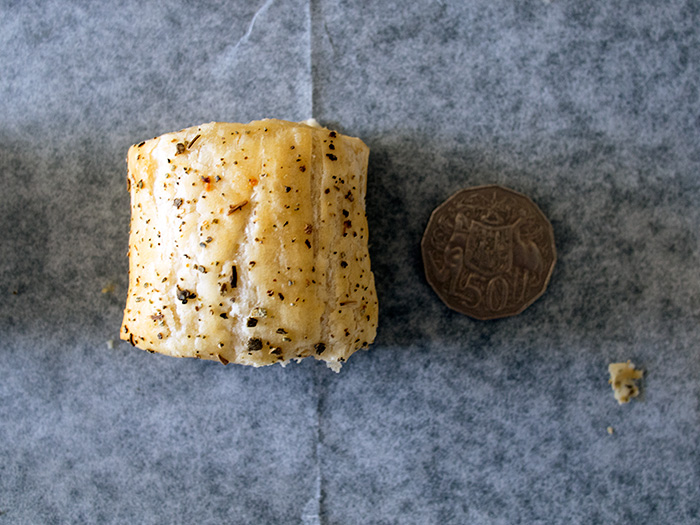 They are easy to prepare, you just reheat them for 10 minutes on 200 degrees C. I heated mine for 15.
But what did they taste like? The pastry is buttery, but not very puffy. For a commercially made pastry I will say it's rather good. The filling does have a peppery taste and is quite sweet. The filling seems to be rather lacking in macadamia nuts. When looking at the packet, at 2% I am not even sure you can call it a key ingredient on the packaging. I personally feel a bit ripped off by the miserable 2% of macadamias considering they state that 3% of the product is honey. Surely they should be called pork and honey sausage rolls?
You can also see little chunks of bacon in the filling. They sprinkle the top of the rolls with dried sage.
They are a nice store bought mass produced sausage roll, and I am sure nothing like Zoe's homemade product, which looks delicious. They do leave you with a fatty feeling coating the roof of your mouth. They also leave you with an after taste.
I tried mine straight up and with the packet suggested cranberry sauce. They do not need the cranberry sauce. If anything they need a sauce that will cut down the sweetness of the sausage rolls.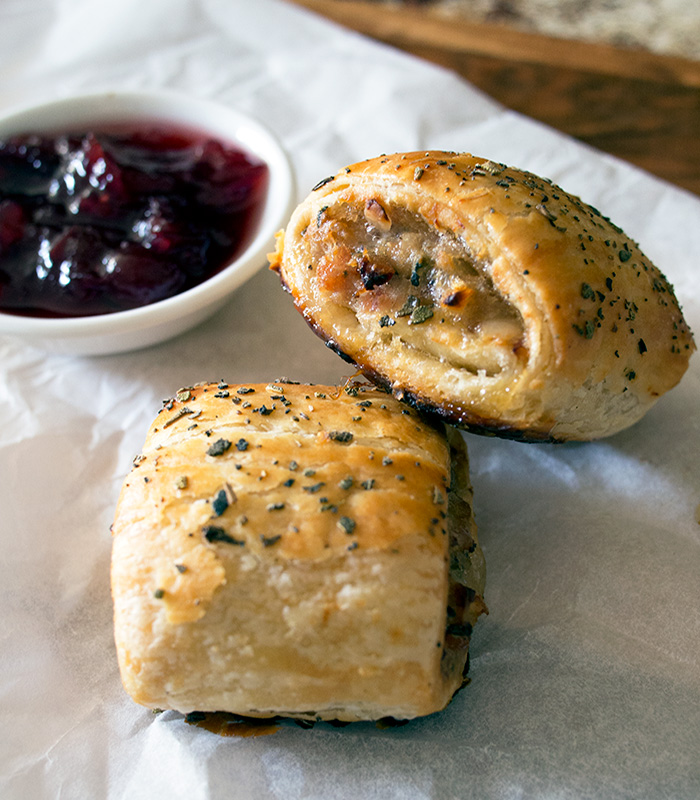 Would I buy them again? I think I would if I was having a sausage roll craving, but I can't say I am blown out of the water by this product. It is nice, but did we need another sausage roll on the market? Sausage rolls are really easy to make at home with out all the preservatives and flavourings that have been added to these ones, so many numbers!
I should also mention that price wise they are pretty expensive.  If they were packed with macadamia nuts then I would understand the price of $1.08 each for something that is two bites worth.
You may want to check out my Pork, Apple and Fennel Sausage Roll or Festive Christmas Sausage Roll recipes.
Congratulations Zoe on winning last nights' bite size episode. With the grand prize being $100,000 and a partnership with Woolworths, I wish you all the best in the final.
So guys, what did you think of last nights three recipes? Who do you think should have won? And please let me know what you think of The Sausage Roll Co's Pork, Sage & Macadamia Bites if you get around to trying them.
Sara xxx
Important Note: This is an independent weekly review of the winning Recipe to Riches product. All products are purchased at Belly Rumbles' expense for review. Belly Rumbles is in no way involved with Woolworths, Channel 10, Freemantle Media Australia or any of the contestants.