Yum cha on Dank Street, who would of thought? The only reason why I new of Puer's existence is that I found the establishment while looking on a certain restaurant booking site that's in cahoots with a certain airline.
This certain airline was giving members triple points on restaurant bookings via their site when dining during December. Hey, no shame here, I jumped on this particular offer and booked up big for the boys and I. Which is probably what they were hoping most people would do. Seems they know my weakness, more frequent flyer points while doing what I do best, eating out.
That's how we found ourselves enjoying a normal Sunday yum cha ritual in Waterloo of all places.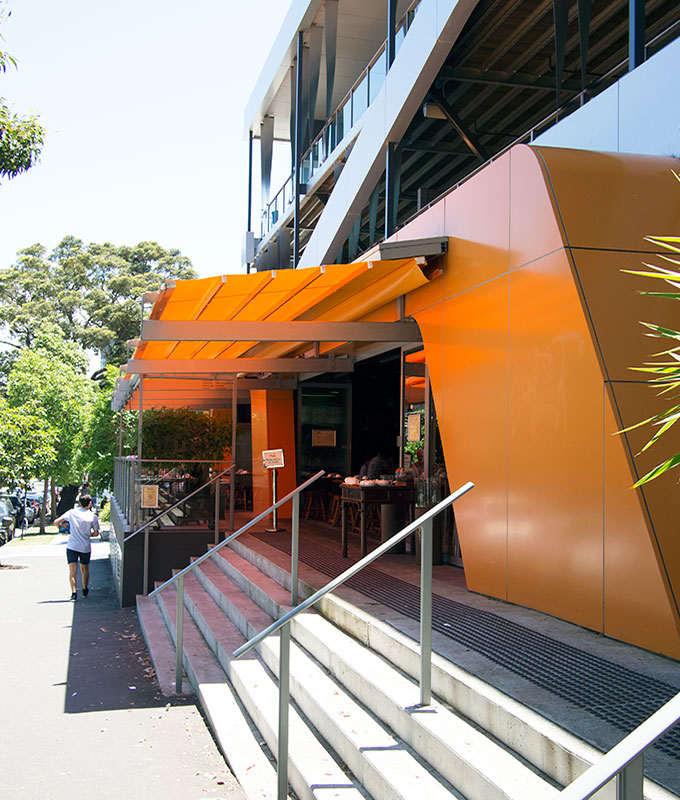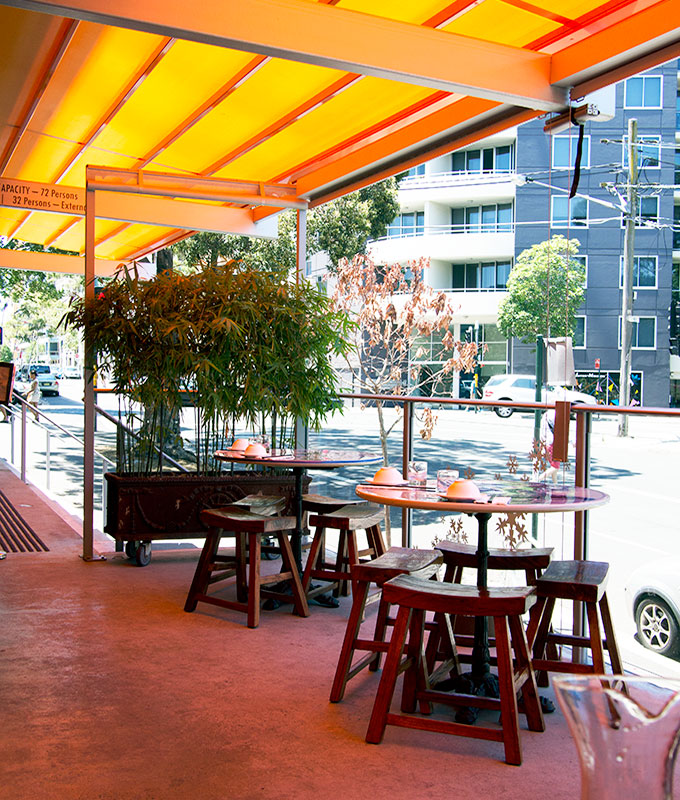 There is one thrilling aspect of dining around Dank Street Waterloo on a Sunday, parking. There is some! After nabbing a generous four hour park we headed to Puer, which is situated out the front of the Aldi/Winnings appliances building.
It turns out there really wasn't a necessity to book (except point collecting) as Puer was empty when we arrived for our 12pm booking. To be fair they open at 12 and soon after patrons started to fill seats.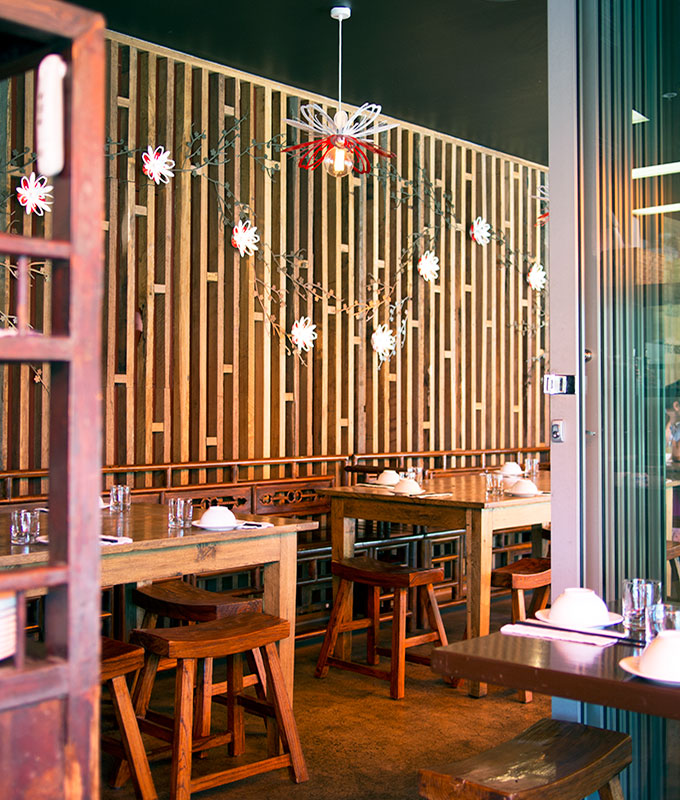 We took a table outside under the orange awning. For a hot Sydney Sunday there was a pleasant breeze and it was a great position to people watch. There are many interesting people to watch in the area, you will never get bored.
The Chinese teahouse is the inspiration behind Puer. They offer a lovely selection of dim sum, which is then supported by a selection of street food and share plates. There is a pleasingly comprehensive tea menu, but they also offer the hard stuff.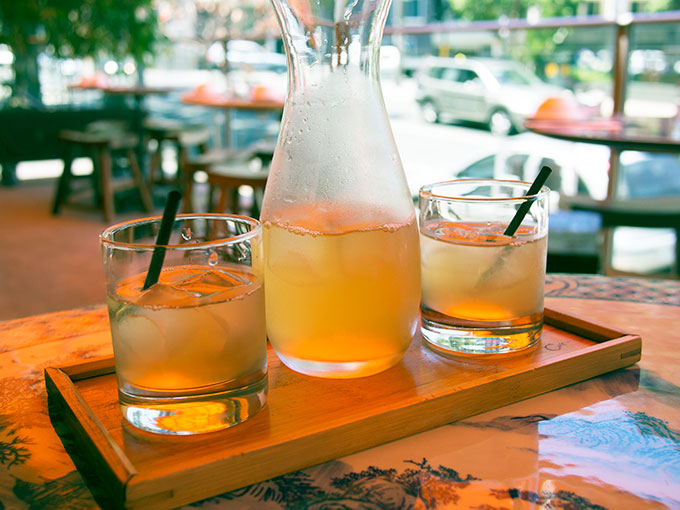 It's hot, but I really do want to try some sort of tea on their menu. I notice they offer tea infusions, and on asking hey confirm that they are iced tea. We order the Tropical Jasmine Punch ($9/carafe or $5/glass), which is made from a jasmine pearl cold infusion, fresh papaya and fresh pineapple. From the description I was expecting to see fruit in the tea, but the fruit is just infused.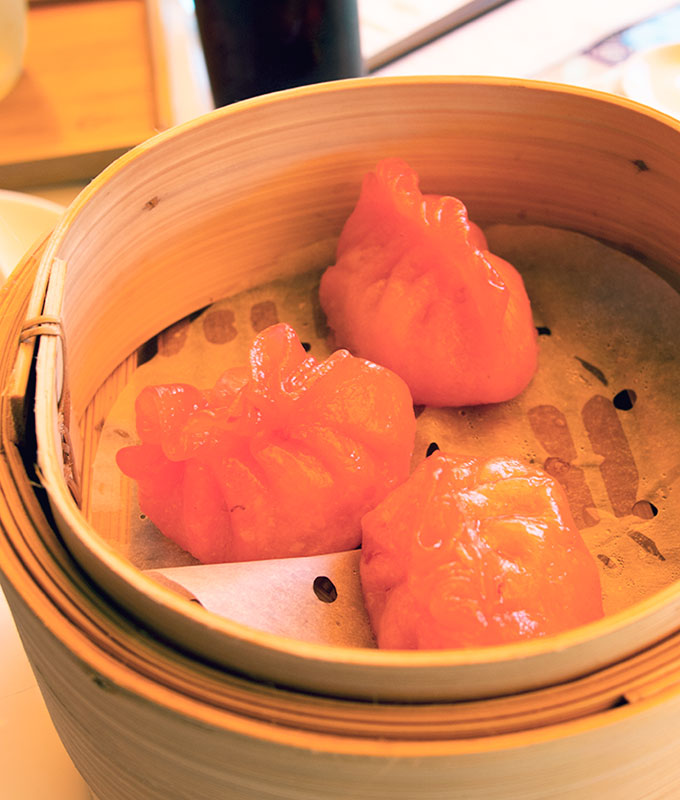 Spicy Prawn ($8), a Canton style dumpling with chilli marinated prawns and baby bamboo in a lightly chilli infused dough. The dumplings are pink, which are unusual and quite pretty, if you like pink food. I'm quite surprised that there really is no taste of chilli or any accompanying heat.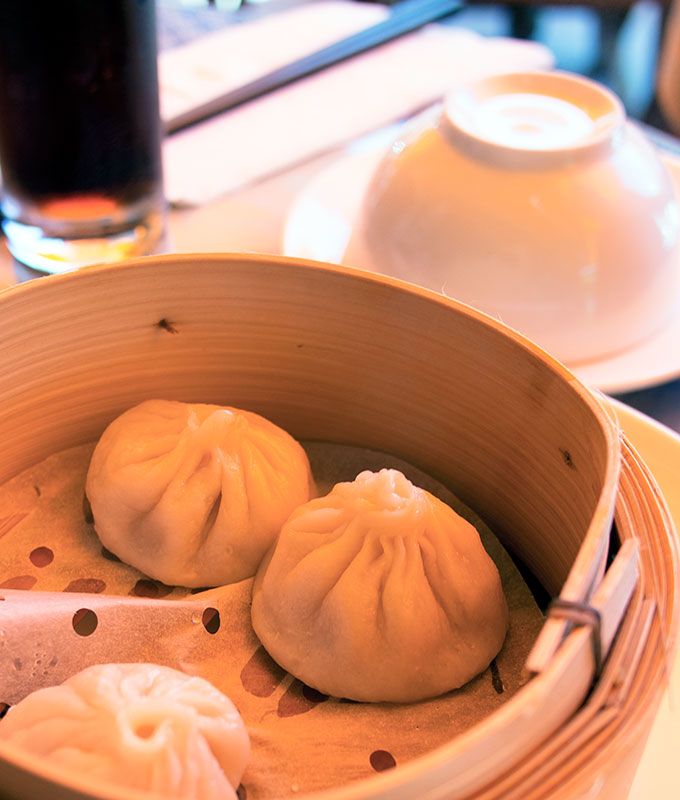 Shanghai ($7), juicy pork soup dumplings, served with fresh ginger and black vinegar sauce. The first thing we notice is the lack of soup liquid in the dumplings. The pork filling is very soft and moist, and in its own right quite tasty, but you don't get that lovely soup slurp.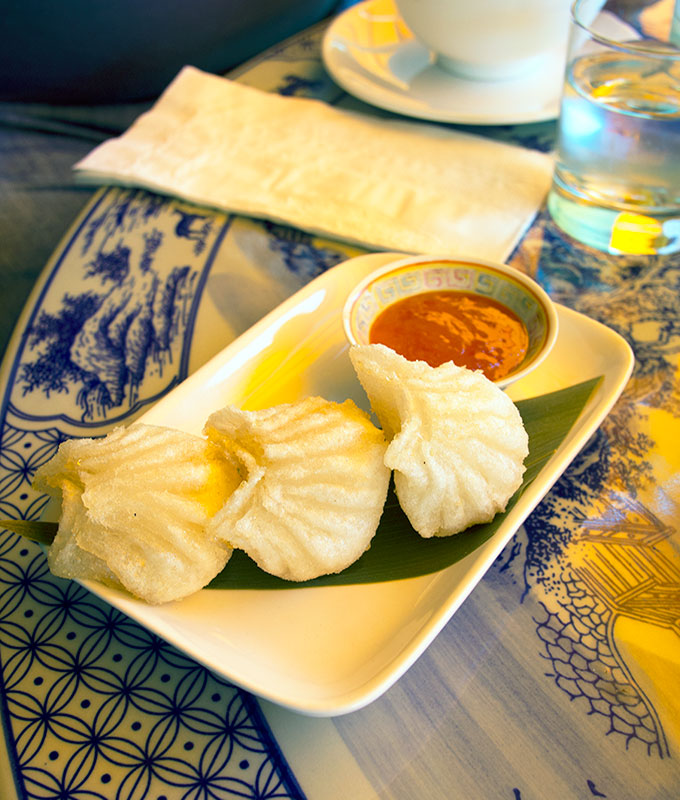 Crispy Har Gow ($8), a prawn dumpling originating from the outskirts of Guangzhou.   They are crunchy and the dough has a slight chew to it, in a good way. The dough reminds me of the pastry found around the combination dumplings, which are found on nearly every Sydney yum cha trolley.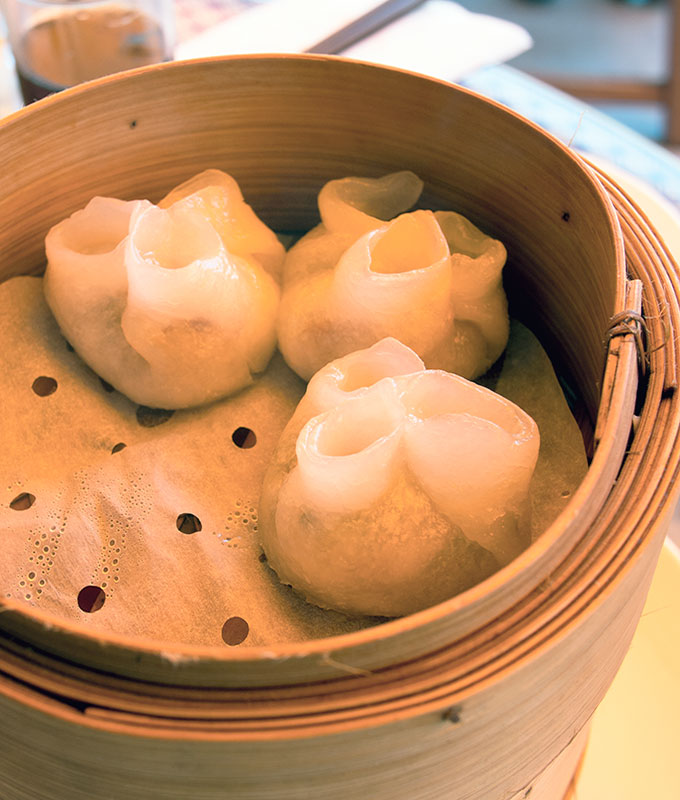 Baby Choy sum ($7), baby choy sum, baby carrot, baby corn, baby bamboo and baby shitake. These were delightful mouthfuls, which I assumed from the description were meat free. I am pretty sure there is pork in them as well. My taste buds and tongue spidy senses could have been lying.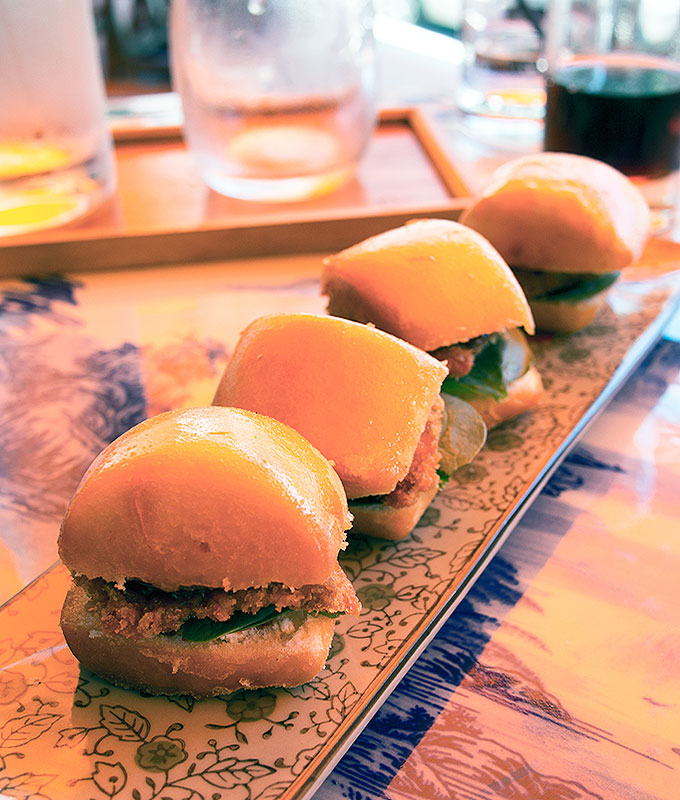 Hong Kong Mini Burgers ($15), made on mini fried mantao buns. A slender slice of panko crumbed pork, house smoked chilli paste, hoisin and baby cress. Crunchy, tasty and I personally think would go down a treat at a cocktail party.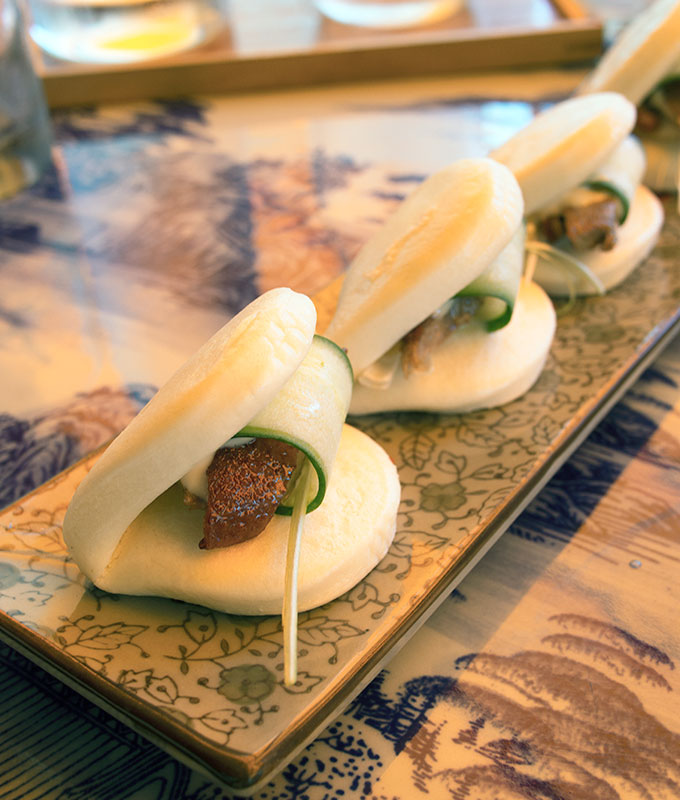 BBQ Duck Tacos ($16), made with secret mayonnaise, shaved cucumber and spring onion. They were nice but not outstanding, there needed to be more of a textural crunch in the combination.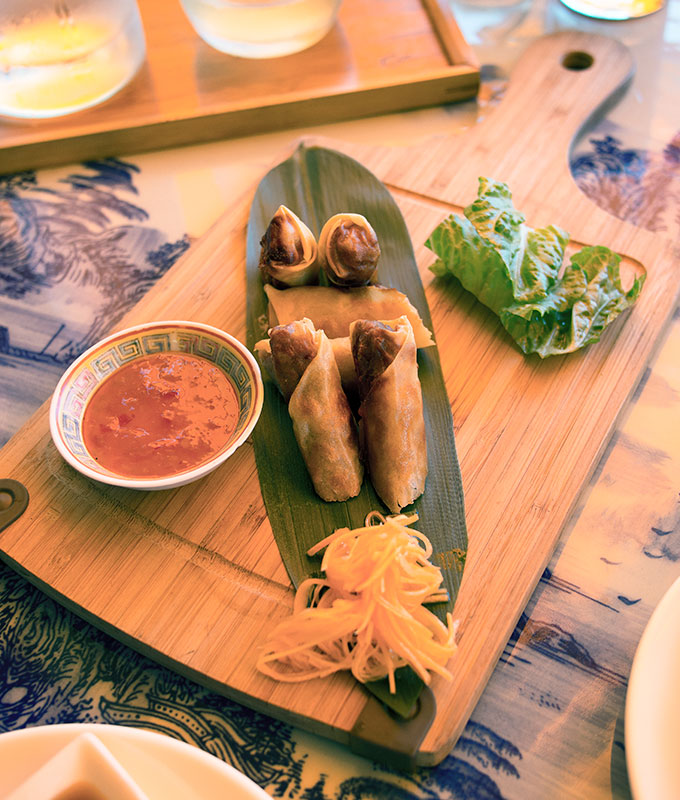 Pork, Prawn & Taro Spring Rolls ($7), served with pickled carrots and sweet chilli sauce. Wrap your rolls in the lettuce with some of the pickled carrot and a dollop of the sweet chilli sauce. Lovely flavour and texture combination.
Puer was a lovely find in Waterloo. It has a very relaxed and chilled vibe on a Sunday. Definitely a lot more relaxing that having the yum cha trolley lady yell at you, ignore you or be indifferent.
Going back is definitely on the agenda to try some of the shared dishes and explore their tea menu a lot further.
Sara xxx
Pu'er
20a Danks Street, Waterloo, Sydney
Tel:  +61 2 8399 1331
website