Pavlova, something I regard as quintessentially Australian.  Most New Zealanders would argue with me until blue in the face, and they may have a point from what I have read.  But, being quintessentially Aussie, is not about ownership of the original recipe.  It is about a dessert that is as part of growing up an Australian, as sand in your cossie bottoms down at the beach (I am sure we didn't event that either).  I could not tell you how many BBQ's, dinner parties, lunches, picnics and family gatherings where the humble Pav appeared.
I was approached by the PR company representing Australian owned Queen Fine Foods, and asked if I would like to try some of their new make-at-home Sorbet and Gelato mixes.  It's summer, my readers love road tests, of course I was going to take them up on the offer.
I had many ideas dancing through my little brain of how to take the base mix and individualise it Belly Rumbles style.  With Australia Day fast approaching, pavlova ice cream seemed an obvious choice.[kitchenbug-your-recipe-appears-here-5693]
The marriage of vanilla bean ice cream with passionfruit and meringue worked well.  Super easy to make with a delicious outcome.  Taste wise it was a winner, and Sally gave her lick of approval (she loves ice cream)  Please note that I felt that it is still not as good flavour wise as making ice cream from scratch.  I don't think anyone would expect that it would from a packet mix.
If you would like to make the above recipe but use your own vanilla ice cream recipe expect brilliance.  If you don't have a favourite vanilla ice cream recipe, have a look at David Lebovitz' one.
The Verdict:  Super easy to make.  Great for kids to make from start to stop all by themselves.  No hot custards to prepare, no sharp knives, unless you are cutting up strawberries or the likes to add.  Contains no artificial colours and is made in Australia with Australian and imported ingredients.   I haven't tried the other mixes, but the vanilla bean gelato was quite creamy and didn't taste artificial.  Texture wise, it reminded me a little of Turkish ice cream (dondurma) which I think is caused by the added thickener.   This product is designed to be used with an ice cream maker.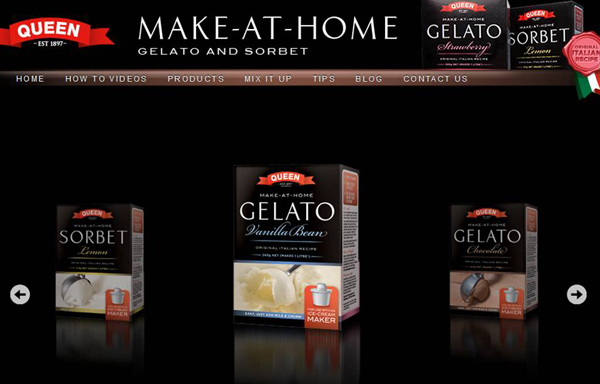 (screen shot for Queen website)
Would I buy it again?  In my circumstance, no, as I prefer to make my ice cream from scratch using all natural ingredients. If I had young budding chefs at home, then yes.  I would keep some packets on hand, in the cupboard for quick and easy ice cream making fun.
Queen Make-At-Home Sorbet & Gelato mixes are available at all leading supermarkets at around $6.50 per packet.  The range includes vanilla bean, chocolate and strawberry gelato as well as lemon sorbet.
Do tell dear Belly Rumbles reader, do you think Pavlova is as Australian as a Kangaroo?
Sara xxx