Restaurant Atelier has had a lot of positive press, I have read and heard lots of good things.  It has been on my 'go to' list for a while, but it was a conversation with a person who reviews for a living that expedited my visit.  When they told me it was where they eat on their 'nights off', a booking was promptly made.
Restaurant Atelier is located in the cutest freestanding cottage in Glebe.  An intimate establishment with Head Chef Darren Templeman running the kitchen and his partner Bernie operating front of house like clockwork.
You have a choice of à-la-carte or the seven course degustation, $90 or $145 with matching wines.  On our visit fresh Italian summer truffle is available with our meal, $10 for it to be added to a main meal, or to two dishes if we opt for the degustation.
We decide on the degustation, mine with the truffle option and the matching wines.
There isn't actually a set degustation menu, your dishes are chef's choice.  As the night goes on and we listen-in  on our fellow diners, we find out that not all degustations are the same.  When we hear the table next to us is having a rabbit dish, Mac whispers to me 'wars have started with less'.  Is there such a thing a degustation envy?
I find out during the evening that there is nothing to be envious about as everything that is served to us is outstanding.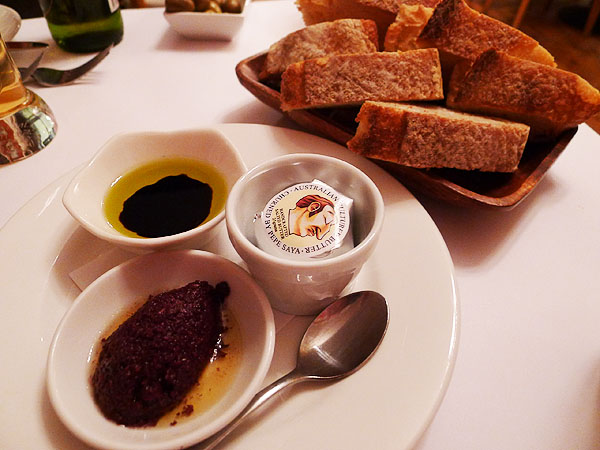 A generous serve of Brasserie Bread sourdough with tapenade, extra virgin olive oil (EVOO) & balsamic and Pepe Saya butter is bought to our table to start our meal.  I find this a positive sign of things to come as both Brasserie Bread and Pepe Saya are two of my favourite Sydney-based artisan producers.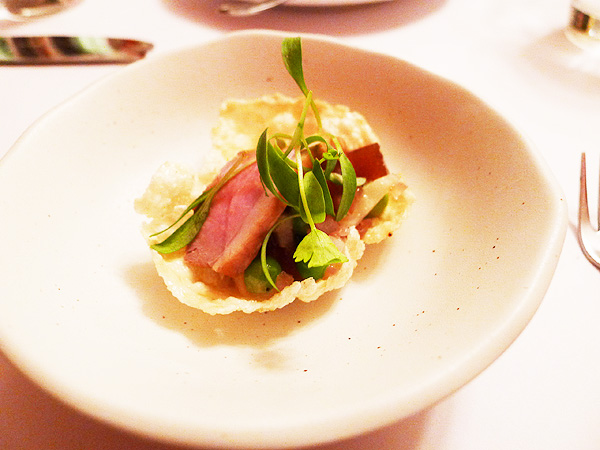 The meal starts with an amuse-bouche of a bitternut crisp topped with smoky duck breast.  A lovely crunchy, sweet, smoky and bitter mouthful.  The surprise sweetness comes from the baby peas hidden under the moist smoked duck breast.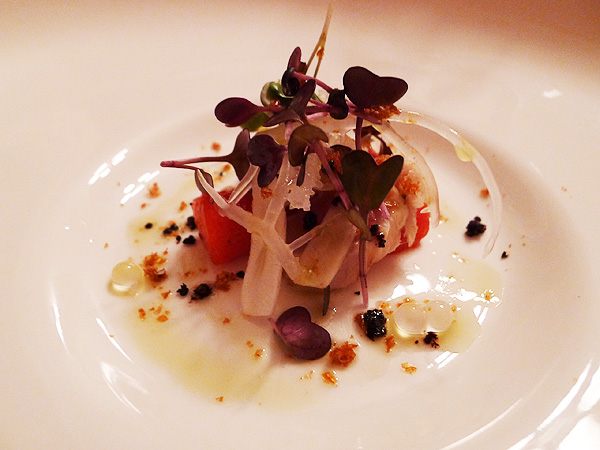 Daren's first choice for our degustation was the bonito.  The bonito is first bamboo salt-cured and then charred.  It is served with a cylinder of red capsicum jelly, black olive, fennel, yuzu gel and coral tenax. All quite strong flavours to pair with the bonito, but they are balanced brilliantly.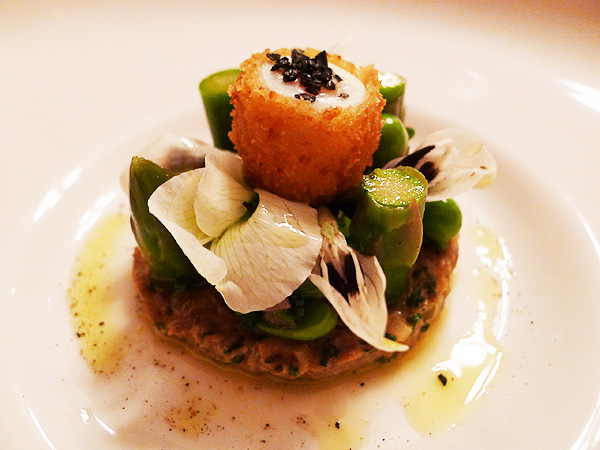 I am a fan of beef tartare, if it's on a menu I tend to order it. Restaurant Atelier's version uses master Kobe beef Wagyu, served with a crispy fried quail egg, pea, broad beans and asparagus.  At first, I am a little put off as I pick at the beef and it tastes, well, a little 'beefy'.  I mention this to Mac and he tells me to: 'try it all together, stop picking at your food'.  He's right, when I take a decent fork-full with all the components on the plate, it is divine.  They all work magically together and I love how the pea flower makes this meaty dish quite pretty.  I am also impressed by the black olive salt topped quail egg, even though it has been deep fried, the yolk is still runny.   For those home cooks reading this, you know that is not an easy feat with such a small egg.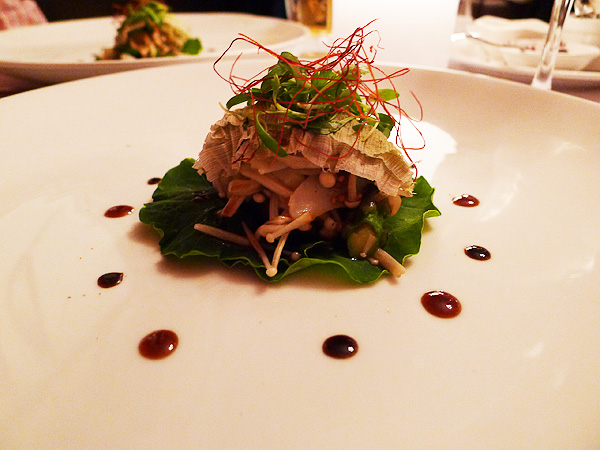 Next dish is Tasmanian abalone with house-smoked pork jowl, enoki, asparagus, shaved kombu and nasturtium leaves.  All my past experiences with abalone have been in Asian dishes, and I am curious to try it another way.  Piled high on the vivid green nasturtium leaf, again this dish is a delight to the eye. As with the previous dishes, no single component overpowers any of the others.  Even though this dish has a strong Japanese influence the smoked pork jowl dictates the direction of this dish.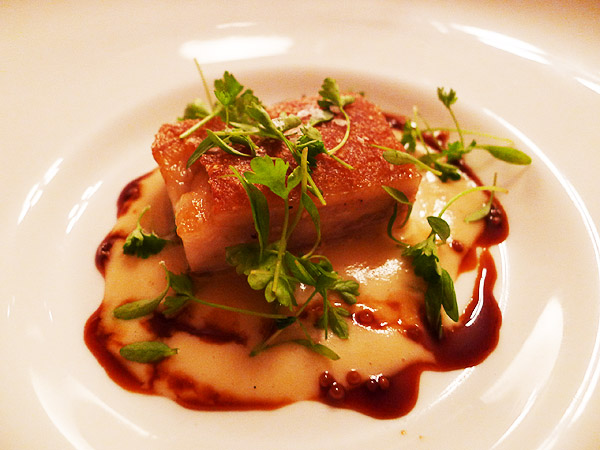 Darren surprises us with a bonus course of suckling pig pork belly.  A perfect tender piece of pork, with the lusted after top layer of crackling, is served with foie gras and bread veloute.  It is at this moment I wish I was at home in order to lick the plate.  I wonder if finger smears were noticed on my returned plate? I just had to run my finger along and gather the dollops of the remaining veloute.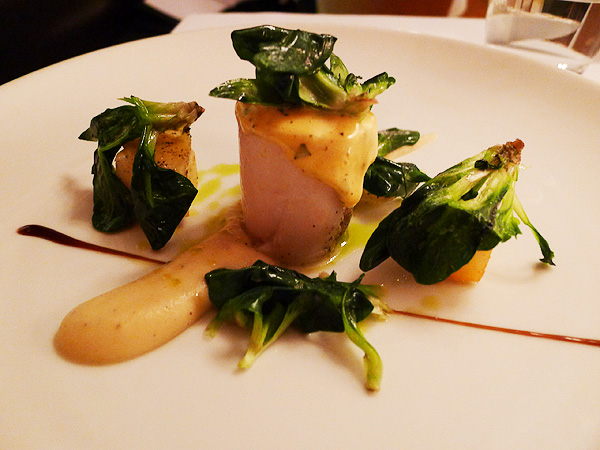 Poached fillets of John Dory with mushrooms , potato, celeriac & onions, wilted mache and béarnaise sauce.  My favourite dish of the evening.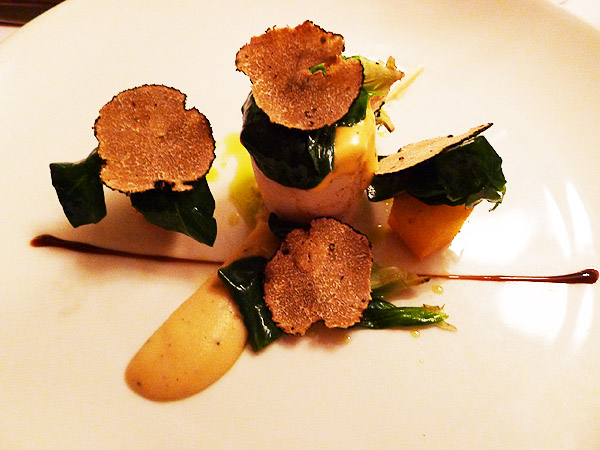 Duck or pork are usually my favourite, but Darren's John Dory wins me over completely.  It is also the first of my dishes served with the fresh truffle.  However, by the end, it isn't the truffle that I am wanting more of but rather, the béarnaise sauce. A classic sauce done to perfection.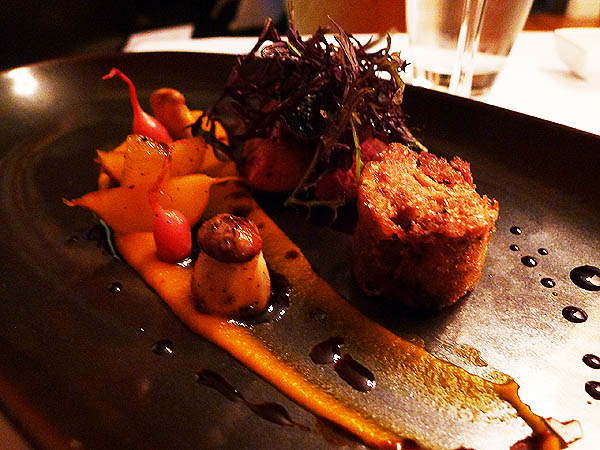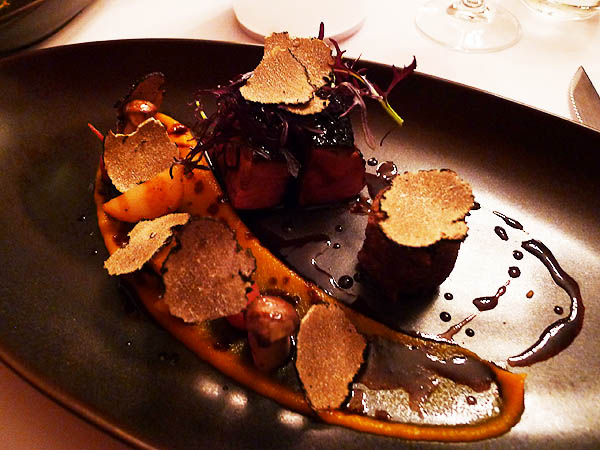 The last of our savoury dishes arrive.  Caramel & Szechuan pepper glazed Grimauld duckling breast and crisp confit leg with sweet & sour baby radish and turnips, plus red elk.  It's duck, it's cooked well, it's pretty on the plate and my second dish with truffle. I'm almost full but I don't hesitate to dive in.  Another great dish.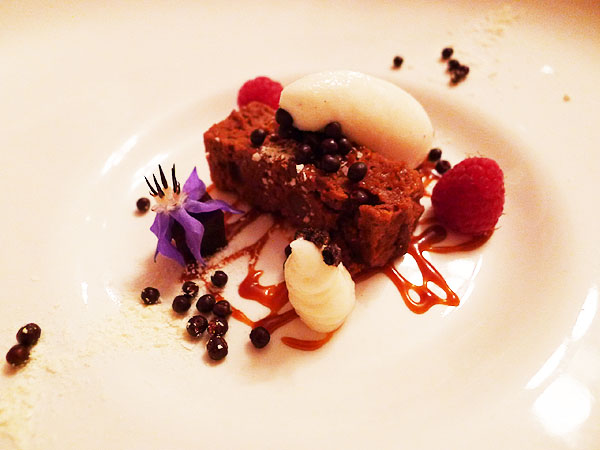 We finish with two desserts, the first is chocolate and olive oil delice, raspberry, sheep's milk yogurt ice cream.  Rich in taste and light in texture, with the enjoyed addition of a sprinkle of vanilla salt.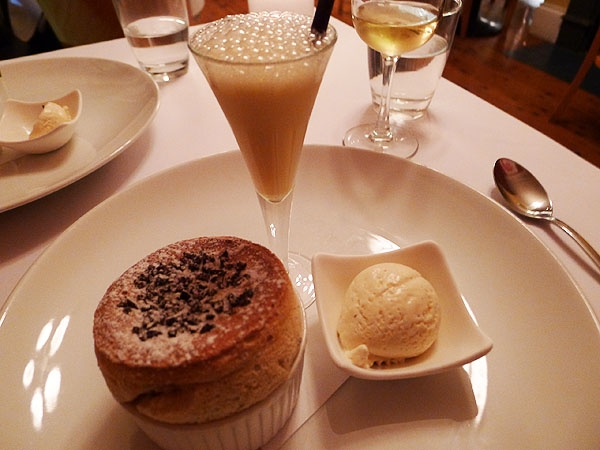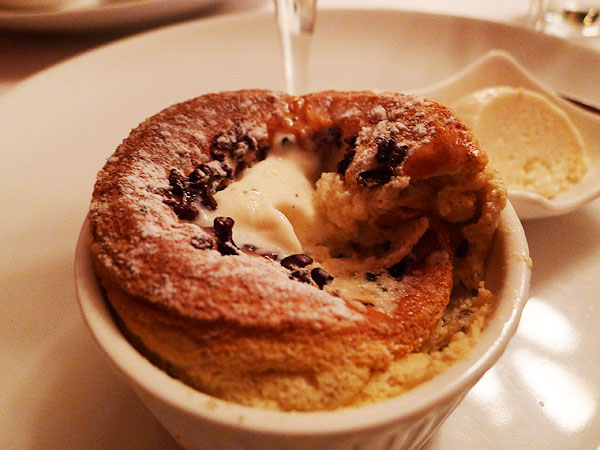 The final dessert is somewhat of a Restaurant Atelier signature, caramelised pistachio soufflé, vanilla ice cream with a sweet miso milkshake.  There seems to be a version of the souffle, ice cream and miso milkshake on the menu at all times.  It is such a fun dessert.  We are given instructions on how to eat it, make a well in the centre of the souffle, add some ice cream and then pour in a good splurge of the milkshake.  I feel like a little kid playing with their food, and I love it!  On top of the fun it is a truly delicious dessert, oh and it even has a chocolate straw!
I should make mention of my wines that were paired to my dishes.  They were matched perfectly, generous serving, and even a sake was matched to my bonito dish.
Restaurant Atelier is open for dinner Tuesday to Saturday from 6pm.  Fully licensed, with BYO available Tuesday to Friday, $15/bottle.
Sara xxx
Restaurant Atelier
22 Glebe Point Road, Glebe
Ph: +61 (2) 9566 2112
www.restaurantatelier.com.au