Episode 9 of Recipe to Riches Australia already.  The series is coming to an end, and I just worked out I am going to have to find something else to  pick on each week.  Kidding, it's been great fun and I have loved the feedback and comments from everyone.  Even people that aren't watching the show are weighing in on the discussions.
This week was all about Man Food.  I made sure the two resident Man Food experts watched this episode with me.  It is quite interesting what they pick up that I don't.  Took Mac less than five seconds of watching the batch up this week to point out to me that nobody in the kitchen were wearing hair nets.  Interesting observation, as the food is being prepared in a commercial manner.
I was also informed by Josh, as I am not a man, I should wait till he got home from college to write my review.  And all three of us had a heated discussion on the differences between rissoles and meatballs.
The two recipes that received golden tickets but didn't end up winning were Themis and his bolognaise minced meat pie and Christina and her meatballs.
Themis didn't make it through batch up.  I was quite relieved by this as I had visions of another gristle episode if he was the winner.   Bobby's rib sauce ended up beating Christina's meatballs in the end.  We were a little confused whether the ribs were to be included or not with the sauce.  I suspected not and I was quite happy with this as it meant I got to choose my meat.  I really am such a fussy girl.
It seems that maybe a few others were a little confused as to if ribs were included or not.  On the Recipe to Riches Facebook Page earlier today, they made this statement;
'There is currently a limited supply of pork ribs in Australia. To ensure that as many people as possible have the chance to try Bobby's winning recipe, the decision was made to sell the sauce as a stand alone product. The sauce can be enjoyed with all types of meats – and even veggies (Bobby recommends eggplant) so if you'd like to support Bobby, head to Woolworths to buy his sauce by midnight Saturday.'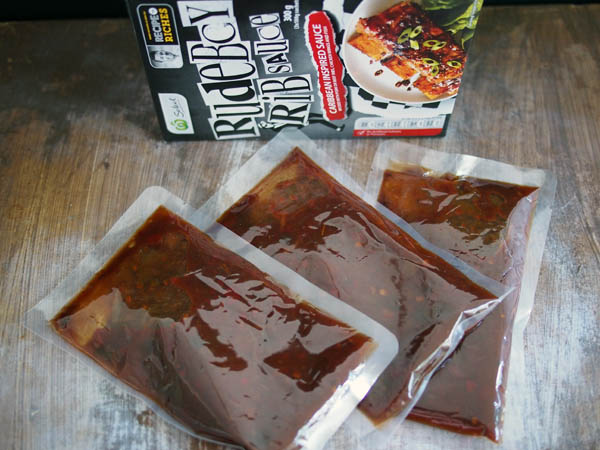 3 satchels in a packet
Here's what I thought of Rude Boy Rib sauce and my experience with the product.
Packet Information
Ingredients:  Tomato pulp, spring onion, water, soy sauce (water, soybean, wheat, salt), vinegar, lemon juice (preservative 223), sugar, honey, chilli paste, capsicum, thickener (1422), salt, spices, ginger paste, herb.
Allergen advice: Gluten, soy.  May contain, peanuts, tree nuts and sesame seeds.
General:  There are 6 sauce servings in one box, and one serving is 50g.  One serving is 193kJ.  One serve has around 0.<1% of your recommended daily intake (RDI) of total fat, <1% RDI saturated fat, 2% RDI protein, 3% RDI carbohydrates, 9% RDI sugar and <23% RDI sodium.
The product is made in Malaysia
Price:  $4.99
Please note the above information is for the sauce only, you need to purchase your ribs separately.   They suggest you can use the sauce with beef ribs, chicken wings, fish or vegetables.
The instructions on the packet aren't very clear for people that haven't cooked ribs before.  It gives you a general idea, but does not give you quantities of sauce to go with how many ribs.  It does state that one sauce satchel serves 2.  Not sure how many ribs that is.
The packet instructs to simmer the ribs in water or stock for 15 minutes.  This goes against my normal practice of making ribs.  I belong to the anti simmering camp, as I feel it takes flavour away from the ribs.  Basically you are making a pork stock.  Wouldn't you rather that flavour in your meat?  To confirm my thoughts on this I checked in with two chefs that know a thing or two about pork and ribs, Darren Templeman and Phil Whitmarsh.  They both confirm, no simmering and a slow long bake in the oven to achieve tender mouthwatering ribs.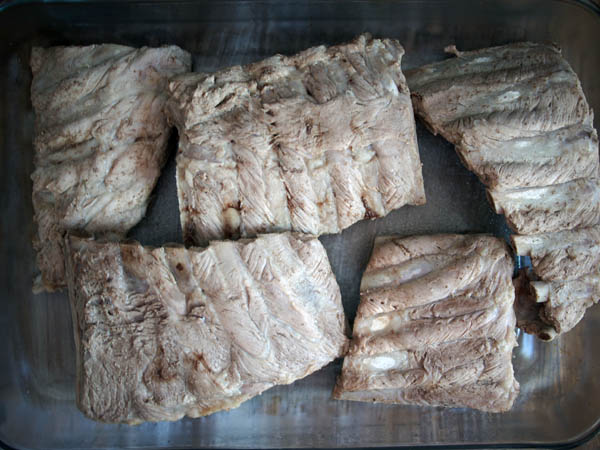 grey looking simmered pork ribs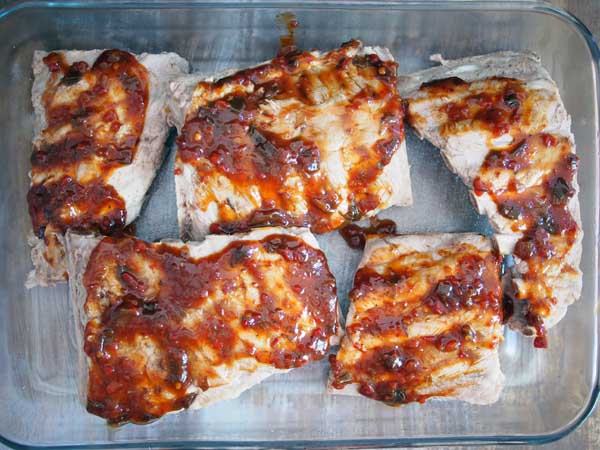 ribs with one satchel of sauce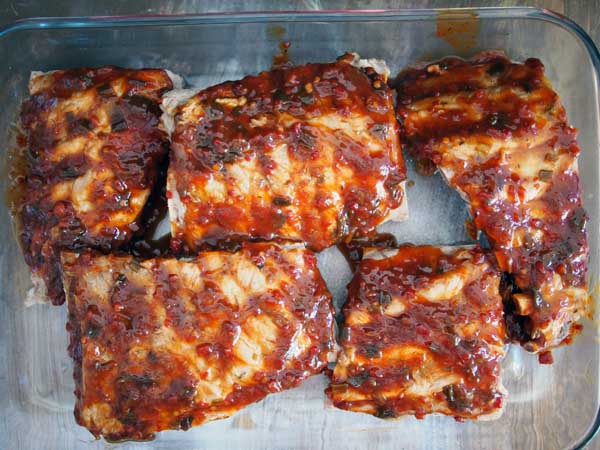 ribs with two satchels of sauce
As I am reviewing this product, I do as I am told.  After boiling  the ribs they are placed in a single layer in a baking pan and covered ribs with sauce.  You then cover your ribs with aluminium foil and bake in a 150 degree C oven for two hours.  I initially use two satchels (three in a box) of sauce for 1.1kg of ribs.
40 minutes into the cooking time I turn the ribs  over and spoon on some sauce.  This is when I realise in my haste to get my ribs cooking, that I neglected to remove the membrane from the backs of the ribs.  No instructions on the packet to do so and I just plum forgot this critical part of preparation.  Was too late to do anything about it at this stage.  At this point I also have the urge to add 1/2c of water to the baking pan to stop the sauce drying out and eventually burning..
Ribs were turned again at the one hour mark, they looked a little dry and in the need of some more sauce.  I opened the third satchel of sauce and spread it over the tops of the ribs.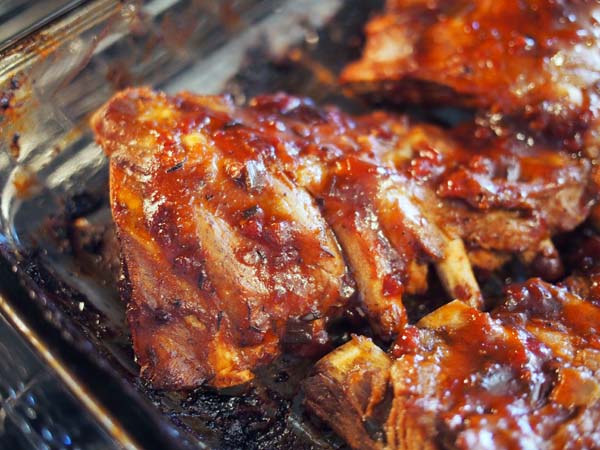 sauce starting to burn in bottom of dish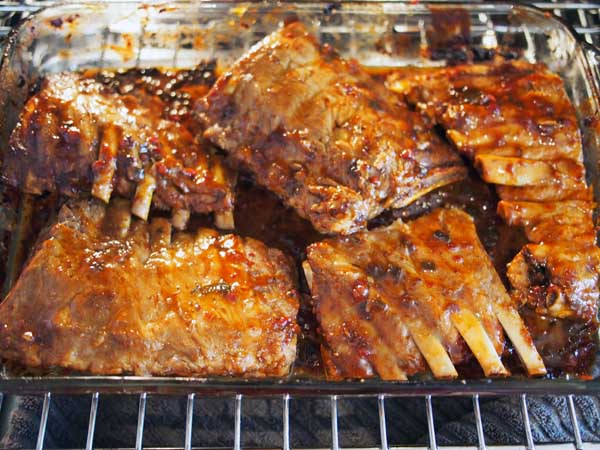 after adding a cup of water
With half an hour to go, I can't help myself, a cup of water is added to the baking pan.  The sauce had started burn and needed some added liquid to keep the ribs moist. Ribs were basted in the now rehydrated sauce and cooking continued for 15 minutes.  I then check the ribs again and I'm glad I added the water, as the ribs looked a little moister and there was now sauce to baste with.  I gave them one last baste and cooked covered for another 15 minutes.
To finish off remove the aluminium foil, cook for another 15 minutes in the oven or finish them off on the BBQ.  As it is blowing a gale outside, I finish mine off in the oven.
The problem with simmering the ribs for 15 minutes, is that you don't get any cooking juices when you are baking them.  Juices are removed from the ribs in the simmer process.  I suggest you don't boil/simmer your ribs.  This is my personal preference and I am sure others with disagree with me.

Great demonstration by Chef David Payne on prepping your ribs for cooking.  This shows you how to remove the membrane from the back of the ribs.
How I suggest cooking your ribs using this sauce;
Remove the membrane from the back of your ribs and trim off any fat.
In a large bowl or tray cover your ribs, back and front with Rude Boy Rib Sauce.
Place in the fridge and leave to marinade for at least an hour.
Place ribs in a baking pan in a single layer, pour over marinating juices/sauce.
Add 1 cup of water to the bottom of your baking pan.  Cover with aluminium foil.
Bake for two hours at 150 degrees C, turning ribs at 40 minutes and then again at 90 minutes.
As suggested by packet instructions, finish them off on the BBQ for 15 minutes or take your foil off and finish in the oven.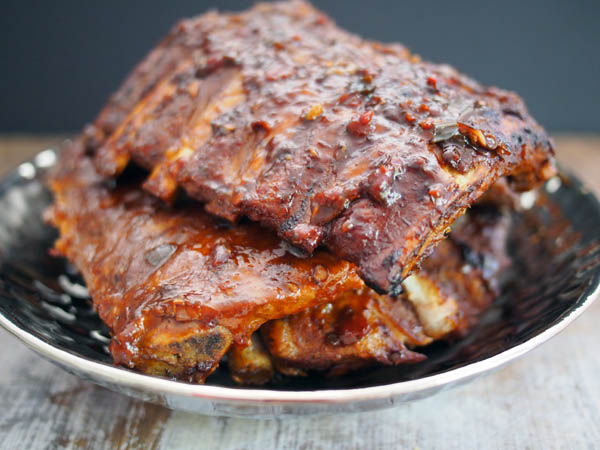 finished product
What did I think of the taste?  Not too shabby.  I would buy it again to have in the pantry as a prepared sauce ready to go.  My ribs turned out quite tender (still kicking myself over the membrane), the sauce has a nice kick of chilli in it, my lips were tingling.  My fingers got a good licking, so I must of enjoyed the sauce.  It was also the first Recipe to Riches winner that Sally could be bothered getting up from lazing in the sun to have a taste.  So it gets the dog's seal of approval too.
If you don't want to use the sauce on ribs, it would go well with the alternatives suggested.  I also think that it would make a nice baste for large prawns on the BBQ.
Congratulations Bobby for being this weeks' winner and I wish you all the best with the rest of the competition.  Not a bad sauce you have there.
Do tell dear Belly Rumbles' reader, what did you think of the three recipes last night, who do you think should of won?  What did you think of Bobby's Rude Boy Rib Sauce?
Sara xxx
Belly Rumbles is in no way connected to Recipe to Riches, Woolworths or any of the contestants
Episode 1:  Concetta's Croqs  
Episode 2:  Sara Jade's Chilli Con Carne  
Episode 3:  Hickory Hollow Smoked Sauce    
Episode 4:  Manju's Authentic Vegetable Samosas

Episode 5:  Sweet Billie's Chocolate Sandwich Cookies

Episode 6:  Chocorn    
Episode 7:  Golden Greek Pizza Base Kit

Episode 8:  Rosie's Kitchen Almond & Meringue Biscuits