Go West…. Life is peaceful there
Go West…. In the open air
Go West…. Where the skies are blue
Go West…. This is what we're gonna do
And go west I did! Being a Shire girl (I wasn't always by the way) I tend to dine out in the Sydney CBD and basically anywhere from there back to the Sutherland Shire. The last time I ventured to Parramatta, I am ashamed to say, probably is well over 15 years ago.
The one thing I love about my baby Belly Rumbles is that through my blog I have formed friendships with like minded foodies from all around Sydney. Therefore when Wendy from Obese Baby got in touch to see if I was interested in visiting Sitney in Parramatta I was in.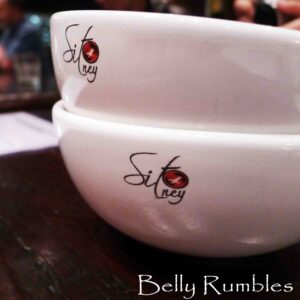 Wendy had been given two vouchers from Food Morning for four people to dine at Sitney. Food Morning is similar to other special deal companies such as Scoopon and Living Social. Each voucher was for two people to dine which included two entrees, two mains, dessert of the day and a glass of red for $35, not bad value.
I found myself navigating to Parramatta one Thursday evening after work. Actually the traffic wasn't too bad at all and I found myself there in an hour to meet up with Wendy and my other two dining companions Melanie (The Adventures of Miss Piggy) and Tammi (Insatiable Munchies).
Between the four of us we worked out the obvious course of action, and that was to choose one entree and one main each. Melanie vetoed the curry puffs for entree due to them being high in calories, nice to know somebody is looking after my figure.
All of us opted out of the glass of red wine option and had soft drinks instead. I had a long drive back home by myself so thought it better not to, even though it would have been well received.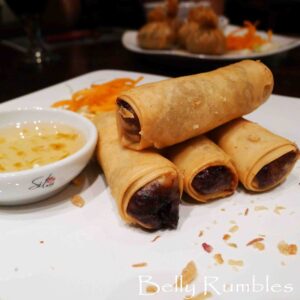 Spring rolls (4 pieces) normally $6.90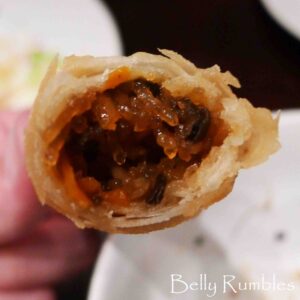 Inside the roll
Golden crispy vegetarian spring rolls filled with mixed vegetables served with plum sauce. The filling was quite dark and the only vegetables I could make out were carrot and mushroom, the bulk of the spring roll seemed to be vermicelli noodles. The spring roll was surprisingly sweet.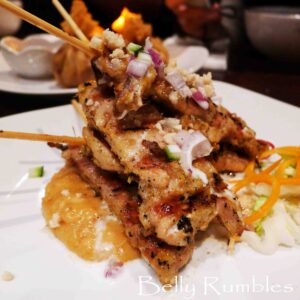 Kai Satay (4 pieces) normally $7.90
Grilled marinated chicken skewers served with toasted peanut sauce and Thai cucumber relish. I found the chicken had a nice smoky charred flavour to it, but the peanut sauce very mundane, a bit peanut buttery for my taste.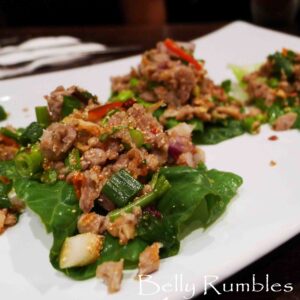 Duck Herbs (4 pieces) normally $7.90
The duck herbs was basically a duck san choy bow. Finely chopped roast duck with red onion, mint, green onion, roasted rice and a chilli lime dressing served on top of a piece of cos lettuce leaf. Was a hit with everyone at the table.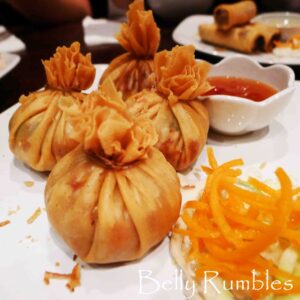 Tung Tong (4 pieces ) normally $8.90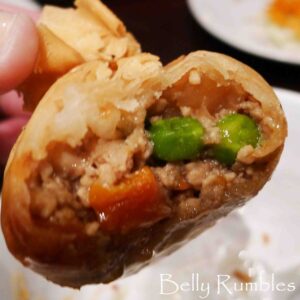 Juicy goodness insides
You say tung tong, I say money bags and somebody else may say golden bags. Whatever you call them these are one of my favourite entrees I have when dining at Thai restaurants. Crisp pastry filled with a juicy filling of chicken, crab, roasted peanuts and green peas, served with sweet chilli sauce. These were crispy big fat tasty specimens of a dish I am very fond of.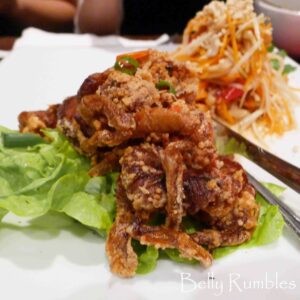 Som Tum – Soft Shell Crab Salad, normally $16.90
This was a must try on the menu, everyone being partial to deep fried soft shell crab. Besides the pieces of crab there was shredded green papaya, carrot, tomato, green bean, roasted peanuts and dry shrimp drizzled with a chilli lime dressing. The crab had lost some of its crispness by the time I got around to trying it, but it was really moist and juicy on the inside.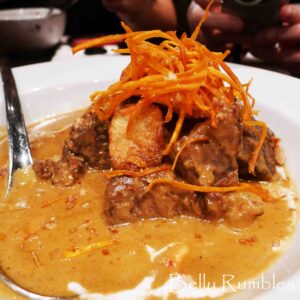 Massamun – Beef Curry, normally $15.90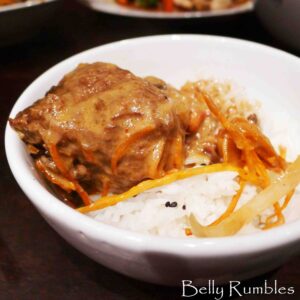 Big hunky tender beef chunky in my bowl
The first thing I notice as the dish arrives at the table is the massive chunks of beef, four to be precise. Then I notice that the curry is topped with julienned deep fried sweet potato and potato crisps. Okay, I will be honest, I find this really strange. This is the first time I have experienced this type of a garnish on a massamun curry and the menu states that it comes with a sprinkle of cashew nut and fried red onion. I am a bit worried about the massive chunk of beef I chose, but find that it is incredibly tender and is easily broken apart in to bite size pieces. Despite the potato topping it is a flavoursome and enjoyable dish.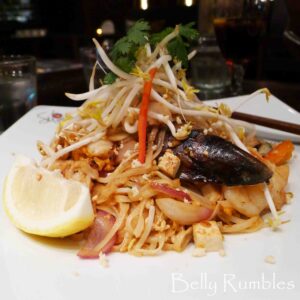 Pad Thai – Seafood, normally $19.90
I ordered this dish and it is my test dish for a Thai restaurant when visiting for the first time. Normally I go for tofu, but we decide on Pad Thai with seafood. A nice mix of seafood including prawns and mussels with thin rice noodles, dried shrimp, diced tofu, bean sprouts, garlic, chives, crushed peanuts and sliced red onion. The dish is fine, but doesn't blow my socks off.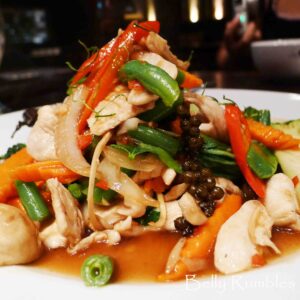 Lime Leaves & Peppercorn Sauce – Chicken, normally $15.90
Stir fried chicken, green beans, onion, carrot with garlic, chilli, lime leaves, peppercorns in a special sauce. I found this dish a little on the bland side and looking back at my photos I probably should have pinched some of the peppercorns off the stem to add a bit of bite.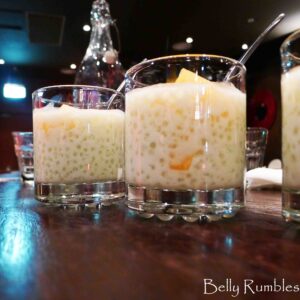 Dessert of the day – Sago pudding with rockmelon & coconut milk, normally $7.90
I am a sago fan. The simplicity of the dessert was wonderful, fresh ripe rockmelon married with translucent sago pearls and coconut milk. Surprisingly it was a little salty, but actually it worked. A little bit of palm sugar syrup would have been a nice addition to the saltiness, got to love a bit of yin and yang.
If we had bought the Morning Sydney deal and not been treated to the freebie it would have cost us $75 all up.
When I tally what we would of spent without the deal it came to $131.80 and that is not including the soft drink we had nor the red wine we were entitled to. Pretty good deal and we all walked away very content.
I don't think it is fair to say if I would go back or not, obviously due to the location of Sitney to my home. I can say that my more local dining companions will be back.
Sara xxx