Aussies love prawns.  Due to a stupid Tourism Australia advertisement featuring Paul Hogan years ago my American readers may think we call them shrimp.  Nope, Aussies throw prawns on the barbie.  We never knew what a shrimp was until that ad was aired.
We love our prawns ever more so when it's time to celebrate.  I can't imagine Christmas or even New Years Eve without having some sort of prawn or oyster canapé being circulated.  So it only seems obvious to share this spiced prawn pappadam recipe after sharing my oysters three ways.
Not sure if you have ever noticed the chip style packets of pre-made pappadums which grace the Indian cuisine section of local supermarkets?  They are so handy and I have made great use of them in the past.
Taking the stress out of entertaining is important to me.  Sure, I love to go all out and spend hours on a dish on some occasions to create something stupendous.  I also love to whip something up that is quick and dead easy to make.  It really doesn't get much easier than this.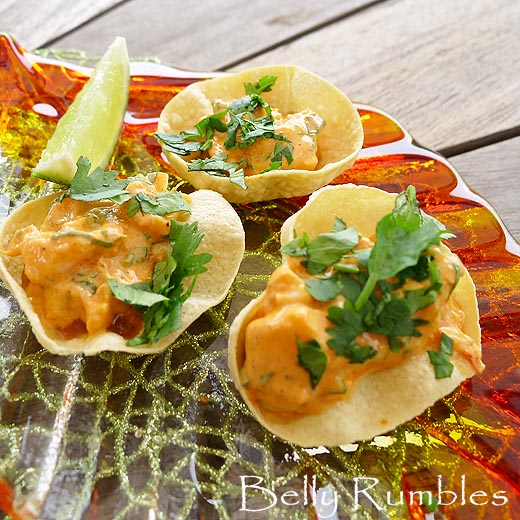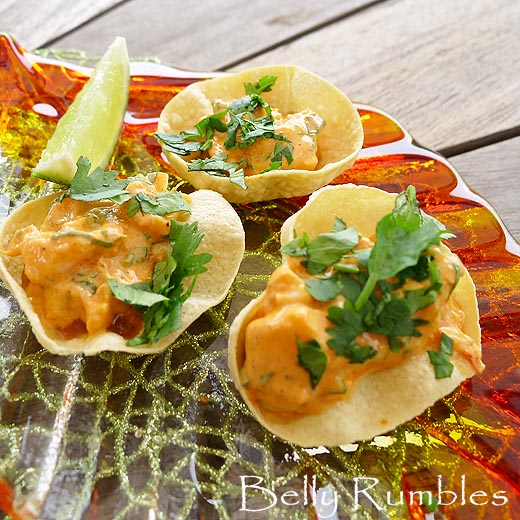 Spiced Prawn Pappadams
Great with a glass of Champagne over the holiday season.
Print
Ingredients
300

grams

cooked peeled prawns

chopped

1

Tablespoon

tandoori paste

1/4

cup

natural yoghurt

Grated zest of 1 lime

Chopped coriander

cilantro, plus extra for garnish

1

bag of premade mini pappadums

Mango chutney

to serve

Lime wedges

to serve
Instructions
Place chopped prawns, tandoori paste, yoghurt, lime zest and coriander in a bowl and mix thoroughly. Season to taste with salt and pepper.

Set prawn mixture aside in the fridge for a minimum of 15 minutes to allow the flavours to develop. (Prawn mixture can be made the day ahead)

Place pappadums on a serving tray and place a small dollop of mango chutney inside each one. Then top the pappadum with the prawn mixture and a sprinkle of coriander.

Serve immediately with lime wedges.
Nutrition Facts
Spiced Prawn Pappadams
Amount Per Serving
Calories 29
% Daily Value*
Cholesterol 63mg 21%
Sodium 196mg 8%
Potassium 27mg 1%
Protein 5g 10%
* Percent Daily Values are based on a 2000 calorie diet.
Philadelphia Cookbook & gift card giveaway
Thank you to everyone who left wonderful comments on the Chocolate Roulade Recipe and those that entered the Philadelphia competition.
I was going to let Sally choose the winners, but she ate the numbered biscuits before I could see what she had chosen.  She is such a guts!  Therefore I used a nifty random number generator.  There were 21 comments that were eligible to enter the competition.  Five random numbers were chosen and were matched with the eligible comment left, ie, 1st eligible comment left was number 1 etc.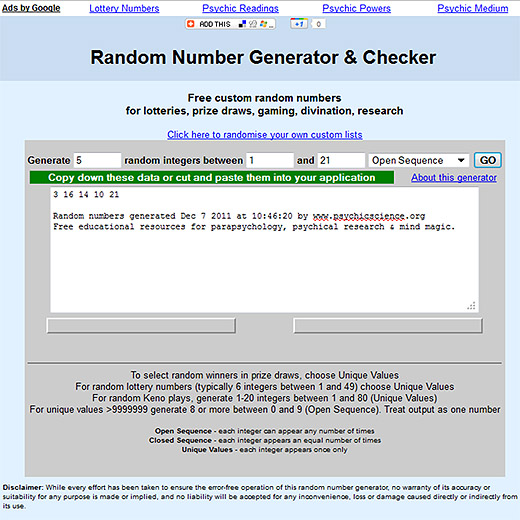 Drum roll please, and the lucky winners are….
Nicole O'Brien, Janina, Katherine V, Annie & Su-Cake Lee.
I will contact you via the email address you left when leaving your comment.  If you haven't heard from me then please drop me an email sara@bellyrumbles.com.  Thank you to all that entered.
Sara xxx