My first visit to the Sydney Cove Oyster Bar was in the late 80's.  The 1908 federation building had just been redeveloped as a restaurant  in time for Australia's bicentennial in 1988.  I fell in love with the history of the building which was originally constructed for Burns Philip & Co workers as part of the wharf facilities, this included a public lavatory.  Yes, when you eat at the SCOB, you are eating at a heritage loo.  Trust me I love telling everyone I take there this fact.
As soon as the SCOB opened, my dad would take overseas colleagues there for lunch on the weekends when showing them around Sydney.  I too took on this trait when showing my overseas colleagues around Sydney.  It is in a brilliant location on Sydney Harbour.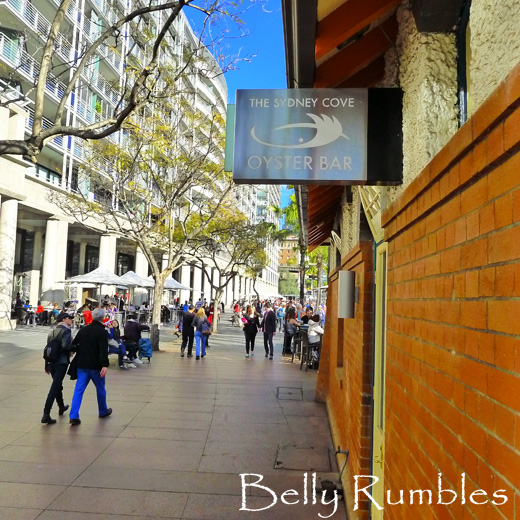 Sadly over the past few years I had watched food quality and service slide down hill as on the other hand prices increased.  Front of house staff seemed to have been sourced from the local backpackers, I have no idea who was working in the kitchen.  Please don't get me wrong, food was still fine, but you did notice it wasn't as good as once was, while being charged a premium due to location.
I am happy to announce that this is no longer the case.  SCOB no longer wants to be branded with the tourist tag, they want to be known as a serious seafood restaurant that attracts Sydney locals as a 'go to' dining destination.  Prices are on par with other Sydney restaurants of this quality.
There has been a shake up in the kitchen with new chefs appointed.  Front of house seems to have had a reshuffle too with friendly, knowledgeable and competent staff.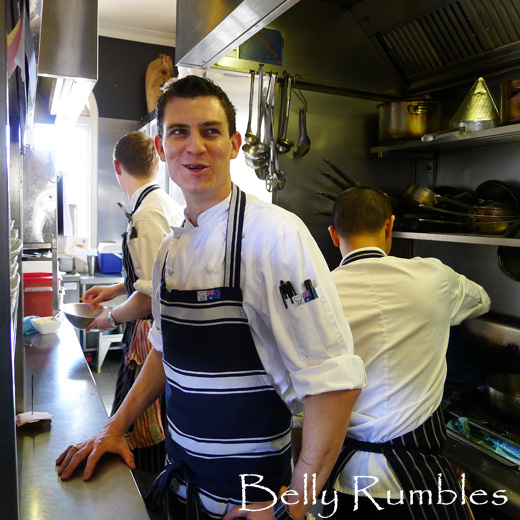 Ryan Luck (Sous Chef)
You really can't go past the location.  It's a brilliant sunny winter's day in Sydney, Mac and I are seated on Sydney Harbour for a lazy lunch, perfect.  There is no need for additional heating, as the day is just glorious, but if needed blankets are provided for each table to place over laps.  On a day like today even the heated umbrellas aren't necessary.
We are definitely here to enjoy the oysters, my regular readers will know how much I adore those briny bivalves.  I have visited SCOB in the past and eaten a few dozen accompanied with a couple of glasses of white, but not this time.  After having a chat to Ryan Luck, Sous Chef in charge of the kitchen today, some of his recommendations have whet our appetites.
I have a quick sneak peak in the kitchen and am totally amazed at the output  from such a tiny space, it is crazy how tiny it is!  The team work effortlessly without tripping over each other.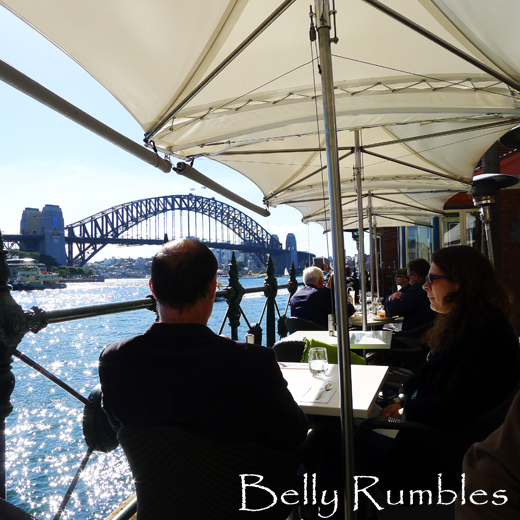 While finalising lunch decisions, our drink order arrives.  I have a glass of Cullen Vineyard Sauvignon Blanc from the Margaret River.  Mac has a soft drink, he is the designated driver.  The 2 glass rating wine list is extensive.  There is a pleasing variety available by the glass ($10-$17/glass).  Bottle varieties available from Australia, New Zealand, France, Germany and the USA.  The Champagne list is very impressive with over 35 varieties to choose from and that doesn't include sparkling whites.  If you would prefer, choose from their range of beers (including artesian), ciders and even sake.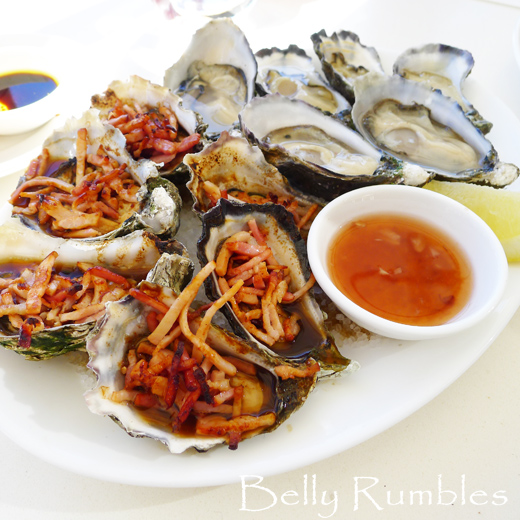 We didn't start with oyster shots ($8) as much as they tempted me, margarita, mango & peach, sake, blue vodka, pure Thai, the list just goes on!  Instead we share a dozen oysters, half Kilpatrick and half natural with red wine and eschalot vinaigrette ($31).  All of the SCOB oyster's are shucked to order and sourced directly from NSW farmers.  Their Sydney rocks come from Port Stephens and the Pacific's from the Hawkesbury River.  They don't disappoint and I could easily polish off another dozen natural myself.
If you are celebrating, maybe some Perse Spanish Sturgeon caviar ($17/2.5 g or $180/50g) to accompany your bottle of champagne?  There is a variety of shellfish on the menu with live mud crabs and rock lobsters being cooked to order.
We pass on the caviar, mud crabs and lobster, instead settling on Ryan's suggested starters to share.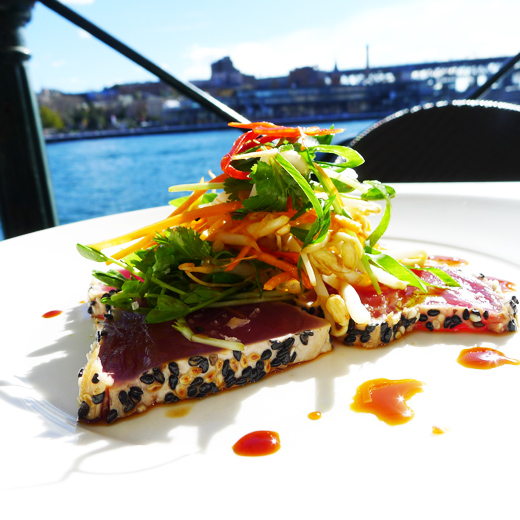 Seared Yellow Fin Tuna, topped with a lovely Asian salad and dressing ($21).  White and black sesame crusted turn tastily seared.  The crunchy salad has the surprise hit of tang with a little bit of pickled ginger.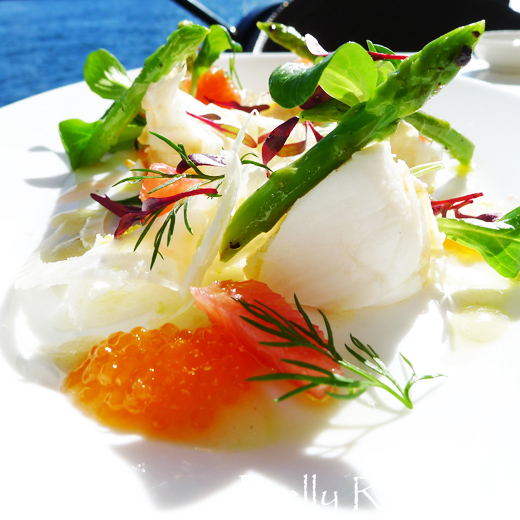 Poached lobster salad is beautifully presented ($28).  I was surprised how well the ruby grapefruit is paired with the perfectly poached lobster, cutting through the richness and adding a new dimension.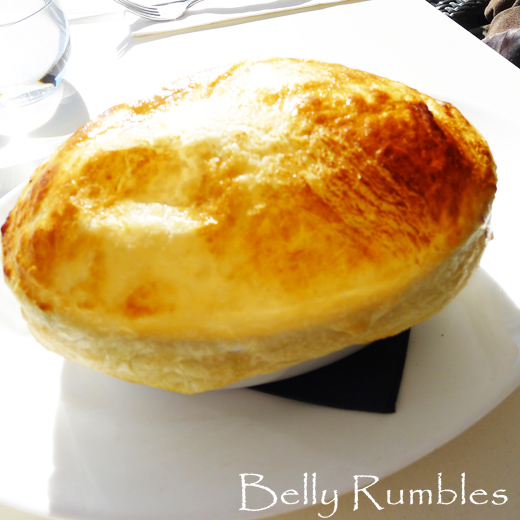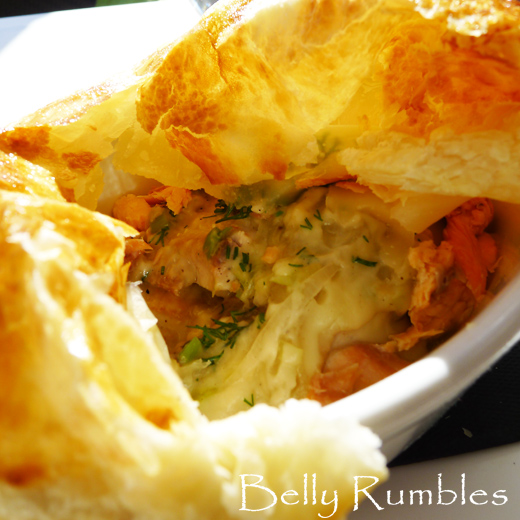 On to mains, and Mac could not go past the Sydney Cove Fish Pie ($28).  Perfectly puffed pastry dome covering the creamy fish filling of blue eye, smoked rainbow trout and flat head.  Thoroughly enjoyable and ranks up there with the  Snapper Pie at The Boathouse.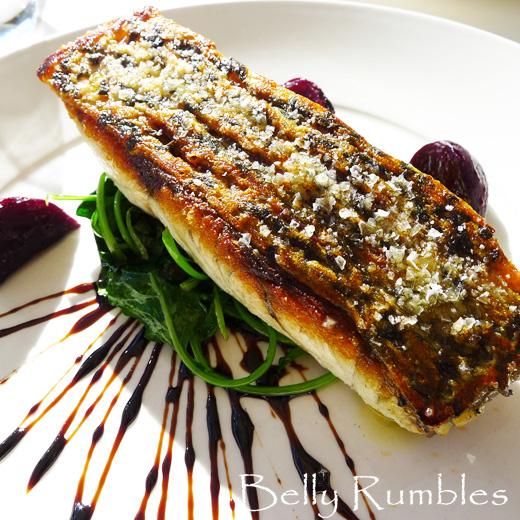 I decided on one of the house specialties, the Cone Bay Barramundi with baby beetroot, cavolo nero & speck ($36).  The skin was amazing, crisp and salty.  That alone as a bar snack would be extremely addictive.  In this case it tops a moist, succulent piece of Barramundi.  I would have to say it is the best Barramundi I have had in a while.
If you are not a seafood lover, don't panic.  I spotted the 400g rib eye with cafe de Paris butter and French fries ($39) on the table next to us, it looked good!  Not sure how they ordered it, but was cooked the way I like my steak, medium rare.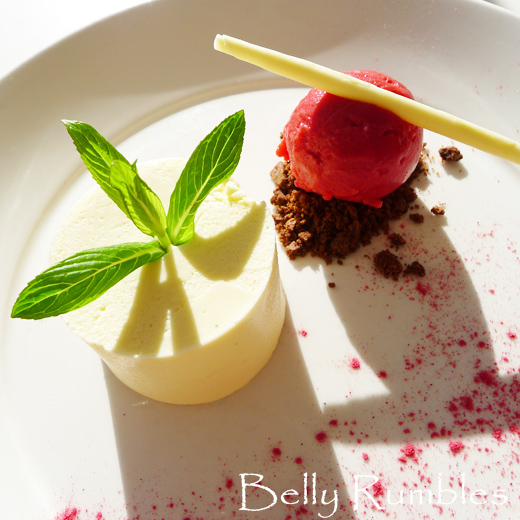 Feeling very full we share dessert, white chocolate mousse with raspberry sorbet ($14).  Glad we did, the mousse was not overly sweet, but rich and silky smooth.  The tart raspberry dust (almost like sherbet) that was splashed on the plate was fun and the raspberry sorbet was gorgeously tart sitting on the chocolate crumb.
An extremely enjoyable lunch and one I look forward to repeating.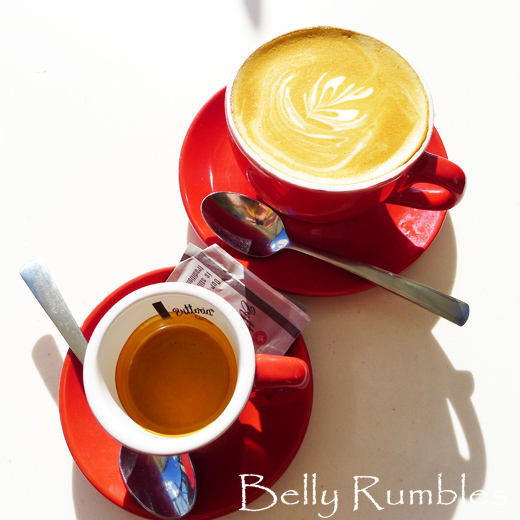 SCOB is also open for breakfast and dinner.  They even have a special Champagne breakfast available from 10am.
Do tell dear Belly Rumbles Reader, what would be your perfect lazy lunch in Sydney?
Sara xxx
Belly Rumbles dined as guests of SCOB with much thanks.