I think I generally have a pretty awes­­ome food radar.  I generally have my finger on the pulse and know what is going on around town.
Hmmm, *cough cough*, radar went down……….  Thanks to the Globetrotter, or actually a work colleague of the Globetrotter's,  I found myself at the Weird Food Dinner held at The Apprentice.  A special dinner held as part of the Ultimo Science Festival.
Not heard of The Apprentice?  Firstly, no, you haven't missed an important piece of foodie news.  Donald Trump has not started up a restaurant in Sydney manned by those that were fired from his TV shows.  The Apprentice is a licensed training restaurant for people studying Commercial Cookery and the Food and Beverage Certificates at Sydney Institute (TAFE).
This was a special occasion where the apprentices were joined in the kitchen by chefs from a couple of Sydney dinning heavy weights Bilson's, Jonah's and Concrete Blond.  As Alfonso Alex (Jonah's), Diego Munoz (Bilson's) and Patrick Dang (Concrete Blonde) slaved away and shared their experience in the kitchen, their bosses, including Tony Bilson, enjoyed the evening with the rest of us.
I was very surprised by the restaurant itself.  To be quite honest, I had envisaged a grey walled, institutional basement setting enhanced by the romance of fluorescent lights.  Oh wow how wrong was I.  The restaurant is located on level 7 with a large balcony.  Think lots of windows, wood and white linen.
You can't help but smile at the food and beverage students that look after you front of house.  Actually I can relate to them 100%, I worked that gig for a few years and still remember how nervous I was when mastering the tricks of the trade.  They are nervous, ever so willing to please, young and learning.
The dinner for the night was a four course affair with matching wines for $75/head.
A glass of sparkling white is offered once we are seated which is a pleasant way to start the proceedings.  Quite hungry we willingly accept the white gloved, shaky silver service offer of bread.  These kids are being trained well.
Large screens are placed around the restaurant which enables diners to check out what is going on in the kitchen.  It really is fun to watch our food being plated up as we sit there and chat.  Actually it takes a while for the appetizer to come out, so the visual entertainment is torturous but fun.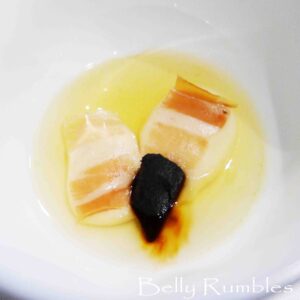 Appetizer:  XL White Bean, Kurobuta pancetta, black garlic by Diego Munoz
I love the fact we are given information about our dish as well as eating instructions when it is placed in front of us.
White bean puree that as undergone the process of spherification was topped with paper thin slices of Kurobuta pancetta and sitting beside was black garlic.  We were instructed to eat one of the "beans" then the garlic, and finish off with the remaining bean.  Oh joy as that first 'bean' bursts open in my mouth accompanied with the slightly salty pancetta.  Following our eating instructions to a tee the appetizer was delicious.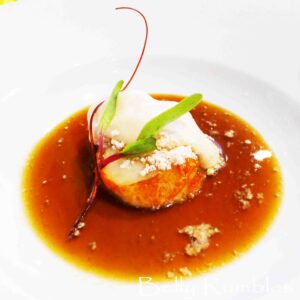 Entree:  Giant Red clawed yabby, bisque ice cream, bacon powder, porcini broth by Patrick Dang
There was a slight wait between appetizer and entree and taste buds were buzzing from the appetizer.  Eventually the entree appeared, please note I said entree not entrees.  Served swiftly up to the Globetrotter I sat there salivating.  Err, hello!!??  Two minutes and an apology later my dish arrives.
I am presented with two perfectly cooked discs of yabby claw, I assume via sous vide, sadly the dish was lacking explanation.  The yabby is the highlight of this dish and I wish there was more.  The bisque ice cream does not impress me, I get the feeling it is ice cream because they could, not to actually to add to the dish.  Most of the bacon powder disappears once the broth is poured on to the dish at the table, the rest floats on top, it reminds me of powdered stock.  The porcini broth is more salty than a fungi flavour.  Due to lack of instructions I am not sure if I should be crunching away on the yabby antenna or if it should be left.  Watching the empty plates return to the kitchen it seems some diners did eat it and some didn't, I take note that Tony Bilson didn't, so I guess I chose the right path.
It takes a while for our mains to emerge, seems forever, so we manage to wrangle some more bread to get us through.  Everyone was trying to wrangle more bread, wasn't just our table.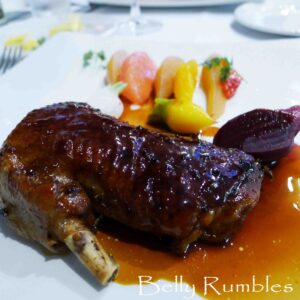 Main:  Aylesbury duck 'Apicius" Hunter Valley, by Alfonso Alex
All dish explanations have now flown out the window and therefore I am a little lost as to the 'weird science' aspect of this dish.  Science aside, this is a lovely dish, beautifully cooked duck, slow roasted with root vegetables, citrus fruits and honey braised pears. I believe the accompanying sauce with the duck is  Bigarade.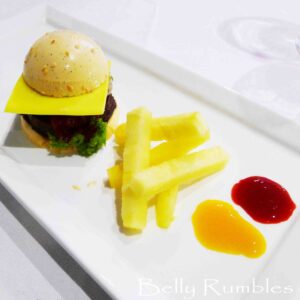 Dessert:  Bistro burger 'all the trimmings'
Smiles all round as the much anticipated dessert was presented.  Staff rushed around with large mustard (passionfruit) and ketchup (raspberry) plastic squeeze bottles and squired sauce on to plates.  As staff were trying to get these desserts out before they melted, no explanations again on what was in front of us.  The bun was a creamy mouse which was melting, lettuce was crumbled green cake, slice of cheese was a square of yellow white chocolate and the meat patty was chocolate.  The burger had "relish" on it but I couldn't distinguish what it was once all the flavours started to meld, there were also pickles made out of white chocolate coloured green with rice crispies mixed in. The burger was gorgeous looking but extremely rich and filling.  What were the chips made of I hear you ask, they look very real don't they?  The chips were made from slices of refreshing pineapple and tasted clean and fresh, nice contract to the rich burger.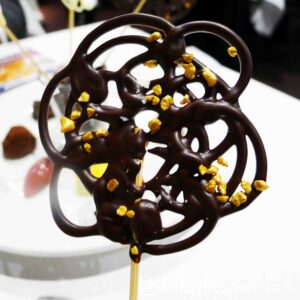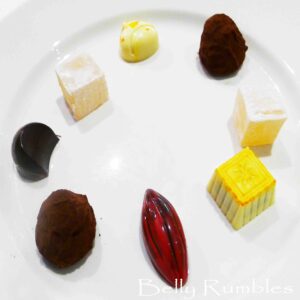 Stuffed to capacity they decided to torture us by bringing out handmade chocolates and chocolate lollypops which had a touch of Masterchef to them.  I forced a handmade jelly down my throat and shared a chocolate.  Why didn't I bring a plastic doggy bag?
You too can pay The Apprentice a visit, they are open for lunch (12 – 2.30pm) and dinner (6.30 – 9.00pm), bookings are necessary.  Lunch will set you back approximately $22 and dinner $27  for three courses.  Dinner generally includes an appetiser as well.  The restaurant offers lovely views of the city and Westfield tower (aka AMP Tower, Centre Point Tower and sure to branded something else in the next 10 years tower).
Sara xxx