It was a failed attempt to dine at Mr Wong that led us to The Morrison.  We had arrived at Mr Wong at 6.45pm on a Saturday and our party of 4 were advised that we would be lucky to get a table by 9pm.  They do not take dinner bookings for groups less than six.  Sayonara Mr Wong, and it was off to find an alternative dinner venue.
The Morrison is fairly new to Sydney's dining scene.  It has been around three months since Fraser Short and Sean Connolly set up shop at the refurbished Brooklyn Hotel site.
We were lucky they were able to accommodate us, but we were told we had to vacate the table by 8.15pm.  Not a problem as long as they can feed us in one hour 20 minutes.
Menus come on clipboards and aren't extensive, but their famed  oysters aren't listed.  For oyster options you are advised to 'see the board for oysters'  Not quite sure where 'the board' is, but didn't ask as we weren't interested in oysters.  I do love my oysters but we had overdosed the night before at the Sydney Cove Oyster Bar.
Due to our time constraint we ordered quickly.  The decision was made to order a few items from the 'Shell and Bone' section to share.
We also order two servings of Fuel bakery sourdough and Pepe Saya butter $2.50 for two half slices of bread and butter.  The grainy Fuel bakery sourdough is lovely and I adore Pepe Saya butter.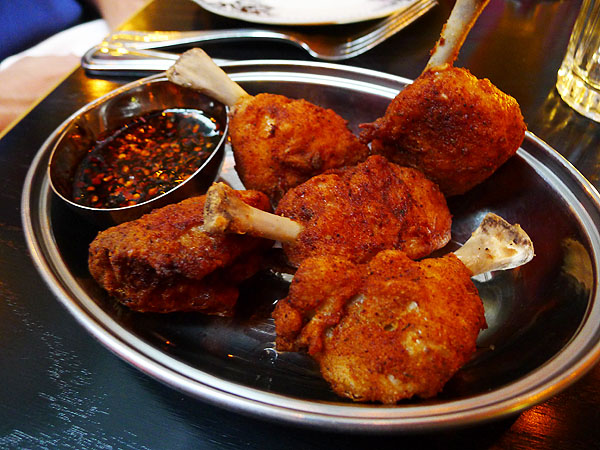 Chicken Lollipops $16 for 5.  The drumette portion of chicken wings are southern fried and served with a chilli and molasses dip.  Crispy and moist mouthfuls.  I was a little too heavy handed with dipping in to the sauce and ended up with sticky dribbles all over my hand, I am such a klutz at times.  Don't be scared of what looks like a lot of chilli in the sauce, it is very mild.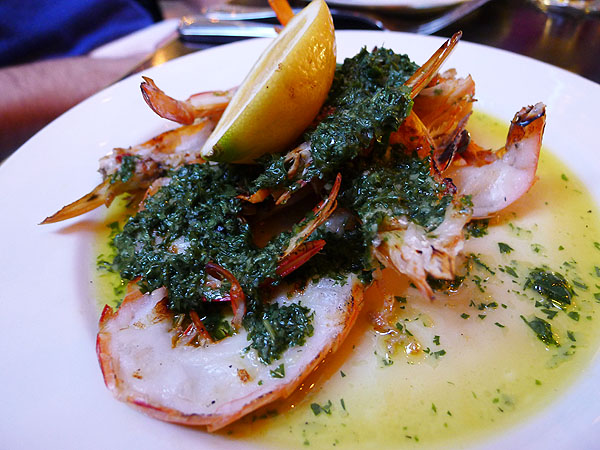 Split garlic 'n' Pernod prawns $25, three medium prawns split down the middle.  Cooked over coals with garlic, Pernod and parsley butter.  It is times like this I wish eating instructions were given.  The prawns are stuck fast to their shells and are extremely hard to scrape out.  On scraping you end up leaving quite a good portion of meat still stuck to the shell.  To eat the shell or not eat the shell?  I try a piece of prawn with shell, but as they aren't crisp, the shell isn't that appetising.  I can't taste garlic, nor Pernod, parsley is very present.  At $8.33 a prawn, I am not particularly impressed.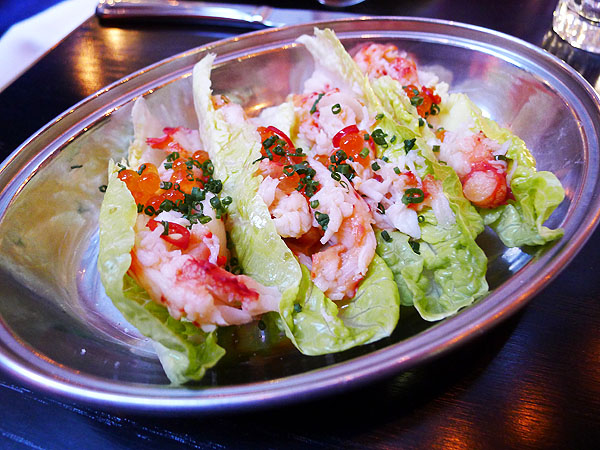 Crab & Lettuce Tacos, $16.50 for three (4 for $22 shown above).  The taco is actually a small cos lettuce leaf filled with crab and prawn mixed with a chardonnay vinaigrette, topped with salmon caviar.  As we were a group of four, staff advised that it would be no problem to up the serving size to four.  The tacos come in a serving size of three, but are $5.50 each if you want to order an extra.  Crisp lettuce topped with the lightly dressed crab and prawn mixture, refreshing and light.  Eaten in two mouthfuls, I still can't help but feel they are a little expensive for what they are.
As is the usual course of dining out, entrees are followed by mains.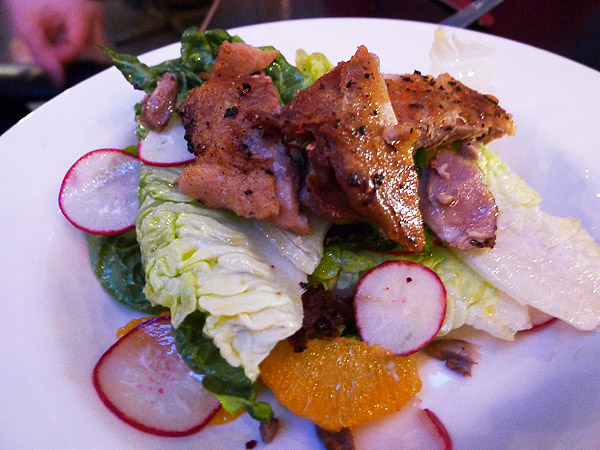 Spiced Duck Leg Salad $25.  Salad comprising of radish, orange segments, gem lettuce, dressed with a chardonnay vinaigrette and topped with slices of duck leg.  The duck was cooked well and I am told was an enjoyable salad.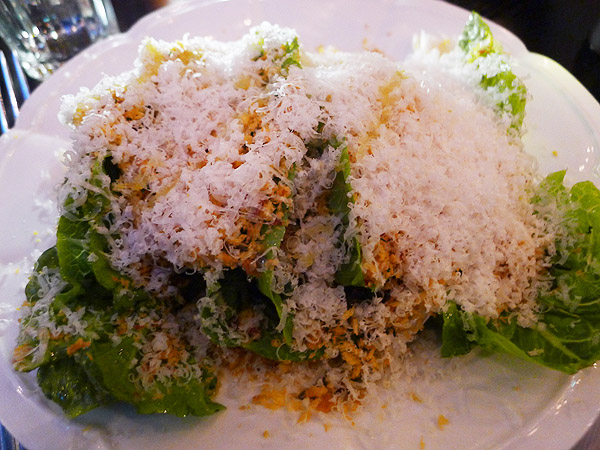 Caesar Salad 'Modern' $20.  Baby cos lettuce topped with a 62 degree hens egg, a couple of white anchovies, jamon breadcrumbs and finely grated parmesan.  I eventually find the lettuce leaves under the mound of parmesan and breadcrumbs.  The cos is lightly dressed and the tang of the white anchovies adds a lovely unique lift.  Not my favourite Caesar salad to date,  mainly due to the mound of breadcrumbs and lack of any real taste except the anchovies.  A couple of scattered jamon pieces would of been a nice touch to add another dimension as the jamon wasn't very evident in the crumbs.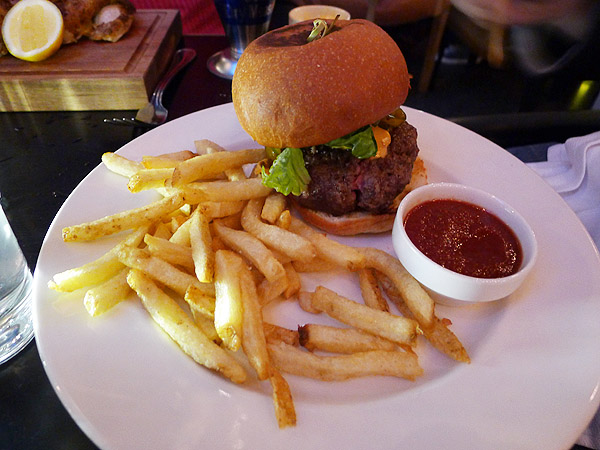 Dry aged hamburger, $20.  The hamburger is served medium rare, bit rarer than expected, on a brioche bun with house pickles, chipotle mayo and a serve of duck fat chips.  A little too rare for our liking.  I do like a medium rare burger, but if rare, no thanks.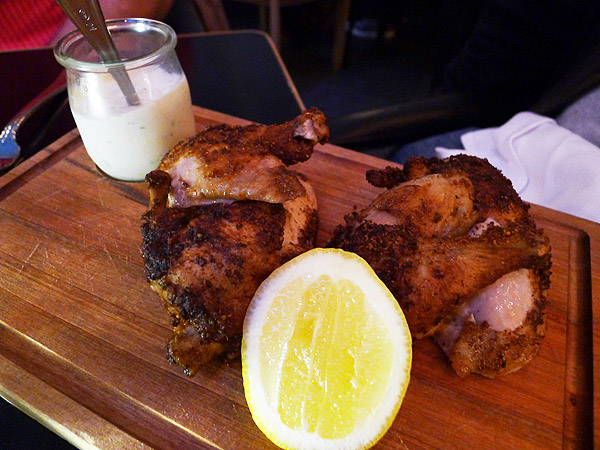 Split Blackened Chicken $26, served with lemon yoghurt. Not a large serving and you really do need to order a side to accompany.  Additional duck fat chips, $10, served with aioli were ordered.
If you order any dishes from the 'over the coals and on the bone' section, it is important to note that you only get what is stated.  For example, the grain fed pork chop, $28, is that exactly, a pork chop on a plate, no veg or accompaniments.   There are sides to purchase, carrots, broccoli, wedge salad or green leaf salad, $8 each.  Or as the duck fat potatoes mentioned earlier at $10.
The Verdict:  On a whole The Morrison didn't hold up against the glowing blog and critic reviews I have read, and we left a little disappointed.  I was impressed that staff were willing to accommodate us with portions sizes of our shared entrees, that was greatly appreciated.  The bar/restaurant is extremely noisy when full and we found ourselves shouting at each other to be heard at our little table of four.  I felt that the food was on the pricey side for what it was.  I have heard the oysters are fantastic, this seems to be their specialty.  A return visit to try them may be on the cards, as I do love good quality, well handled oysters.
Do tell dear Belly Rumbles' reader, have you even been to a new establishment expecting great things only to be left feeling disappointed?
Sara xxx
The Morrison Bar and Oyster Room
225 George St, Sydney
Tel:  +61 (2) 9247 6744
www.themorrison.com.au