Vegemite on toast would have to be one of the most popular breakfast dishes eaten by Australians. Diehard fans won't even leave the country without a trusty jar of the black smelly stuff.
This Australia Day, why not take humble Vegemite and toast up a notch with my recipe for Vegemite ice cream, French toast and honey bacon for breakfast?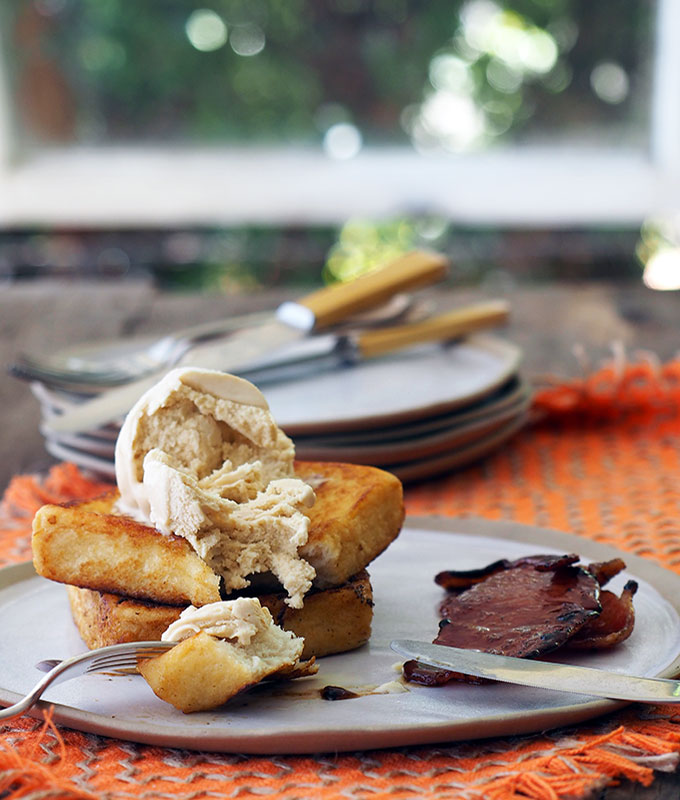 Australians generally fall into two camps over this thick yeasty spread. We either love it or hate it. I was part of the 'hate it with all that I have' camp for many years. Believe it or not I have QANTAS to thank for my liking of Vegemite.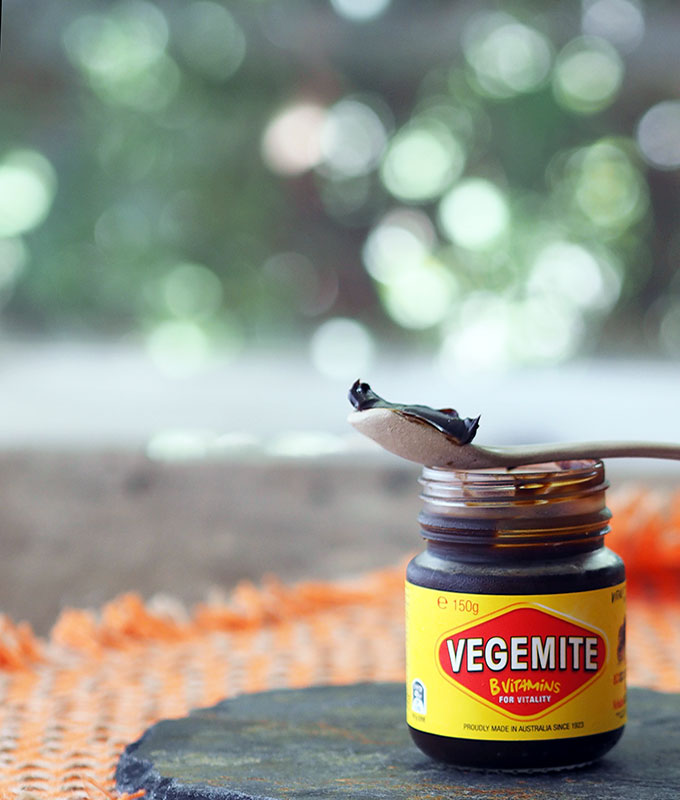 Before the QANTAS Club in Sydney upgraded their breakfast options, by offering pancake makers and sandwich presses to customers, it was pretty slim pickings for morning flyers. You had a choice of toast with jam or vegemite, as well as fruit and cereal. I'm a girl who craves savoury over sweet, and would have given my right arm for a miserable slice of cheese to put on my toast. But sadly it wasn't to be. Instead I would grab some toast, slather it with lots of butter, and then scrape the teeniest amount of Vegemite on top for a savoury breakfast fix.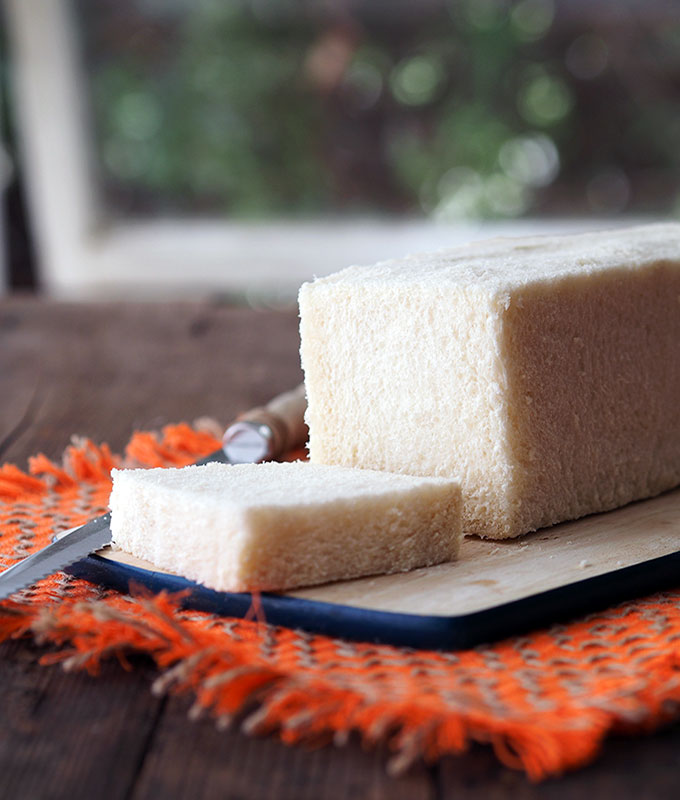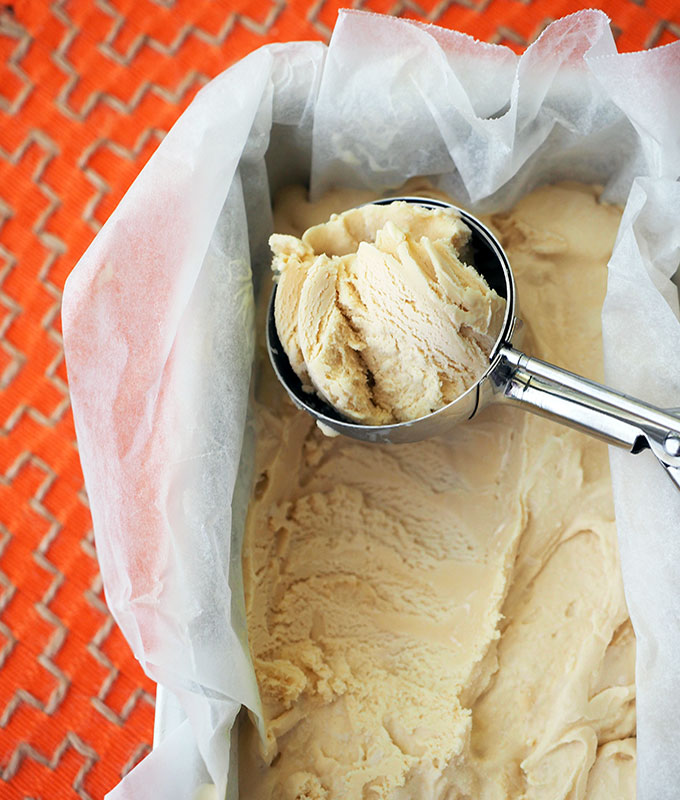 Now I can imagine that most of you reading this are again falling into two camps over this ice cream. Camp one "OMG Sara is brilliant" and camp two exclaiming, "She's nuts, how disgusting, blerff".
Let me assure you that this ice cream is brilliant. It smells like Vegemite, but taste wise it hints at it. On tasting there is a sweet and savoury dance being performed on your taste buds. Place it on thick slices of eggy French toast with a side order of honey candied bacon, and you have a wonderful collection of tastes that marry extremely well together. The holy trinity of salty, sweet and savoury.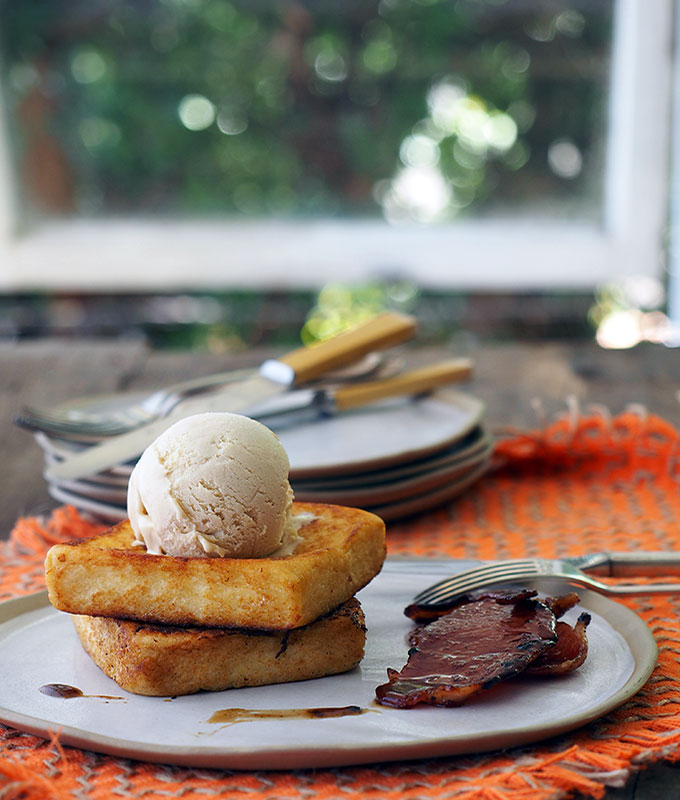 Both Josh and Mac fall into the "I hate Vegemite with a vengeance, where's Bruce Willis to sort this situation out" group. After force feeding them both the ice cream they were surprised to find out that they both really enjoyed it. If you follow me on instagram you may have seen Sally happily scoffing a bowl of it as well after the photo shoot.

Vegemite Ice Cream, French Toast & Honey Bacon
Ingredients
Vegemite Ice Cream
300ml cream
300ml light milk
115g caster sugar
3 egg yolks
7g Vegemite

French Toast
1 loaf of white bread, not sliced
4 eggs
350ml milk
5g vanilla bean paste
butter for frying

Honey Bacon
6 slices of shortcut bacon, rind removed
20g brown sugar
25ml honey
Instructions
Vegemite Ice Cream
Place milk, cream and half the caster sugar in a heavy base saucepan and place over a low heat. Stir continuously until the sugar has dissolved. Increase temperature and heat mixture until it is just about to boil. Remove from the heat and set aside
Place rest of the sugar and egg yolks in a medium bowl. Beat with a hand mixer until thick and pale in colour. The mixture will fall in thick ribbons when it is done.
Mix a small amount of the cream mixture into the eggs and sugar. Continue to add the cream mixture slowly, mixing continuously until all incorporated.
Place vegemite in a very small bowl and add a tablespoon of cream/egg mixture. Mix until smooth and incorporated, add a little more of the mixture and incorporate. Once this is done add the vegemite mix to the main bowl.
Pour mixture back into your saucepan and return to the stove on a low heat. Continue to cook mixture over a low heat (about 10 minutes), until custard is thick enough to coast the back of your spoon. When you drag your finger across the spoon you the custard should stay in place. Be very careful not to boil your custard mixture.
Leave to cool and chill in fridge overnight. Follow ice cream maker's instructions on churning your ice cream. In my machine it takes 20 minutes. Place churned ice cream in a freezer safe container and store in the freezer until ready to use.

French Toast
In a large bowl mix eggs, milk and vanilla, set aside.
Cut crust off the loaf of bread and then cut loaf into 3cm slices.
In a non stick fry pan melt a tablespoon of butter over low heat. Dip two pieces of sliced bread in egg/milk mixture, coating very well. Drain off excess and place in fry pan. Cook over medium low heat until golden on all sides. Repeat with remaining slices of bread.
Honey Bacon
In a non stick pan fry bacon until well cooked on both sides. Remove bacon from pan and set aside.
Remove pan from heat and deglaze with a couple of tablespoons of water. Add brown sugar and honey to the pan and return to the heat. Mix until sugar has dissolved, then add bacon back to the pan.
Continue to cook bacon on low/medium heat until well coated with honey mixture and mixture has become thick and sticky. Remove from pan and place on non stick baking paper until needed.
Of course you could make maple bacon to go with this dish. As maple Syrup is a Northern American staple, I wanted to use true blue Aussie honey instead.
If you are a Vegemite fan, you will enjoy the ice cream as it is, scooped into a bowl or cone. Not so much a fan? Make a batch up in any case for the fun factor, but definitely eat it with the toast and bacon, you will be amazed how well they all go together.
What would be the strangest flavour ice cream you have tried?
Sara xxx
Don't miss one delicious recipe, restaurant review or travel adventure. Sign up to our weekly newsletter below to keep updated. There is also bonus content just for subscribers.