I love how powerful social media can be, especially how quickly word can be spread through twitter.  Okay, there can be a downside of this, for example if the word being spread is derogatory or is malicious in some way.  Then there are the positives that are spread like wildfire, and Twitter was my source for the 3 Chefs & A Pig, dinner and tweetup (#swinedining) at Crown Street Assembly.
Within an hour of the event being unofficially announced, I had tweeted my intentions to attend and phoned Crown Street Assembly to book in.
Fast forward a month, Mac, Josh and I are attending this booked out event for 40 people.  A dinner of five porkalicious courses with matching wines for $95/person.
The three chefs involved are Paul Cooper (PC) of Crown Street Assembly, Darren Templeman (DT) of Restaurant Atelier and Phil Whitmarsh (PW) of Lochiel House.  The pig for the evening, well it is a pig, no name shared, probably a good thing for those that don't like to play the 'naming my food' game.
This is the first of three, 3 Chefs & A Pig dinners.  Another to be held in November at Restaurant Atelier and the final dinner to be held at Lochiel House in January.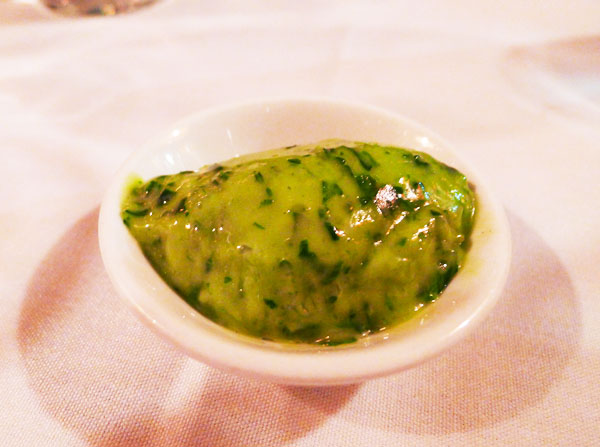 pork butter with parsley, served with bread (not shown)
Dinner starts with a range of canapés; Korean inspired Rachel sandwich (DT), pork & salted fish gyoza (PC), pork rillettes on brioche (PC), stuffed & crumbed pigtails (PC), suckling pig spring roll (PC).  A glass of Tarrawarra Estate Pinot Noir Rose 2011 from the Yarra Valley in Victoria accompanies them.
Staff circulate platters of canapés around the tables.  There is plenty to go around and the platters make numerous return trips, nobody will be going hungry this evening.  My favourite canapé of the evening is the stuffed & crumbed pigtail, crumbed and deep fried with a molten mustard filling, delicious.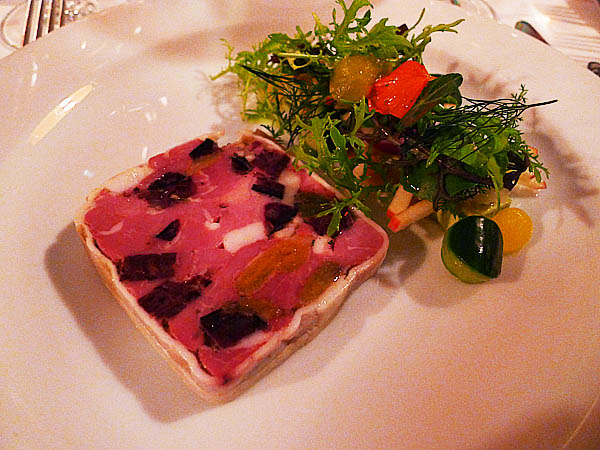 First course is a terrine of pig with piccalilli and garden salad (PW).  I expect that this will be a hearty terrine and Phil doesn't let me down.  Phil is an advocate for nose to tail dining, and I was pretty sure it would have a little grunt to it.  The grunt is in the form of black pudding throughout the terrine.  The dish is paired with a glass of Cracroft Chase Blue Sun Pinot Gris 2009, Canterbury, New Zealand.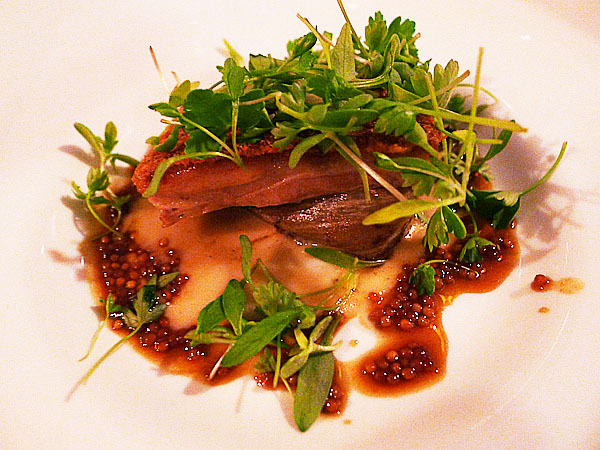 Next up is Darren's dish, slow cooked Hobbs family suckling pig with a sourdough & foie gras puree, caramelised witlof and pickled mustard seed jus.  Beautifully cooked pork and the puree is addictive.  A glass of Tibooburra Solitude Vineyard Pinot Noir 2011, Yarra Valley, Victoria accompanies this dish.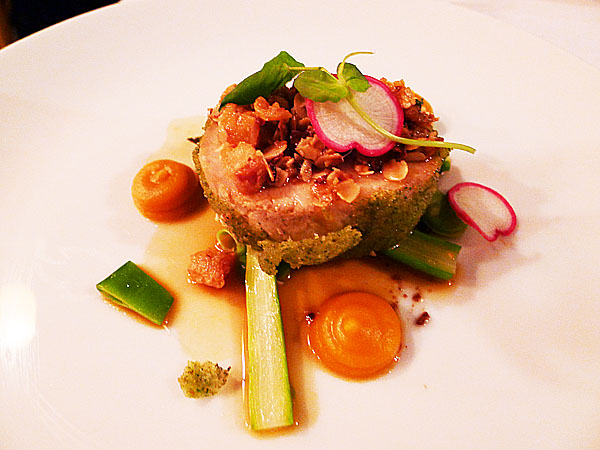 Third dish is Paul's, pear poached pork loin, chervil crumb, spring vegetables, pumpkin puree and cracked crackling.  I love picking up techniques when dining out, I would of never of thought to crumb a pork loin they way that Paul did.  Crumbed after poaching with a very buttery chervil crumb, fantastic result.  Dish was paired with a glass of Bonacchi Gentilesco Chianti DOCG 2010, Quarrata, Italy.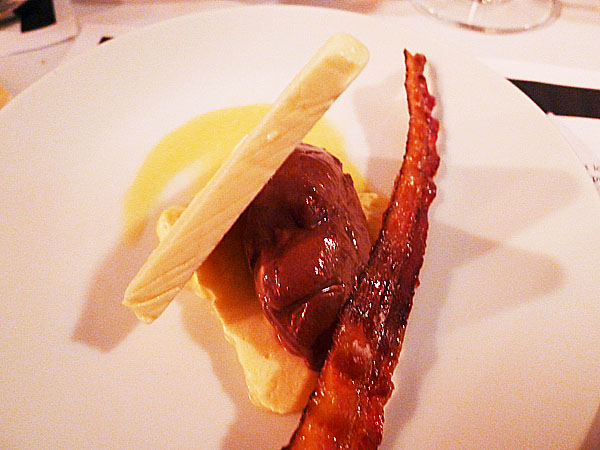 Dessert is brioche and chocolate sandwich with crispy bacon and truffled curd.  I have to admit that the guys weren't big fans of the truffled curd, I found it interesting and definitely gave the dish a different dimension.  A glass of Valdespino El Candado Pedro Ximenez Sherry, Jerez de la Frontera, Spain, was matched to this dish.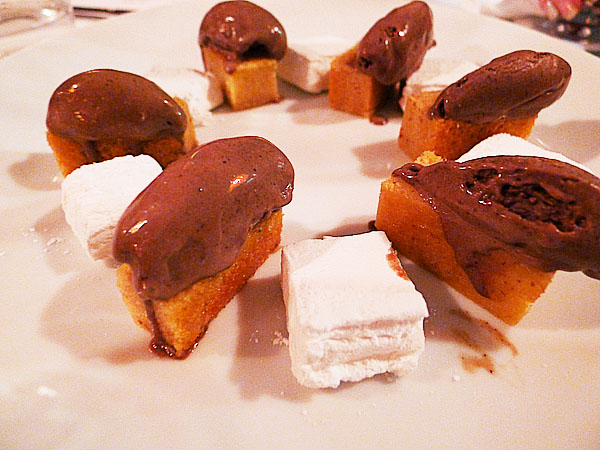 To end the meal coffees were accompanied with petite fours.  Some at our table were trying to work out why the 'chocolate' ice cream tasted a little strange.  I was adamant it wasn't chocolate.  I found out my thoughts were correct when Paul asked how we liked the black pudding ice cream.  What is black pudding ice cream like?  Slightly savoury and gritty, and something  I would be happy to pass on in the future.
As mentioned before, this 3 Chefs and A Pig dinner was the first in three.  Next one is at Restaurant Atelier on Monday 26th of November.  At time of writing, Darren advised me that there were only a couple of places left.  If you would like to attend give Restaurant Atelier a call on +61 (2) 9566 2112.
The third and final dinner will be held at Lochiel House on Tuesday 22nd January.  For further details and bookings please give them a call on +61 (2) 4567 7754.
Sara xxx
Crown Street Assembly
627 Crown Street, Surry Hills
Ph: + 61 (2) 8065 7223
www.crownstreetassembly.com.au