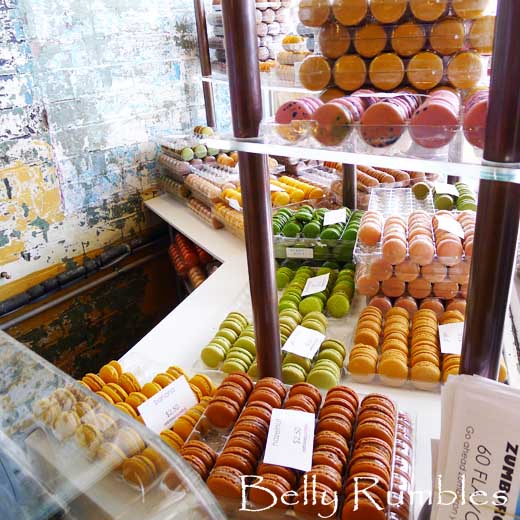 Zumboron Day expanded this year and was held at three locations around Sydney, the original Balmain store and the new stores at Manly and The Star (Pyrmont).
This was my first Zumboron Day.  Due to the lines of previous years the plan was to get there early.  Out the window went my sleep in Sunday.  Accompanied by two other like minded friends, and a plus one, I lined up at 9.20am, and eventually left Zumbos with my purchase a couple of minutes shy of 11am.  From what was tweeted by others, the line up at The Star was minimal and was the quicker option.
On Zumboron Day, Adriano's usual cakes and creations are moved out of the shops, to make way for a field of macaron.  There was 60 flavours in total to choose from.
The menu was released the day before on Adriano's website and Facebook page.  This gave me plenty of time to work out what I was going to purchase.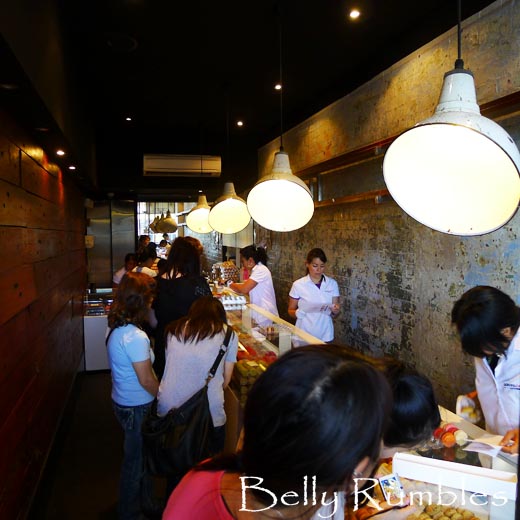 the tiny Balmain store, love the industrial lights
When in the queue menus are handed so you can mark off what you want to purchase.  The only problem with this is, I kept adding to my list, as well as being a total girl and changing my mind while waiting in line.  It's very hard to choose between 60 flavours.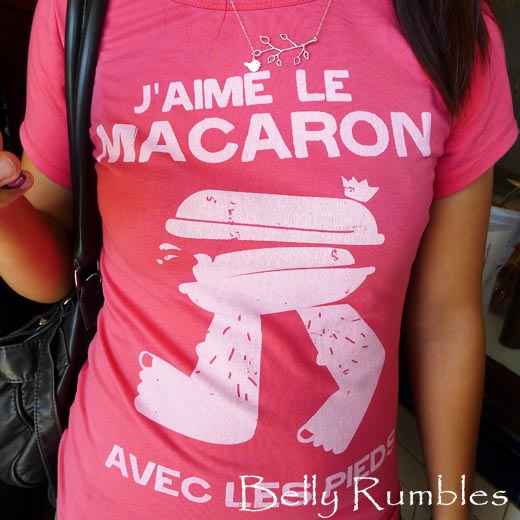 Phuoc'n Delicious' appropriate tee for the day
I had already worked out that I wanted to purchase one of each of his more funkier flavours; banh mi burger, margarita pizza, salt & pepper calamari and fried chicken.  Unfortunately there weren't any margarita pizza or calamari at Balmain.
Tasting Notes
Baklava:  Couldn't really make out what it was taste wise.
Banh Mi Burger:  Really foul, seriously terrible.  The pate was very off putting.
Blackened Vanilla:  Charcoal sesame flavour with vanilla cream, nice.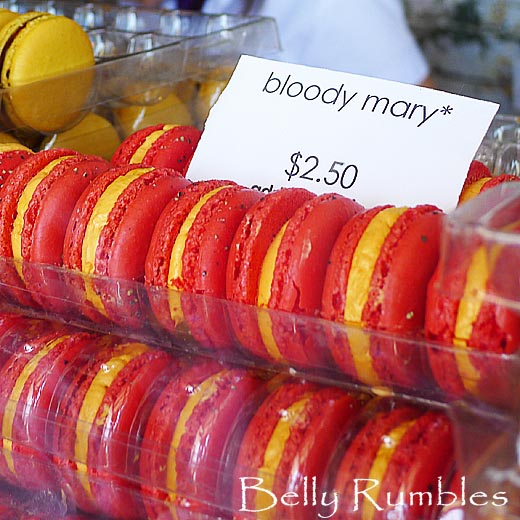 Bloody Mary:  Creamy middle with a slight tomato taste, hint of tabasco was a nice surprise.
Chestnut & Passionfruit:  Tasted more of chestnut than passionfruit.
Cinnamon Doughnut:  One of my faves!  Tasted like a cinnamon doughnut.
Coffee:  Tasted like coffee, was as to be expected.
Custard Crunch:  Subtle custard flavour with a toffee crunch in the middle.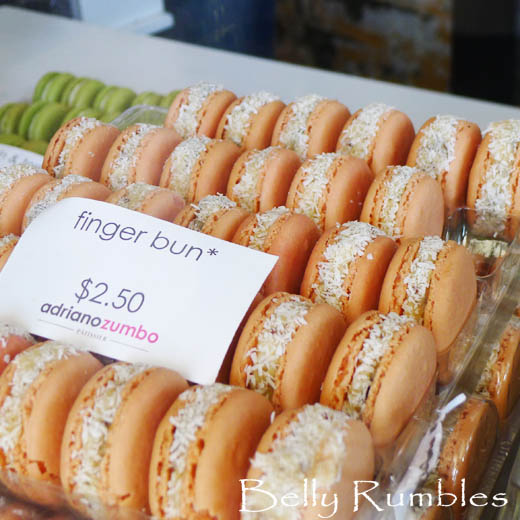 Finger Bun:  Reminded me of a pink iced, coconut covered, buttered finger bun.  Even had a couple of sultanas in it.  Quite delicious.
Fried Chicken:    Deep fried breadcrumb covered macron.  Strong smell of oil, meringue melted and melded with the herbed chicken flavoured filling.
Gin & Tonic:  Not bad, not bad at all, like a sweet G&T.
Mango Black Pepper:  Slight mango taste, black pepper was sprinkled on the meringue.
Maple Syrup Pancake:  Lovely maple taste, quite distinctive.
Pandan & Coconut:  Really couldn't taste either pandan or coconut, and had a weird after taste.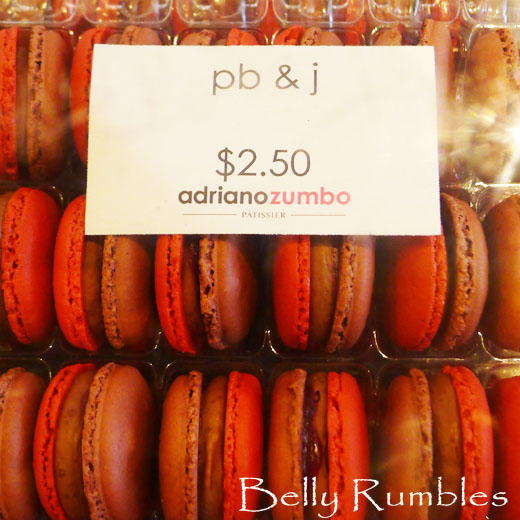 PB & J: Is just like a peanut and jelly (jam) sandwich, awesome.
Ramen:  Had a piece of egg yolk in the middle, sweet & savoury taste.  Meh.
Redskin:  Tasted like a redskin and had a slight chew to it which was awesome.
Rice Pudding:  Didn't really taste of anything.
Salted Butter Popcorn: Nice subtle salty kick and slight popcorn taste, pretty creamy.
Salt & Vinegar:  Wrong, so wrong on so many levels.  Went halves with Josh but in the end the bin  got 3/4 of this one.  Wouldn't even feed it to Sally.
Strawberry Bubblegum:   Tasted just like strawberry hubba bubba bubblegum, very cool.
Toasted Marshmallow:  Very creamy with a slight marshmallow taste
Vegemite:  Hmmm, actually not too bad, went halves with the dog as nobody else would try it.  Sally loved it.
Unless you were aware of what the flavour was of some of the macarons, I doubt you would of guessed.  Some lacked flavour and were just creamy.  Others packed a punch, with no doubt as to their flavour.
On a sad note I didn't get all the macarons that I ordered.  Not quite sure what went wrong there.  Certain macarons I ordered three of, for the tribe.  When checking through flavours at home, realised that we were missing two of the rice puddings, I was only given one.  So sadly I paid for 45 macarons but only received 43.
The most unusual macaron of the day had to be the fried chicken.  It looked and smelt like a chicken nugget.  The macron was covered in a thick breadcrumb layer and deep fried.  Due to the deep frying the meringue actually melted to a creamy sugary coating around the quite solid chicken flavoured filling.  Josh and I liked it, the taste and the concept, was fun and different.  Saying that, half is enough for anyone.  Mac thought it was pretty foul (pardon the pun).
My favourite flavours, finger bun, cinnamon donut, maple syrup pancake and strawberry bubblegum.
Macarons that will never grace my taste buds again, salt & pepper and the banh mi burger.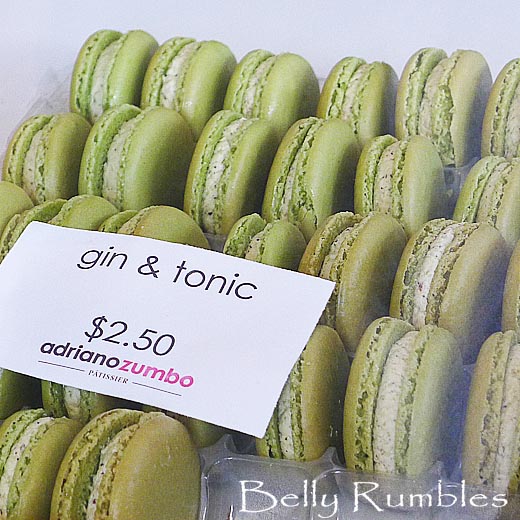 The macaron with the funniest side effect was the gin & tonic.  For a good hour after, it kept repeating on me and I swear it tasted like I had drank a G&T!
It was worth getting up early on a Sunday morning to trek to Balmain.  Will I go next year?  Not sure about that, will see.  Brunch afterwards with the girls made it a complete and fun morning, so yeah, maybe.
Adriano, if you are reading this, would love to see a maple bacon or Canadian breakfast macaron next year.  That is if you haven't already created these flavours.
Dear Belly Rumble's reader, what would be your ultimate flavour?
Also don't forget my great giveaway which ends next Tuesday!
Sara xxx