Handa Opera on Sydney Harbour is an amazing annual event. You haven't witnessed one of these extraordinary opera performances before? Then you really need to. What? You don't like opera? Then you are in for a real treat, these performances are designed for those of us that are less culturally refined than others.
This year's performance of Verdi's Aida takes place once again on the gigantic purpose built stage above the waters of Sydney Harbour. It is a stunning setting with the Sydney skyline, opera house and harbour bridge as the backdrop. When you can take your eyes away from Sydney's iconic landmarks you will be fixated on the giant Nefertiti on stage.
The site is purposely built from scratch for this event. If you would like a glimpse of what goes on behind the scenes, dressing rooms, orchestra etc, you can see my sneak peak from Carmen here.
As in past years you can make your visit to the yearly Handa Opera on Sydney Harbour Event a night to remember by including dinner before the performance. There are also bar facilities where you can enjoy interval drinks and even drinks afterwards while the crowds dispatch to head home.
To compliment Verdi's Egyptian masterpiece, Fresh Catering's Executive Chef Geoff Haviland, has married the flavours Northern Africa and Egypt together for your culinary enjoyment. There are several dining options to suit your style and budget. And to accompany Geoff's delicious dishes, like last year, you will find a wonderful variety of Australian wines from Tyrrell's.
For more casual dining options you have the choice of The Northern Cantina, The Northern & Southern Terraces, They Qantas Garden Bar and the Sparkling & Oyster Bars. You will find mezze style share plates, kebabs, falafel, tangines, small bites, desserts, and a variety of drinks. You can enjoy your choices whilst overlooking stunning Sydney Harbour.
If you want to make your night even more special there is the Platinum Club dining option. Unlike past years, you have two pre-performance dining options to choose from.
The pre-performance bar offers a signature buffet ($110). The variety of food on offer is quite outstanding. Varieties of olives, merguze sausage rolls, fatayer, manoushi with za'atar, cured salmon, stuffed vine leaves, hummus, moutabel, Moroccan carrot with vegetable crudité, lamb tangine, Persian rice, pies, salads, desserts and so much more.
Your buffet is accompanied with a variety of Tyrrell's wines. You have the choice of the Pinot Noir Chardonnay Brut, Moon Mountain Chardonnay and Brokenback Shiraz. Can't decide? Then indulge and enjoy tyring them all as they are included in your buffet price.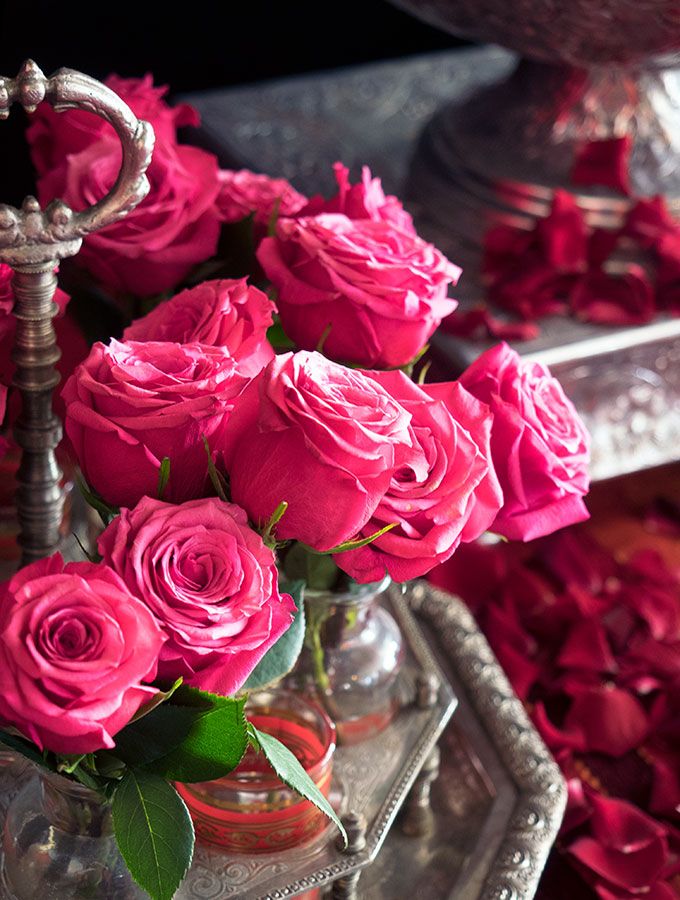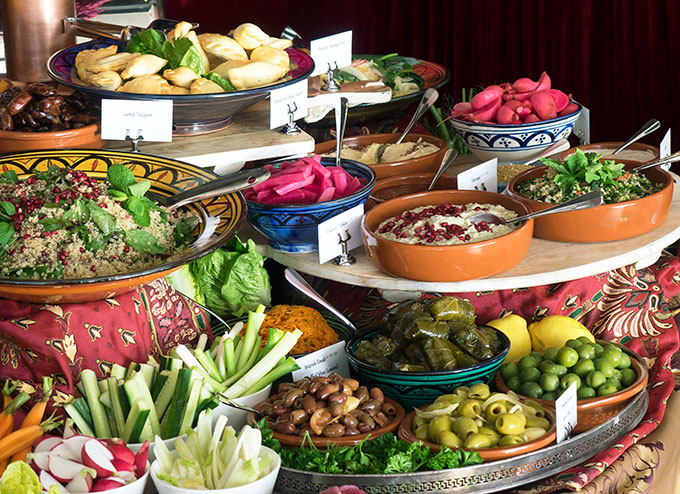 Then there is the event's ultimate dining experience, the Platinum Club's restaurant. A three course dinner ($220) accompanied with Tyrrell's wines.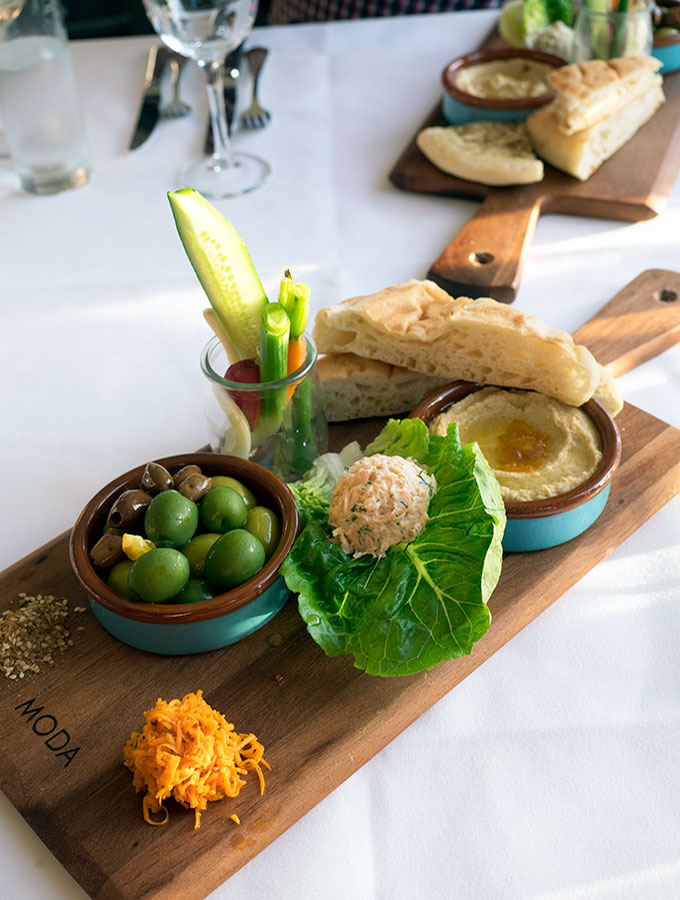 For entrée you have the choice of caramelised chickpea puree with either botargo (salted, cured fish roe) or sumac and accompanied with grilled bread. I decided on the option with the botargo, which was made into a lovely smoky creamy spread. I am going to have to ask Geoff for the recipe, if really was quite scrumptious.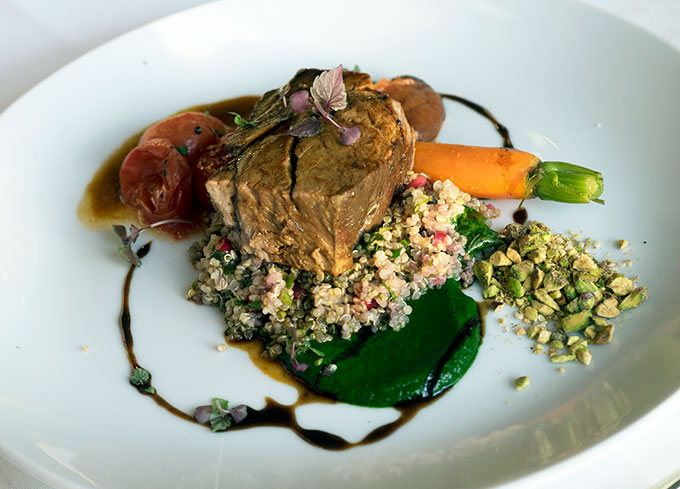 There is a choice of three dishes for your main. A supremely tender 12 hour slow cooked lamb shoulder served with maple glazed carrots, date puree and pistachio dukkah. This dish received big raves from around the table and for those that love their lamb it would be the go to dish.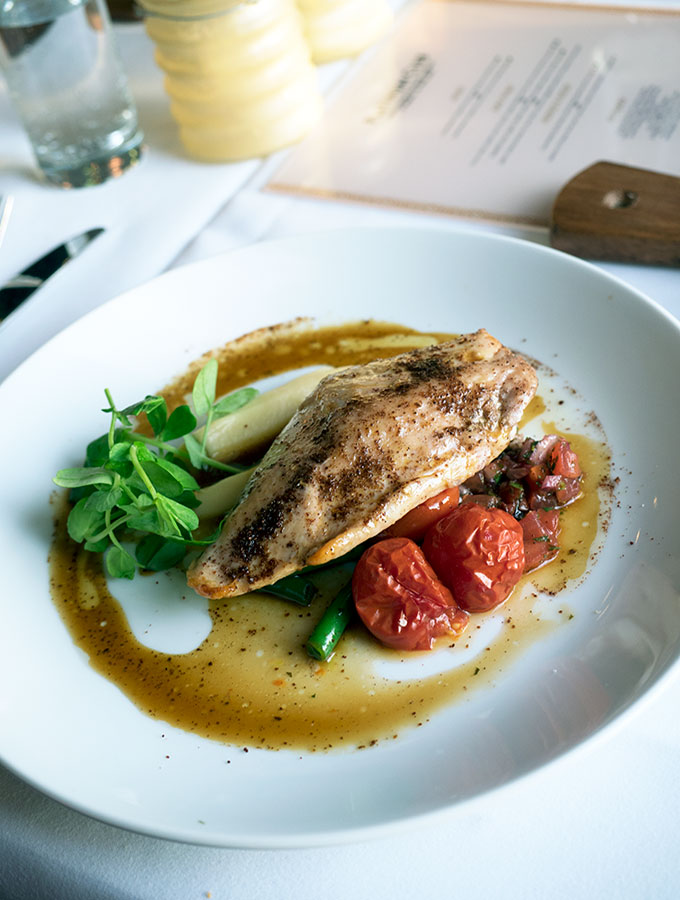 A vegetarian option is available, saffron shallot and butternut tarte tatin with heirloom vegetable salad and pomegranate dressing. The third option, and the one I chose was the roasted sumac organic chicken with parsnip crème, golden raisins and tarator sauce. The chicken is perfectly cooked and juicy with lovely middle Eastern flavours with the tarator.
To finish off there is caramelised fig pavlovas with lemon mascarpone and halva parfait, or the cheese selection which included a selection of cheeses, onion ham, charcoal lavosh and pickled radish in rosewater.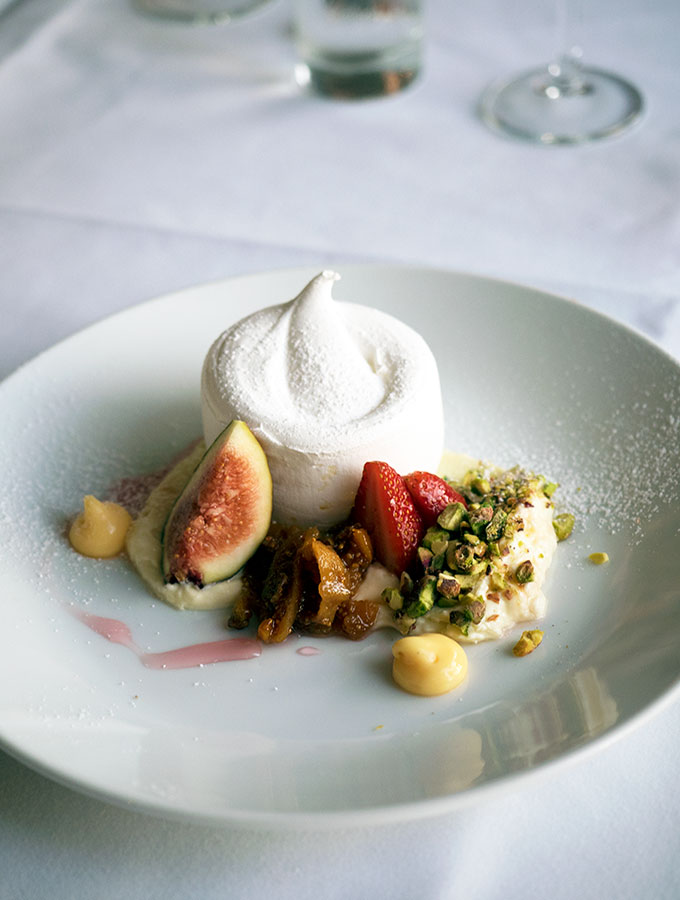 As tempted as I was by the generous cheese platter I decided on the pav. Crisp outer shell with a marshmallow soft meringue centre, sensational.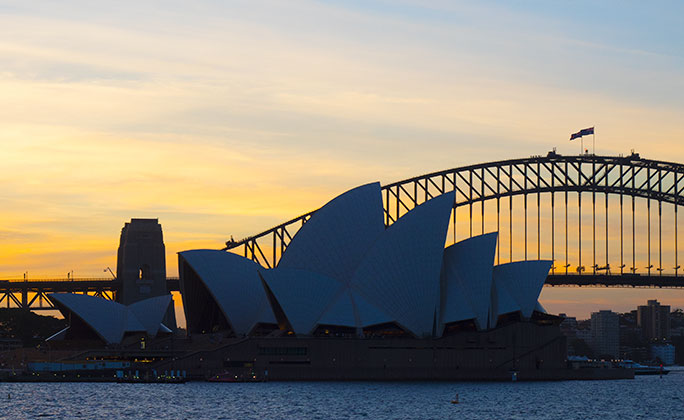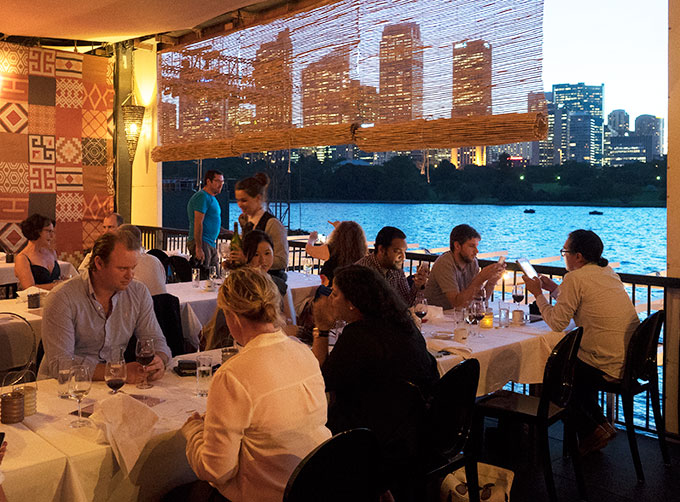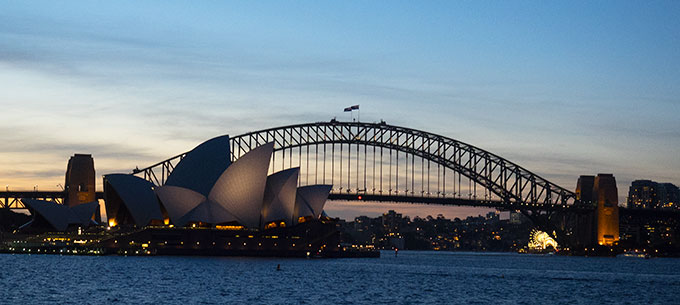 Whist we enjoyed dinner we watched the sun set over Sydney Harbour. The lights of the emerald city turning on, the shining jewel she is. Then with very full bellies we all toddled off to watch Aida. May I add that Geoff enthusiastically loaded us up with baklava to enjoy during the first half of the performance. Which was brilliant as to be expected. Handa Opera on Sydney Harbour is extremely visual each and every year with. The costumes, the stage setting, the music, and international and local performers, there really isn't much not to love.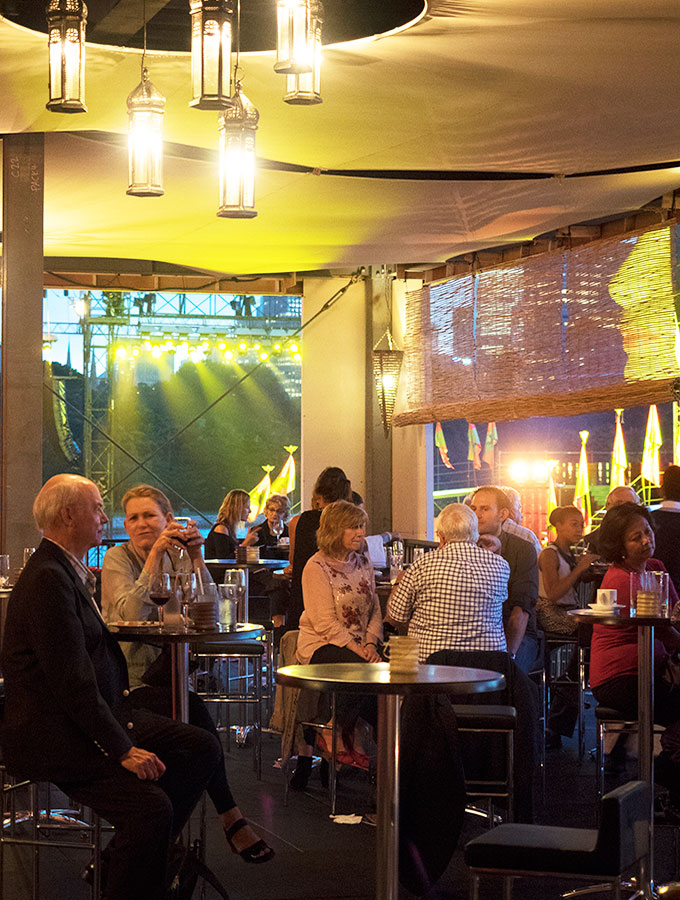 I should also mention at interval we retreated back to the Platinum Club to enjoy some more Tyrrell's wines with more food, not that we needed it, but it was too good not to eat, soft warm flat bread and a selection of dips.
As I mentioned previously, if you haven't attended before then you really do need to treat yourself to this year's Aida Handa Opera on Sydney Harbour performance. Even if you have, each year is a different opera, just as spectacular as the last.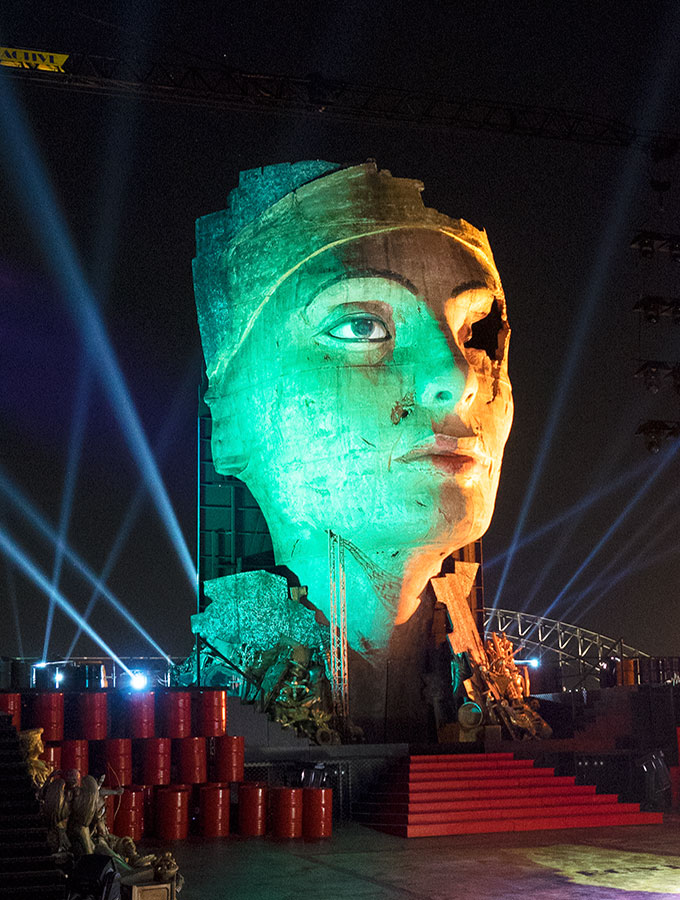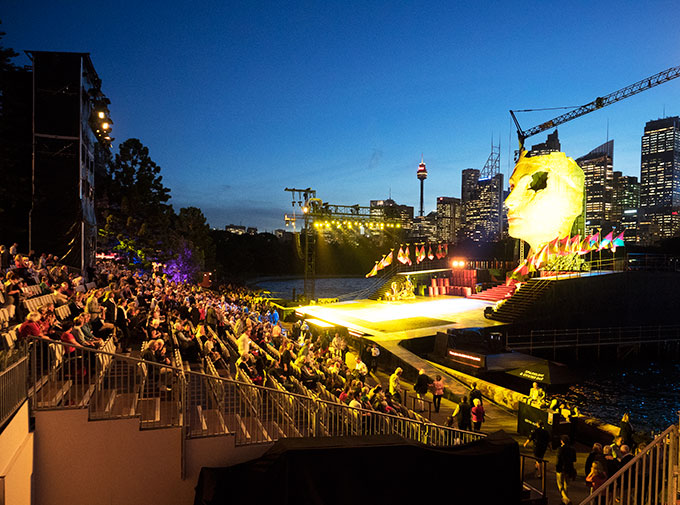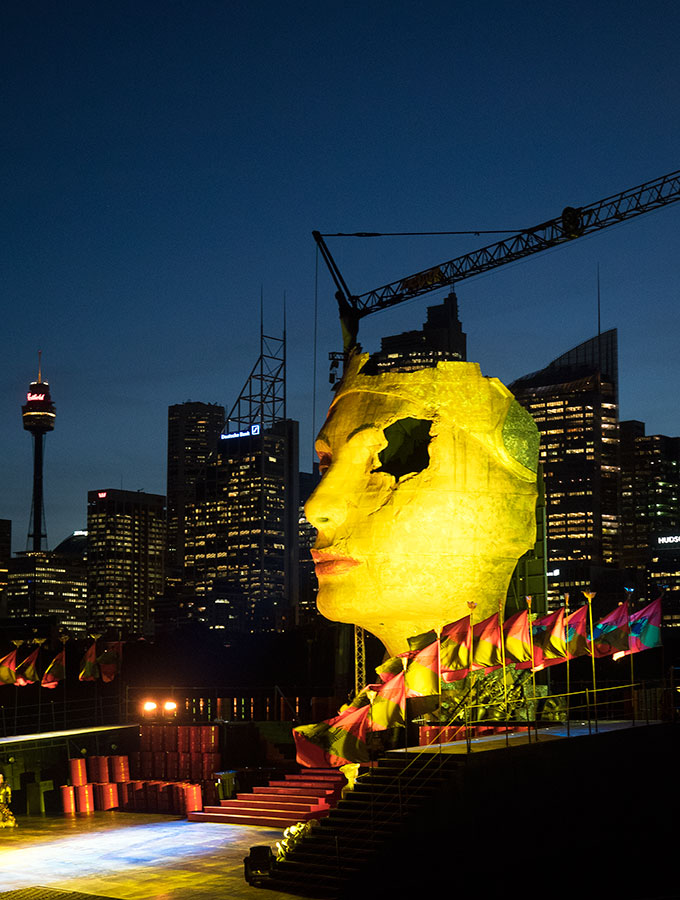 If you do go, no matter where you dine you will be in for a treat. But I do suggest making it an extra special night and adding the Platinum Club option to your ticket.
Aida Handa Opera on Sydney Harbour performances finish on 26th April 2015.
Sara xxx
Belly Rumbles attended this year's performance Handa Opera on Sydney Harbour and the Platinum Club restaurant with much thanks to Fresh Catering and Opera Australia.
Previous Handa Opera on Sydney Harbour reviews you many find of interest;
Madame Butterfly, Handa Opera on Sydney Harbour
Carmen, Handa Opera on Sydney Harbour