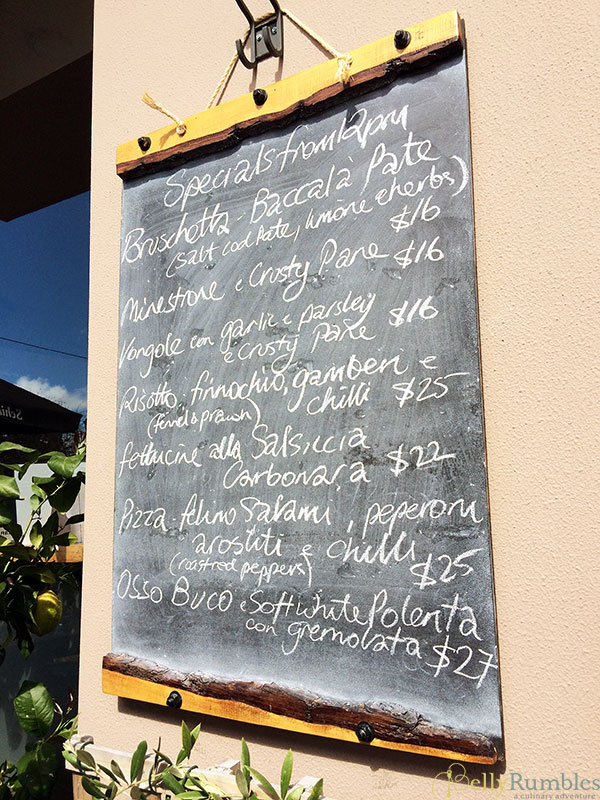 It's really hard to keep track of the new cafes and restaurants that are popping up all over The Sutherland Shire. You may remember a while back I wrote about a new ramen joint (the only ramen joint) that opened in Sutherland. Well it seems that a trendy little Italian trattoria and delicatessen has opened up right next door.
Just to show how busy I have been this year and how neglectful I have been with staying on top of what is happening in my own back yard, Albero has been open for around nine months. Shame, shame, shame on me.
There existence came to my attention when I attended the Coffee @ Peace Park festival in Sutherland early August. Josh and I lined and waited (waited, waited and waited) for over an hour for two coffees at their stand. Being new kids on the block they completely over estimated the demand and mass of people at the festival.
Must have been the coffee buzz of the day or my generally chilled disposition, but I wasn't going to hold this against them. In fact the flyer I picked up on the day got me a little excited. A small but interesting menu, and they had a deli on the premises too. Josh and I were there the next week to check them out.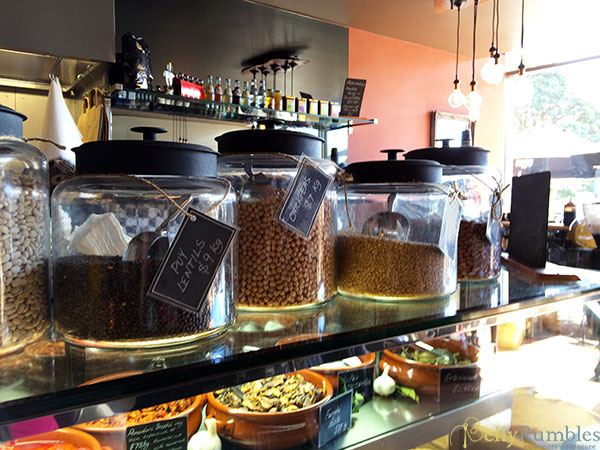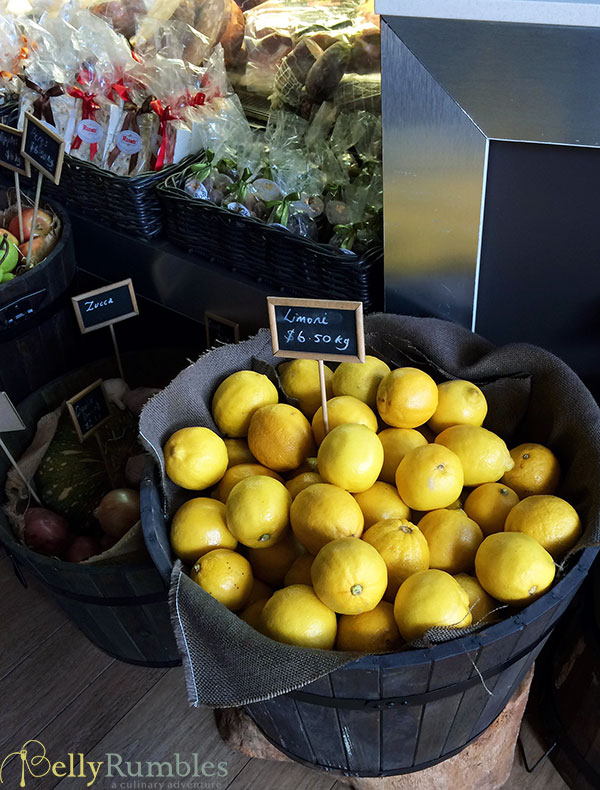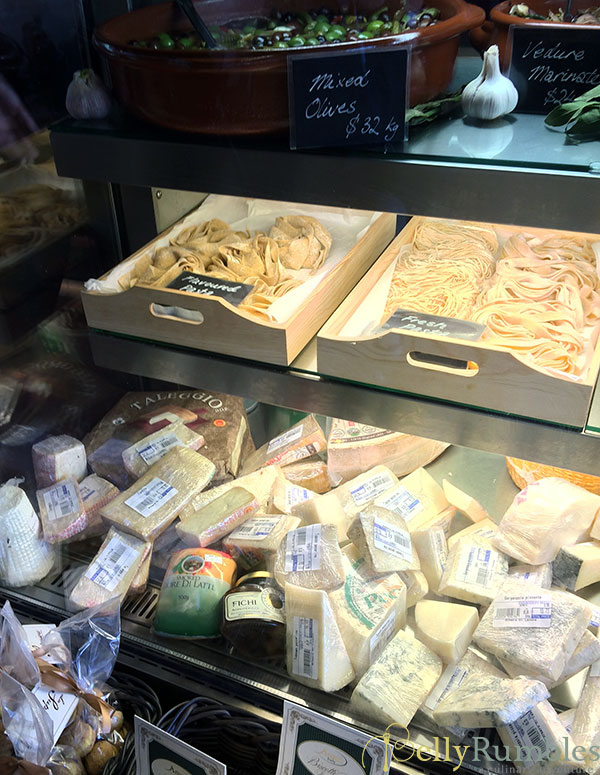 The trattoria has a slightly rustic fit out. Produce like oil, vinegar and sauces line the shelves. A chilled cabinet groans under the weight of cheeses, fresh homemade pasta and olives. Italian cakes and biscuits are packaged up ready for you to take home and there is fresh product as well, like a massive wooden bucket filled with lemons. It is all very inviting, well presented and entices you to stock up goodies.
Albero is a busy little place with an obvious legion of regulars, all being greeted by first names and engaging in friendly life updating chats with staff. Even though this is our first visit, we too are greeted warmly. As it is a lovely sunny day, we grab a seat outside at one of the handful of tables. A cute little garden setting with lemon and citrus trees, and umbrellas to shade patrons from the sun's beaming rays. Hungry nostrils fill with the smell of garlic and Italian dishes cooking which waft from the kitchen.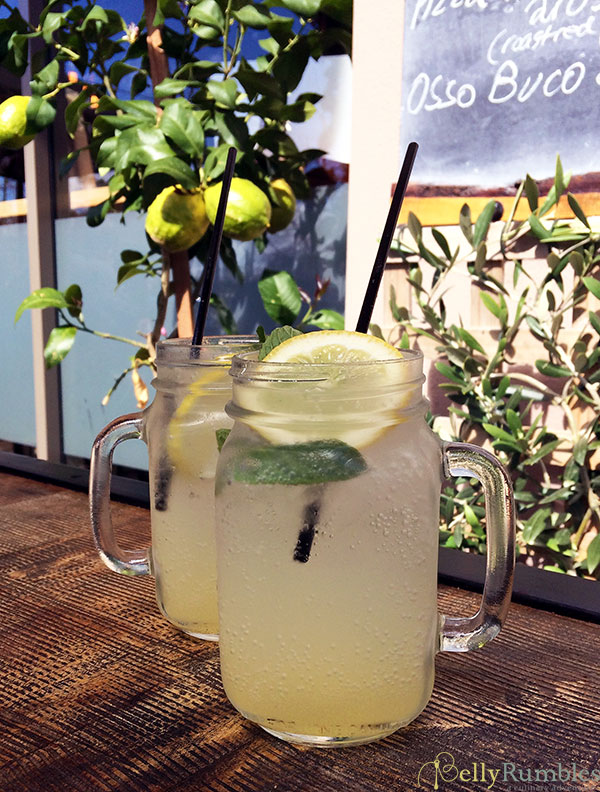 Homemade lemonade ($5) is on the menu and of course we have to try it. With lemon in the establishment's name and touting a fresh homemade product, it makes it hard not to try and judge. The sparkling lemonade is quite refreshing, a balance of tart and sweet, we are both instantly happy with it.
Josh decides to try one of the milkshakes as well. These is only a small selection of flavours, chocolate, vanilla, berry ($5.50) and flavour of the week ($6), we assume they are concentrating on quality not quantity. It seems we are right, generous and flavourful shakes. The flavour of the day is Tia Maria, but we are advised that they are also playing around with peanut butter and chocolate fudge if we would like to order that. Of course we do, and it's a winner.
Breakfast is served from 7am – 11am. You will find dishes like, Tuscan breakfast ($17), Ricotta pancakes ($13) frittata omlette ($14), to name a few. Bread is sourced from Brasserie Bread, which does make their toast selections a little more exciting than the usual.
The lunch/dinner menu is a more extensive. They have their staples, selections for antipasto options ($18-28), pizza ($19-21), pasta ($20-22), risotto ($21) and insalata ($8-12). Plus there is a specials board reflecting seasonal produce.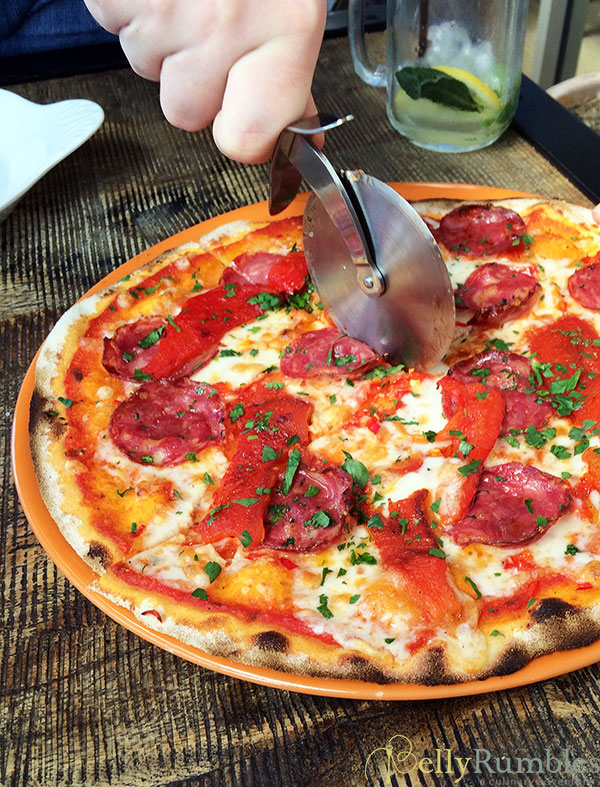 Both our chosen dishes end up coming from the specials board. We decide to share a pasta dish and a pizza. Pizza felino, salami, peperoni, arostiti and chilli ($25) is exactly how we like our pizza, topped sparingly with good quality ingredients on a thin and perfectly cooked base. We both love the chilli kick of the pizza.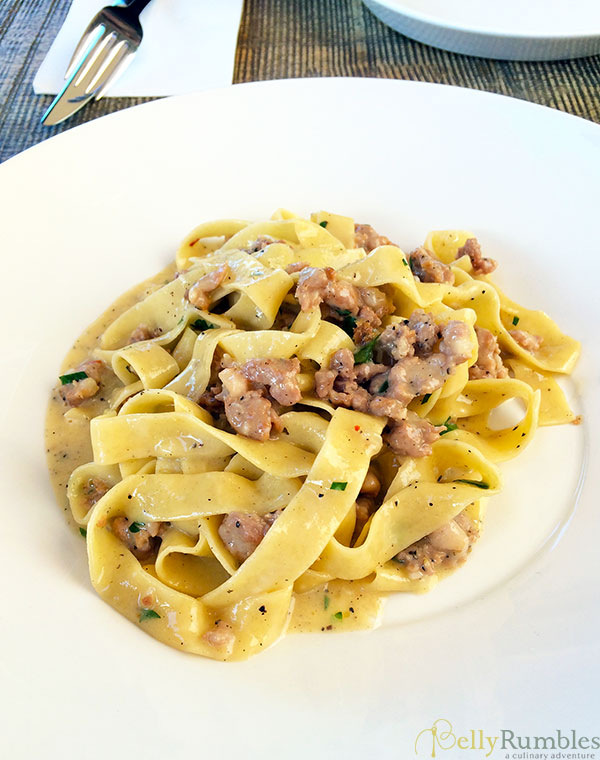 The pasta special of the day is fettucine alla salsiccia carbonara ($22). With my Italian not being that great (read non existent) we weren't quite sure what to expect, but with the pasta being homemade and the word carbonara in the description we just went for it.
It seems we ordered another dish with a chilli kick, good thing we love all things hot and spicy. Perfectly cooked to the tooth fettucine with Italian sausage, the mentioned chilli in a parmesan cheese sauce. I would order this dish again and again, the balance of flavours and amount of sauce used was perfect.
Albero di Lemone Tree is open Tuesday – Sunday for breakfast and lunch. They also open for dinner on Friday and Saturday, reservations highly recommended and they are BYO.
Sara xxx
Albero di Lemone Tree
Shop 2, 720 Old Princes Highway, Sutherland, Sydney
Tel: +61 2 9542 2552
Website