Finally when somebody asks me where to eat in The Shire, there won't be any deep thought or hesitation on my answer. It is elementary my dear Watson, Alphabet St.
Located at the beach end of the Kingsway, the restaurant offers views over Dunningham Park, pedestrian concourse and the beach. A group of us had organised to have a lazy Sunday lunch. Three of my friends weren't familiar at all with Cronulla and I was thrilled that it was a gorgeously sunny Autumn day. If you are going to show off part of your hood, you want it to shine in all its glory.
Alphabet St opened up in Cronulla at the end of 2012, but a restaurant opening isn't an unusual affair. What excited me about this particular opening was that Joe Natale and his partner Oriana were behind it. If their names don't ring a bell they use to own the popular Rambutan on Oxford St in Darlinghurst. You will also find ex-Rambutan Chef, Tiw Rakarin, in the kitchen.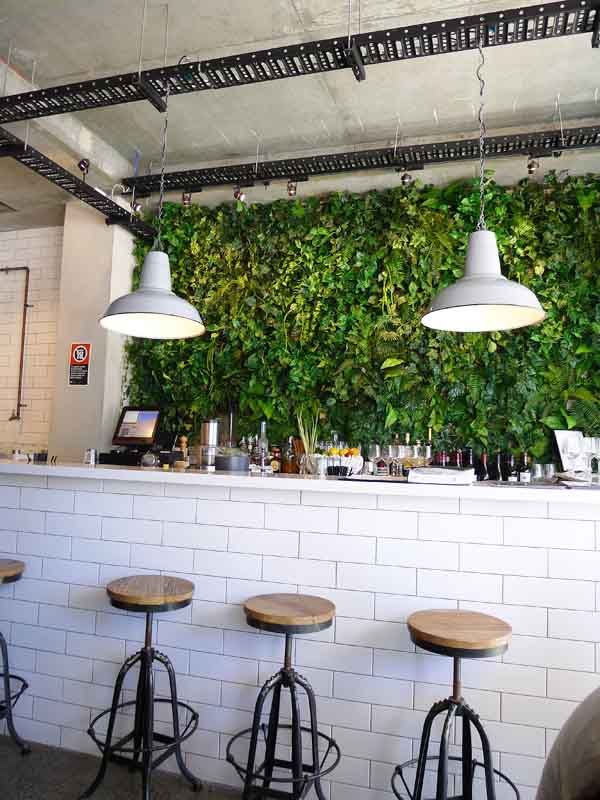 The restaurant has a modern urban vibe. Timber box frames on the stark walls representing buildings. Washed concrete floors giving a pavement feel. Unclad ceilings with drop down lights representing street lights. A wall of green behind the bar and astro turf on the balcony is the greenery in the urban sprawl of Alphabet St. Which just happens to be named after the Prince song 'Alphabet Street'.
I would describe the menu as Thai fusion. Originally I thought that Alphabet St menu was purely Thai. On closer inspection the influence of Malaysian and Chinese cuisines is evident.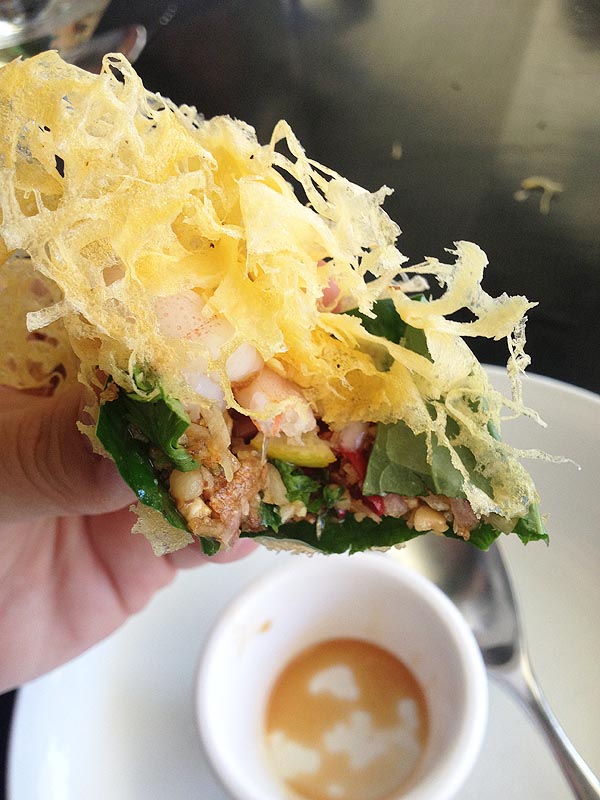 It is clear we are a superficial bunch, easily swayed to order a dish due to look and clever presentation. As ordering decisions were being made, we spy a few white Chinese style bird cages float by our table. They're filled with egg wrapped betal leaves sitting in cute tea cups. They look gorgeous, and we are thrilled that the taste lives up to the look. A betal leaf topped with prawn, nutty roasted coconut and herbs, which is wrapped in a frilly egg net.
The oysters are large plump Pacifics, topped with green nahm jim, fried shallot and tangy lime foam. A fresh and clean mouthful.
Our second betal leaf offering aren't as fancy as the once that graced the bird cage, but they pack a flavourful punch. The betal leaf is topped with flaked tea smoked trout, crisp fried shallots and tomato and capsicum relish.
The tender squid's coating is light and crunchy tossed through finely sliced red chillies, green onion and coriander. A wedge of lime and a tangy lemon dipping sauce accompany to give a zesty flavour burst.
At first I am a little confused when the duck pancakes arrive. Have we received somebody's dessert by mistake? The strawberry makes them resemble rolled pancakes with caramel sauce. The 'caramel' sauce is in fact hoisin and the pancakes hide their Peking duck filling. Quite a savoury dish I can assure you.
Large, juicy and plump scallops sit atop a salad of finely sliced banana blossom, caramelised shallot and herbs.
The flesh of the fish was deep fried separately to the whole fish. This gives the dramatic result of a crisp fish skeleton surrounded by lumps of juicy fried fish, pineapple, lycee, cherry tomatoes and green peppercorns tossed in a sweet and sour sauce. We all love this dish.
My regular readers will know I don't eat lamb, but I am so glad that the massamum curry was ordered. The curry was deep with flavour and devoured with relish by my fellow diners, they all highly recommend this dish.
I always love a dish I can learn from and this one had a couple of surprises. You can light cinnamon sticks like incense, it burns, then smoulders emitting cinnamon smoke. Also Alphabet St have a nifty trick up their sleeves regarding the sweet potato in this dish. It is actually a combination of mashed sweet potato and fried potato chips, yes, you did read that correctly. The texture is great and is something I will be trying at home.
A picture is worth a thousand words. Pork belly, crunchy crackling, tender pork and rich sauce which is all balanced by the fresh green apple salad. Please feel free to drool after me.
Our 'green' dish, you have to have your vegies too. Morning glory, or also known as pad pak boong fai daeng. Pak Boong is also known as Kangkong, water spinach and as in this dish morning glory. A simple but flavour packed stir-fry with chilli and garlic.
I wouldn't wait until you are in the area to pay Alphabet St a visit. It is worth making the effort of a special visit to head to The Shire. If you don't feel like driving, I highly recommend the train. The station is only a short walk, this also means you can enjoy a cocktail or two and their decent selection of wines.
Don't forget to enter the great competition I have running at the moment. Your chance to win dinner for two with limo transfers in your capital city (value up to $1,000), enter here.
Do tell dear Belly Rumbles reader, are you ever swayed to order a dish by quirky presentation?
Sara xxx
Alphabet St
5/8 Kingsway
Cronulla
Tel: +61 2 9544 0756
www.alphabetst.net