Assiette has been on my "want" list for quite a while and what better way to try Warren Turnball's two hatted restaurant than on a Friday for lunch. "Why Fridays?" I hear you ask. That is because something magical happens on a Friday lunch at this Surry Hills establishment. A three course menu for $35 dollars is available. To be honest it almost sounds too go to be true and I wasn't quite sure what to expect.
I had made a reservation for Ms Lily and myself months in advance and watched the weeks tick by in anticipation. On the day I was so excited I actually skipped breakfast and by the time we were seated in the white walled, dark wooden furnished walls of Assiette I was famished.
You do have a choice on Friday of their normal menu or the $35 special. We knew what we are here to try, even though quite a few dishes are calling our name from the standard menu. On the special menu there is the option of two entrees, two mains and two desserts. Ms Lily really is good to me and it is agreed that we will order one of each dish in order to have a taste of the whole menu.
We both start with a pre lunch drink, I have a glass of Craigbrook sparkling white and Ms Lily has a G&T.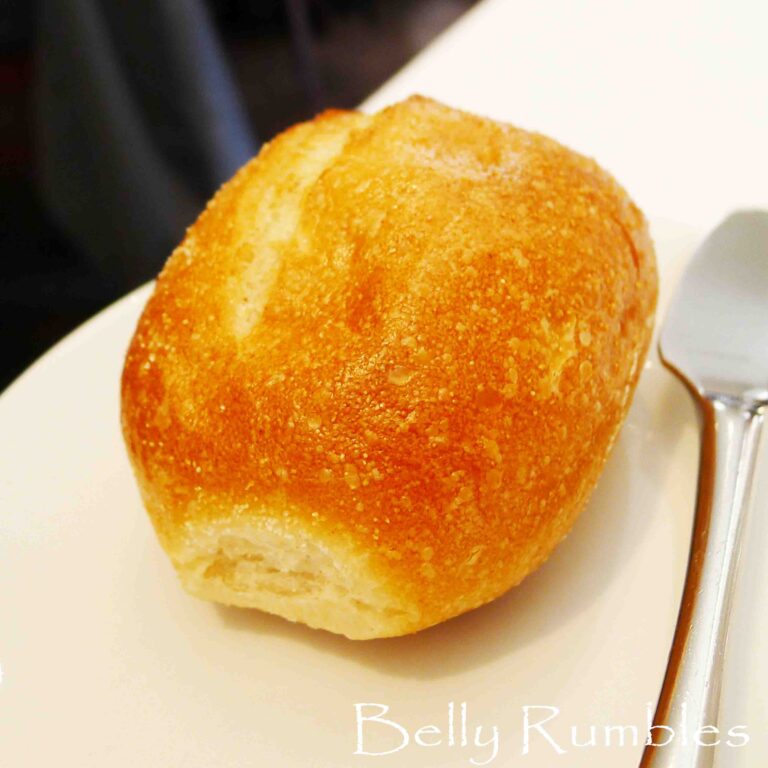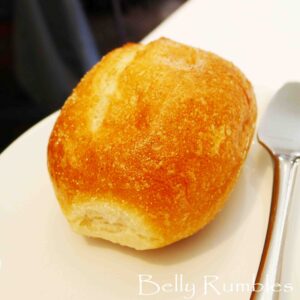 Complimentary crunchy warm bread roll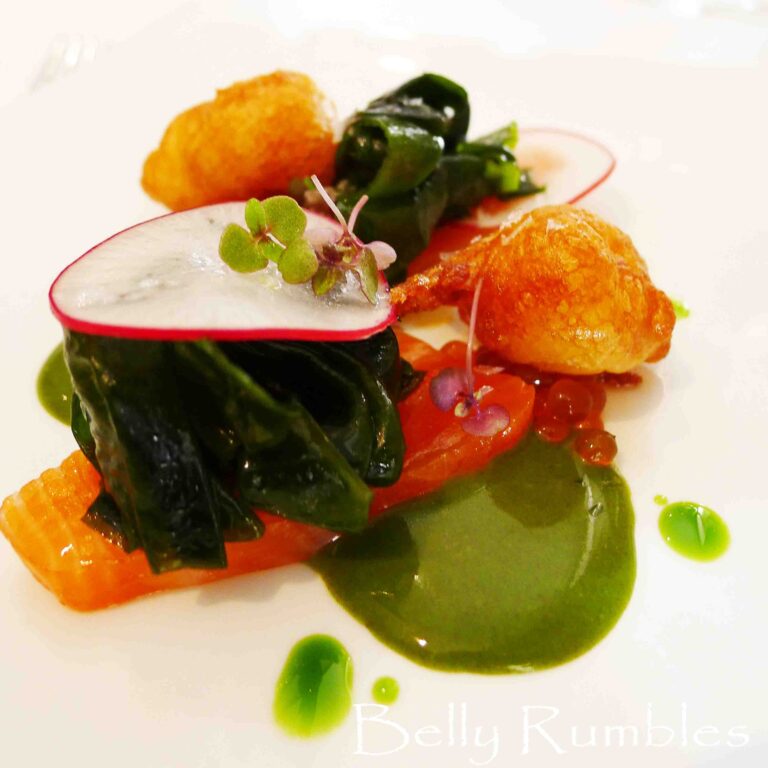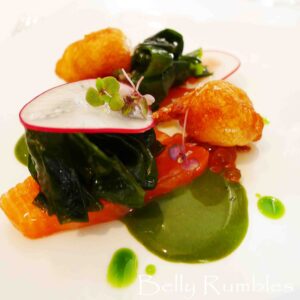 Cured Atlantic Salmon with Prawn Beignets, Wakame & Soy Dressing
I had first choice on the entrees and went with the cured Atlantic salmon. The first thing that comes to mind when the dish is set in front of me is how beautifully plated it is. The salmon is the star of this entree, but its leading lady, the prawn beignets, are just amazing. Incredibly light thin crispy batter surrounding small plump sweet prawns. The dish really is a lovely combination of flavours.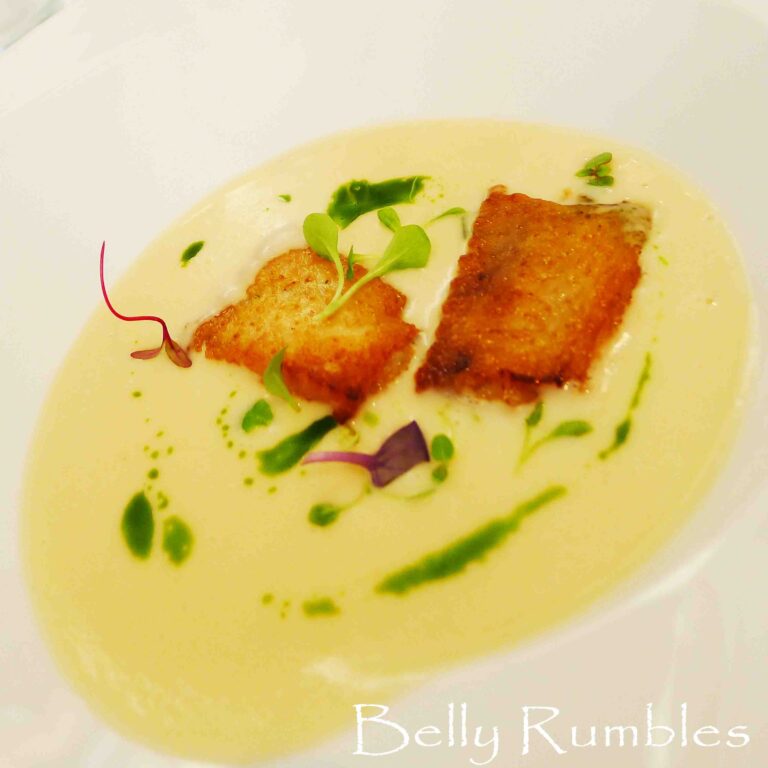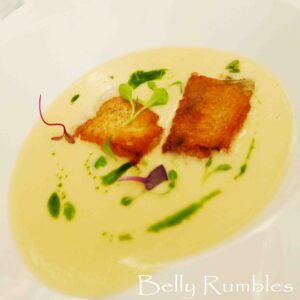 White Bean veloute with Crispy Chicken Wings & Parsley
By default this was Ms Lily's dish, even though we did end up swapping plates and going halves. Neither of us really knew what to expect and had images of whole chicken wings which incorporated the veloute somehow. What was served was nothing like expected. Two crisp boneless pieces of chicken wing meat floating in the veloute. Oh wow the white bean veloute, we didn't expect the delightful taste of truffles. The meat from the chicken wing was the perfect choice, that slight oiliness worked wonderfully with the veloute. I wanted to lick the bowl, it was seriously that good.
Dear Warren, would you please make me up a bowl of your prawn beignets (or let's call them popcorn prawns) with a side of your white bean veloute as a dipping sauce? Pretty please with a cherry on top.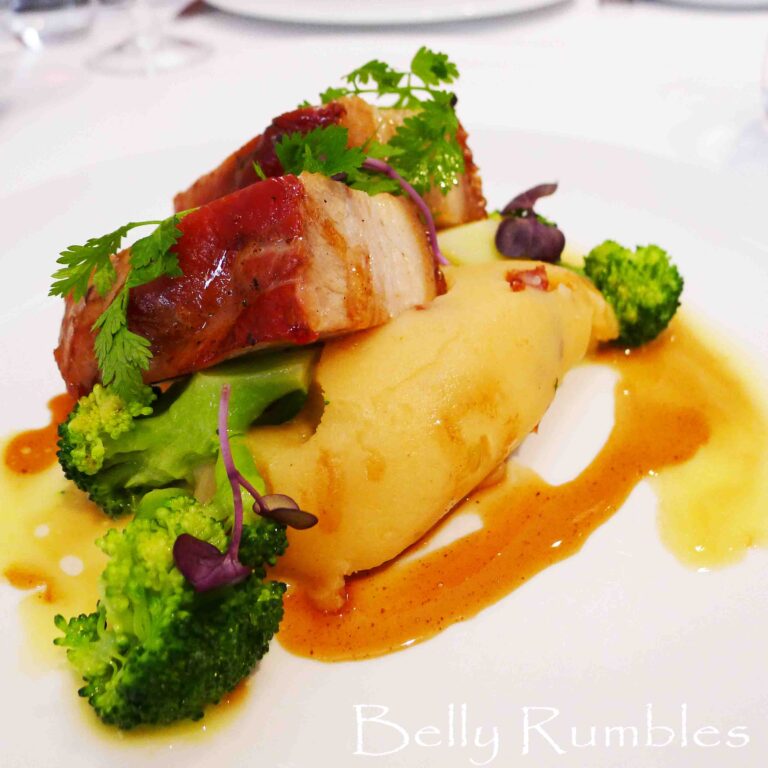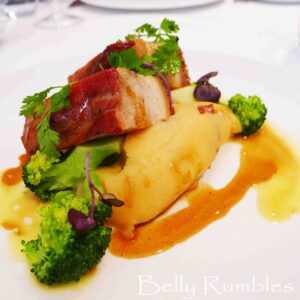 Roast Pork Belly with Chorizo Mash & Broccoli
Ms Lily got dibs on first choice for mains and chose the pork belly. I tried not to pout too much, but all is fair. Two generous slices of pork belly which unfortunately were a little bit of a letdown. The pork was slightly on the tough side as if it needed just a bit longer cooking to render those fat layers just a little more. Sadly also the skin was on the chewy side not the crisp crackling expected. The mash was creamy and smooth and the addition of the smoky chorizo was very tasty.
We decided on the wine matching with the mains. Ms Lily had the 2007 Greenstone Monastrell, Heathcote, Victoria $14/glass, which was thoroughly enjoyed.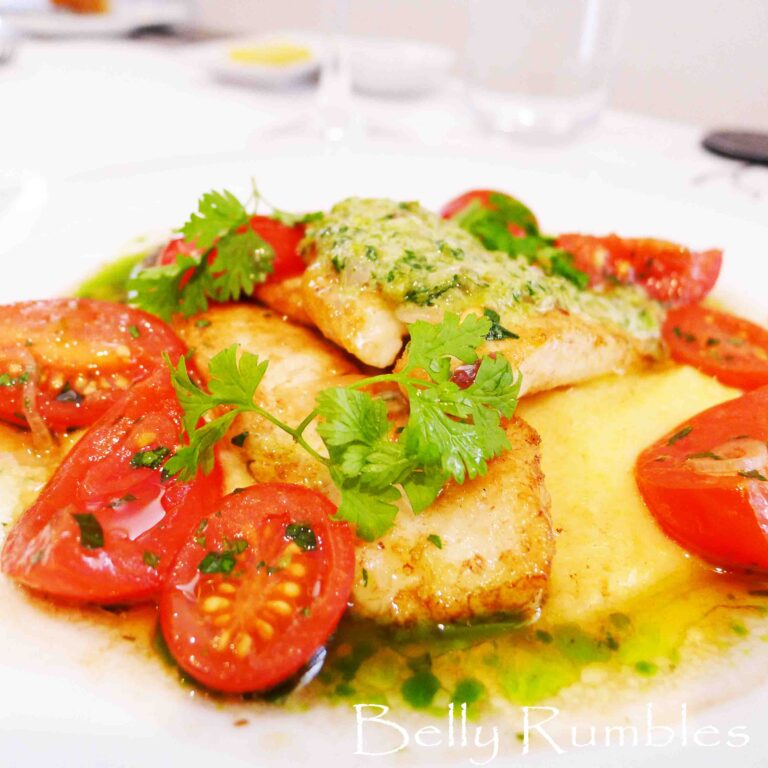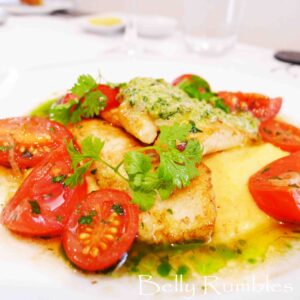 Pan fried Mirror Dory with Polenta, Capers & Cherry Tomatoes
Unlike the entrees where we both felt they were winners, it was agreed I had the winning main dish. The dory, even though thin slices, fried and crisp around the edges, was still moist. The polenta smooth and creamy. At first the dish looked to be swimming in oil, but it balanced very well with the sweet tangy cherry tomatoes and the caper sauce.
My wine pairing for this dish was 2010 Bream Creek Rose, South East Tasmania $12. I am not a great rose drinker but decided to try this one as it was suggested. On first sip I thought it was sweet, but as I continued to eat my main it really did work very well with the dory.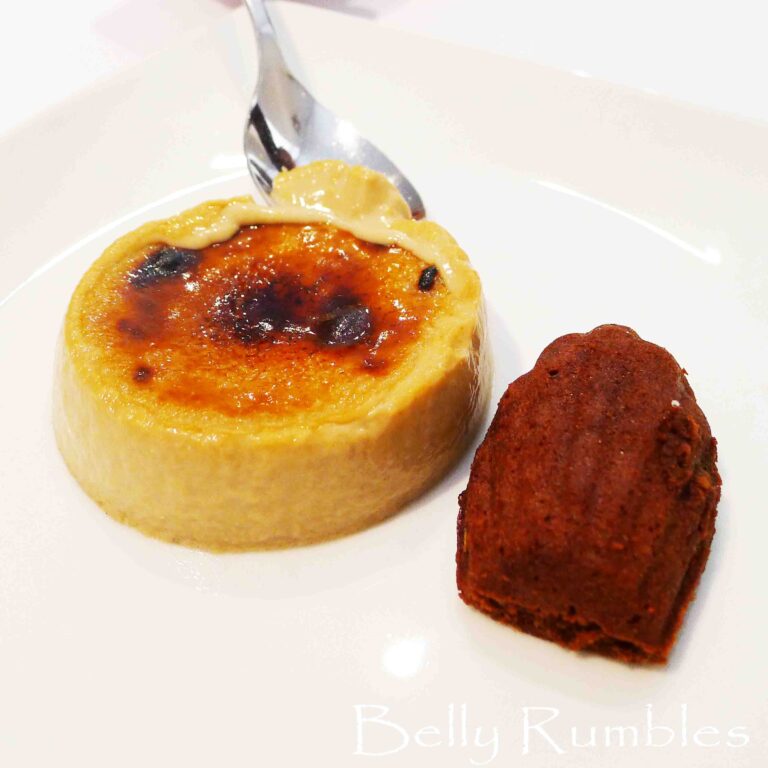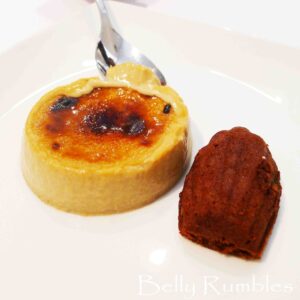 Earl Grey Tea Brulee with Chocolate Madeleine
We were happy to go with either dessert each as they both sounded appetising. I chose the brulee, and you can see Ms Lily hoeing in to it before I had a chance to snap a picture, bad Ms Lilly! Such an oozy delight infused ever so subtly with earl grey tea, and such a lovely crisp toffee top. I was told I actually scoffed my dessert. The rich chocolate madeleine was brownie like in texture in the middle.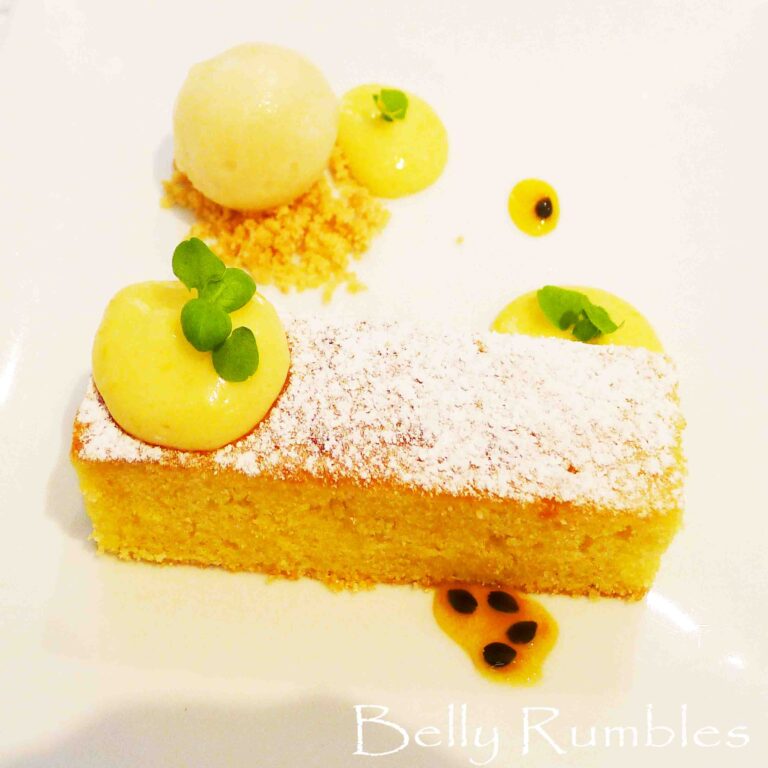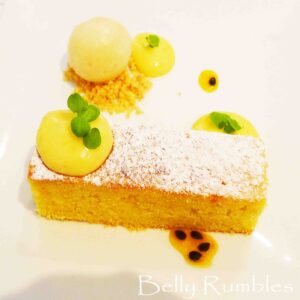 Olive Oil Sponge Cake with Lemon Curd & Passionfruit
I had to have a try, the sorbet was amazing so light and just danced in the mouth with the butter crumbs it was sitting on, I think I am in love. Lemon curd was tangy and creamy, as to be expected, and went well with the slightly dense sponge.
We finished our meal with a delightful short black. I was fuller than I thought I would be, and portion sizes are perfect for lunch where you want to be able to function afterwards. Though I did feel like a nanna nap after my glasses of wine.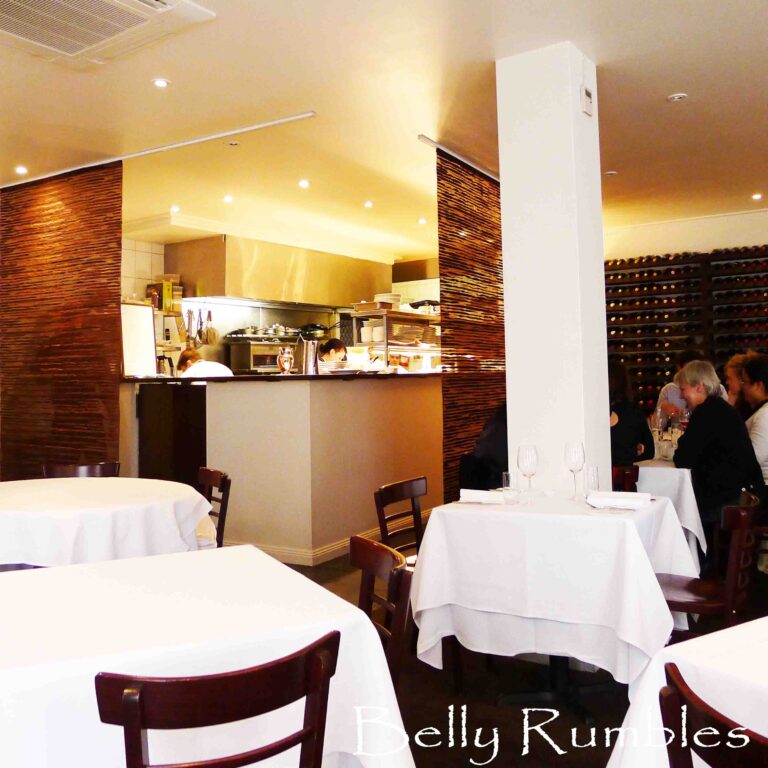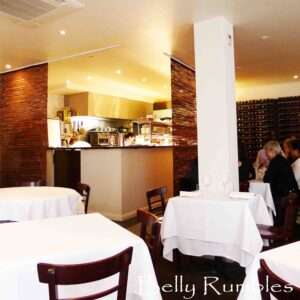 Assiette surpassed all my expectations with their bargain lunch menu. The staff are friendly and make you feel completely at home. I will be returning and have their $90 degustation menu in my sights, I will also be back for lunch on a Friday sometime in the future.
Sara xxx