At first glance it may appear that At Your Table is just another catering service. They're a lot more than that, they fill a void, the void between a caterer and eating out at a fine dining restaurant.
At Your Table is what you would refer to as a personal chef service.   Where a chef comes to you and creates an exquisite multi course meal for you and your guests.
I am a pretty good cook and really do love to entertain at home. Over the years I have become craftier and craftier at ways I can spend more time with my guests and less time in the kitchen. No matter how well prepared I am, how much is prepped beforehand, I am generally kitchen bound a fair amount of the time. Which means when everyone else is enjoying a glass of bubbles I am pretending to be Peter Gilmore.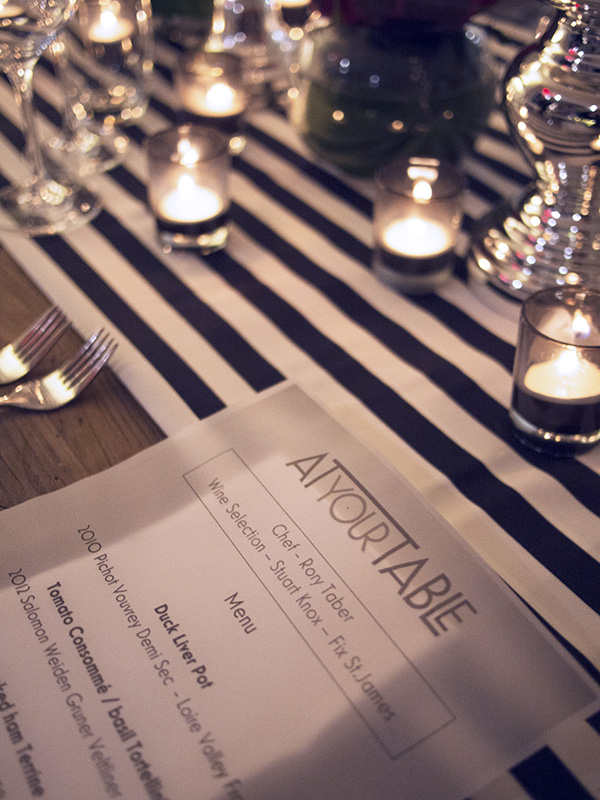 Ellie and Oli Mistry founded At Your Table back in 2008. The idea came to them in 2007 as a result of a slightly inebriated dinner party conversation. Ellie is a very passionate chef and wanted to cook on a different level to a restaurant, thus At Your Table was born.
I had the pleasure of being invited to Ellie and Oli's home to experience exactly what At Your Table was all about first hand.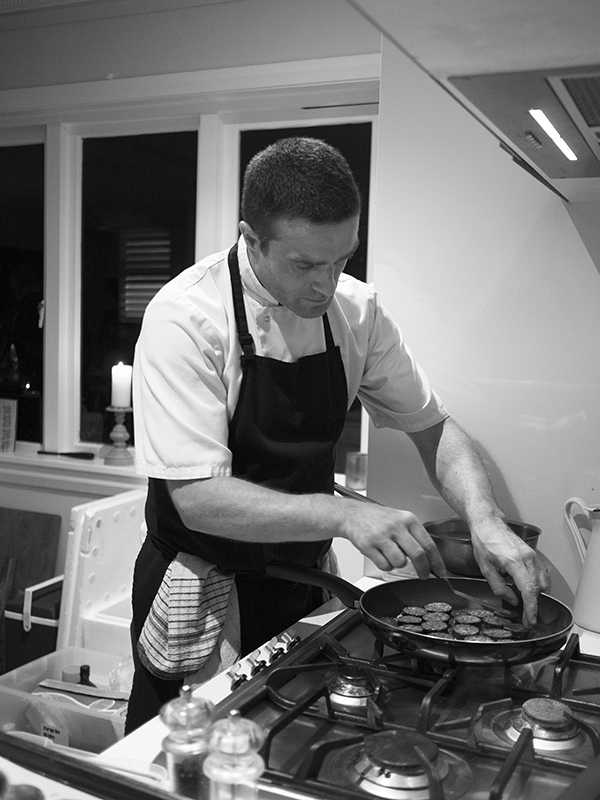 Our chef for the evening was Rory Taber. Rory has worked at some very reputable restaurants, including Heston Blumenthal's The Fat Duck. There are many chefs in At Your Table's 'stable', covering various cuisines.
The dinner is very relaxed and we find that we do gravitate to the kitchen. It's very hard not to when you have a profession chef on hand. As all of us at the dinner love food and cooking, poor Rory is asked a million and one questions. All of which he is more than happy to answer and share his little kitchen secrets. Of course if you wish to know nothing of what is happening in the kitchen when your meals are being prepared, then sit back, relax and enjoy the company of your dinner guests.
All our courses are accompanied with matched wines. The wine selection that evening was by Stuart Knox of Fix St James. More interesting wines from around the world are chosen, varietals you may be less familiar with. Each wine presented is explained, and each glass consumed is appreciated even more so with that extra bit of knowledge.
First course is simply described as duck liver pot and it is a pleasant surprise to find out it is much more than just some parfait in a pot. Along with our duck parfait is some fried black pudding, which Rory makes from scratch. Sitting on top is a large plump tawny port cherry, again a little something Rory has created, the cherry sitting port for six months. The surprise element of this dish is the home baked bread with green anise, it is almost a ginger bread, and accompanies the parfait perfectly. The matching wine is Pichot Vouvrey Demi Sec (2010) from the Loire Valley, France.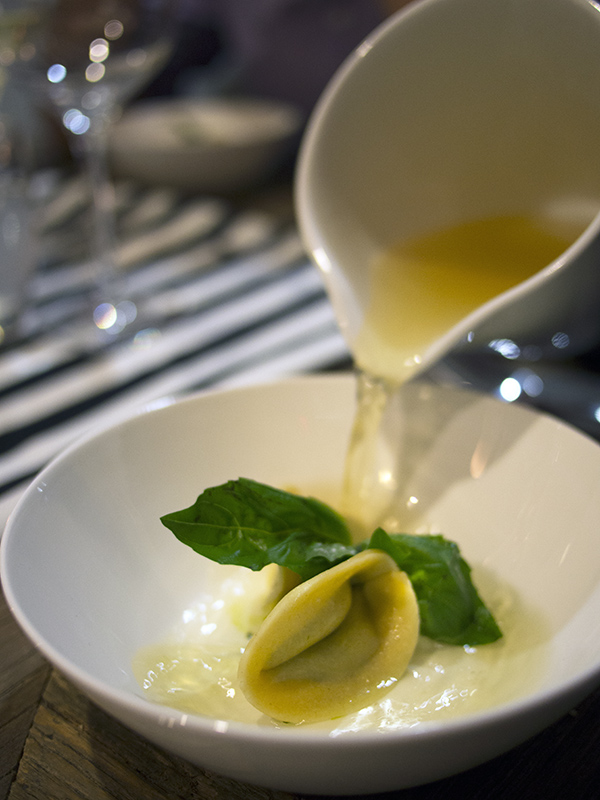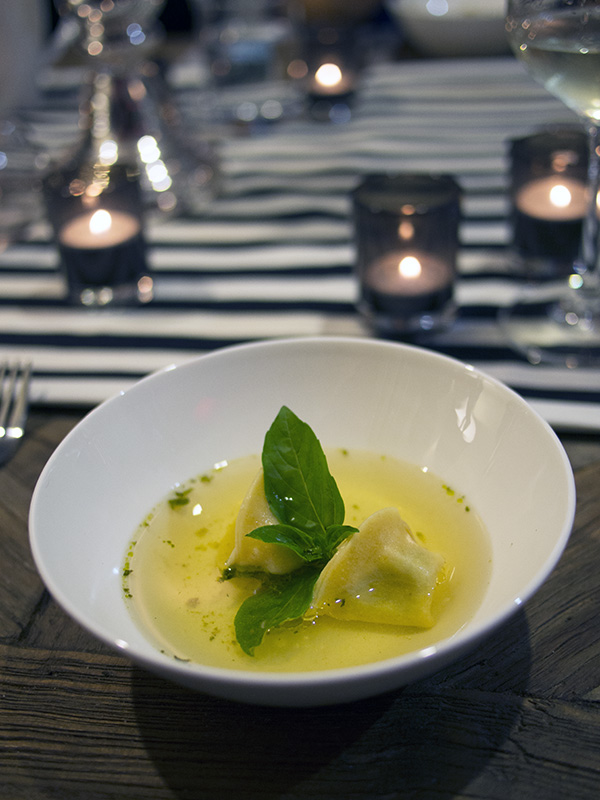 tomato consommé & basil tortellini
We are served two fat basil tortellini in a bowl, and Rory personally pours the crystal clear tomato consommé in to our bowls at the table. The consommé light and refreshing with the surprise use of ham stock, which gives it a little bit of grunt. Wine matched, Salomon Weiden Gruner Veltliner (2012), Austria. Austria's number one varietal, light to go along with the consommé, you could almost compare it to a Riesling.
As Rory make his own black pudding, we are not at all surprised he smokes his own ham. The smoked ham terrine is wrapped in Serrano ham and accompanied by parsnip frieze salad and game chips, made from Sebago potatoes. Wine match, Charvin Cotes Du Rhone (2011), France. Around 80% Grenache and has a slight smokiness to it which goes well with the terrine.
The dory proves to be quite a flavour packed dish. The dory is pan fried and served with pea puree, pumpkin puree, beef consume and smoked tomatoes.   Wine match, Pooleys Butchers Block Pinot Noir (2011), Tasmania. A lighter red, suitable to accompany the dory.
Oh boy, this baba packs a punch. Warning, do not drive after Rory's rhum baba. In fact, as I was driving, the baba came home with me and became my midnight snack. To say I slept soundly is an understatement. A very boozy dessert, which is fine by me, served with fresh tropical fruit to tone down the rum. Wine matching, Chateau Boucasse Pacherenc 'Les Larmes Celestes' (2011).
At Your Table will cater an event from just two people. A three course meal for eight is approximately $115 per head, for five courses, like we had, $135 per person.
Definitely a brilliant option for that special occasion or dinner party at home with restaurant quality food.  At Your Table has chefs available right around Australia as well as in the United Kingdom.
Sara xxx
At Your Table
Tel  +61 404 048 201
website (Australia)
website (UK)
Belly Rumbles dined as a guest of At Your Table