I first noticed Azuma Kusiyaki when I was walking through from parking on Kent Street to meet up with Ms Lily for the movies.  We didn't go there to eat the night I stumbled upon it, took us a while, but we decided to head there this particular evening after a movie.  No booking,  but we didn't have to wait very long for a table.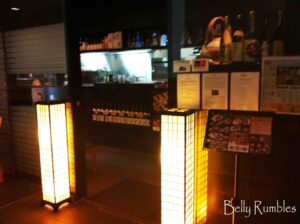 There is a lovely ambience to the restaurant.  Staff are courteous, helpful and attentive.
Seems to be coming a common theme, but yet again Ms Lily had eaten a large lunch and I was saving myself for dinner, and therefore starving.  Tends to become movie and my diet day when we go out.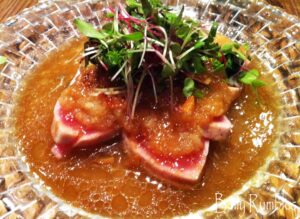 Seared tuna salad with ponzu vinaigrette $16
On the menu they proudly state "Azuma's famous salad as featured on SBS Food Safari".  I remembered that episode and decided we really had to give it a try.  Ms Lily was a bit meh about the idea, but we ordered it anyway.  Glad we did because it was truly delicious, every so lightly seared with a killer dressing.  Thankfully this recipe appears in the Food Safari cookbook, so I will be giving this dish a go at home.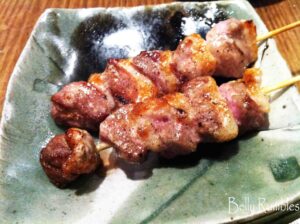 Duck breast with Japanese sansho pepper salt $4.50/skewer
They bring a grinder to the table with a salt mixture inside.  It really gives that little bit extra to the skewers, a nice salty bite.  The duck breast is tender with a nice layer of fat on each cube.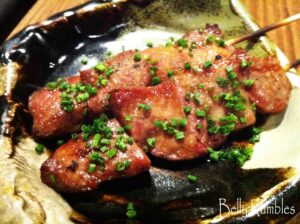 Grain fed ox tongue with Azuma's curry salt $4.00/skewer
The tongue was a little tough and chewy.  I really enjoyed the curry salt and the one tender piece I had was excellent.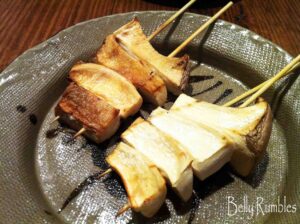 Enrigi mushroom with salt and virgin oil $3.00/skewer
The mushrooms, well they were mushrooms on a skewer, nothing all that exciting, but I do love my mushrooms.
I am looking forward to a return visit to Azuma Kushiyaki.  There are a few other dishes on the menu I would like to try.  They also have a small specials list, we were going to order a dish from this, but forgot to when ordering.  Don't ask me what the dish was as I have sadly forgotten, but I do remember it was a little unusual.
Sara xxx