BayBlu is run by Sam and Jack Petrides, I regard them as old style restaurant hosts, you feel welcome and taken care of the moment you walk in the door.  I have eaten at BayBlu in the past and thought it was worth a try after the uncomfortable and unimpressive Melbourne Cup lunch last year at Summer Salt.
I love their location, you can sit anywhere in this restaurant and have a view of either Botany Bay or up the Georges River.  Even though the Princess Hwy is flowing fast out the front, BayBlu is location, location, location.  You actually don't notice the hwy at all once you are inside.  There is even balcony seating out the back over the tranquil river to enjoy a lazy summer lunch.
I was very impressed with BayBlu and what they offered for their $75/head Melbourne Cup Lunch.  The food, the service and the atmosphere cannot be faulted.
The menu consisted of canapés  and a glass of sparkling white on arrival, a selection of garlic, parsley and mixed breads, a choice from 7 entrees, 6 mains (served with vegetables) and 7 desserts  To finish off there was coffee, tea, liqueur chocolates and biscotti.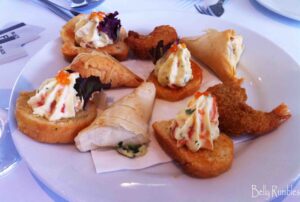 Once seated our canapés and lucky door prized tickets were on the table waiting for us, shortly followed by a glass of sparkling white.  The canapés consisted of smoked salmon mouse on crisp toasts, mini spinach & feta filo pastries and deep fried crumbed prawns.  My favourite was the salmon but the prawns were pretty flavourless.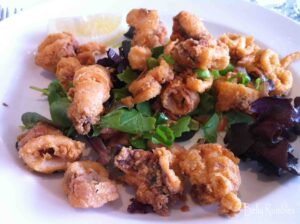 Josh and I both decided on the salt & pepper calamari for our entrees.  It was an extremely generous serve of tender calamari in a thin crispy coating, served on some mixed lettuce leaves and tomato.  It was accompanied by a wedge of lemon, but some sort of sauce would of gone nicely with it as well.  The only reason I say this is due to the large portion I needed something to break it up with.
Mum went for the new season mango and king prawn cocktail.  This I was slightly surprised with.  As you know prawn cocktails can be very hit and miss, prawns often looking very impressive with their heads and tails still on and after you have struggled at the table to de-shell them you really aren't left with much.  I will admit when it first came out I was happy I didn't choose it, that changed after I had a mouthful.  Three sweet and tender prawns that were very generous in size served simply with a cheek of flavoursome mango and some cocktail sauce.  Simple, fresh and showcasing Aussie produce well.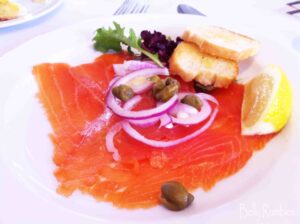 Mac went for the Tasmanian smoked salmon, lemon, capers and onion.  Again a dish that if not done well can fail miserably.  They did well! A generous serve of smoked salmon with condiments, the only down fall is that Mac would of liked a couple of more pieces of toast to go with it.
I was a little full by this time, we had eaten canapés, garlic and parsley bread which was generously topped up <sara stuffed herself>, plus the massive entrees.  Now for the mains…… again all very large servings.
Mum had the Atlantic salmon grilled with champagne butter.  Salmon was cooked perfectly with a nice crisp skin.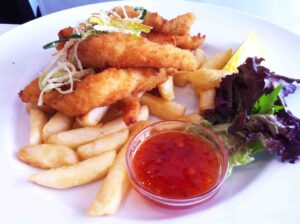 Josh had the flathead fillets deep fried in breadcrumbs, served with sweet chilli sauce.  The flathead came with chips and salad instead of vegies, the fish was incredibly moist.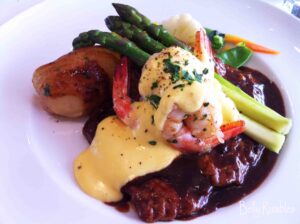 I went for the veal medallions topped with prawns, asparagus and hollandaise.  A very big serving.  The veal was tender, prawns were cooked to perfection and the hollandaise very tasty with three fat spears of asparagus and vegetables.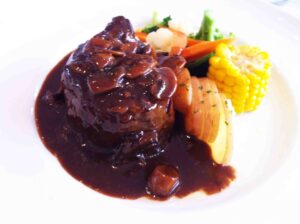 Mac had the eye of beef with wood mushrooms and red wine jus.  He asked for medium rare and it was served as requested.  A big hunk of beef but very tender and tasty.
Before dessert it was time for the lucky door prize and to announce best dressed and best hats.  Our table was drawn first for the lucky door prize, go us!  Josh went up and had first choice of the prizes, he went for the wine pack, he does love his mum.
By the end of the prizes being given away not one table in the restaurant went without.  They were very clever this way.  After all major prizes were won the tables that hadn't won anything were given a gift wrapped bottle of wine.  As I said, very clever, everyone were winners and felt special.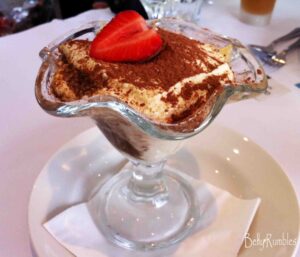 By the time dessert presented itself I was extremely full.  Both Josh and Mum went for the homemade tiramisu.  I am not a big fan of tiramisu as for me it often just resembles a bowl of glug.  This one still had some texture/bite to it and the coffee/ liqueur flavours just a right balance.
Mac had the chocolate fudge mousse, which actually turned out to be a rich and indulgent mousse cake.  Yes, I also had to have a taste of this and if you like chocolate you would love it.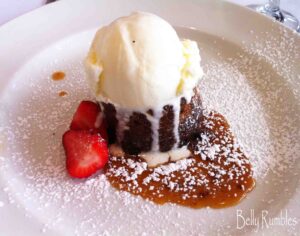 I went for an old staple, sticky date and fig pudding with butterscotch sauce.  The thankfully not too dense pudding was served with a scoop of ice-cream and a couple of strawberries and hit the already bursting spot.
All in all we had a great Melbourne Cup lunch, good food, great company in a fun atmosphere.  Sadly I didn't actually back the winner and my picks in the sweeps were fizzers as well, but a wonderful time was had anyway.
Sara xxx