As soon as the email appeared in my inbox, I made the phone call. "Hello, I would like to book a table for three, for Sunday 18th March, for your 12.30 seating." The other person on the phone was very surprised that I was the second phone call in just as many minutes, "the email only went out!" she said.
I will admit, I wasn't quite as surprised by the speedy response as she was. It was a brilliant new addition to the Billy Kwong repertoire. Yum cha lunch on a Sunday, $37.50/person including tea. What nailed the deal for me was that I could actually book for one of the three seatings on a Sunday. The one factor that had deterred me so far from visiting Billy Kwong was the no booking policy. It was on my list of eats, but each time a decision was made on where to eat, it just kept being pushed back over somewhere I could book.
Kylie Kwong, head chef/owner of Billy Kwong, is an advocate of sustainability and ethical eating with a commitment to organic and biodynamic produce. Her menu changes seasonally according to what can be sourced, with daily specials that reflect what is best at market that day.
We arrived promptly for our 12.30 seating. The first session of the day was running late. It didn't phase me, this was the first day of a new type of service for them, there are to be small hiccups. By the time the first session had vacated and tables re-set, there was a mass of people in front of the restaurant. After sincere, genuine apologies from staff for the 15 minute wait, we were seated at our table. It was a full house without one seat vacant, just like the previous session and I assume the one following us.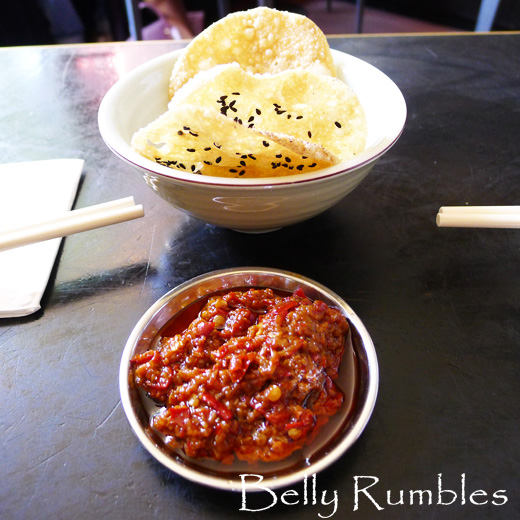 Waiting for us on our table is a bowl of homemade chilli sauce. Made from fresh red chillies, biodynamic garlic and young ginger. There are also three crisp deep fried won ton skins which are dotted with black sesame seeds. Being hungry all three of us pounce on the won ton skins, and eagerly dip them in the chilli sauce. To my surprise the sauce isn't as hot as I expect it to be. Instead I am taken back by the rich deep flavour.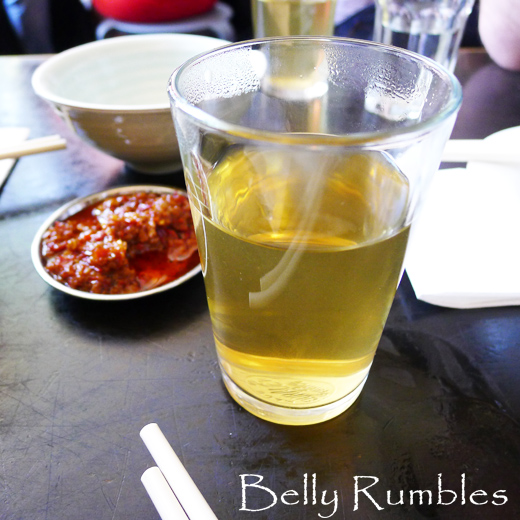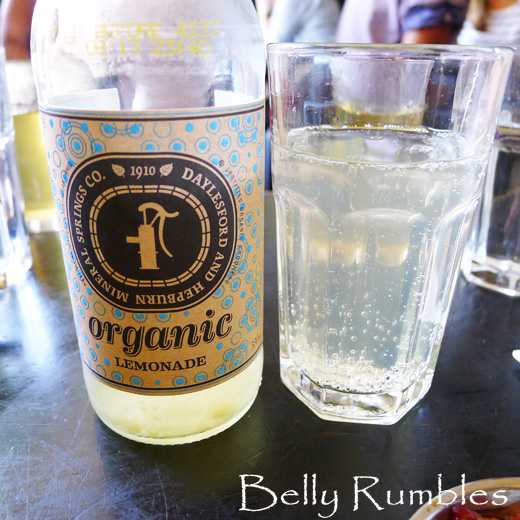 Glasses of green tea and water are brought to the table, which are continuously filled up during service. If you want something stronger or an organic soft drink, these are also available at an additional cost. We stick with the water and tea, though Josh opts for an organic lemonade a little later on during the meal.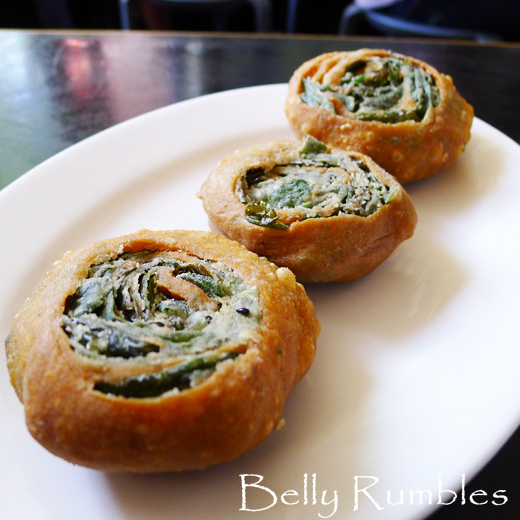 Crispy salt bush cake: I have never tried salt bush before, and I have to admit, I like it. The snail like cake is ultra crispy on the outside with the organic salt bush filling being moist. For those that haven't tried salt bush before, yes it is salty, but only slightly. We are instructed to eat it with the homemade chilli sauce.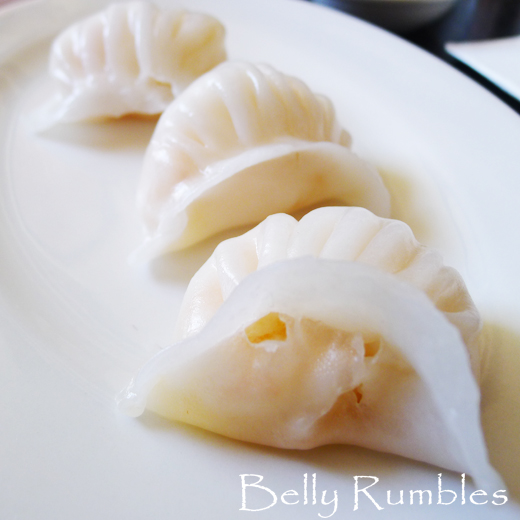 Steamed Spencer Gulf prawn hargows: Naturally fermented shiro shoyu is now bought out to our table in addition to the chilli sauce for dunking dumplings. The hargow casing is almost translucent. The filling is more prawn than anything else, unlike some I have tried in Chinatown.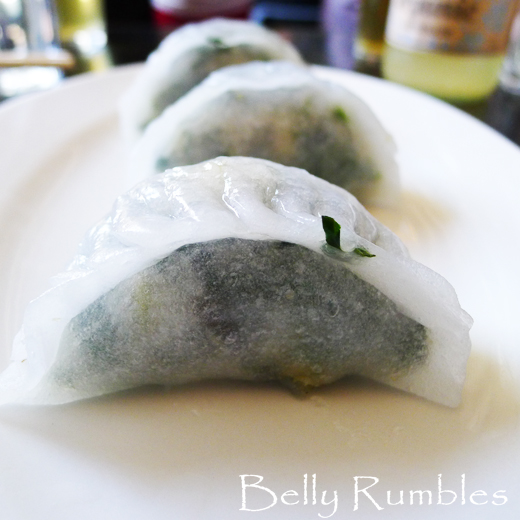 Steamed vegetable dumplings: I am not a big steamed vegetable dumpling fan. Mainly as the skin is usually thick and slightly rubbery and the filling just never does it for me. This isn't the case at Billy Kwong, again thin, almost translucent dumpling skin. The filling is organic warrigal greens and silver beet with the addition of fresh bamboo. Both Josh and I can swear we taste ginger, though Mac disagrees, after reading Kylie's description on her Facebook page, he may be right.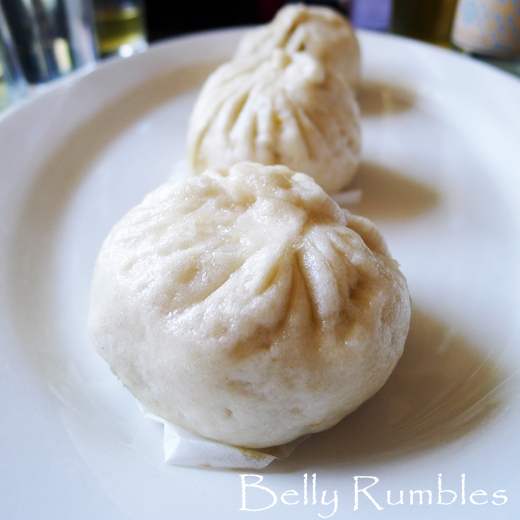 Steamed char siu boa: Gorgeous plump buns, which again, don't resemble what I am use to seeing around Chinatown or buying to stick in my freezer at home. Having hosted a Daring Cooks Challenge last year and making both steamed and baked char siu boa myself, I know that this dough looks homemade. I still am trying to work out what goes into the dough of those ultra white fluffy steamed buns we see around town.
The filling surprises me as well, it's sweeter than expected and filled with tender pulled pork. The pork filling is made from Saskia Beer free range black pig which is marinated over two nights with lashings of organic honey, organic tamari, Chinese spices and organic brown rice vinegar. Completely different to any char siu boa I have tried before, plus noticeably lacking artificial red food colouring.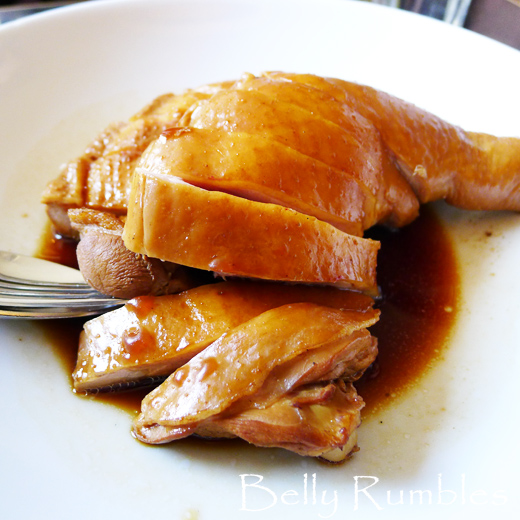 Red poached chicken: Saskia Beer's free range chicken poached in a deep, reddish-brown Chinese master stock which includes liquorice root, anise, cassia, fennel seeds, ginger, garlic, Chinese cooking wine, rock sugar, and much more. Served cold and I find very enjoyable. Listening to the table beside me, they felt it would have been nicer served warm, each to their own.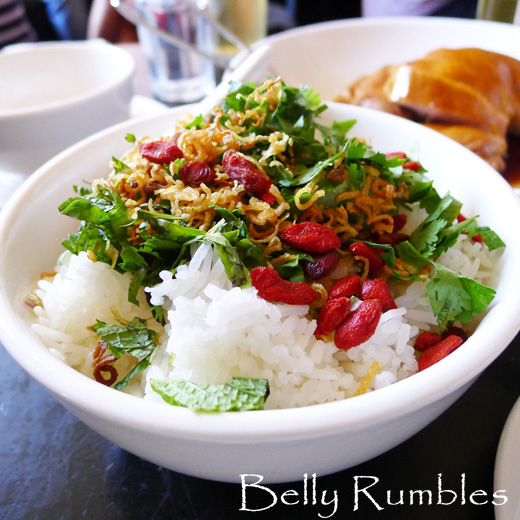 Steamed Jasmine rice: Served alongside the poached chicken. Goji berries and rice is something new for me, the rice is served with organic Goji berries, fresh mint, coriander and fried shallots. The Goji berries add a lovely sweet burst which goes very well with the chicken. I love the freshness the herbs add to the rice.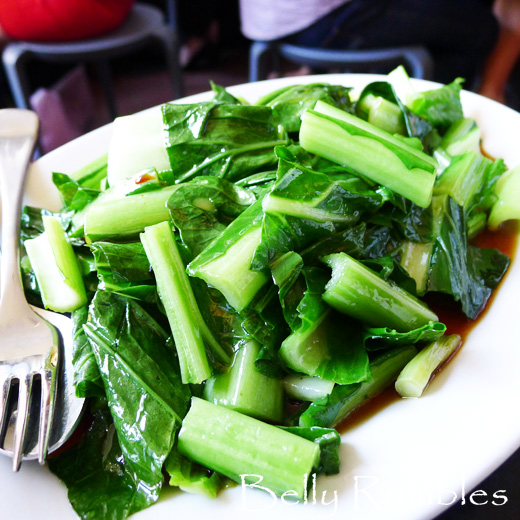 Organic greens with tamari: By the time the greens turn up we are starting to burst at the seams. Crunchy greens simply prepared and are a lovely fresh contrast to the rich chicken.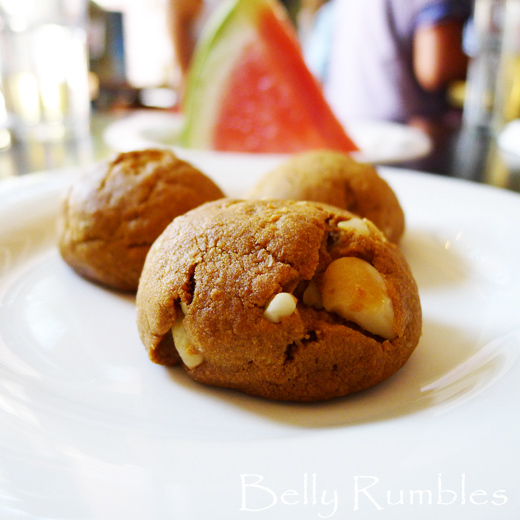 Organic macadamia nut biscuits and watermelon: To finish the meal we are served cute little organic macadamia biscuits, tasty and crunchy. The addition of fresh fruit to finish off is something I always appreciate.
Yum cha at Billy Kwong is available every Sunday. Bookings are taken for three sittings, 11am-12.20pm, 12.30pm-1.50pm and 2pm-3.20pm, $37.50/person, vegetarians catered for, bookings Ph: 9332 3300.
Do tell dear Belly Rumbles reader, do you prefer to eat organically, ethically and sustainably, or not really fussed?
Sara xxx