This wasn't my first trip to Bodhi, but the last visit was over a decade ago.
I remember it well. Mac and I had dropped Josh off at Cook & Park Pool for a Saturday birthday party, and decided to have lunch while waiting for the party to finish. We stumbled across Bodhi, which were serving yum cha at the time. Perfect, we grabbed a table to enjoy a leisurely lunch while we waited.
What neither of us knew, is that Bodhi is a vegetarian restaurant. I was fine with it, but as I looked across the table at Mac, I could see a look of disappointment on his face as he read the menu. Somehow I must have encouraged him to not get up and leave and we had lunch. Neither of us was particularly thrilled with the food, and therefore we never went back.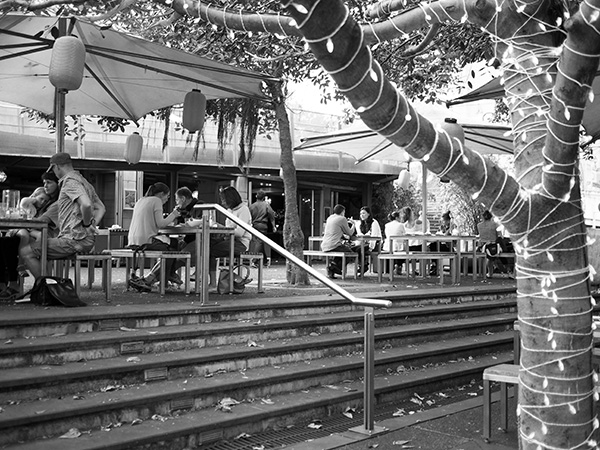 Fast forward ten plus years and we find ourselves once again at Bodhi. We had been to a show at the Sydney Festival and intended to walk to Darlinghurst for a bite to eat. Our path took us directly past Bodhi.
It looked so magical with the fairy lights and lanterns, and after a family discussion, we decided Bodhi would do us for dinner. Let's face it, even though we weren't impressed all that time ago, they must be doing something right to stay in business for 24 years.
Bodhi is in a great little tranquil location. There is a choice of seating inside or outside under the majestic moreton bay figs. A nice location to escape Sydney's hustle and bustle just a few metres away.
With Mac fully knowing what he was getting into, on reading the menu the look on his face this time was confusion. 'I thought Bodhi was vegetarian?' To which both Josh and I responded unanimously, 'it is!'
The look of confusion didn't leave his face, and after a couple of minutes he continued to speak. 'But there's meat on the menu?'
Silence for a few more minutes combined with an expression of deep thought. 'So prawns and duck are not considered meat? Hang on there's also pork on the menu?' I reply 'It's not meat', while not looking up from the menu to leave him in his confusion.
More silence and more deep thought, and at a complete loss, Mac pipes up again. 'It says duck, prawns, pork!'. I explain, 'It's not meat, it's pretend meat.' Which just really resulted in more confusion 'Pretend meat? Why would a vegetarian want to eat pretend meat?'
I went on to explain that some vegetarians choose to be for ethical reasons, and that they quite like the taste of meat. Not 100% sure I won him over with the reasoning.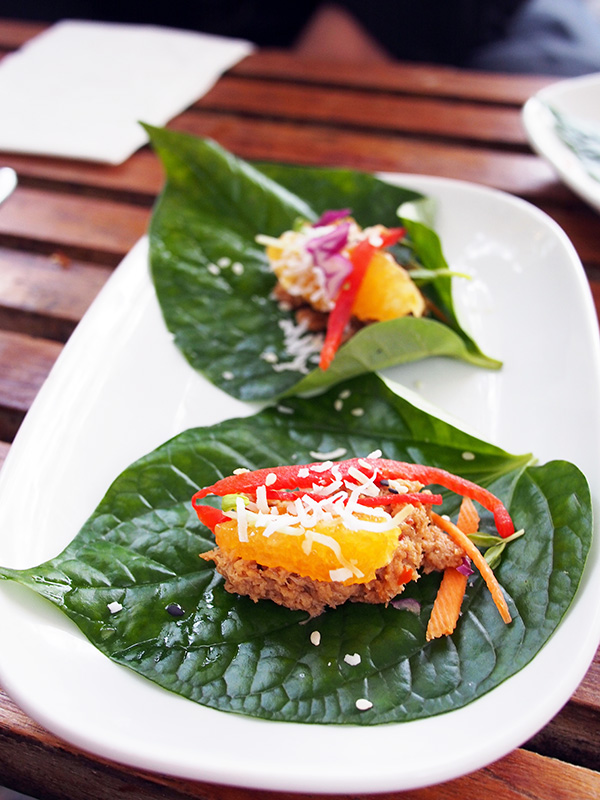 smoked soy, orange, coconut, chili & coriander betel leaf (2 pcs) $8
Sadly the betel leaf lacks the normal chili kick and tang that I have experienced elsewhere, which leaves this dish a little bland.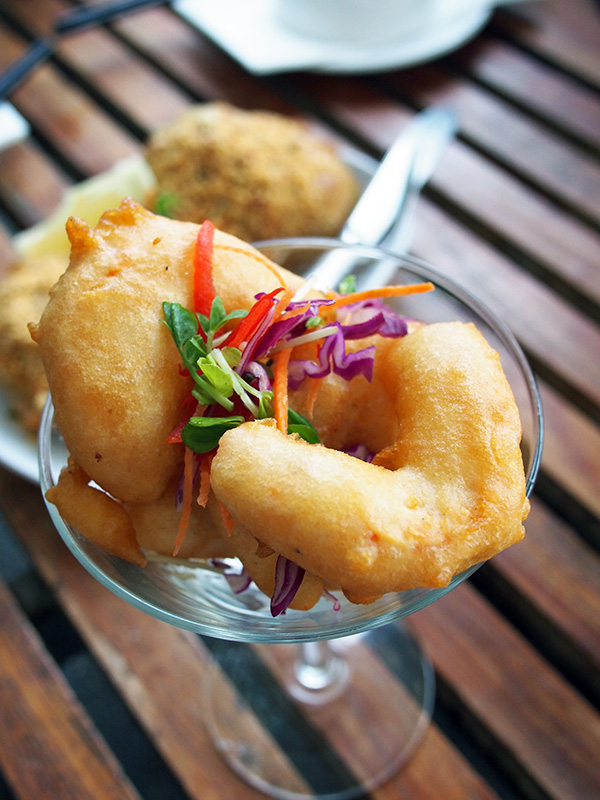 salt, pepper, coriander, tempura vegetarian 'prawns' (5 pcs) $12.50
Firstly the batter wasn't a tempura batter. Secondly I think the salt and pepper component didn't make the dish. It isn't bad, but in all honesty it just tastes like battered crab sticks you would get from a takeaway.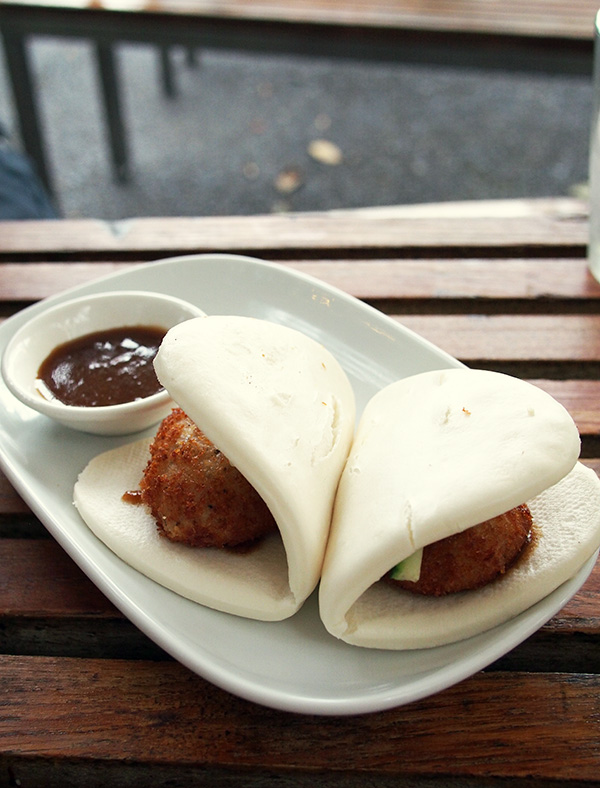 crispy taro slider + cucumber & bbq sauce(2 pcs) $13.50
The taro is crumbed and fried, which makes it nice and crunchy. The BBQ sauce is like a hoisin.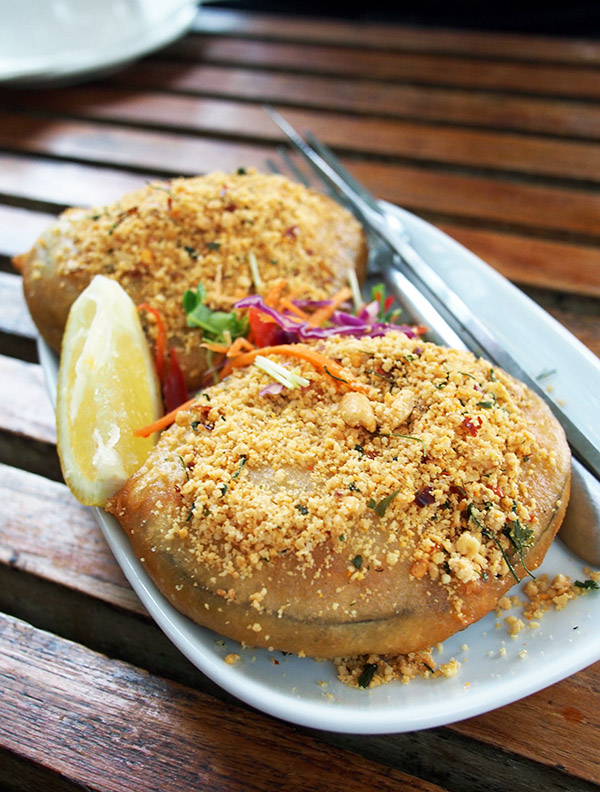 dry roasted peanut spices topped on deep fried eggplant + coriander, tofu mince & asian mushroom stuffing $11
The dry roasted peanuts are what give this dish taste. The eggplant is deep fried in the same batter as the prawns. The eggplant is soft, batter crisp and the spicy chili topping gives a nice kick to this dish. It's a generous serve. I also find that the dish is on the oily side.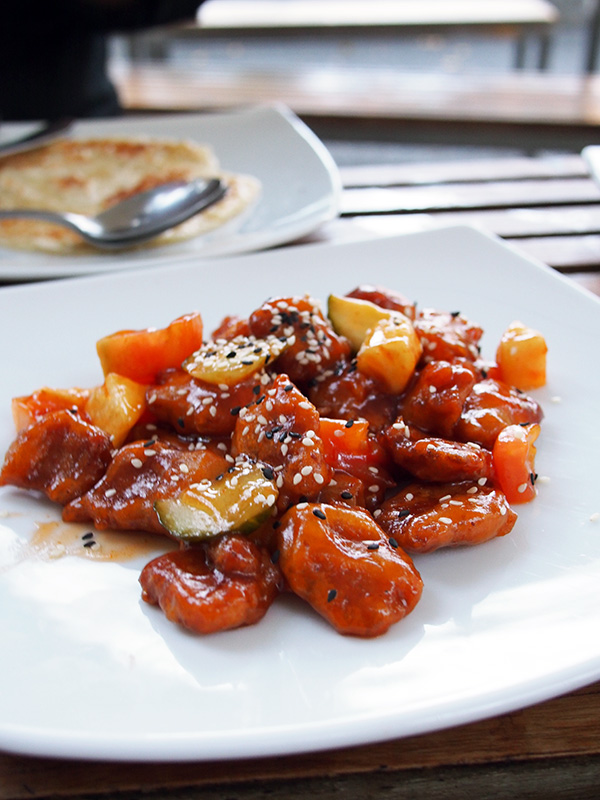 sweet & sour vegetarian 'chicken' + pineapple, cucumber & tomato $18
The boys declare this the dish of the evening. We all agree that you really can't tell that it isn't chicken, or pork for that matter. It is a shame that the dish is on the small side.
bodhi vegetarian peking 'duck', bbq sauce, cucumber and pancakes $23
The 'duck' has no taste at all and is extremely oily. It is the sauce that gives this whole dish taste. The cucumbers that accompany this dish have obviously been cut hours in advance, that's fine, but they have been left uncovered which means they have dried out.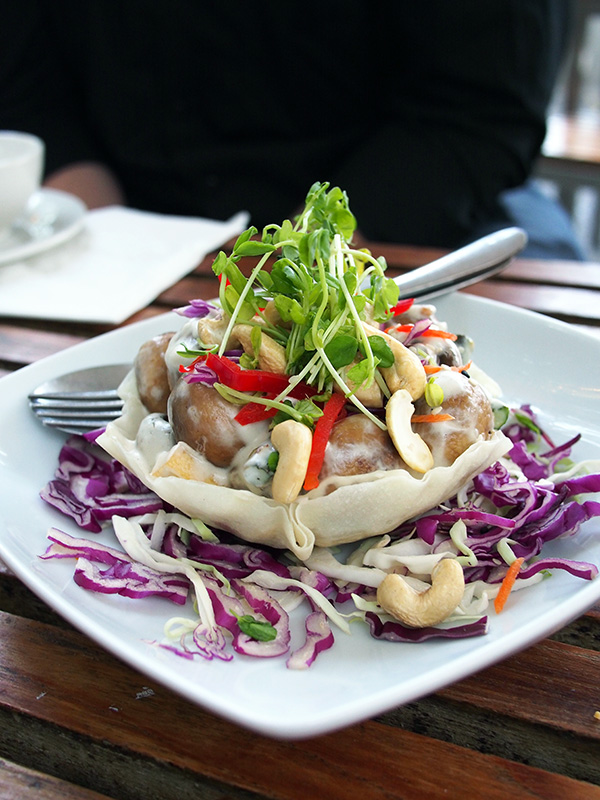 mushroom, asparagus, red capsicum, soft tofu & cashew nuts tossed in creamy coconut lemongrass served in an Asian pastry nest $22
This was my favourite dish of the evening. Great flavours, lovely dressing and the pastry shell is thin and crisp.
We find during the night that staff don't really pay attention to the tables. It is hard to order anything after you have placed your initial order, for example, more drinks. They don't clear the tables as dishes are eaten, more dishes arrive and more drinks ordered. Thankfully we had an empty table next to us we could off load the used dishes and glasses.
If you are vegetarian I think Bodhi has a lot to offer and is well worth checking out. Not vegetarian? Then it is a nice change of pace and I reckon you should give it a try. I know I won't be able to get Mac back there again, but I wouldn't mind returning for a yum cha lunch one day.
Sara xxx
Bodhi Restaurant/Bar
Lower mezzanine level of Cook & Phillip Park
2-4 College Street, Sydney
Tel +61 2 9360 2523
website