As I walked from the wharf towards the historic buildings and sandstone cliffs that grace the Sydney Harbour foreshore, I dreamily thought to myself, "I could have coped with being held here for 40 days". Then I take my gaze from the sandy beach and ignore the tranquillity surrounding me, and I contemplate the reality of my thoughts.
Realty in Sydney is all about location, location, location. No matter how spectacular the surrounds of the Quarantine Station are there is no way I would have wanted to be a resident back when it was in operation.
The Quarantine Station operated from the 1830s to 1984. A place for migrant ships, suspected of carrying disease, to offload passengers and crew. Keeping Sydney's residents safe from nasty diseases like the Spanish flu, smallpox and bubonic plague.
The prime Sydney Harbour location was chosen as it provided safe anchorage just inside the Sydney heads. Today the location is very "in" Sydney, back then it was miles from anywhere, a decent distance to protect the main population of Sydney from infected new arrivals.
Your class of travel on board the ship determined how comfortable your stay at the Quarantine Station would be. In the days before points upgrades and loyalty status, having the means to travel first or second class took on new meaning. For first class passengers it was like an extended resort holiday, and second class passengers fairing better than those in third. For those passengers it was a rough existence with personal safety a concern, and death a possibility.
Would I have wanted to stay here for an extended holiday courtesy of the establishment for 40 days? Not bloody likely.
I'm here with Mac this gloomy Friday evening to experience how the classes ate during their stay back in the day. A dinner held as part of Good Food Month in Sydney, with Chef Matt Kemp taking over the pots and pans in Q Station's Boilerhouse Restaurant.
We arrived a little before the event was due to start, which meant we had time for a quick tour of the grounds around the foreshore. First stop is a visit to the Engine Room to grab a glass of champagne, and then we were on our way to the museum. Whist sipping away I had a brief glimpse of what life would have been like. It was also very sad viewing the preserved gravestones. The young ages of those who had died at the station, nobody passed away from old age.
To start the evening it was canapés down by the wharf. Titled "The Example of Change", we were offered oysters two ways, rich man poor man style. The rich man oysters were served on the shell with caviar and leek. It was the poor man oysters that won my tastebuds over, warm potato oyster shooters with a plump briny oyster hiding at the bottom.
Drinks flowed freely with a choice for all the classes. Beer in brown paper bags for third, gin and tonics for second and champagne in Marie Antoinette glasses for first. I switched from my champers to a G&T.
Then up to the Boilerhouse we headed for the main event. Five courses were served representing how the classes ate during their stay, all matched with De Bortoli wines.
I had been invited along with a few other Sydney bloggers, and it was a nice surprise to find out Mac and I had been placed on a cosy table for five with old mates, The Gourmet Pommies, Will Stewart and Steve Flood. You may remember them as the winning duo from this season's My Kitchen Rules. Having not seen them since our antics on the high seas together, it was lovely to catch up with the lads.
We start with the first class fish course, poached smoked haddock fish cakes with wild weeds, served with a glass of Bella Riva Pinot Grigio. I had expected a strong fish and smoke flavour, but was delighted to find the flavours subtle. The cakes were light inside their crunchy crumb, topped with salmon roe.
It is a sudden spiral down through the classes and we land in third with a thud. A dish of hearty flavours, beef braised in ale with cabbage, carrots and suet dumplings. Will was the table's resident suet dumpling expert and was quite excited at the thought of the dumplings.
Not having eaten them before I waited on Will's thoughts between mouthfuls, they got a big thumbs. This dish was happily washed down with a glass of De Bortoli Yarra Valley Estate Grown Shiraz.
Those that read Belly Rumbles regularly know I don't eat lamb and sadly for me the next course is a second class roast, a whole saddle of mutton, neeps and tatties with garden mint sauce. As always I had a mouthful to try, but was a bit too "lamby" for my liking. I can tell you my mutton munching dining companions really enjoyed this dish.
I personally found the salad awesome! This was washed down with a glass of Bella Riva Sangiovese. For those of you wondering what a neep is, it's a swede.
Dessert time and we start with middle class Pimms jelly with cream and fruit. It looked so pretty and we all had high expectations. Sadly it was a little bit of a disappointment, where was the Pimms flavour in the jelly? We couldn't taste it. What I did enjoy about this dessert was the playful use of cucumber garnish.
Last of all, to enjoy with our coffees and a glass of Deen De Bortoli Vat 5 Botrytis, was the high tea selection of traditional and new idea sweets. An offering of three different pastries; a very buttery currant cake, crème brulee custard tarts with delicate butter pastry cases, and rice pudding tarts in the same pastry. The crème brulee tarts were the winners for me.
After wanting to pay Q Station a visit for quite a while, this was a lovely way to dip my toe in and experience what is offered on the grounds. It's an Accor property, which means you can stay there in a choice of different accommodation offerings.
The grounds are open and free for anyone to visit, and there is ample parking. They offer historic tours of the grounds as well as ghost tours. The ghost tours range from child friendly to an extreme pee your pants version. You can take advantage of the beach, and they even have snorkel gear to hire.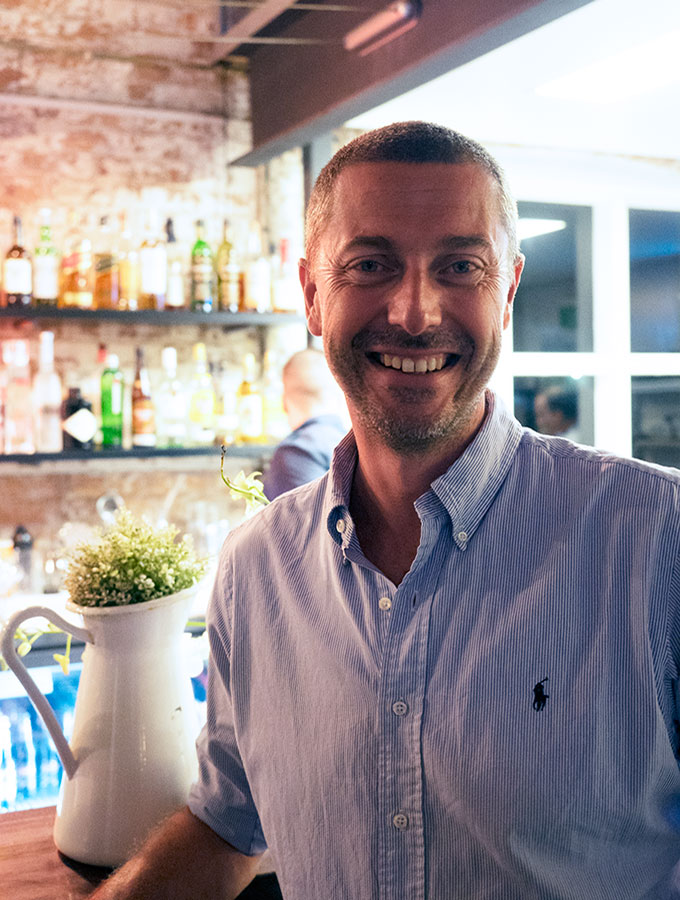 A great place to visit on the weekend, and easy to get to if not driving. A five minute taxi ride from Manly, take a water taxi or make use of the public ferry that pulls up at the wharf during the day.
Sara xxx
The Boilerhouse, Q Station, North Head, Manly
Tel + (0)2 9466 1500
Belly Rumbles and company dined as a guest of the Boilerhouse Restaurant Q Station.
More Sydney Eats
Austrian Schnitzelhause – the great schnitzel challenge
German Austrian Club – Oktoberfest fun!
The Bistro at Manly Pavillion – stunning food and Manly water views
Da Vinci's – pizza palooza in Summer Hills
Armory Wharf Cafe – waterside dining Newington
Puntion Trattoria – quirky lighting and a woodfired oven
New Shanghai – wine pairing with dumplings
High Tea Stamford Plaza – with amazing curry puffs
Become a subscriber and don't miss a single delicious recipe, restaurant review or travel adventure. Plus you will also receive extra content and benefits.